by B.B. Pelletier
Test and photos by Earl "Mac" McDonald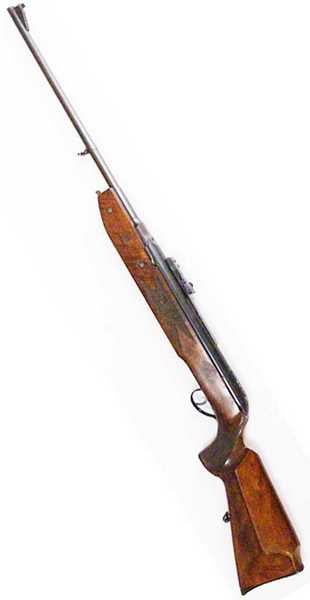 Falke 90 underlever is a rare and vintage British air rifle.
I got an email from Vince yesterday morning, asking if I planned on publishing the rest of Mac's Falke 90 test. Well, I figured old Vince just hadn't read the blog the day I did the rest of the test. A few minutes of fruitless searching later, I discovered he was right, I hadn't told you the rest of Mac's story. What happens in a case like this is I get the report, I read it and then two days later I forget what I'm doing and figure that everyone in the world knows what I know. To make up for that, I'm going to combine Parts 2 and 3 and give you the rest of the report on the Falke 90 today.
As you may recall, the Falke 90 is a rare underlever spring rifle from the 1950s. It copies the even older BSA Airsporter, in that the underlever is concealed in the forearm and the pellets are loaded through a tap that opens automatically when the rifle is cocked. According to the best information we have at hand, it's believed that fewer than 200 Falke 90 airguns were ever made and fewer than 35 are known to exist today. It's not an airgun that's commonly encountered.
Vince repaired this rifle, which wasn't working when I acquired it at the 2010 Roanoke airgun show. He reported on how that went in a special three-part report. Now that we've seen the insides and read Mac's overall impressions of the gun, it's time to test both the velocity and accuracy.
Overbore
Mac found the bore to be oversized, which was common for British airguns back in the 1950s, so he tested the largest pellets he had on hand that also had the thinnest skirts. The first of these were RWS Superdomes.
RWS Superdomes
The 14.5-grain Superdome isn't a large pellet, but the skirt is thin and it can be expanded with a ball-type pellet seater. That's what Mac did.


The Beeman pellet seater has a ball on one end to expand pellet skirts for a better fit.
Superdomes averaged 490 f.p.s. with a total velocity spread from 481 to 494 f.p.s. At the average velocity, they generated 7.72 foot-pounds. The total velocity spread was just 13 f.p.s. Mac mentioned that he did try these pellets without expanding the skirts, but the rifle sounded wrong. It sounded as if it was dry-firing.
A loading tap like the one found on this Falke is tapered on the inside. It has to pass all sizes of pellets in the correct caliber range, and the taper usually takes care of that. But most taps tend toward the large side, and we know that the bore of this rifle is already oversized, so only by expanding the skirts can regular pellets be used.
RWS Superpoints
I told Mac that I had found RWS Superpoints to be accurate in the Hakim, which is very similar to the Falke 90, so he tried them next. Superpoints have very thin skirts — even thinner than the skirts found on Superdomes. They weigh the same 14.5 grains as the Superdomes, but their skirts have less reinforcement, so I figured they would be good in this rifle.
They averaged 499 f.p.s. and ranged from 488 to 513 f.p.s., for a total spread of 25 f.p.s. The average muzzle energy was 8.02 foot-pounds.
Eley Wasps
The next pellet Mac tested was the 5.56mm Eley Wasp. These are still being made, and I believe you can import them from Canada, but the U.S. Eley importer stubbornly refuses to bring them into this country, and Eley doesn't seem to mind. I bought 30 tins of them years ago to make the importation worth the effort. If you decide to try to get some, be aware that there's a 5.5mm Wasp pellet, also, and they won't be as large as these. Only the 5.56mm Wasp is oversized for all those vintage pellet rifles that have overbore barrels.
Eley Wasps also weigh 14.5 grains, so at their average velocity of 474 f.p.s in this rifle they generate 7.24 foot-pounds of energy. The total velocity spread went from 451 to 500 f.p.s. — a 49 f.p.s. gap. Those numbers are for a group of pellets with expanded skirts. But Mac found that he had to push the expanded pellets into the tap, so he shot a second string with non-expanded pellets.
The second string averaged 503 f.p.s. with a spread from 465 to 542. So, the spread was 77 f.p.s. At the average velocity the energy developed was 8.12 foot-pounds.
Okay, so now we know the power, to which Vince already alerted us in his guest blog. Next, let's look at accuracy.
Accuracy
For this test, Mac tried both the open sights and a Mendoza sport aperture rear sight that Pyramyd Air no longer stocks. With the open sights that came with the rifle, the best group of 10 Eley Wasps he was able to get measured 0.66 inches between centers at 15 yards.
When he installed the Mendoza rear sight on the rifle, it was loose, so he inserted a paper shim under the sight base to tighten it up.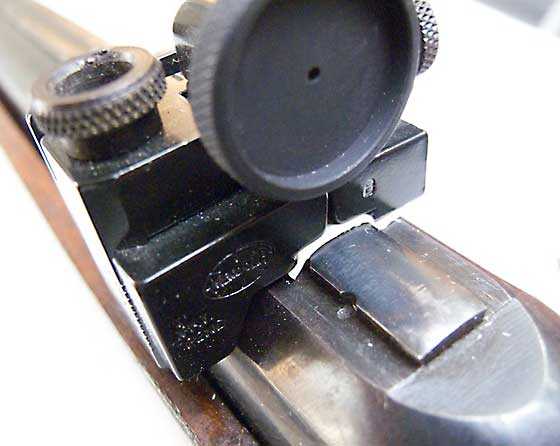 Here you can see the paper shim Mac placed under the base of the Mendoza peep sight to tighten it on the Falke.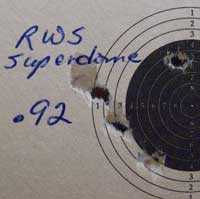 Ten RWS Superdomes made this group at 15 yards that measures 0.92 inches between the centers of the two farthest holes. This is not good accuracy for a rifle like this. You can probably blame the too-small pellets for this.
Mac says he also tried shooting RWS Superpoints at 15 yards, but they were too bad to measure. Several missed the target.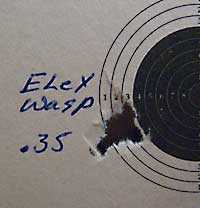 This is a great 10-shot target! It measures 0.35 inches at 15 yards. Ten Eley Wasps, which appear to be THE pellet of choice for the Falke 90. These Wasps had their bases expanded.
From my experiences with Hakims, I can say that this Falke is just about as accurate as they are. In the past, I used to mount short scopes on Hakims, and they shot just about like this Falke is doing with the peep sight.
Final word
The Falke 90 is a shooter, as well as a rare vintage collectible. Vince was clever enough to put this one back on the range. Thanks to Mac, we now know what to expect. It's certainly no barn-burner air rifle. More like a Diana 27 that's put on too much weight. But the neat hidden underlever and machined parts throughout the action make the Falke 90 an airgun you'll remember.
Many people have asked me if I intend to refinish the stock, or in my case, to get it done by somebody else. I don't think I will. Even though it's been disfigured by someone in the past and even though the wood is cracked in several places (that Vince glued), I think a rare gun like this is always more valuable when it's left as is rather than being prettied up. Refinishing destroys collectibles in my opinion.