by B.B.Pelletier
Announcement: Mathias Moe Varga is this week's winner of Pyramyd Air's Big Shot of the Week on their facebook page. He'll receive a $50 Pyramyd Air gift card.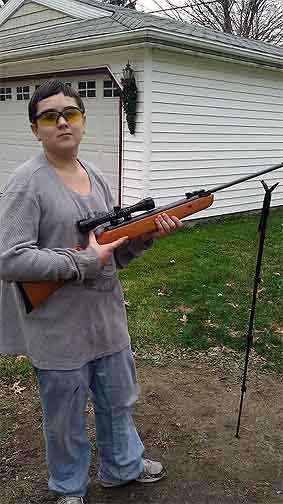 Mathias Moe Varga submitted the above photo of Miles Alexander Varga, who got in some shootin' with his Crosman XT air rifle.
Today is Friday, and I've already written a couple reports this week that belong on a Friday blog, but a question came in from a shooter who will probably never read this report — yet, it was so intriguing that I wanted to answer it for you today.
This shooter owns a vintage Sheridan multi-pump pneumatic, and he's been perplexed for years because .20-caliber Crosman premier pellets are not carried in stores. He remembers the old cylindrical pellets that used to come in the red and white tins and later in the yellow plastic boxes, but he doesn't know if any .20-caliber pellets are still being made today.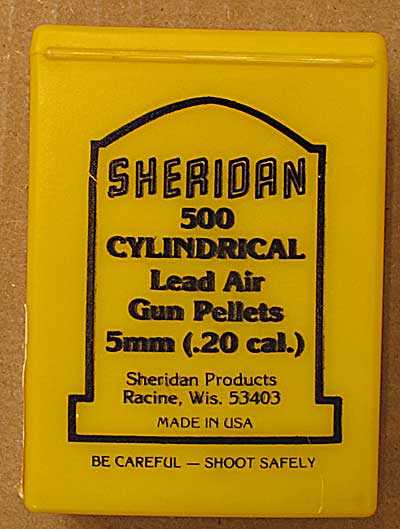 This is the box that vintage Sheridan cylindrical pellets came in when Sheridan was still in business (before Benjamin bought them…and then Crosman bought Benjamin).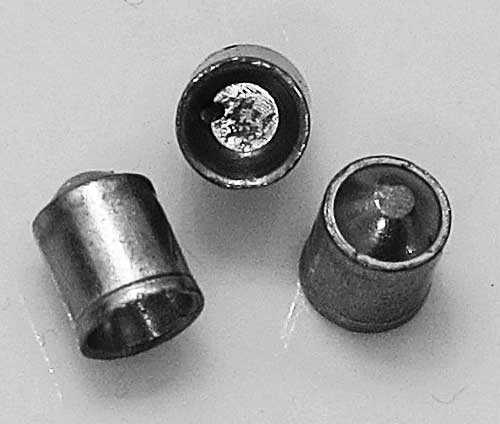 Vintage Sheridan cylindrical pellets. Notice the small driving band at the base, which engages the rifling.
Of course, they're being made and in greater diversity than ever before. But you don't typically find .20-caliber pellets at a sporting goods store, and they're never found at a discount store. The best selection will be found on the internet.
His question made me think of this: Are today's pellets better or worse than those of long ago? What I thought I would do today is find out which is better — the old pellets or the new.
I have been telling people for years that the .20-caliber Crosman Premier pellets in the cardboard box are noticeably better than the older cylindrical Sheridan pellets, but are they really? The only way to find out is to shoot some and see what happens.
Twenty-caliber pellets
I bought my Sheridan Blue Streak in late 1977, though I have also owned a vintage Silver Steak that was made between 1950 and about 1960. I no longer have that vintage gun, but the '77 Blue Streak is still here, so that will be the test bed.
I used to buy Sheridan pellets in yellow plastic boxes of 500. They were the only .20-caliber pellets on the market when I bought them, but Dr. Beeman changed that in the 1980s when he began bringing in European spring guns in .20 caliber. Twenty caliber still occupies third place out of the four smallbore airgun calibers (.177, .20, .22 and .25) in terms of popularity, and its position is currently being threatened by a resurgence of interest in .25 caliber. Both .177 and .22 calibers are so far ahead of these other two calibers that there's really no comparison when it comes to sales and usage.
Beeman's pitch was that the .20 caliber was a great compromise between .177 and .22, but that pitch never quite caught on. Many shooters felt the truth was just the opposite — that .20 was both more expensive than the .177 and not as effective on game as the .22. You can argue this all day long and never change anyone's opinion, but the truth is that there just aren't as many great pellets in .20 caliber as there are in .177 and .22.
However, if there's even just one good pellet, maybe that's all we need. And the Crosman Premier pellet may just be the one.
I thought I'd test-fire several groups with my Blue Streak at 25 yards. Because it's a multi-pump that takes some time for each shot, I'm going to shoot only 5-shot groups, but I'll shoot several with each pellet. I'll pump the rifle 6 strokes per shot because I'm shooting at 25 yards. That should give me decent accuracy, though I'm only using the open sights that came on the gun.
As I write this, I've not yet fired the rifle, so I have no data to consider. I do think the Crosman Premier will shoot more accurately than the old cylindrical pellet, but we'll have to test it to see.
Let's shoot
It's been about two years since I shot the Blue Streak, so I oiled the pump head with Crosman Pellgunoil before starting. Then, I fired a single shot at the bull 25 yards away. It hit within about one-quarter inch of the aim point, so I finished that group and changed targets for the next.
The first three groups are all Crosman Premiers. I think the groups speak for themselves.


These three groups of Crosman Premiers were easy to put side-by-side because they're so small. They were shot in order from left to right. The groups measure from left to right — 0.749 inches, 0.911 inches and 1.088 inches between centers.
Next, I tried the vintage Sheridan cylindrical pellet. Once more, I verified that the first shot was close to the aim point, then no more checking.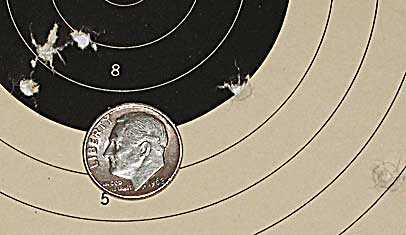 First group of vintage Sheridan cylindrical pellets looks like I wasn't trying! It measures 2.63 inches between centers.
The first group of Sheridan pellets looks like I wasn't trying, but I assure you I was. I really gave each shot everything I had.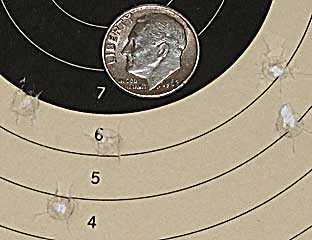 This second group of Sheridan pellets was better than the first, but still not good. It measures 1.66 inches between centers.
Group two was better but not really good. I was relieved to discover that the reason was the pellet and not me. However, it gave me an idea. After group three with the vintage pellets, I would shoot a fourth group of Premiers, just to see if I could still shoot. I thought I might be getting tired at this point.

The third group of vintage Sheridan pellets measured 2.133 inches between centers. It was in-between the first group and the second.
The third and final group of vintage Sheridan pellets confirmed that they're not that accurate. It was in between the first and second group, even though I was doing my best to aim precisely.
Was I tiring out? I had to know, so I shot a fourth group of Crosman Premiers that had established themselves as accurate pellets.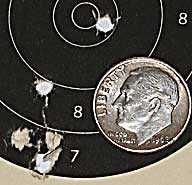 This final group of Crosman Premiers shows that I was still shooting about the same as at the start of the test. It measures 1.106 inches between centers, which fits in with the first three Premier groups.
As long as I was shooting the rifle, perhaps I should shoot a group with one other pellet that's given good results in the past. The .20-caliber Beeman Kodiak is actually a medium-weight pellet — at just 13.27 grains. I shot only one group, but it seems to confirm that this pellet is in the same class as the Premier for accuracy.

Five Beeman Kodiak pellets made this 1.143-inch group. It's close in size to the Premier group and should be considered for this airgun.
An interesting pattern
When I took the last target down from the pellet trap, the pattern in the fresh cardboard that backed all targets was quite interesting. Though I made no attempt to mount each of the eight targets in the exact same place, the cardboard tells the whole story about where all the pellets went.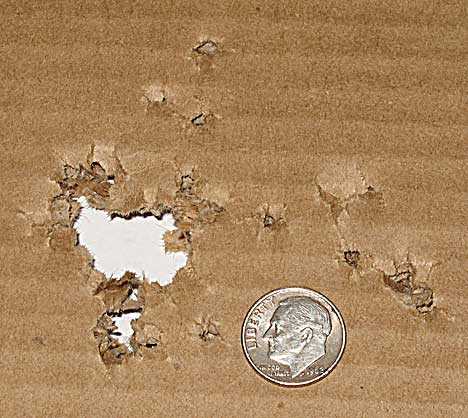 Here's the history of where each of the 40 shots went. Though no attempt was made to position every target in the same relative position, I find this is an interesting record of all the shooting.
Final thought for the day
This was written and tested on a Thursday — yesterday to everyone who is reading it on the day it is first published. I had been planning on going to the range to shoot some firearms yesterday, but the weather wasn't cooperating, so I shot at home, instead. I'd planned to shoot my .32 cap-and-ball rifle, and shooting the Sheridan was very similar. You have to take time before each shot to get the gun ready so you're extra careful to make every shot count. Also, going at this pace calms you and soothes you. I felt wonderful after this shooting session. Contrast that to shooting some uber-magnum springer that cocks like the bow of Hercules! Give me the slow lane every time.