by B.B.Pelletier
Announcement: Mathias Moe Varga is this week's winner of Pyramyd Air's Big Shot of the Week on their facebook page. He'll receive a $50 Pyramyd Air gift card.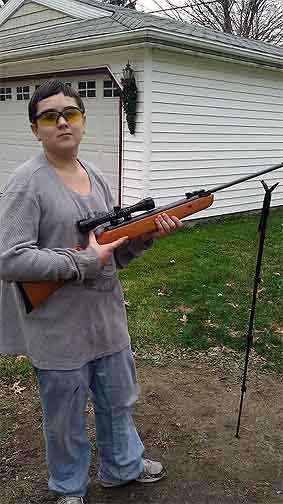 Mathias Moe Varga submitted the above photo of Miles Alexander Varga, who got in some shootin' with his Crosman XT air rifle.
Today is Friday, and I've already written a couple reports this week that belong on a Friday blog, but a question came in from a shooter who will probably never read this report — yet, it was so intriguing that I wanted to answer it for you today.
This shooter owns a vintage Sheridan multi-pump pneumatic, and he's been perplexed for years because .20-caliber Crosman premier pellets are not carried in stores. He remembers the old cylindrical pellets that used to come in the red and white tins and later in the yellow plastic boxes, but he doesn't know if any .20-caliber pellets are still being made today. read more