by B.B. Pelletier
Announcement: Adrian Cataldo Beltran is this week's winner of Pyramyd Air's Big Shot of the Week on their facebook page. He'll receive a $50 Pyramyd Air gift card. Congratulations!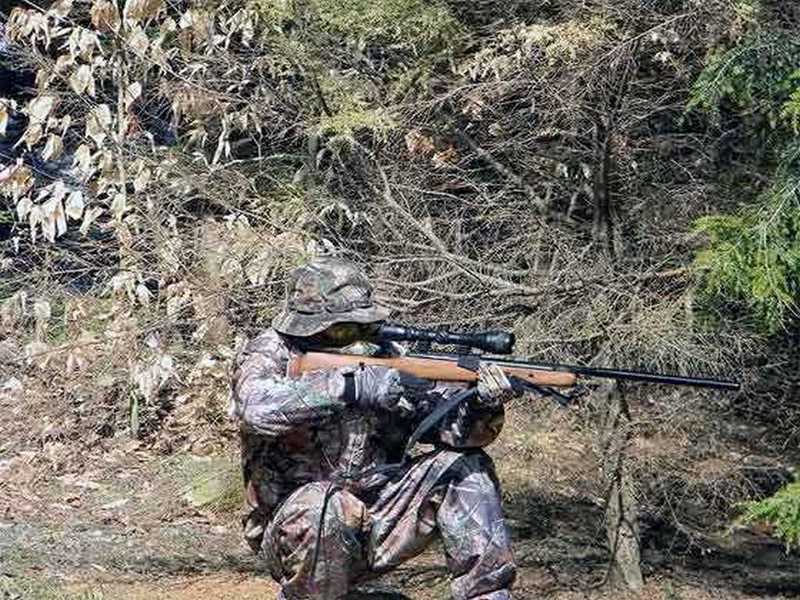 Adrian Cataldo Beltran is the BSOTW.
This is the second time I've used this title for a blog. The last time was a blog I did back in July 2007, almost five years ago. In that report, I was mostly addressing the expectations of accuracy that new airgunners have and how they relate to reality. Today, I want to look at something different.
Today I want to look at our secret hopes — those unspoken agendas that push us and direct us toward gun purchases that can sometimes disappoint us. I had one of these happen to me just this week.
When I was a boy back in the 1950s, I loved the Winchester model 61 slide-action .22 repeater — what we kids called a pump gun in those days. I loved it because every time I got to shoot one, which wasn't that often, the rifle spoke to me. It was just the right size, with a slick action that seemed to bespeak rapid-fire accuracy. Since I never shot at anything smaller than a soup can, I don't suppose that real accuracy ever came into question, but that gun just SEEMED accurate to me.
As a young adult in the middle 1970s, I had the opportunity to buy a 98 percent model 61 that had been produced in 1953. It still had the original box and cost the exorbitant price of $250, but I knew it was worth every penny. I didn't actually shoot it that much, but I shot it enough to know that my childhood imagination had amplified the rifle's true capabilities. It was accurate enough for what it was, but it was no tack-driver. Anyhow, the day finally came when I was forced to sell it before I apparently fulfilled my fascination for the gun — because a couple years ago I had a chance to buy another one in very good shape (call it a 75-percent gun) for just $550. This time I could afford the gun, but I didn't act quick enough and the opportunity passed.
Last week I passed the pawn shop where I had seen the model 61 for sale, and once more the same childish thoughts flashed through my mind. And here's the point of what I'm telling you. I now own a Marlin model 39A that is even slicker than the Winchester, and a Remington model 37 target rifle whose accuracy can embarrass almost every other .22 on earth. So why does my heart still yearn for the old pump gun that I know can't compete with the guns I have? I think it's that eternal desire to return to my childhood!
I had the exact same experience with a Daisy No. 25 slide-action BB gun, only this time I actually acquired nine of the things — all in beautiful, collectible condition. Owning them for over two decades allowed me to purge the demons from my past; and a couple years ago, I started quietly selling off that collection. The void in my heart had been filled.
At one time, I had the itch for a Colt Woodsman .22 pistol, because as a youngster I shot my uncle's gun and did very well with it at 25 yards. From the prone position with a two-hand hold, that pistol grouped like a fine .22 rifle! But I've owned several Woodsman pistols over the years, and the experience has filled that pothole in my character. I know now that a Ruger Mark II can be just as accurate and just as reliable for one-quarter the price.
The longest itch I ever had was for the M1 Carbine, because I still have it even though I own one! I have owned several, and all have been good shooters — if not terribly accurate. But something about the little semiautomatic action that's still impossible for gunmakers to build (no semiautomatic rifle has ever been made that was as light and powerful as the M1 Carbine) turns me on! I cannot pass one by. It's as though I need to own them all, even though I have whittled my own "collection" down to just one good gun.
The strangest itch I ever had was for one specific gun. Years ago, I acquired a Trapdoor Springfield rifle that was in NRA antique good condition. It wasn't anything to look at; but the bore was great, and it was fun to shoot. But I tired of that hard-kicking rifle after many years and eventually traded it away. Then, seller's remorse set in. A year later, when I saw it up for sale, I bought it back. And I had it for several more years until I traded it away a second time. Then, a couple months later, I learned that the new owner intended selling it because the barrel was too long for him, so I traded for it, again. I also own a really accurate scoped .45-70 rolling block that I shoot all the time, but apparently I cannot stand to not also own this tired-looking old Trapdoor. Like a prized horse that's been put out to pasture, I guess this one will remain with me until my estate sells it!
The point of this report
What I'm driving at today is that all shooters carry some baggage. For me, it's the Winchester 61 and the others I've mentioned; but for you, a Browning Auto 5 may light your fire, or perhaps you find Lugers fascinating! I know that Mac has a soft spot for any shotgun in .410 caliber. Somewhere on the path of life, we have an experience or even just a fascination, and it starts the pot inside us brewing with lust.
BB's Kryptonite
Old B.B. Pelletier still has a couple voids left in his soul besides the Winchester. One would be a beautiful blue H&R model 999 Sportsman .22 revolver. There's just something mystical about that break-open design that fascinates me! I have the good sense to know that I couldn't possibly shoot it any better than any other top-quality revolver, but something about it still haunts me. I have never even fired one shot from a 999, so of course the thing is really buried deeply under my saddle! I fantasize about breaking open the action and watching those nine empty cases extract from the cylinder, as if by magic. It's not a healthy wish, but this one's on my bucket list.
For some asinine reason, I'm fascinated by the Johnson semiautomatic battle rifle of World War II. They're all selling for way over $2,000 these days, and good ones go for much more; so this is an itch I don't ever expect to scratch — but it's still there. I would probably be underwhelmed by one if I shot it, because I've shot the Garand (another itch that has been satisfied many times!), but I guess you want most the things you can't have.
Oh, and for some dumb reason, I find I cannot look away from an 8mm Hakim battle rifle. I know it's because I've owned so many of the air rifle trainers, but the phrase "the poor man's Garand" has sunk its hook firmly into my lips. I've come very close to pulling the trigger on several fine-looking Hakims in the past but was always put off by their poor bores that resulted from firing corrosive 8mm military ammunition.
Airguns
In airguns, my secret desire is to own another Sheridan Supergrade multi-pump pneumatic. I owned one years ago and learned that it was no more powerful nor more accurate than a simple Blue Streak, but something about the robust styling of the gun still attracts me. Years ago, I was forced to sell the one I had for economic reasons, so the fascination was never completely satisfied. And I sold it just after the prices began to rise. I told myself I would buy another one when I could, and then I encountered the super-inflationary price increases of recent years.
A couple years back, I had the chance to buy a nice Supergrade at the Roanoke airgun show and I even (momentarily) had the money to buy it! But something inside stopped me from forking over the cash. And that was two weeks before I made the landmark trade for my Ballard rifle — so I guess the still small voice I listened to was the voice of reason that time! I had to use the cash to buy several things that were used in that trade, so it was either the Ballard or the Supergrade.
To quote Minnie Pearl, "I'm done playin' now!" I want to spend the rest of this weekend reading about what turns YOUR crank!