by B.B. Pelletier
Announcement: Tyrone Nerdin' Daye is this week's winner of Pyramyd Air's Big Shot of the Week on their airgun facebook page. He'll receive a $50 Pyramyd AIR gift card. Congratulations!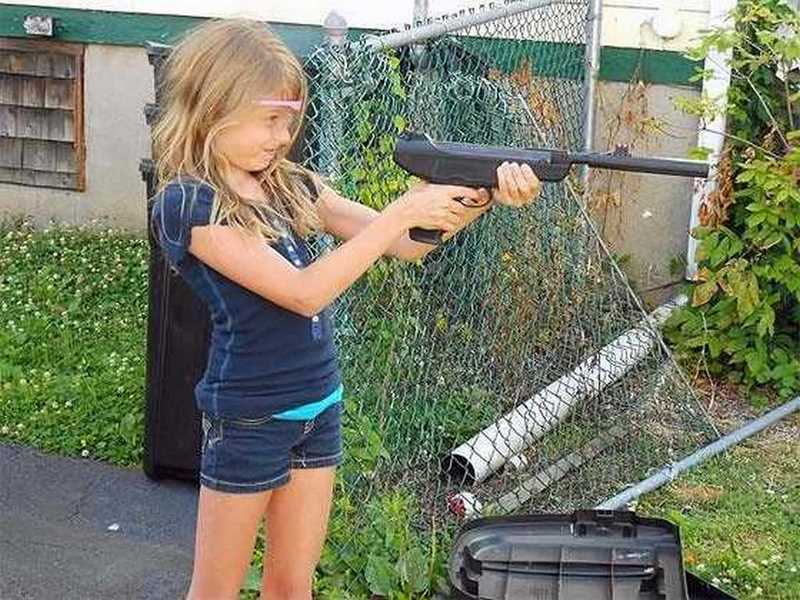 Tyrone Nerdin' Daye is this week's BSOTW. He says this about his winning image: "My beautiful daughter Kailee with her Ruger Mark I. I think she's a big shot!"
Today I want to talk about the deals that exist in airgunning. I see them all the time and try to alert you whenever there are several guns of the same model to be had. I did that several weeks ago when I reported on the TS-45 sidelever rifle that Randy Mitchell was selling at the Malvern airgun show. That was a new-old-stock Chinese air rifle that Randy was selling for a mere $20.
I've been writing about airguns since 1994, and I've seen quite a few similar deals come and go. No doubt, there will be more in the future. The time to act is when the deal is available; because once I announce it, people swoop in.
Many years ago, when Edith and I were publishing The Airgun Letter, a pawn shop in South Carolina bought a container of East German air rifles. Among the thousands of guns they got were many Haenel models 310, 311 and 312 target rifles. They priced them to sell, and that's what happened. I helped them spread the word about these beauties for several years, and today most of the thousands of these models that are circulating in the U.S. originated from this single source.
Buying used
When someone wants more gun than they have the money to buy, I'll often suggest they consider buying used. Buying used is a tough call, because you don't know what you don't know. If you get to see and hold the gun, like at a garage sale or a gun show, then at least the general external condition can be assessed. But only at special events can you also shoot the gun. Even then, shooting doesn't tell you everything. It may show the gun is accurate, but seldom do you have the benefits of a chronograph to tell you the real health of the powerplant.
Why am I talking about buying used? Several reasons, really. If you follow my recommendation, you won't be exposed to very much risk at all and often will be protected better than by buying a brand new model.
Safety with certain private dealers
The No. 1 reason you can buy used airguns safely is that there are certain dealers whose reputations are sterling. They will never knowingly sell a gun without full disclosure, and they've been doing this so long that their disclosure sometimes sounds like an IRS audit report. They're overly critical of their own guns, pointing out each and every flaw, including those so small you would miss them unless they drew your attention to them.
Sometimes, these people are the way they are because that's how they were raised. Other times, they've become this way through many years of dealing in airguns. They've run into their share of overly picky customers who obsessed over the most minor flaws to the point that they never wanted to experience such post-sale criticism again. So, they became anal in their quest to point out flaws in the guns they sell.
If you're new to airgunning, the best place to find this kind of dealer is by doing business on the Airgun Classified ads that are part of the Yellow Forum. They have a Board of Inquiry (BOI) that has an honest history of many transactions — both buying and selling — that each person has done on that website. Unlike eBay, where the Feedback Forum is structured to be politically correct and almost forces a top rating for every transaction, the Board of Inquiry is quite honest and the contents can be trusted. If you see a lot of great remarks, you can bet that seller is someone with whom you want to do business.
I buy on the Yellow Forum Classified ads with confidence, knowing that not only will the item be as good as described, the entire transaction will go smoothly. If for any reason there's a problem, these top-rated dealers will bend over backwards to make things right. And if they tell me that the gun will shoot Crosman Premier Lites at 934 f.p.s., on average, that's what it will do.
As you read more about airguns and start recognizing certain names as reliable private dealers, you can start to trade with them at any time. If you're a regular reader of this blog, you know that Vince, Jim in Pittsburgh, Kevin Lentz and Tom Strayhorn are all good guys you can trust. There are probably many others I haven't named, as well; but if you read the comments, you'll soon be able to draw your own conclusions.
Watch for closeout sales and refurbs
The next tip is to watch the websites of your favorite airgun retailers for closeout sales and refurbished guns. Here are several prime examples.
Many years ago, Pyramyd AIR sold HW55 rifles. They sold pretty quickly except for one model. The HW55 Champ had a short stock for youth shooters. Though the barreled action was exactly the same size as all the other HW55s, for some reason, buyers avoided the Champ. As a result, Pyramyd AIR had a couple Champs left over for a long time after the other 55s had all been sold.
When the FWB 124 finally closed out in the 1990s, many dealers had new-old-stock rifles they couldn't sell. For a couple years, there was an ongoing sale of brand-new guns that are highly sought-after today; but at that tim, they were simply the end of a long and successful run. While that doesn't qualify as a used gun, anymore than the HW55 Champs I just mentioned, both guns were incredible buys at the time.
From time to time, Pyramyd AIR has refurbished airguns for sale. You find a link to them on the home page in the left navigation column under the title Pre-owned products. Some of these are customer returns and others are just guns that the Pyramyd AIR photographer unpacked to take pictures for the website. Still others are special deals on refurbished guns that have gone through an overhaul process, either at Pyramyd AIR or at the original manufacturer's plant. There are great savings on these pages, and they're usually backed by the same warranty Pyramyd AIR offers with all new guns.
Watch for blems
When they first brought the rifle out, Pyramyd AIR inspected every Air Venturi Bronco they sold. As far as I know, they still do. So, when they found a number of guns that had blemishes from the stock finishing process, they passed incredible savings along to the customer.
What to avoid
The sad thing is that the advice I'm about to give will never be read by those who need it the most, because they don't read this blog. Avoid buying guns from "dealers" who sell through airgun forums by continually touting their own guns and modifications — sometimes trashing similar guns and modifications by others. These guys are mostly hobby dealers who think they can make a killing with their wonderful work, and they're turning out dangerous and substandard airguns left and right.
Some of these guys are predators and others are just stupid and don't know the damage they're doing. Either way, I would avoid doing business with them. If they were any good, they would have good reputations on major websites and wouldn't have to toot their own horns in dark corners.
I would avoid a selloff of a recently "latest and greatest" model gun. This happens when someone who doesn't know anything about airguns convinces an airgun manufacturer to make a certain model to their specifications. You'll read about it in several places on the web, but never on this blog and probably never in print. The dealer is writing his own reviews or he's getting his friends to write reviews for him, and the gun has flaws that aren't obvious but they should be. The guns will all be delivering velocities that readers of this blog know are impossible to achieve. They're almost always spring guns, though there have been a few CO2 guns that fit this description.
What to look for is an overly powerful airgun that delivers unbelievable accuracy. Invariably, the caliber will be .177, and the gun will be a breakbarrel. When you see this, walk away!
When the word of their true quality and performance spreads at the grassroots level (i.e., emails and chat forums), all sales will stop and the dealer will have to sell off the remainder of his inventory at reduced prices. This is almost never a bargain and should be avoided at all cost.
A variation on this theme is when an airgun manufacturer is bought out by an investment firm that, again, knows nothing about airguns. They will build the same overly powerful models described above, and they'll do it in the cheapest possible way. Once the guns hit the market, the word will spread rapidly, and at some point there will have to be a grand closeout sale. Unless you buy one for a laugh, I wouldn't waste the money, no matter what the savings. These guns often have barrels without rifling, or are missing key parts. In the end, when all the rats jump ship, what's left to sell isn't worth buying.
One last thing to avoid is when a manufacturer takes an airgun model that has earned a wonderful name over the years and they cheapen it to milk out the last few dollars. I was appalled when I saw this happen the first few times, until it dawned on me that this is a new way of doing business. It's an actual and intentional plan some businesspeople use to make money. Now, I treat it like the deception it is, and I try to warn shooters if I can.
This has been a brief look at the underbelly of the airgun market. I doubt I've addressed every important issue, but that's what the weekend is for.