by B.B. Pelletier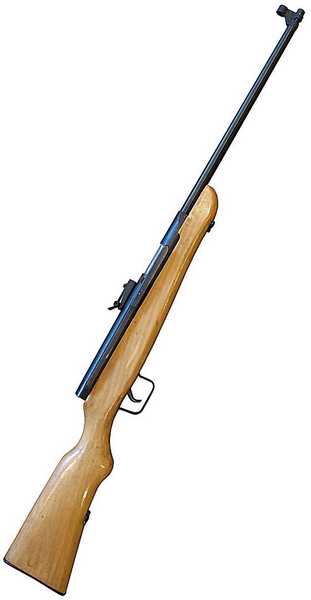 This TS-45 rifle is probably at least 30 years old, yet also brand new.
I've anticipated this day with great hopes, because this TS-45 rifle has the tightest bore I've ever seen on a vintage Chinese air rifle. I've owned a couple older Chinese air rifles, and they always had huge bores that every pellet wallowed in. The only one that was ever accurate was another TS-45 that I modified by changing the barrel for a Lothar Walther from Dennis Quackenbush. That one also had the benefit of an overhaul and was really a nice little plinker after all the work was done. But it didn't have the original oversized barrel.
Through the years, I've heard from many owners of Chinese springers who said they had accurate guns. And always their barrels were considerably tighter than any I'd seen. Well, Lady Luck finally smiled on me, because this time it was my turn to get a tight barrel. So, I anticipated the possibility of accuracy.
Loose stock screws
Before testing I tried to tighten the stock screws. The rear triggerguard screw and the rear sling swivel anchor screw are what hold the action in the stock. Both were loose and needed tightening.
For fun, I removed the barreled action from the stock. From what I see, this would be an easy action to work on, so I may have a go at it at some future date. No promises, but if I can collect another dozen "round tuits," I'll have what I need to smooth out this action.
Firing behavior
I have to compare the firing of this rifle to that of the El Gamo 68 I recently tested. Both have heavy triggers and quick shot cycles with very little vibration afterward. The firing pulse is heavy and disagreeable, but I think that with the fitting of a few parts it could be made smoother.
The trigger looks simple enough and is obviously has a case-hardened sear. I can tell that by the shape of the part and its thickness. If I were to rebuild the gun, I might have a go at smoothing the sear contact area a little.
Accuracy
I had a gut feeling this rifle wanted to shoot, and it didn't disappoint me. The first pellet I tried was a 7.9-grain Crosman Premier dome. I shot at a 10-meter pistol target at a distance of 10 meters (33 feet). The pistol target has a larger bull than the 10-meter rifle target, and I find it easier to see when I use open sights like the ones on this rifle.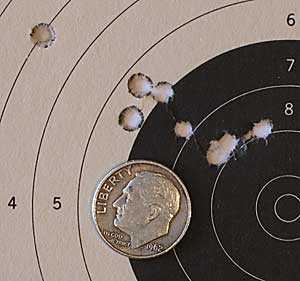 Ten Crosman Premier lites made this 1.657-inch group at 10 meters. Nine went into 0.891 inches. This is a very horizontal group.
Speaking of the sights, I find the sights on this TS-45 to be among the sharpest and easiest open sights I've ever seen on an air rifle! I wish the makers of modern air rifles would put sights this good on their guns! The rear sight has a U-shaped notch that's positioned at just the right distance from my sighting eye, so the top of the notch appears clear. And the front post is very sharp and easy to focus on. I had no trouble holding a 6 o'clock hold on the target.
Trigger
The trigger, on the other hand, is appalling! It's too heavy to measure on my trigger-pull scale, but I am guessing that it breaks at something approaching 14-15 lbs. of effort! It's so heavy that my wrist started hurting from pulling it during the test. I'm not sure the final group I shot was as good as it could have been because my wrist hurt so much from squeezing this horrible trigger.
The first group wasn't as nice as I had hoped, spreading out to the left as the shots increased, but it was much better than a typical old Chinese airgun would do for me. One pellet went way out to the left; but as far as I could tell, the sight picture was perfect for that shot, as well as for all the others. I used an artillery hold with the back of my off hand touching the front of the triggerguard. The rifle sits well in the hand for this hold and is light enough to feel good. Later in the series, I flipped my off hand over and rested the rifle on the backs of two fingers. That seemed to have less movement on target as the trigger was pulled.
The second pellet I tried was the RWS Hobby. I'll usually default to this pellet in a lower-powered spring gun because, for some reason, many of them seem to like it very much. This pellet fit the bore very tight and gave the best group of the day.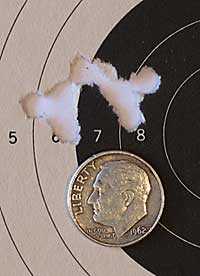 RWS Hobbys made the best group of the test. Ten went into this group measuring 0.835 inches between centers.
The Hobby group was very encouraging. I started believing this rifle was going to shoot like a target rifle. The next pellet was shot with the Gamo Match, and here's where I started to notice the heavy trigger-pull taking its toll. I can't say for certain, but I think some of the size of this group was due to fatigue.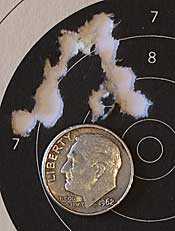 Ten Gamo Match pellets made this 0.845-inch group. Almost as small as the Hobby group, this one may have suffered from the fatigue of my trigger finger.
The final pellet I tested was the H&N Finale Match Pistol, but by this time there was no mistaking my fatigue. The only other time I remember feeling like this while shooting a gun was when I tested one of those $2,500 Airrow airguns made by Swivel Machine Corp. They had a trigger pull over 25 lbs. and were horrible to shoot. You can see the results of my fatigue in the vertically scattered shots, where the other three groups were good in the vertical plane.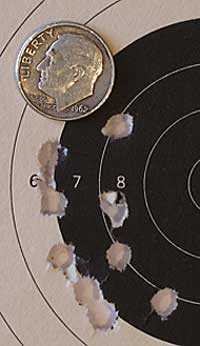 This vertical dispersion is definitely due to the fatigue caused by the heavy trigger. Ten H&N Finale Match Pistol pellets made this 1.376-inch group at 10 meters.
What now?
As I indicated earlier, I'll set this rifle aside for now. But it looks like a simple action to work on, and I may eventually return, just to see what I can do about that heavy trigger and violent pulse at firing.
I was never one to praise these old Chinese airguns; but if I'd encountered one like this one back in the days when I tested them, things might have turned out differently. I certainly would have cut them more slack if I'd known they could shoot so well.