by B.B. Pelletier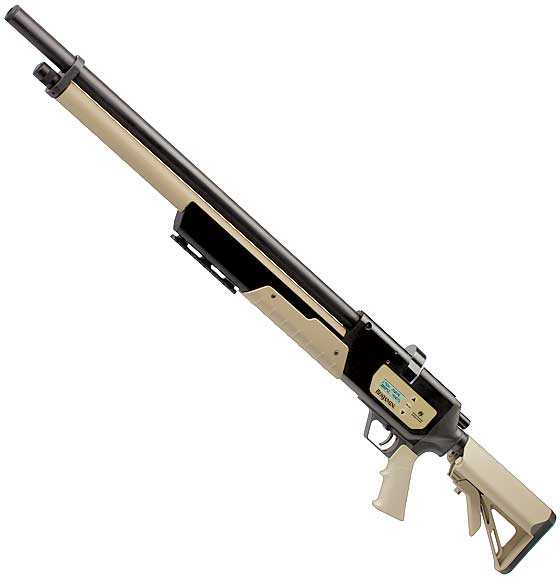 This is the new Rogue. It came Crosman, so a bipod was included. I'll show it to you when I shoot the rifle.
It's been two years since the release of the Benjamin Rogue .357-caliber ePCP big bore rifle. Back then, the rifle was so revolutionary that, when I reviewed it for you, I had to spend a lot of time explaining its operation.
I'm going to review that operation for you, again, because there have been a few significant changes…plus some that won't be visible to the user but which should make the operation even better. I won't dive into the guts of the gun like I did in the last report, because things there haven't changed enough to be noticeable; but when it comes to something that affects the gun's performance, I'll address it.
What is the Rogue?
The Benjamin Rogue is a big bore precharged air rifle that can be fired either single-shot or with a 6-shot rotating magazine. The 6-shot magazine is unusual because most big bores do not have sufficient air capacity to fire 6 shots without refilling the gun. Those that do will often taper off too much, with lower velocities after their initial 2-3 shots.
The Rogue is unique because it has a computer-controlled valve that opens and closes by electronic command. That's what the lowercase "e" in ePCP stands for. A pressure sensor inside the air reservoir reads the pressure at all times. The computer contains software that tells the air valve how long it needs to stay open to maintain velocity at the settings the user has programmed into the gun. This is something that airgunners have long talked about; but one of them, namely Lloyd Sykes, wrote the programs and built the hardware that actually allowed it to work for the first time. He then demonstrated his idea to Crosman who bought it and developed both the hardware and the software into the Rogue that we see today.
The Rogue has a shrouded barrel that reduces the report significantly. It doesn't turn it into a suburban backyard air rifle, but you don't want that in a rifle this powerful anyway. The hunter in the field will thank the designers for a powerful gun that's easier on their eardrums.
The gun is .357 caliber, and that requires some explanation. There are a number of air rifles on the market that are 9mm, and .357 is very close to 9mm. However, and this is very significant, 9mm is a European pistol caliber that uses bullets ranging from 90 grains to 125 grains in weight. That's perfect for pocket pistols, but not for a hunting handgun unless the quarry is smaller game like rabbits and raccoons. Coyotes would be at the top of this list, and your marksmanship would have to be precise. Most significantly, 9mm bullets are either 0.355 or 0.356 inches in diameter.
On the other hand .357-caliber bullets have been developed for both the .38 Special and the powerful .357 Magnum handguns and have been used for medium-sized game like whitetail deer. The bullets for .357 guns do go as light as 90 grains, but they more commonly start out at around 110 grains and go all the way up to 200 grains. This weight is important for a big bore airgun that's not going to drive these bullets as fast as a firearm handgun. We want weight because it equals penetration, which — to a big bore airgunner — gets the job done.
These bullets have a diameter of 0.357 to 0.359 inches. While that doesn't sound like too much larger than 0.355 to 0.356 inches, the difference allows the soft lead bullet to fill the bore, take the rifling well and seal all the high-pressure air behind it. People who shoot black powder arms understand this very well, and all big bore airgunners need to take it to heart.
Load lead!
The other important reason to focus on .357 over 9mm is because the majority of 9mm bullets are jacketed, and big bore airguns do not shoot jacketed slugs. There are just a pitiful few lead bullets available in 9mm, while there are hundreds of different styles and weights in .357. And you don't have to cast your own bullets, either. There are numerous bullet makers making all sorts of lead bullets to order these days. You can get everything from hard-cast bullets, which I don't recommend, to dead-soft lead-tin alloys that are perfect in big bores, to cowboy action bullets that don't hurt your budget too much. You can buy these bullets either sized and lubricated or as-cast, which is unsized and unlubricated. I recommend the latter for a big bore airgun.
Big bore airguns do not shoot jacketed slugs
A bullet that's been cast but not sized is not perfectly concentric. Sizing fixes this. But so does passing through a barrel that's either the same size as the bullet or a thousandth smaller. Your barrel sizes the bullets as they're fired, so sizing is not necessary. And because there's no heat of combustion, the bullets don't need to be lubricated with grease, either. The natural lubricity of soft lead is sufficient to allow the bullet to go through the bore without undue leading (lead loss by scraping off on the inside of the bore).
Nosler bullet
Crosman teamed with Nosler to create the perfect bullet for the Rogue. This is a 145-grain round-nosed bullet with a Ballistic Tip called the eXTREME Air Rifle Bullet. They come packed 25 to a box and are definitely premium ammunition. Yes, they're costly, but if you take advantage of Pyramyd Air's "Get the 4th tin free" offer, 100 bullets will cost about $60, plus shipping. That's 60 cents apiece, which isn't too bad for hunting ammunition. I would plink with something cheaper and save these for serious work, as I discovered in my first test that this bullet outshot all the others.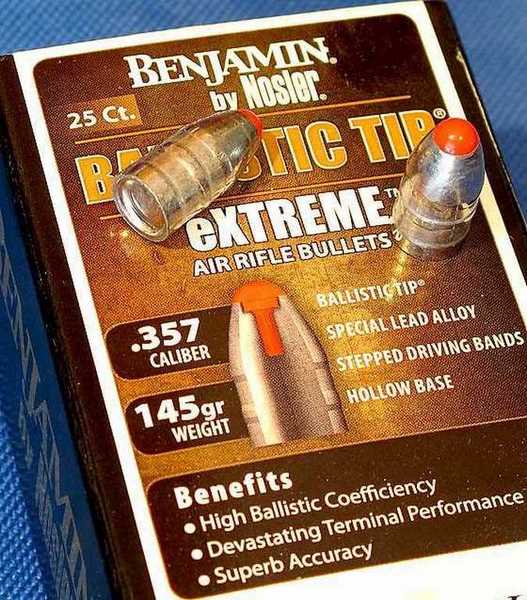 The Nosler eXTREME bullets with Ballistic Tips are made especially for the Rogue.
The magazine
One of the issues with the Rogue when it first came out was it didn't like to feed many different bullets from the magazine. I didn't catch this in my testing, because I never used the magazine. I tend to shoot any big bore as a single-shot because that's what most of them are and also because I'm invariably testing something when I'm shooting, and a magazine just gets in the way.
I did test the original mag with the 145-grain Nosler bullets that were made especially for it, and of course it worked fine; but when shooters tried feeding 158-grain Keith-type bullets through it, they ran into problems. The magazine has been extensively redesigned to be more flexible in this respect, and that will be an important part of this test.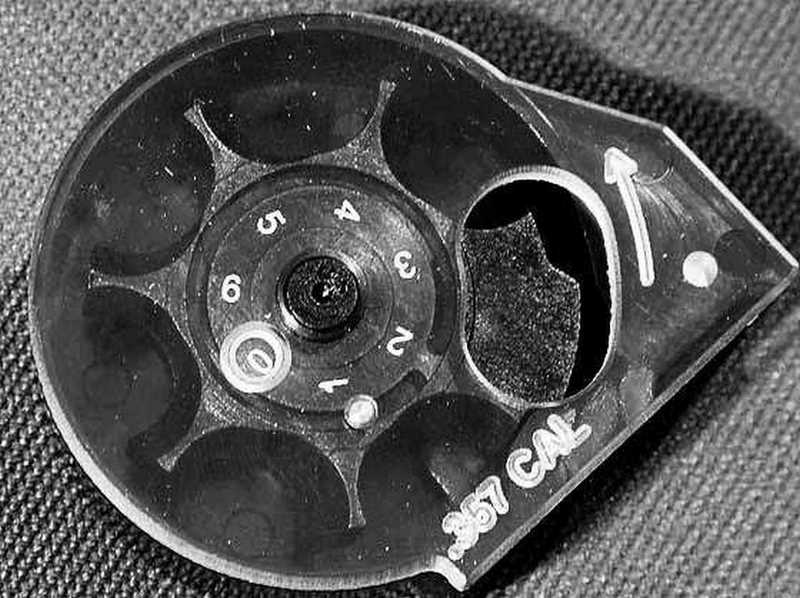 The holes for each bullet are more oval than round, allowing the bullets to move around more as they are being moved into the breech by the bolt.
The new magazine has an oval hole for the bullets, which is apparently necessary for improved feeding with various bullet shapes. I'll put it to the test.
The electronic programs
I had a long discussion with Ed Schultz of Crosman prior to writing this report. I wanted to know what was different about the Rogue, and why was I testing it, again, after only two years. He told me about the magazine and also about the programming options. That's what I want to discuss now, so I don't have to explain it again when I test the rifle.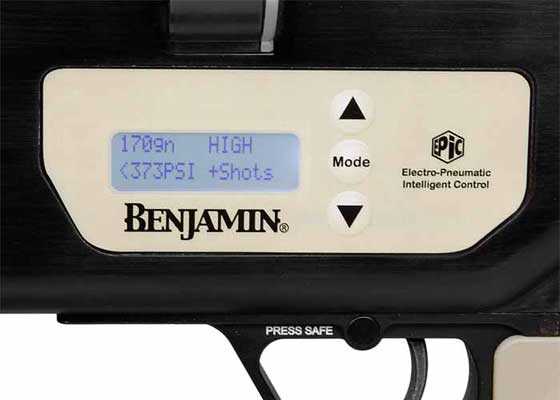 Programming the Rogue is simplicity, itself. This three-button keypad does everything. And the status screen tells you things…like when it's time for more air.
The original Rogue allowed the shooter to select one of three bullet-weight ranges (light, medium and heavy), which corresponded to a given range of actual bullet weights. The shooter also programmed the rifle for one of three power ranges — low, medium and high. The two options, each with three choices, allowed a matrix of nine possible programming possibilities. When I tested the rifle for Shotgun News, I said that I didn't think a lot of shooters would use the light bullet/low power option for anything beyond plinking to conserve air.
Crosman watched the forums discuss these settings and listened to feedback from their customers, and they finally came to the conclusion that the initial choices were too many — to the point of confusion. Also, it's technically very difficult to control high pressure air when it's compressed to its limit and then to try to meter it to only allow a very small amount to escape with each shot — such as the light bullet/low power selection. In plain terms, while the electronic controls did work, there were conditions in which they didn't work at the optimum.
In the time since the first Rogues were sold, Crosman has been refining the software and even some of the hardware to get a smoother power curve from the gun. Their goal was more shots at the same velocity, but perhaps giving up a few shots on the lower end to get there. This new Rogue has the new software that allows just two bullet ranges — MEDIUM, which goes up to the 145-grain weight of the Nosler bullet made for the gun, and HEAVY, which starts at 145 grains and goes up.
There are also just two power settings — MEDIUM and HIGH. Combining the bullet weight settings and the power settings, the user now has just four selections to make instead of nine. But tinkerers don't have to despair. They have wisely retained both the DISCHARGE setting, which allows the gun to dump a huge amount of air with one shot, as well as the full manual control over the computer that allows you to control the discharge time to within 5 microseconds. If you absolutely need all the air the gun can give, put it on DISCHARGE and the valve will remain open twice as long as for the highest power setting.
Can an existing gun be upgraded?
If you already own a Rogue and want these new features, your gun can use the new magazine, so the feeding situation should get better. But the new electronics are unfortunately linked to new hardware and no upgrade is offered. However, you can operate your older Rogue like the new one by using the upper two bullet weights and power levels, only. You'll get much of what the new gun offers, but not the same level of stability, which I'll explore for you at the range.
Not only will I shoot for accuracy and test the feeding of the new magazine, I'll also be looking at the kind of strings we get from this rifle. I'll test accuracy with both the Noslers as well as several lead bullets of different shapes.
The first thing I'm going to do is read all four of my previous reports to refresh myself on how the gun operates. Then, I'll be ready to put it through the wringer for you.