by B.B. Pelletier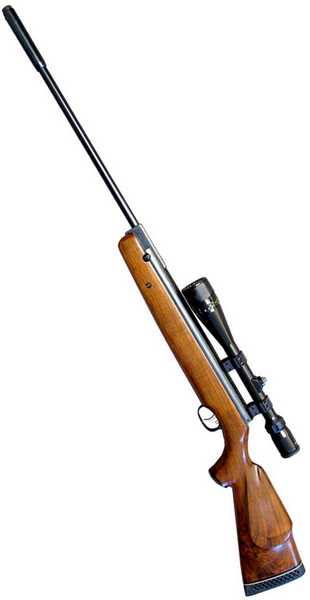 My 18 year-old Beeman R1 with its Maccari custom stock and Bushnell 6-18x Trophy scope is a thing of beauty.
Today, we'll look at the accuracy of my Beeman R1 air rifle, and I must say that I remembered the rifle exactly as it is. It is very sensitive to hold, but also very heavy, at 11 lbs. in the test configuration, which stabilizes the gun to a great degree. Compared to the twitchy over-bore spring guns of today, shooting my detuned R1 is like driving an old family car!
I sighted-in with 15.9-grain JSB Exact domes because I thought they would turn out to be the best pellets. Even though they fit the breech loose, I felt they would surpass all other pellets. Let's see how they did.
The distance is 25 yards, and I'm shooting from a rest, using a classic artillery hold where the back of my off hand touches the front of the triggerguard. I did try a group with a different hold, but it opened right away, reminding me that I know this rifle quite well.
The first group of JSBs contains a nice 8-shot group at the center of two shots that appear to be fliers. They aren't fliers, though, because I held the rifle the same for every shot. It's possible I didn't relax enough for those two shots, which is why I say the R1 is sensitive to hold. As a powerful breakbarrel, you expect it to be hold-sensitive.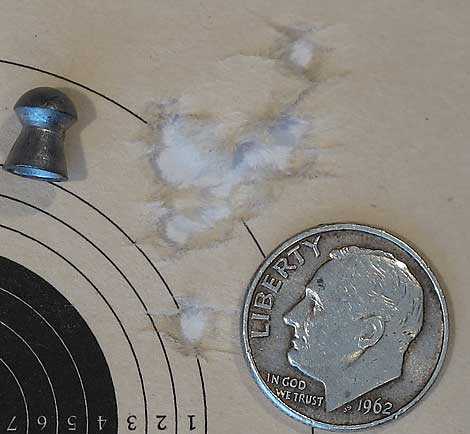 This first 10-shot group measures 0.978 inches between centers, but the smaller 8-shot group within measures just 0.38 inches. That's quite a group for a spring gun at 25 yards!
The first group gave me some confidence in this pellet, so I adjusted the scope, shot a couple rounds to settle things and fired a second 10-shot group of JSB Exacts. This time, all 10 shots landed in a group measuring 0.642 inches between centers. My hold while shooting this group was more relaxed than the first.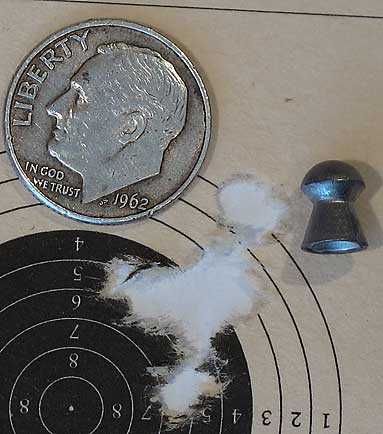 Ten JSB Exacts went into this group that measures 0.642 inches.
Next, I decided to try some Crosman Premiers. When this rifle was new in 1994, they were the best pellet on the market. Ten shots gave a very round group that measures 0.683 inches between centers. That's ever-so-slightly larger than the second JSB group, so I feel these two pellets shoot about the same.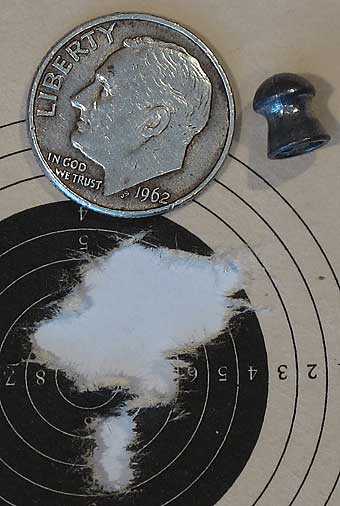 Ten Crosman Premiers made this 0.683-inch group.
I then tried the H&N Baracuda Match pellet that I don't remember ever trying in my gun. I know they're going slower — I can hear the amount of time the pellet takes to get to the trap. I didn't know what to expect, but boy does my rifle like this pellet! The first 8 went into a very small group, then I rushed shot 9 and got a pellet outside the group. It wasn't a flier, it was a mistake in technique, pure and simple. Shot 10 went into the tight group, and I ended with a group that measures 0.684 inches between centers, with 9 of those pellets in 0.54 inches.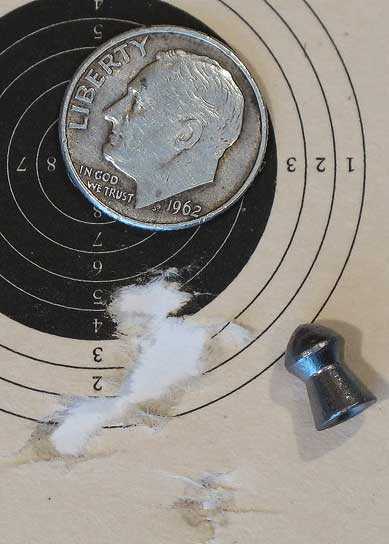 Ten H&N Baracuda Match pellets made this group. While it isn't the absolute smallest, I feel it represents the best pellet in the rifle (of those tried).
Overall impressions
I feel the H&N Baracuda Match pellets turned in the best performance overall. So much so, that after the session ended I adjusted the scope so this pellet hits the point of aim at 25 yards.
The light, crisp Rekord trigger contributed a lot to the success of this rifle. It releases so well that the rifle isn't affected by anticipation. Before I can hope for the gun to shoot, it already has.
The R1 recoils forward a lot. That's due to the heavy piston. But most of the vibration has been eliminated. That's something I wish the rest of you could experience. It's so satisfying to shoot an air rifle like this because if feels so RIGHT.
What's the bottom line, here? Well the R1 is still a fine spring air rifle with many classic features in its favor. Being a springer, it's difficult to shoot well, but it's capable if you do your part. It has one of the finest triggers on the market, and there's nothing more I can say about that. But the R1 is also a very large rifle, and often I want something a little smaller so I can shoot all day without straining.
The tune that's on the gun now is very light and easy to deal with. It makes the R1 feel like an R9 in all ways except size and weight. Now that the test is finished, this one will go back to the closet…but I know it's sighted-in. If I call upon it in the future, it'll do the job.