by Tom Gaylord, a.k.a. B.B. Pelletier
In August, my friend Mac and I were invited by Leapers to tour their plant for an article I'm writing for the November color issue of Shotgun News. We were invited by the owners, David and Tina Ding. Today I would like to give you a brief glimpse of what we saw.
As most of you regular readers know, Leapers imports all their optics from various plants in Asia — mainly from China and Taiwan. They have very strong associations with those plants, so the products are made to Leapers' specifications, and not just bought from a generic list the way some optics are. And you also know that Leapers owns the UTG brand name that stands for Under The Gun, which is another large grouping of scopes and optics.
Until recently, Leapers also made all the CenterPoint scopes for Crosman. That association has ended, so in the future the CenterPoint scopes will look different from the Leapers scopes, and they will probably have different features.
What I was not prepared for was the size of Leapers' manufacturing operation right there in Livonia, Michigan. In the shadow of Detroit that once ruled the world of automobiles and is now a cliché for urban decay, Leapers thrives in 104,000 square feet of bustling manufacturing, sales, design and promotion.
They begin each day at 8:30, with a managers' meeting to review the business of the previous day and to address the current day's schedule. Over 30 managers from all parts of the company except manufacturing (their meeting was held at 7) gather in a large conference room and conduct the most efficient business meeting Mac and I have ever witnessed! They covered their agenda with all departments reporting, plus a prototype scope being examined by every manager in less than 20 minutes.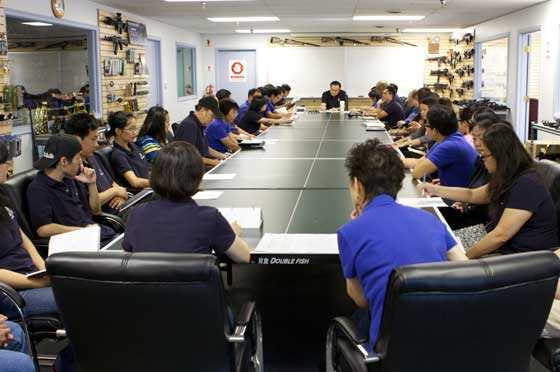 Every morning all the managers meet to discuss the day's operations.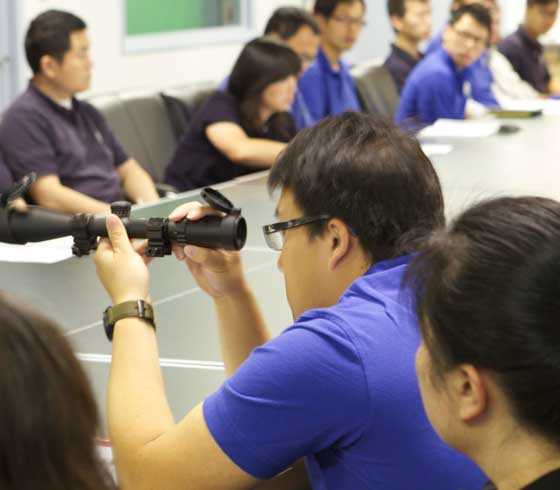 A prototype scope is passed around for comments.
Here's one highlight of the meeting. The operations manager announced that two 40-foot containers were scheduled to arrive that morning, and he needed a team to unload them. When I tell you how that went I'm sure there will be some disbelief.
Product development
We got to watch the product developers go through their evaluation process with a new crossbow scope. They wanted to get at least 100 minutes of angle adjustment in each direction, so they rigged a test instrument to measure the angles. When we saw the scope, it went off the scale more than two times in all directions, which means they're getting at least 160 minutes of angle adjustment…and probably a lot more.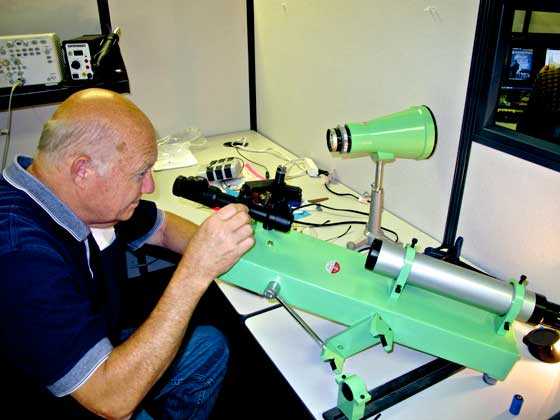 Leapers uses this optical measurement device to measure the adjustment range of their scopes. This prototype crossbow scope adjusts over 160 minutes of angle in both directions.
The Leapers culture
I guess I should cut to the chase and tell you what's different about Leapers. The short of it is that they're organized. Not organized like a manufacturer — more like the crew on a nuclear submarine!
When the day's scheduled shipment arrived I watched a trained team of people from all over the company unload cartons from two 40-foot containers in under two hours! If they keep the drivers who delivered the container longer than two hours, there's an extra charge. So, the operations manager has trained teams how to unload containers in the most efficient way possible. Not only that, but they also pack the outbound shipments as they pull the cartons from the containers.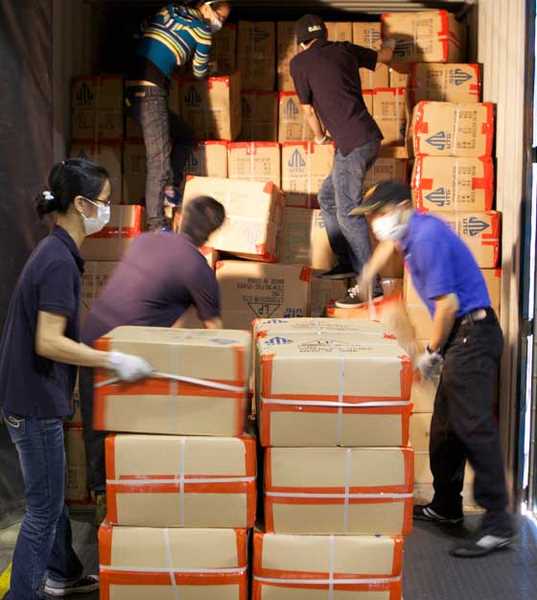 The trained team unpacks a 40-foot shipping container in record time.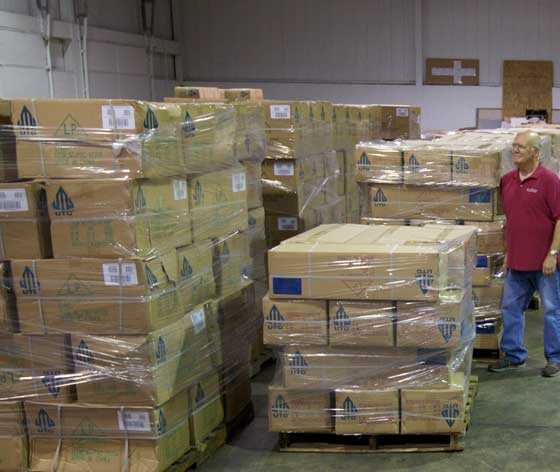 "Where did I put that Ark?" In 90 minutes, the teams unpacked both 40-foot containers, shipped several pallets and prepared these for the warehouse.
As the cartons came out, they were piled on pallets that were bound for the warehouse. Some went to outbound shipments that were transported directly to the outbound shipment side of the house
Packing
Toward the end of the day, we saw another outpouring of people into the warehouse to pack and ship the day's transactions. These employees came from all over the office, including the owners, and everybody pitched in. Each team of packers had one picker, one checker who compared the packing list to the items to be shipped, using a scanner to track each item. A second person then double-checked the shipment and packed it into a box, which another person boxed, packed and sealed.
Everyone in the company gets involved in the packing and shipping of products, so they all develop a feel for the products. Even the sales team and the design engineers were getting their hands dirty! That's how they get to know the products and can speak about them intelligently. This duty rotates through the office, and everyone gets at least one day a week on the shipping line.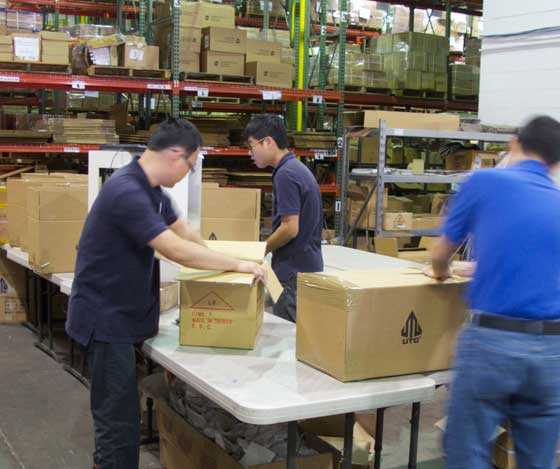 The packing and shipping operation is automated for speed and double-checked for accuracy. The packers come from all over the company and rotate this duty once a week.
The main business
As an airgunner, I think of scopes when I think of Leapers, but that's not what they make in the U.S. They were making parts fort ARs, AKs, SKSs and other popular military rifles. The AR business is strong enough by itself; but for the imports, American law has given them a boost by requiring 10 out of 20 designated key partss on every semiautomatic gun to be made in the USA. The law is called 922R, and it stands for the obscure section of code that specifies which parts are key and what constitutes a legal imported semiautomatic rifle. Leapers makes these parts and sells them to various importers to turn their products into legal weapons. It's a business that has tremendous potential, and it keeps Leapers expanding all the time.
Mac and I saw the entire manufacturing operation, from raw extrusions to finished products. This all took place in their spotless plant, where you could quite literally eat off the floor. They rely on huge CNC machining centers, and three new ones had just been installed…with another batch due shortly.

The operator in front of the machine gives you perspective of the scale.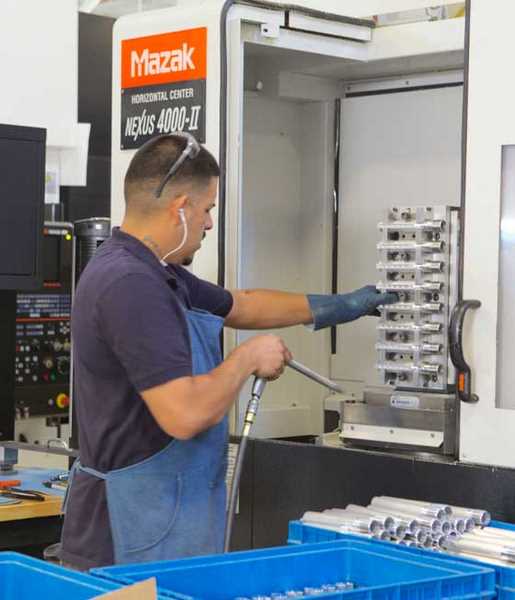 AR stock extension tubes are being machined from bar stock.
Off the main plant floor are rooms for quality control, a general machine shop, laser engraving and general finishing. The main floor is still very open, and they plan to fill it with more machining centers to allow the production capacity to continue to grow. As I said…if you buy an AKM in the U.S., today, there's a good chance it'll have parts made by Leapers to ensure that it meets the legal requirements for key U.S. parts. Two items I see in their catalog that I will definitely buy are a cover for an SKS that includes a Picatinny rail and a built-in cartridge deflector and a slip-on 2-inch stock extension buttpad to extend the pull length to conventional rifle dimensions.
This report is just a brief glimpse of all that we saw in our tour. The entire report will be in the November 20, 2012, color edition of Shotgun News.
The future
David Ding told me at the NRA Show this year that he wants to make optics in the United States. When I asked why, he said, "For quality control. We can't have someone halfway around the world making these products and us being on the receiving end of a very long supply chain."
I've been asking for a scope that has an internal bubble level built in, and they're very close to delivering one. A prototype was due within a few weeks, so I expect to see it at the 2013 SHOT Show. But that's only the beginning. David and I discussed many ideas for other scopes American shooters would like to see. Just imagine if you had the ear of Redfield or Weaver, back when they were making scopes in this country! Leapers means business, and I have no doubt they'll be grinding lenses and manufacturing their own optics within a few years.
Leapers is one of the very few companies that's open to new ideas. They're in tune with their customers and are always trying to better their products. We saw evidence of that everywhere, and we heard it in the ideas they shared with us. I can't tell you everything they told us, but I can say this is one company to watch!