by Tom Gaylord, a.k.a. B.B. Pelletier
Announcement: Gary Lee is this week's winner of Pyramyd Air's Big Shot of the Week on their airgun facebook page. He'll receive a $50 Pyramyd Air gift card. Congratulations!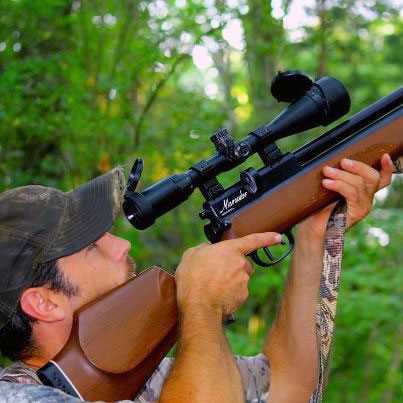 Gary Lee submitted this week's winning photo for BSOTW.


The IZH 60 now comes with target sights.
It's accuracy day for the IZH 60 Target Pro and this is the big test that everyone has been waiting for. And there are a couple of things that have to be cleared up, too. So let's get started.
Cosmoline in the bore
Blog reader chasblock mentioned finding Cosmoline in the bore of his rifle and asked if I would take a look at the test gun's bore. I don't think he really meant Cosmoline, which is a range of military long-term metal storage lubricants. He probably just meant excess grease or oil. At any rate, I ran a patch through the bore, and it came out dry. There was some anti-oxidant compound on it, but no oil or grease. So, that's one down.
Front sight element not centered
Then, we had a discussion about the front sight element not being centered in the globe and wondered if that wouldn't that throw you off. Or at least wouldn't it be annoying? Well, I shot 82 shots in this test and the front sight position was a non-issue for me. Once I had the black 10-meter bull centered in the front aperture, I forgot about everything else. But I'm posting a photo of a Winchester model 94 front sight so you can see that this is a very common phenomenon, and it isn't troublesome in the slightest.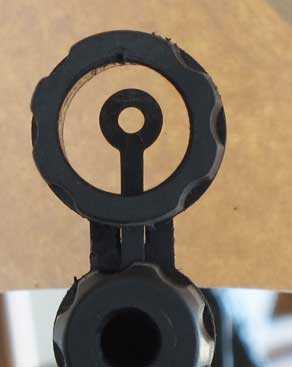 The IZH 60 front sight element is a little higher than the center of the globe. When you're sighting, it's not a distraction.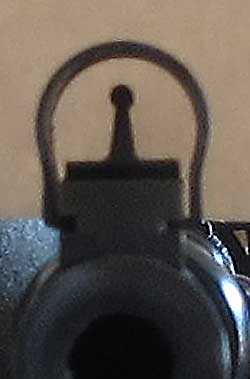 This Winchester 94 front sight is even higher in its globe and people hunt with it. Many open-sighted rifles with globes are like this.
Rear sight doesn't adjust low enough
Another issue that was raised is that the rear sight doesn't adjust low enough to get on target at 10 meters. I didn't find this to be a problem, as you will see. I also found the rear sight to adjust very positively in all directions without any backlash. So, that's now laid to rest.
Accuracy
I was told by the folks at Pyramyd Air that the IZH 60 Target Pro can put 10 pellets into a quarter-inch at 10 meters. The gun they sent to me to test had a 5-shot group of H&N Baracudas with it. It was fired into a Shoot-N-C paster, so measuring is difficult, but as near as I can tell, it measures 0.268 inches between centers, so even these 5 shots grouped larger than a quarter-inch, though not by much. But we expect a 10-shot group to be 40 percent larger when the same pellet is used.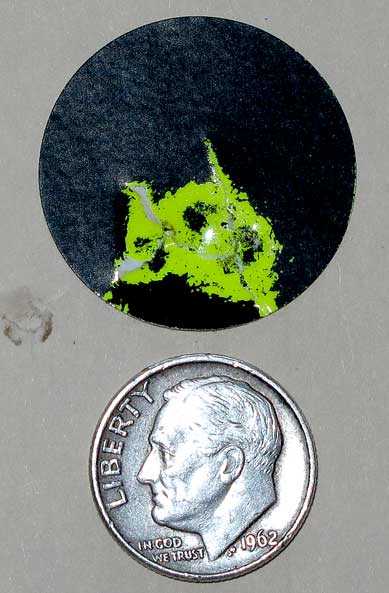 The 5-shot test group measures 0.268 inches between centers, as close as I can measure it. It was shot with H&N Baracudas. The shot outside the black is a sighter and not part of the group.
The rifle was shot from a rested position at 10 meters. The targets were standard 10-meter rifle targets, and they fit well inside the front aperture. It was very easy to hold on target with this rifle. I laid the stock on the back of my hand that was resting on a sandbag.
The trigger-pull is single-stage and vague as to the let-off point, but it's light enough to work very well in this rested position. The rifle is very light, but it didn't seem to move around as much as I'd feared it would.
H&N Baracudas
The first target I shot was with the H&N Baracudas. It took me several shots to get on target because the sight adjustments work backwards of U.S. adjustments. Turn the windage knob in (to the left) to move the pellet to the right, and so on.
The first group of 10 Baracudas measures 0.546 inches between centers. It was larger than expected, but not too bad for the first group.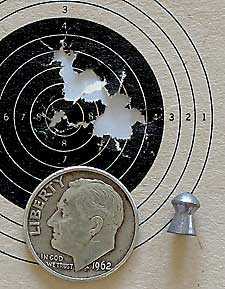 Ten H&N Baracudas made this 0.546-inch group.
As you can see from the pellets I had chosen to use, I expected to shoot a lot in this test, so I thought I would speed things up by firing 5 shots and then seeing if it was worth firing 5 more. The next pellet up was the RWS Hobby that sometimes surprises us with great accuracy. This wasn't one of those times, however, because the first 5 pellets made a group that measures 0.482 inches between centers. No sense finishing that one!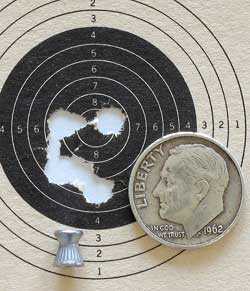 Five RWS Hobbys made this 0.482-inch group. No sense finishing it.
Next, I tried the RWS R10 Match Pistol pellet that I thought might be the most accurate in this rifle. It wasn't, as 5 made a group measuring 0.452 inches. Once more, no sense going on. So I stopped at 5 and moved on.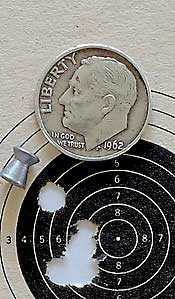 Five RWS R10 Match Pistol pellets made this 0.452-inch group. No sense finishing it, either.
Then, I tried the H&N Match Pistol pellet. Something was different with this pellet, because the rifle recoiled noticeably less. It was easy to feel, and I could follow-through much better because the sights remained on target after the shot. The feeling was so good that I didn't check the target after 5, but went all the way to 10 shots before looking. The 10-shot group measures 0.391 inches between centers and was the tightest group (10 shots!) to this point in the test! It's not a quarter-inch, but it's a very good group, nonetheless.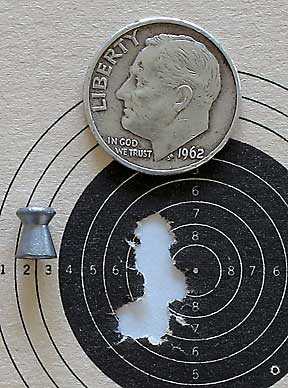 Ten H&N Pistol Match pellets made this 0.391-inch group. This pellet felt like it made the rifle recoil a lot less, so I finished the group without checking.
Next, I tried the JSB Exact RS pellet that often surprises us. This is a domed pellet, so it can't be used in a formal match (impossible to score), but most shooters won't care about that. Ten pellets made a group measuring 0.284 inches between centers. It's a nice, round group, and it's the best 10-shot group the test rifle shot all day!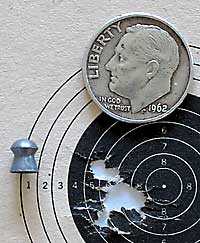 Ten JSB Exact RS pellets made this 0.284-inch group. This pellet also felt like it made the rifle recoil a lot less, so once again I finished the group without checking. This is the best 10-shot group of the test.
This pellet shoots so well that I shot a second group with it. That one didn't turn out as good, at 0.502 inches between centers. Perhaps I was tiring out?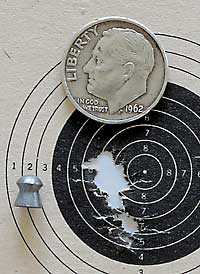 Another 10 Exact RS pellets were not so good, at 0.502 inches between centers.
I then turned to H&N Finale Match pistol pellets, which I thought would be better than the Match Pistol pellets. Alas, that wasn't the case. Ten of them made a huge 0.675 inch group, which turned out to be the second largest of the entire test..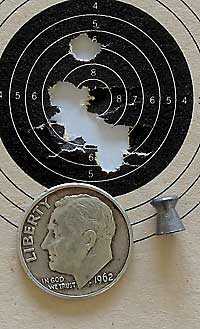 Ten H&N Finale Match Pistol pellets made the second worst group of the test, a whopping 0.675 inches between centers.
Then I tried five RWS Superdomes, but when I looked at the group they made I stopped. It measures 0.646 inches between centers, so no point in continuing.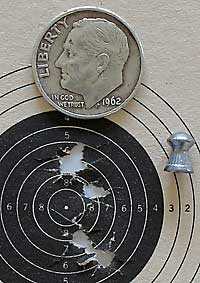 Five RWS Superdome pellets made this 0.646-inch group.
By this point in the test, I knew how the rifle shot. I was also very accustomed to the trigger. So, I thought I'd try another group of Baracudas — just to see if I could improve things from the first time. Ten went into a group measuring 0.702 inches, which was larger than the first group.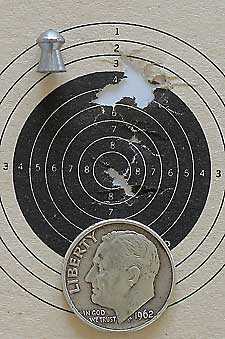 Ten H&N Baracudas made this final 0.702-inch group — the largest in the test.
By this point I knew I was tired. But was that the cause of the group sizes? Was I no longer able to lay them all in the same hole? To see, I grabbed my FWB 300S, which is the most accurate 10-meter rifle I own. I put 10 RWS R10 pistol pellets into a last group that measured 0.135 inches. That's for 10 shots. So it wasn't me!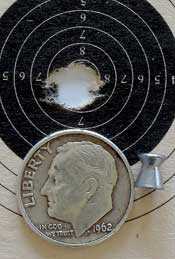 Yeah — it's not me! Ten RWS R10s went into 0.135 inches.
Final impression
The IZH 60 shot about as well as I remembered. It certainly cannot group 10 shots in a quarter-inch at 10 meters in anything other than a chance encounter. So, there's a hat to be eaten!
On the other hand, for what it costs, the rifle is reasonably accurate and the target sights make it even easier to shoot well. I don't think it can out-shoot a Bronco, but it's certainly worth considering for informal target shooting.