by Tom Gaylord, a.k.a. B.B. Pelletier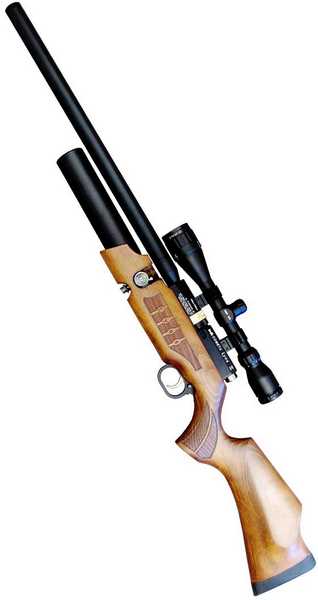 The Cometas Lynx V10 is an exciting precharged repeater.
Today, we'll look at the accuracy of the Cometa Lynx V10 precharged air rifle for the first time. This test will be at 25 yards and will give me the opportunity to adjust the scope and to find one or two accurate pellets for this rifle. I also plan to shoot the Lynx at 50 yards, so today is preparation for that.
I used the single-shot adapter for all shooting in this test. I've used the magazine for this rifle and it works fine; but when I'm doing accuracy tests, I like to shoot them one at a time, if possible.
The test was 10 shots, rested, at 25 yards, unless otherwise stated. The first pellet I tried was the 15.9-grain JSB Exact pellet. I'd thought this might be the most accurate pellet in this rifle, as it often is in PCPs of this power. But this time was different, for 10 pellets made a group that measures 0.795 inches between centers! That's not a good group for a PCP at 25 yards. It's more of a magnum-springer group.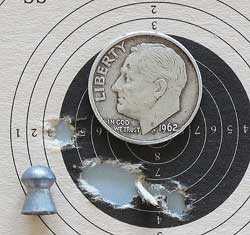 Ten 15.9-grain JSB Exacts made this group that measures 0.795 inches between centers.
That target surprised me, for I thought this pellet would be a slam-dunk, and it clearly wasn't. That caused me to slow down and think about the test a little more.
The next pellet I tried was the Beeman Kodiak. I had played with Kodiaks earlier in this rifle, and they seemed to do well. This time, though, they didn't group at all. I stopped shooting after 5 shots, and that very vertical group measures 0.879 inches between centers. I did notice that the pellets fit very tight in the breech, so that may be the problem.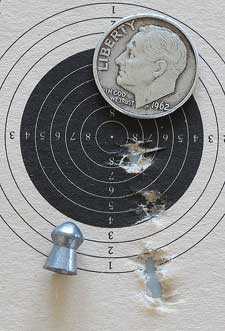 Just 5 Beeman Kodiak pellets went into this 0.879-inch group at 25 yards. Not a pellet for this rifle!
At this point, there was nothing to lose, so I tried the Predator Polymag pellet. It has never performed well for me in the past, but I thought this time might be different. Alas, that wasn't the case. I lost the count and shot 6 Predators into a 0.731-inch group. That's too bad, because if you can hit with this pellet it does perform. But with accuracy like the Lynx is giving, you're taking too big a risk when shooting at any distance.

Six Predator Polymags made this 0.731-inch group. Another pellet the Lynx doesn't care for.
I switched to that old-time favorite, the Crosman Premier. These are usually good in PCPs. But in the Lynx, just 5 of them gave a horizontal group that measures 0.781 inches between centers. Another non-starter! And those who like to analyze things might consider how the rifle can string Kodiaks vertically and Premiers horizontally.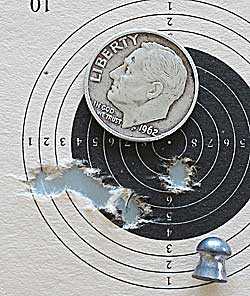 Five Crosman Premiers went into this very linear group that measures 0.781 inches between centers.
Finally, the pellets were found!
I was very concerned at this point. The rifle wasn't liking any of the pellets I usually select for accuracy. But there were a couple good choices remaining. The first of these was the 25.4-grain JSB Exact Jumbo Monster, a new domed pellet that delivers a huge punch in a precharged rifle. This was the first time I think I've tried this pellet in a test, though the tin was already open when I started. And they grouped well in the Lynx, too! Ten made a tight group that measures 0.492 inches, and that's with a single straggler! Nine went into 0.464 inches!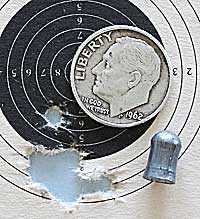 The JSB Exact Jumbo Monster shot well in the Lynx. Ten shots gave a very round group that measures 0.492 inches. This looked promising!
The next pellet I tried was the JSB Exact Jumbo Heavy — an 18.1-grain dome that some readers really admire! I haven't gotten the best results from this pellet in the past, but this time I did. Ten went into a group measuring 0.362 inches. It was the best group of the session, and the one I will shoot first at 50 yards!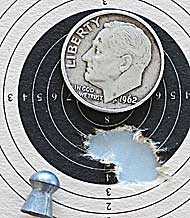 The JSB Exact Jumbo Heavy shot best. Ten shots gave a very round group that measures 0.362 inches. This is the pellet of choice for this Lynx.
So far
I learned a lot from this test. First, I learned that accuracy isn't always a given. You have to try other pellets to find what works. And when you find it, the difference in accuracy can be startling.
Next, I learned that how the pellets feed into the breech may have a lot to do with the ultimate accuracy. I was certainly able to feel when the Kodiaks weren't working.
Next stop is the 50-yard outdoor range, where the Lynx will be up against the odds. Ten shots at 50 yards is a pretty good acid test of accuracy for any airgun.