by Tom Gaylord, a.k.a. B.B. Pelletier
Announcement: Adrian Beltrán is this week's winner of Pyramyd Air's Big Shot of the Week on their airgun facebook page. He'll receive a $50 Pyramyd Air gift card. Congratulations!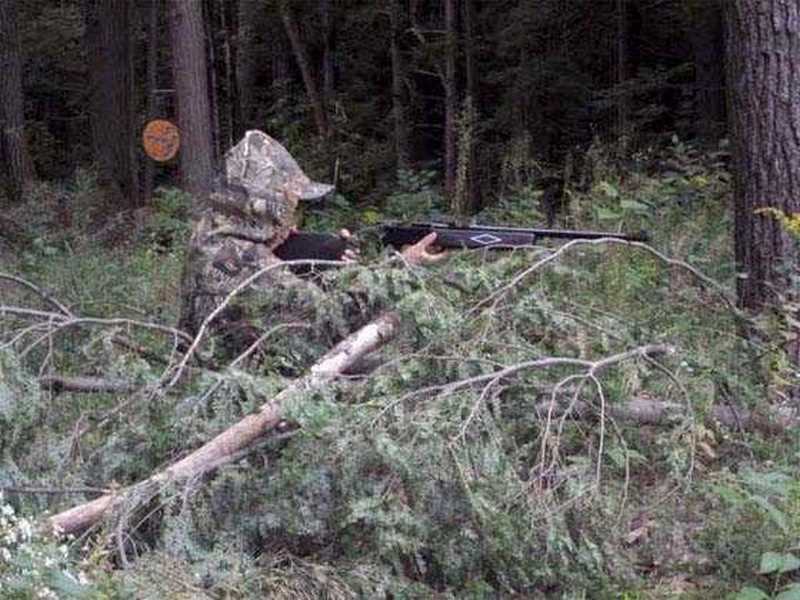 Adrian Beltrán submitted this week's winning photo for BSOTW.
As I was doing the barrel-bending report, I was thinking about what got me to a place where I needed to know how to bend an airgun barrel. Why? Because I bought a used airgun — that's why!
I've often given people the advice to buy a used airgun if their budget won't support a good new one. Today, I'd like to expand on that thought a little.
Why buy more guns?
We shooters buy guns for the same reason some women buy clothes — to improve our lives. In the case of shooters, the belief is the next gun you get will be the one that actually shoots well. It couldn't be you who's inaccurate, so it must be the gun — right? Maybe you don't think that way, but I sure do.
The funny thing is that it sometimes happens that the next gun you get really is accurate! All it takes is one time in 10 and you're as hooked as a Pavlovian dog. Gun shows become huge opportunities for you to find the guns that can shoot.
Other side of the coin
But there's another way to look at it. Why would anyone ever sell an accurate gun? Doesn't it stand to reason that they'll have tried the gun they want to sell you and found it wanting? If you think about this very much, you'll never again buy anything used.
My way of thinking
I think of it another way. Sometimes, guns become available when the original owner has no more use for them, as in — they left the building. But that isn't the only thing that happens. Maybe I own ten 10-meter target rifles and discover that on my best day I can only ever shoot three of them at the same time. So, I decide to thin the herd. You might think that I would keep the most accurate guns and sell the rest, but that's not always how it works. I might be keeping what I keep for other reasons, like the condition or sentimentality. I might actually sell the most accurate guns I have and keep the ones I think are the prettiest. Or something like that.
The seller may not know what he has
I find that many times a seller really has no idea how a certain gun shoots because he hasn't taken the time to shoot it. This happens a lot with dealers who have large inventories of airguns. You and I are envious of their racks of fine airguns, but the truth of the matter is that, to them, it's more of a business and way less personal. I know many airgun dealers who have never tried their guns before selling them; or if they have, it was just to see if they worked. You can tell when a guy hands you a tin of inappropriate pellets to test a certain airgun that he has no interest in it whatsoever. But if he tells you which head size shoots best and how deep to seat each pellet, you can be sure he knows exactly what he's selling.
Some sellers want you to be pleased!
This is a difficult concept for some people to embrace, but there are really people in the world who want you to be happy after doing business with them. They'll sell you an accurate airgun and be glad that you bought it. If you buy a gun from them, it's important to give them feedback after you shoot it because your satisfaction is what motivates them.
The previous owner may have missed something
This is the hope that springs eternal in every buyer's breast — that the fellow who owned this gun before you missed something — something that you will find and then the sun will come out and the flowers will dance and the young girls will look at you with adoring eyes! Well, maybe not all that, but at least you'll have found out something he didn't know that will let you shoot your new gun better than he ever did. And it does happen. For example, the former owner may have been a cheapskate who only bought pellets on sale at Wal-Mart. You get the gun and start feeding it JSBs taken from fur-lined tins and voilá! It begins to shoot! You've uncovered the secret of the Incas and can turn any bargain airgun into a World Cup contender — pocketa, pocketa, pocketa.
The gun is already broken-in
Most used guns have already been though the break-in cycle. This is a double-edged sword, though, because I've bought some guns that were so broken-in they were broken, altogether! That can happen. It happens most often when the guns in question are hot-rods to begin with. The guns that are like old tractors (i.e., strong, relatively slow, overbuilt, etc.) will seldom be found completely inoperable. I once bought an FWB 124 Sport for $35. That's the cheap one, and it was rusty and had worn, chipped wood finish and was generally disgusting to look at. It was the kind of airgun that requires a tetanus shot just to hold. But being a 124, it was also overbuilt, so another $35 worth of replacement parts and the gun was shooting like new again. It still looked like a throwaway, but it put pellet upon pellet downrange.
But the Super Dragon-Fire Zombie-Killer EXtreme that some guy discounts $50 because he's owned it for three months is the gun I would avoid. The owner has already discovered his rifle takes too much effort to cock and cannot hit a target in the compass quadrant where the muzzle is pointing. That gun is the two-year-old baseball card collection, or last year's Hummel decorative plate! It will continue to drop in value until it hits the rising tide of inflation, and from that point on will be worth ten cents on the original dollar paid.
Buy what you like
The longer I'm in airguns, the more I find that everyone has an opinion, and although many of them are mistaken, they don't know it, for they simply refuse to see things my way. That's good because it leaves room for me and for the good stuff. And I also find that my tastes change over time. So this year I may be hyped on 10-meter guns, but next year it's tuned springers and the year after that I'm over on the dark side. As long as I can remain out of phase with most of you, there's room for all of us in the boat!
Oh, and I suppose after rambling on like this I should end with something concrete. I bought the El Gamo 68 used and loved it. I bought the Crosman 160 used; and after I cleaned it up, it shot like a house afire! And just this past Saturday, I bought a Taiyo Juki Junior CO2 rifle at a gun show for a very good price. It doesn't hold gas and some fool had stuffed two darts up the bore; but after I get it sorted out and resealed, I'll have yet another wonderful used airgun!