by B.B. Pelletier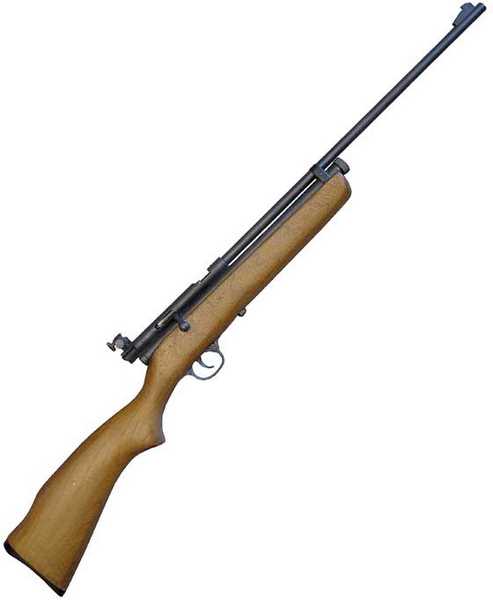 Fresh from the closet, another fine Crosman 160 emerges into daylight. We'll watch this one blossom.
Today, I'm testing the Crosman 160 for accuracy. This is a target rifle — originally intended for 25-foot ranges, so 10 meters, which is very close to 33 feet, is the distance I shot for this test. And I shot at 10-meter rifle targets. It's important to remember this rifle is a .22, not a .177, because the larger pellets will influence the overall group size.
The 160 has a post front sight that isn't as precise as an aperture, but I learned to shoot on a similar sight, so it still works well for me. I'd disassembled the rear aperture sight during cleaning, so when I sighted-in there was a lot of adjusting to get the pellet on target.
I held my eye as close to the aperture as I could get, because my recent experience with both the Ballard and Remington model 37 has taught me that this is the way to get the best accuracy from an aperture sight. The tiny hole made my pupil dilate and the front sight came into sharp focus, as it always should.
I sighted-in with the JSB Exact 15.9-grain dome and left the sights there. So, the first group is well-centered and the other pellets are a little bit off.
Remember that wonderful trigger I told you about last time? Well, this is where it came into its own. It is breaking so light that I leave my finger off the blade until the sight picture is correct. Then it's just touch and "Bang!" It breaks at a pound. I've bump-tested the gun several times without a pellet just to see if I could jar it off the sear, and it's holding fine…but it feels like a precision set trigger. Perhaps, having the overtravel adjustment makes the difference.
Memories!
I remember these 160s as being more accurate than they have a right to be, given their original price, and this one is, too. The first 10 shots went into a group that measures 0.313 inches. The group is very round and gives every indication that the rifle loves this pellet.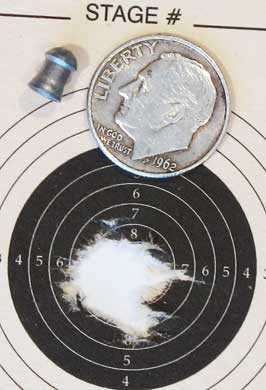 Ten JSB Exact 15.9-grain domes made this 0.313-inch group at 10 meters.
Next, I tried the .22-caliber Premiers. Back in the early 1990s, when this pellet first came out, 160 owners discovered their rifles were much more accurate than they had believed. When the 160 was new, it was thought that the best they would do was a quarter-sized group at 25 feet. Now they were shooting into a dime at 33 feet.
This time, the group wasn't as good as some others I've shot. Ten shots measure 0.449 inches between centers. The point of impact shifted to the left a bit, as well.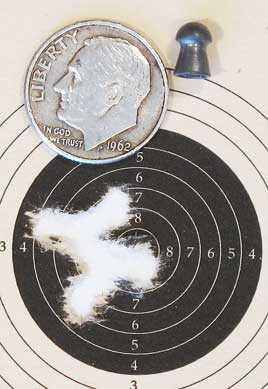 Ten .22-caliber Premiers made this 0.449-inch group at 10 meters.
I also wanted to try a pellet I'd never used in a 160, so the next pellet was an RWS Superdome. They should do well, being both medium weight and thin-skirted. A thin skirt can be blown out into the rifling by the low pressure of the CO2 gas, which will seal the pellet in the bore quite well.
Before you get excited from looking at these next targets, you need to know that I was interrupted while shooting and as a result I put 5 shots on each target, instead of the 10 on one, as planned. Although this was a mistake, it does illustrate, once again, the difference between the sizes of 5-shot and 10-shot groups.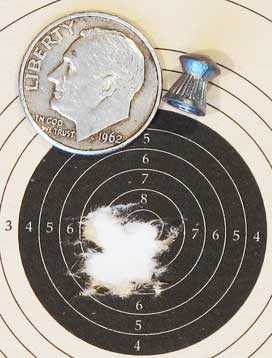 If you didn't know there were only 5 shots in this group, you could make up all sorts of claims for the RWS Superdome pellets. The group measures 0.107 inches between centers. This is 10-meter target rifle size — even though it was shot with the larger pellets! But it is only 5 shots.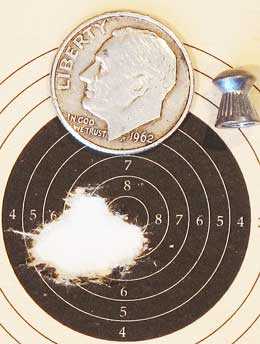 Five RWS Superdomes measure 0.313 inches between centers. Looks good, but, again, it's only 5 shots. This group was fired when I noticed the gun was running out of gas.
As I loaded and shot, I reflected on the ease of the bolt's operation. Opening it requires just the flick of one finger, because you're not cocking a spring. It's as quick as pulling back the bolt on a biathlon target rifle. Pushing the bolt forward takes some effort, though, because this is where the hammer spring gets compressed.
The big .22-caliber domed pellets lie in the loading trough and feed without a bobble. Where some guns want to flip pellets around, the 160 feeds them effortlessly every time. I can describe the cocking and loading experience as having an oily smoothness.
Best pellet
Upon examination, I feel the JSB Exact pellet did the best in this test. It put 10 pellets into a group the same size as the final 5 Superdomes made. It would be interesting to shoot another group of Superdomes that were not shot at the end of the gas supply, but I still think the JSBs will turn out better.
Shot count
I noticed on the final 5 shots that the rifle sounded like it was losing power. Since 5 shots were used for sight-in, this rifle has given me 35 good shots on two cartridges. Blog reader Jim in PGH commented that an Archer Hammer Debouncer Device (abbreviated HDD and designed to give the valve stem a dead blow to exhaust gas without valve flutter) installed on a Chinese version of the 167 (a .177-caliber version of the 160) that he owns has increased his shot count to 80. That would be worth looking into, if you decide to go the 160 route.
Where are we?
As I shoot the 160, I cannot help but think of a fine 10-meter target air rifle. Kevin would be proud to shoot one so fine. I think most of you would be impressed with what this gun can do.
This is the last report I have planned for the 160. As I suspected, the owner of this 160 was not too keen about the two CO2 cartridges needed to power his gun, so he sold it to me. I have no plans for it at this time, other than to show it to several firearms shooters to impress them with what an airgun can do. I'm also toying with shooting it at 50 yards, just to see how it does.