by Tom Gaylord, a.k.a. B.B. Pelletier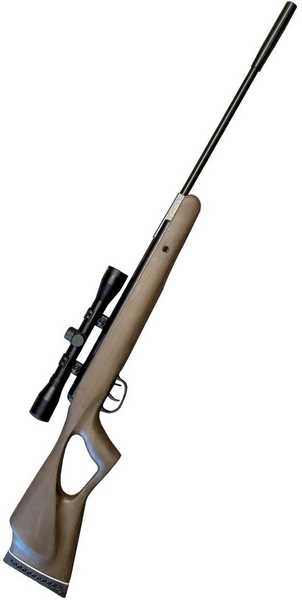 Benjamin Titan with Nitro Piston has people talking.
Lots of interest in this air rifle — even from those who normally wouldn't look twice at a gun of this kind. I guess it's the low price that has folks talking.
Today is velocity day and a chance to become better acquainted with the test rifle. If you just found this blog, read Part 1 linked above. A short introduction is that Nitro Piston is the Crosman-trademarked name for a gas spring. Performance of a gas spring is a bit different than for a conventional coiled steel mainspring, though in the end both are spring-piston airguns. A gas spring uses compressed gas instead of a coiled steel spring to push the piston that compresses the air for each shot. Gas doesn't suffer from being compressed for long periods, so you can leave a gun like this cocked for months and the power should not be affected. That isn't recommended for reasons of safety, but it does allow hunters to carry their rifle cocked and loaded all day. Gas is also less sensitive to temperature changes, so gas springs retain their power better in extreme cold, where the lubricants in steel spring guns thicken and slow down the piston.
This particular rifle has lower power than most gas spring guns, and as a result, is easier to cock. The test rifle requires 33 lbs. of force to cock, where a conventional gas spring gun is often closer to 50 lbs. Still, 33 lbs. is not light. It takes an adult hand to cock this rifle.
Crosman built this rifle for the Illinois airgun market that used to mandate a muzzle velocity of less than 700 f.p.s. That law was changed, so the guns that remain are being sold directly by Crosman. I bought one because I'm a fan of lower-powered gas spring airguns.
Velocity test
The first pellet tested was the one that was included in the package with the rifle — a 250-count tin of Crosman Destroyers. The Destroyer is a hollowpoint pellet with a pointed tip inserted in the center of the hollow point. They're made of hardened lead and weigh 7.9 grains, nominally. This is a pellet I don't believe I've ever tested, so I'll be doing so within this test. I see the customer reviews of the pellet are all over the place, so they aren't that helpful. I'll test them for accuracy in this rifle; and if the accuracy seems to warrant it, perhaps also test it in my R8, which we all know to be a very accurate breakbarrel.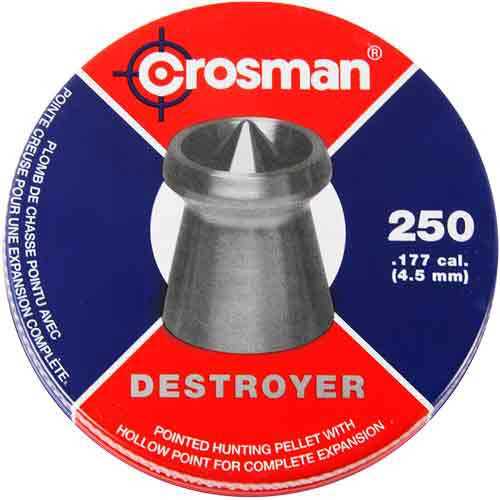 Crosman Destroyer pellets are hollowpoints that also have a pointed tip.
Destroyers averaged 699 f.p.s. in the test rifle. They ranged from a low of 672 to a high of 722 f.p.s., so the spread was 50 f.p.s. That's too high, but I think the rifle may need to break in a little to get rid of some excess oil in the compression chamber. Once it's broken in, I think the average will be down around 685 because that was the direction the pellet seemed to be heading as I shot it. At the average velocity, this pellet produced 8.57 foot-pounds of muzzle energy.
This pellet loaded tight in the breech. I'll have more to say about that in a bit.
RWS Hobby
The RWS Hobby pellet is one of the lightest pure-lead pellets on the market. It's always the one I use to test the top velocity of an airgun because it's often very accurate as well as fast. That makes it a real-world pellet and not just a bragging-rights trick pellet that will only be used for velocity numbers. The Hobby is a wadcutter, so it's also good for pest elimination at ranges below 25 yards.
Hobbys averaged 708 f.p.s. in this rifle. The range went from 696 to 722 f.p.s., so a spread of 26 f.p.s. With the Hobby, there was no trend toward lower velocities in the string of 10 shots, so I think the average is representative of what this gun will always do. At the average velocity, Hobbys produced 7.79 foot-pounds of energy at the muzzle.
Hobbys loaded even tighter than Destroyers. The back of the skirt stuck out no matter how hard I pushed it into the breech. However, closing the barrel did push the pellets flush without damaging the skirt.
Crosman Premier
The 7.9-grain Crosman Premier averaged 665 f.p.s in the test rifle. The range went from 655 to 680 f.p.s., so a 25-foot-per-second spread. These pellets fit the breech very well and seated flush with the end of the barrel using finger pressure alone. At the average velocity, Premier lites produced 7.76 foot-pounds of muzzle energy.
A pellet-seating experiment
I've mentioned that two of the three pellets tried were hard to seat because they were tight in the breech. I thought it would be instructive, therefore, to conduct a little experiment to see how deep-seating them affected things. I guessed it would lower the average velocity, but it might also make the velocity spread a little tighter.
I chose RWS Hobby pellets for this test because they were the tightest in the breech. Using the adjustable pellet seating tool that comes with the Pellet Pen and PellSet, I seated each Hobby pellet about 1/16 inch into the breech. The average when seated this way was 686 f.p.s., compared to the 708 f.p.s. when seated by finger pressure alone. The range went from 678 to 691 f.p.s. — a spread of 13 f.p.s., compared to the 26 f.p.s. spread for the finger-seated pellets. I think this result is interesting enough to warrant a special test during the big accuracy test that comes next.
Trigger-pull
Although the trigger still has a long pull and buckets of creep, it releases at a pretty nice 4 lbs. on the money. If I can shoot with discipline, it may not influence the accuracy as much as I originally feared.
Observations thus far
Well, the rifle is harder to cock than I originally thought. I thought it was just me getting weaker, but apparently I'm still able to cock a springer — this one just takes more than I think it should for the power it delivers. Ed Schultz of Crosman told me when I tested the Benjamin Legacy with Nitro Piston in .22 caliber that they were never able to get a .177 to shoot and behave as well as the .22. That must have something to do with the smaller bore diameter, but what it might be I have no idea. If true, it suggests that a .25-caliber low-velocity breakbarrel with Nitro Piston might be the nicest airgun of all, though I doubt we'll ever see one.
The firing behavior of this rifle is very nice. It fires with just a small forward jolt and no vibration to speak of, though I did need to tighten all the stock screws once during the test.
The velocity is bang-on the advertised speed. It didn't take any trick pellets to achieve it, either. The velocity is in a very nice place for accuracy, and the smooth behavior of the rifle can't do anything but help it achieve its absolute best. So, I'm expecting good things on accuracy day.