by Tom Gaylord, a.k.a. B.B. Pelletier
Announcement: Wesley Santiago is this week's winner of Pyramyd Air's Big Shot of the Week on their airgun facebook page. He'll receive a $50 Pyramyd Air gift card. Congratulations!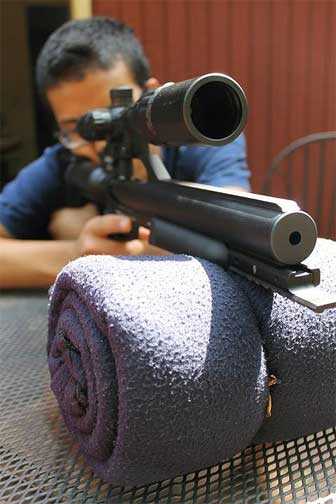 Wesley Santiago is this week's Big Shot of the Week on Pyramyd Air's facebook page. He's holding an AirForce Airguns Talon SS air rifle.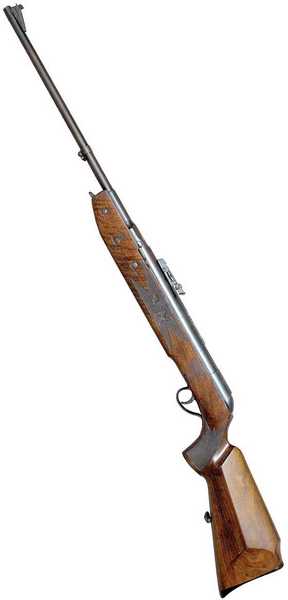 Falke 90 before restoration.
A funny thing happened as I was writing this report. I mentioned at the end of the last part that I was thinking of restoring the stock that was so beat up, and many readers raised their voices in unison to say "NO!" Okay, I admit that I'm not the finest woodworker in the world, but you don't all need to agree so emphatically. And so quickly!
Kevin wrote me a message, pleading and trying to reason with me that this poor old rifle had suffered enough and deserved the touch of a master's hand rather than the collateral damage I would no doubt inflict. And he even provided me with a name — Doug Phillips.
Doug lives in Houston, as it turns out, (I live in the same state), and he works at a business he calls DamagedWoodstocks, which sounded exactly like what I had. How did he know? I contacted him after looking over the photos on his website. Turns out that he works with a lot of damaged airgun stocks, and he can work near-miracles.
I emailed him and sent along some photos to give him an idea of the scope of the job. But by my own ignorance, I omitted the really bad news and poor Doug had to discover that for himself after quoting the job. I did tell him he could revise his estimate after he saw the stock because I don't think either of us appreciated just how much work was going to be involved. So, this report is my penance for telling such a big fib — even if it was by omission and because I don't know enough about woodworking to start a good campfire.
The stock
The Falke 90 stock was covered with scars, gouges and cracks; it also had missing wood and the initials of some former owner. It was so ugly that it detracted from the fact that the airgun it held is rarer than a One of One-Thousand Winchester rifle! If this were a firearm, it would be worth thousands of dollars. It would be one of those you see on TV where they say, "Even in this condition, this rifle is so rare that it still commands a high price." But it isn't a firearm. It's an airgun, and I was unable to get any bites on it when I offered it for $250 at the 2012 Roanoke Airgun Show a couple months ago. Several major collectors looked at it sitting on my table as though it was a carrier of the Black Plague. That why I resolved to do something.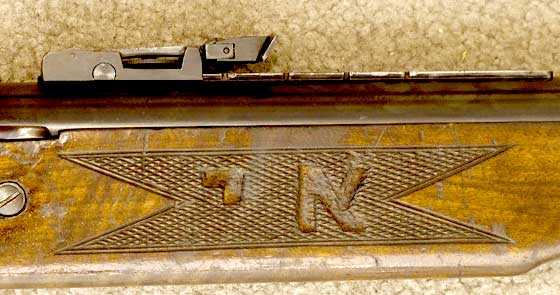 These initials were stamped into the left checkered panel of the rifle. I considered this the major damage, but I was wrong.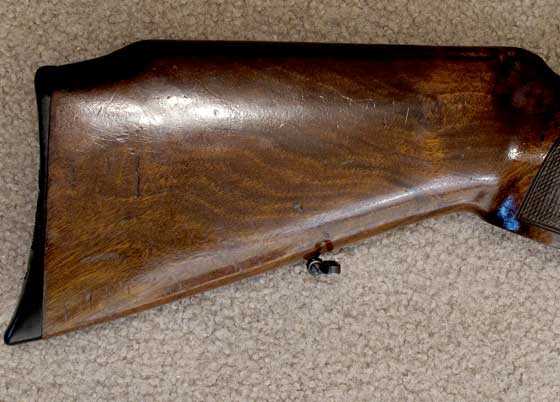 The right side of the butt shows a pleasing grain, but the dark stain and heavy varnish obscure it.

That crack in front of the triggerguard is the real problem with this stock. Under the triggerguard plate, about 90 percent of the original wood is missing!

This view of the left side of the butt shows the general poor condition of the wood. See the deep gouges that had to be dealt with? They're all over the stock.
These are a few selected views of the gun that went to Doug. I have more, but to keep this report manageable, I'm not showing them.
After Doug received the stock, we chatted via email and I learned that the trigger plate inlettting that I shrugged off was his biggest concern. I shrugged it off because I reckoned that nobody could ever do anything about it anyway, so why whine over something that can't be fixed? That was when I found out what kind of guy Doug is. He said he would study the stock for several days and then formulate a repair plan.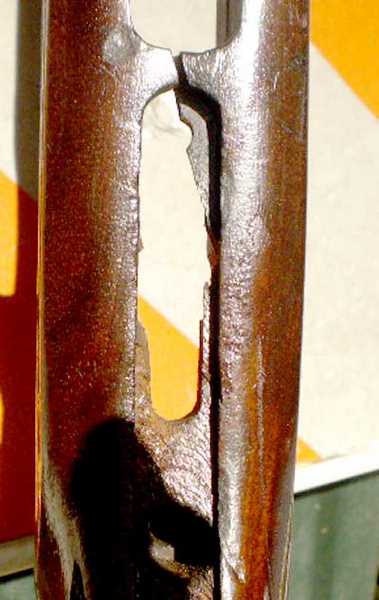 This is what Doug was faced with. Ninety percent of the trigger plate in the stock is missing.
Good to his word, he did contact me a couple days later and said that he had a plan for the stock. We talked a bit about how I would like it to look when it was finished, and I opted for a warmer, lighter color for the wood and not so much shiny finish over everything. That stuff can make a masterpiece look like cheap plastic!
A week later, Doug sent me a report with a couple photos. In three of them, I saw the great lengths he was going to in order to fix the rifle's inletting at the trigger. As it turned out, he fashioned a metal plate and set it in place for the inletting of the trigger group. Then he epoxied it in place. It is also held in place by metal pins.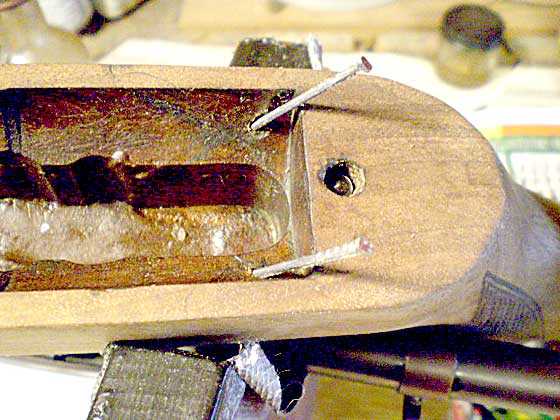 The trigger plate was completely rebuilt, with steel pins to reinforce it.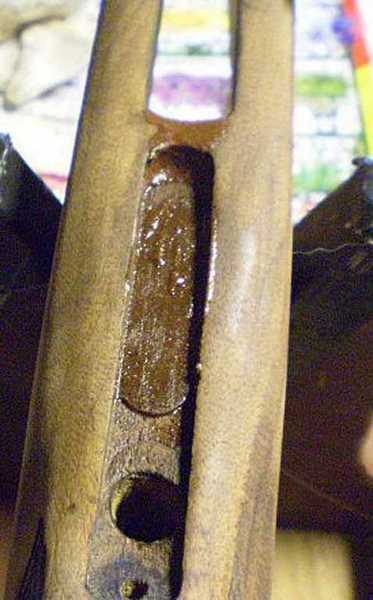 Once the plate was in position, it was epoxied in place.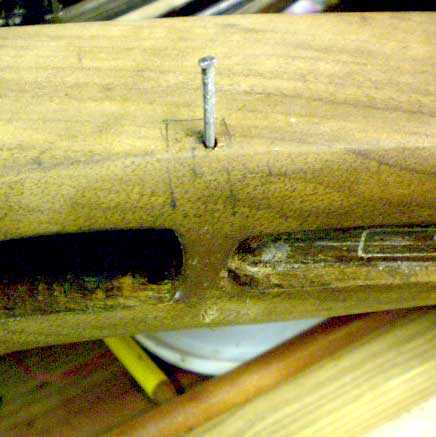 To strengthen the area where the crack was, he put in a cross pin.
I screwed up!
I was having the work done by someone else, so how could I screw up the job? Well, funny you should ask. Doug told me that he needed the rifle's action to measure and check the new inletting, so I quickly wrapped it up and sent it off. And quickly is the clue, because I didn't pack the 6 lb., 10 oz. action well enough. By the time it travelled 400 miles to him, it had punched a hole in the end of the box and dented the end of the steel end cap. Sure it was insured, but try finding replacement parts for a Falke 90!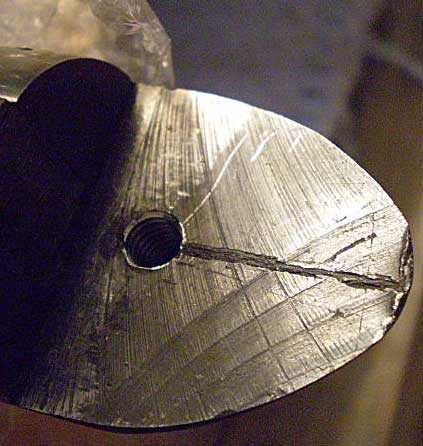 Due to my poor packing, the Falke action punched through the side of the box and dented the end cap.
Doug repaired the dent so it's not visible when the rifle is assembled. It wasn't part of what he signed up to do — just a dirty little job he inherited from me.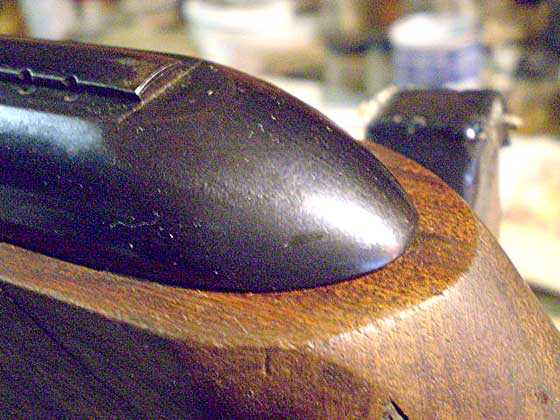 You can't tell the end cap was ever dented.
The initials
The things I worried about the most were probably some of the easier fixes for Doug — at least in retrospect. He used sawdust from the stock mixed with epoxy to fill in the depressions, then he smoothed down the top of the repair and recut the checkering just like the original. He even left flattened diamonds, so the work looks vintage and not new.
The staining of the repaired panel was a very touchy part of this repair, because epoxy doesn't accept stain like the wood around it. But he managed to do it perfectly. I cannot tell where the initials ever were.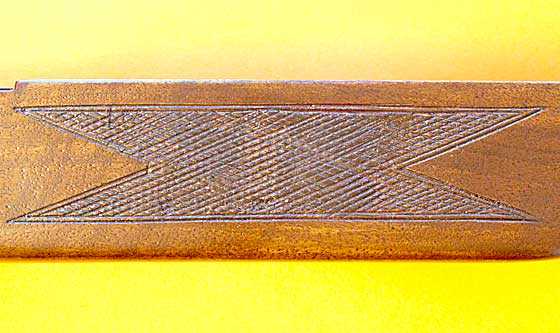 This is the panel that had the initials. They're gone, and it doesn't look like a new repair. The man is brilliant!
The gun is back
Doug worked diligently on this project, and it wasn't too long before I had the rifle back in my possession. I expected the work to take much longer than it did, and I'm not promising that Doug will be able to complete every job this fast. But he communicated with me often, and I appreciated that as much as the work, itself.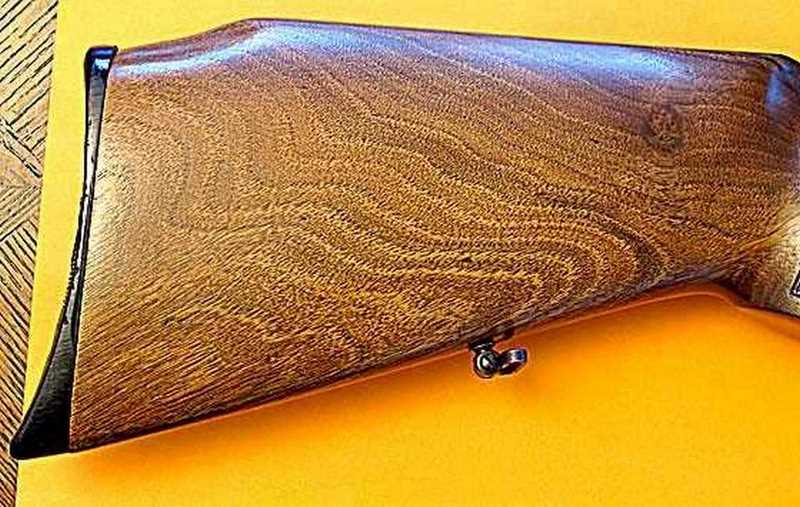 The restored stock shows clear grain on the right butt.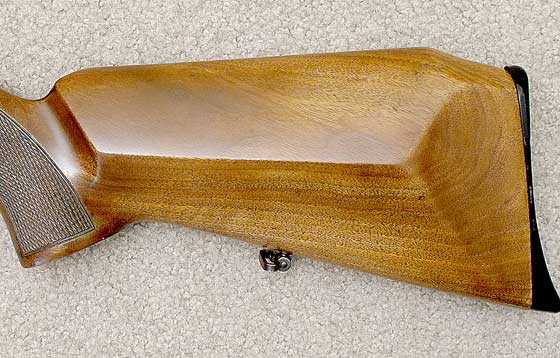 On the left butt, the dents and scratches are gone.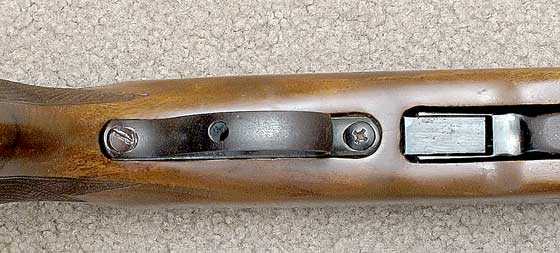 The trigger inletting is the most spectacular thing that was done. Doug Phillips built it up from nothing!
This blog is supposed to be a report about the Falke 90 air rifle — a rifle that, because of circumstances, I've never actually tested myself. And when I started to look at it and shoot it for this report, it was very much like discovering that the mousy girl who lives next door is actually a raving beauty. I know I'm hooked, and I have Marv Freund (who initially sold me the rifle), Mac (who originally tested it for me), Kevin Lentz (who told me about Doug Phillips) and of course Doug, himself, to thank for this story.
The report will continue where I left off when this restoration project began. And if any of you have rifle stocks in need of repair, I wholeheartedly recommend Doug Phillips for the work. I purposely have not told you how much he charged for this job because every restoration will be different. If you have an airgun stock or a firearm stock in need of the master's touch, contact Doug and find out what he can do for you.

I would say the Falke 90 looks a lot better after the stock was restored!