by B.B. Pelletier
Announcement: Dave Cole is this week's winner of Pyramyd Air's Big Shot of the Week on their airgun facebook page. He'll receive a $50 Pyramyd Air gift card. Congratulations!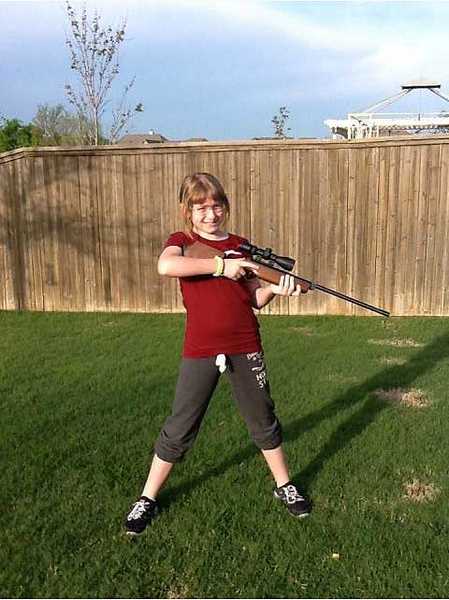 Dave Cole is this week's winner of Pyramyd Air's Big Shot of the Week contest on their airgun facebook page.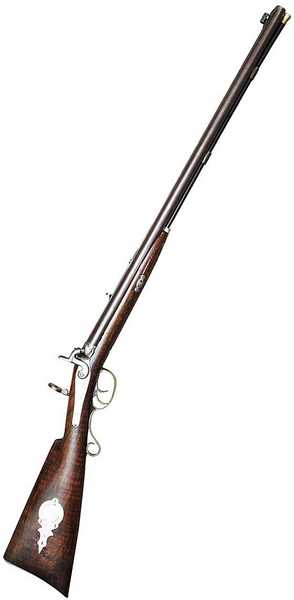 Nelson Lewis combination gun, made in Troy, NY, around 1850-1870. Rifle is .38 caliber; shotgun is 14 gauge.
Today, I'll show you the results of the last two outings with this unusual combination gun. Lessons have been learned.
Before we get to today's test report, I'd like to share a little more background on the gun's maker, Nelson Lewis of Troy, New York.
The big match
As readers of the internet, you're all aware that sometimes tempers flare and conversations become heated on the web. Would it surprise you to learn that this is nothing new? One hundred sixty-eight years ago there was a famous confrontation in the internet of that day — the newspaper — between Nelson Lewis and another noted gun maker, Morgan James of Utica, New York. Nelson Lewis had heard rumors that one or more of his fellow gun makers (presumably Morgan James, from the events that followed) had said he had not made the rifle he had used to beat a Mr. Williamson in a rifle match the September before. This was in the Feb. 18, 1854, edition of Spirit of the Times/A Chronicle of the Turf, Field Sports, Aquatics, Agriculture and the Stage, published in New York City. Lewis challenged whoever was spreading these rumors to put up or shut up.
Morgan James accepted the challenge, and the two men began a public correspondence in the newspaper that was not unlike what we see on the chat forums today.
Morgan James was also a famous rifle maker and a contemporary of Nelson Lewis. Like Lewis, he made long-range target rifles that were used by snipers in the Civil War. Many of James' long-range guns were so heavy they could only be shot from a bench rest that was included as part of their equipment. He was justifiably proud of the rifles he made, as well as his own marksmanship (as was Nelson Lewis); so when he read what Lewis accused him of, he attacked with a letter of his own to the editor of the cited publication.
To make a long story short, the two men exchanged challenges in the paper, and they finally agreed to shoot five each of their rifles against each other with each maker and one or more of his friends doing the shooting. One-hundred dollars was put up for each rifle in the contest, so each maker had five hundred dollars at stake.
Morgan James and his shooters won all five matches and Lewis paid him the money (I believe); but in the end, Lewis was a sore looser. He wrote a final letter to the editor, citing the fact that Morgan James' rifles were all heavier than his (15-18 pounds against 10-13 pounds) and of a larger caliber (.43 to .48 caliber compared to .36 to .38 caliber), plus James and his partner shot from a machine rest — but their rifles weren't clamped down, while Lewis and his shooters all shot from common shooting benches. And Morgan James had some sort of elaborate wind gauge on the range that was operated by a separate man who reported the wind to each shooter, so he didn't have to look at the flags. Lewis and his shooters used the common range flags that had always been used, and each shooter watched the one flag for himself.
From his report, Nelson Lewis seems to have been at a disadvantage, but why he didn't pin down the details of the contest beforehand with so much money at stake (approximately $13,500 in 2012 purchasing power) is a mystery. He certainly should have. He claimed he thought the match was to be with hunting rifles that could reasonably be carried afield, but the small calibers he chose are a real puzzle! Morgan James did nothing wrong except to try his best to win.
So things haven't changed, even though a century and a half has passed. Shooters still get hot under the collar and makers will do anything to defend their reputations. This is why I enjoy reading real history — because it shows that people don't change, even though their technology does.
Enough history. Let's go to the range.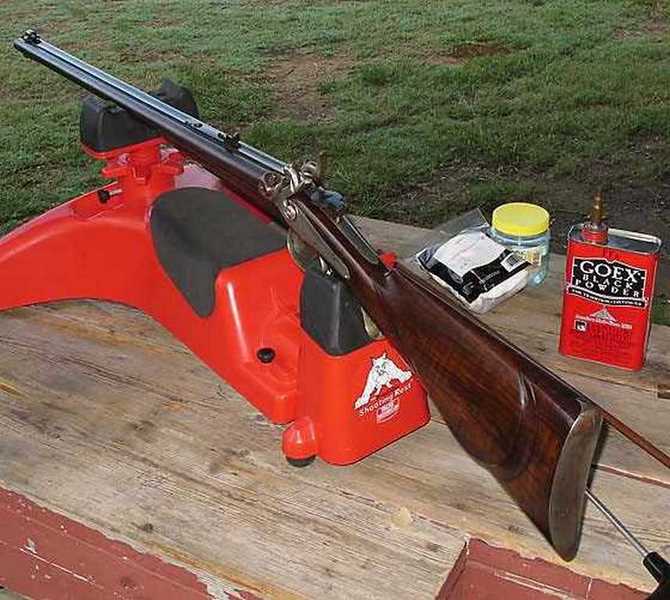 This time, the gun was ready for the range. The loading and cleaning procedures have been worked out.
Patch problem solved
The second time I took the Nelson Lewis gun to the range, I'd solved the patch problem. Instead of the too-thick patch material I had been using the first time out, I discovered that handkerchief linen from Ireland was both the correct thickness and also was tough enough to do the job in this rifle. I cut my patches by placing a nickel over the material and cutting around it. That gives me a patch of just the right size. And when the ball is seated, I can press it into the bore with my thumb — exactly as the old masters reported a century ago.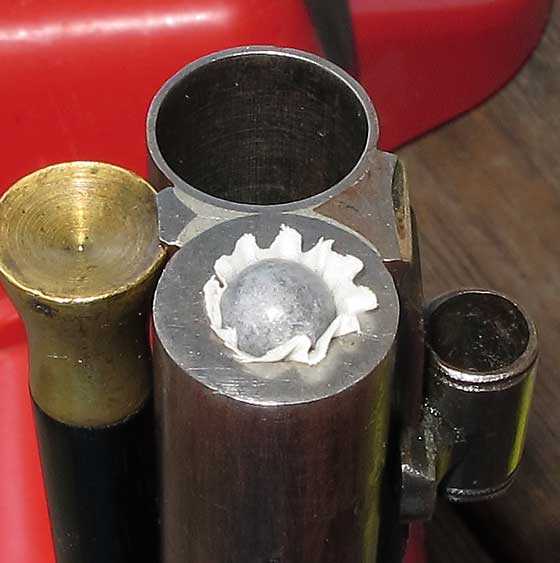 The thinner patches fit the balls perfectly, so they can be pressed into the muzzle with the thumb as the masters of old recommend.
The proof that this material works well is seen in the patches I recovered after shooting. They are textbook examples of what a good patch should look like.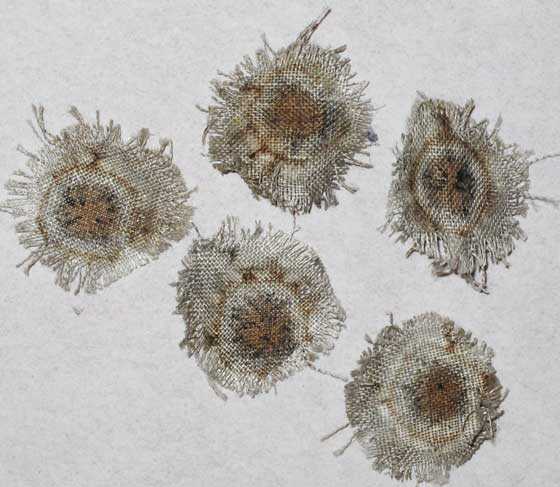 The fired patches look good. Irish handkerchief linen is strong, yet thin.
I also discovered that the powder charge could be increased a little with no detriment to accuracy. Now, the bullet gets downrange faster, which I can tell by listening to the sound of the ball striking the target at 50 yards. That may not be scientific, but it does work!
I also took the advice of Ned Roberts, who says to fill the powder measure to heaping, then wipe a straightedge across the top to level the powder. This gives a consistent amount of powder from shot to shot.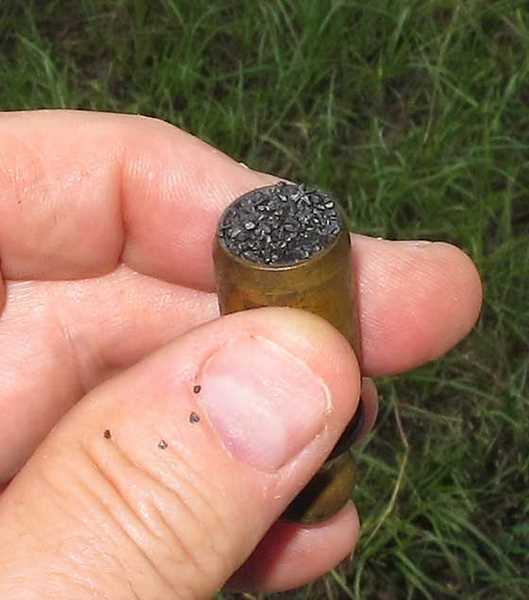 Fill the powder measure to heaping.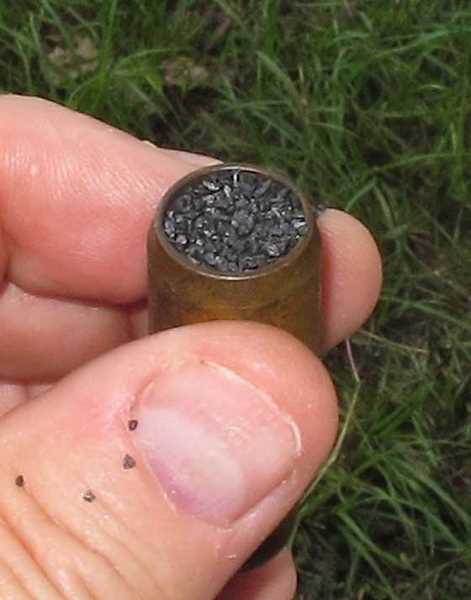 Then wipe a straightedge (like a knife blade) across the top of the measure to level the powder. This is called "stricken measure" in Ned Roberts' book.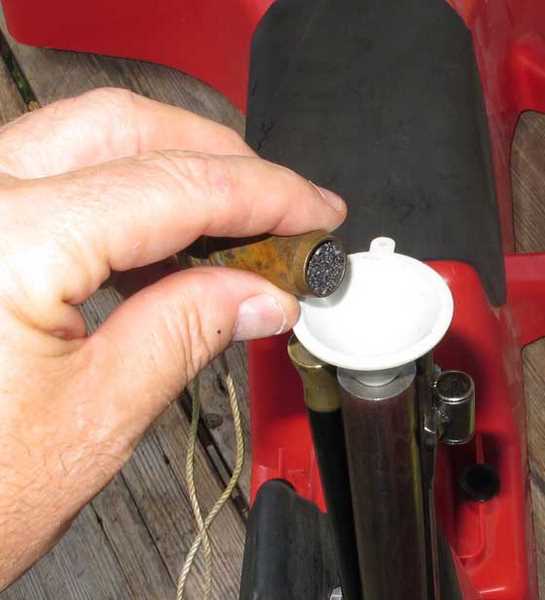 A tiny funnel Mac gave me is perfect for pouring the measured powder into the rifle barrel.
The new cleaning process
I clean the barrel after each shot. I did that the first time out, but I've added a few steps for a more thorough result. First, the bore is swabbed with a wet patch, followed by a brass brush, then another wet patch. These are followed by two dry patches that leave the bore sparkling clean and dry after every shot. It takes about three minutes to clean the bore this way, but that's nothing when you're shooting a muzzleloader.
The final thing I tried was patches lubricated both with grease and saliva. Grease is used for the patches of balls in hunting guns, where the ball will be in the barrel a long time. Saliva is supposed to give a slight edge in accuracy, but it dries out over time and also can promote rust in the bore — two good reasons why saliva is used only for target shooting.
I had high hopes that all these things would give me better groups than the first time out, but they didn't! Something was missing.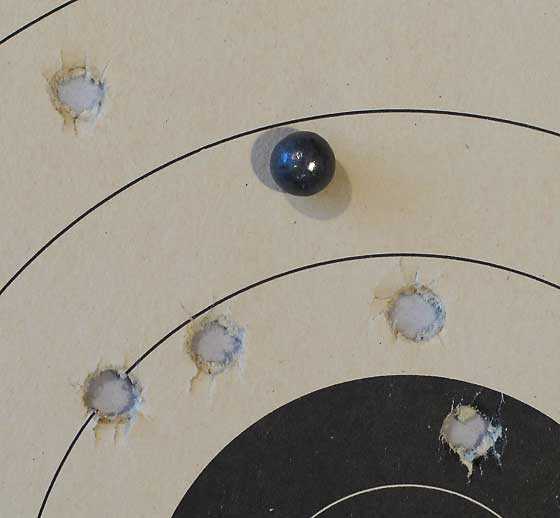 Group fired with greased patches on June 16. Fifty yards.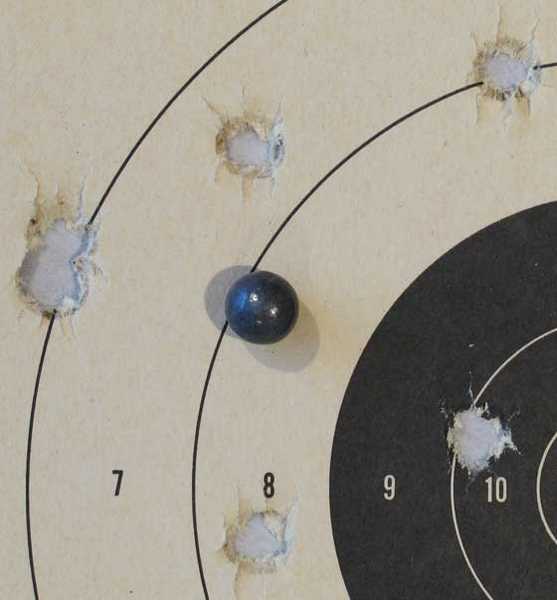 Group fired with saliva-wet patches on Jun 16. Also 50 yards. No improvement.
Mac suggested that since this is a combination gun, perhaps shooting it as often as once every five minutes was letting the rifle barrel heat up enough to warp against the cold shotgun barrel. If this is a meat gun, then shouldn't the first shot from a cold rifle be right on target? It was the best suggestion anyone had given me; so when I went to the range again this week, I did everything the same except that I waited 20-25 minutes between shots to give the gun plenty of time to cool off.
The first 4 shots went into the best group I'd seen to this point, but shot 5 went wild at 9 o'clock, ruining the group. I held as perfectly as I know how for all 5 shots, and I've held 5 shots in three-tenths of an inch with target sights at 50 yards this year with a .22 rimfire — so it's not me!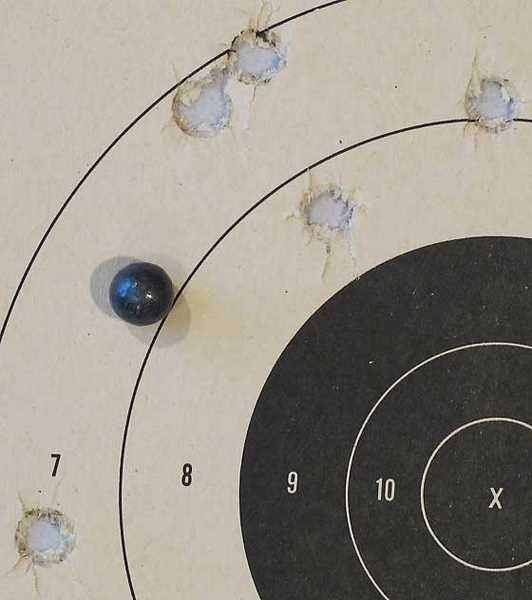 Group fired with saliva-wetted patches and waiting a minimum of 20 minutes between shots. Shot at 50 yards on July 12, 2012. Four close shots, but the fifth shot opened the group to the size of the others. So this is no real improvement.
I'm now thinking that the rifling twist in this gun (remember it has a gain twist) is too fast for round balls, and that the gun wants to shoot conical bullets. A patched picket bullet is what the rifle is supposed to shoot. I've avoided shooting the picket bullet that came with the rifle, because making them in the manual swaging dies is a lot of hard work. But now it seems I have to try something other than round balls. We'll see what happens next time!
Why am I doing this?
If you're a new reader of this blog, you must be wondering if I've lost my mind — reporting on a 150-year-old muzzle loading firearm in an airgun blog. Here's why I do it. Airguns don't hold a lot of secrets from me. I've been around them long enough to have gotten comfortable with them and their ways. I'm not saying that I know everything there is to know, but perhaps I have become too familiar with airguns to remember all those confusing steps that baffled me when I first encountered them.
This antique firearm, on the other hand, is as foreign to me as it is to you. I'm discovering how to shoot this gun successfully and letting you watch me while I do it, so maybe you can relate to the things that stump me. This old black powder gun puts you and me on equal footing as shooters. That's why I report on it — so you can watch me stumble around and get confused by the same things that are perhaps confusing to you.
I could just spout off a bunch of words that I read in some book and let you think I know what I'm talking about, but I prefer to do it this way. I know this approach bothers some people who wish I would just stick to airguns, but to my way of thinking, all shooting is interrelated. The more you know about all shooting subjects, the more you know about any specific subject. People who disregard black powder guns, for instance, lack a firm understanding of how pneumatics work because they're very similar. And a poor crown will harm the accuracy of a .223 as much as it will a .177 pellet rifle.
I try to limit these reports to a minimum, but I will continue to make them from time to time because I have to. They are in me, and they have to come out.