by Tom Gaylord, a.k.a. B.B. Pelletier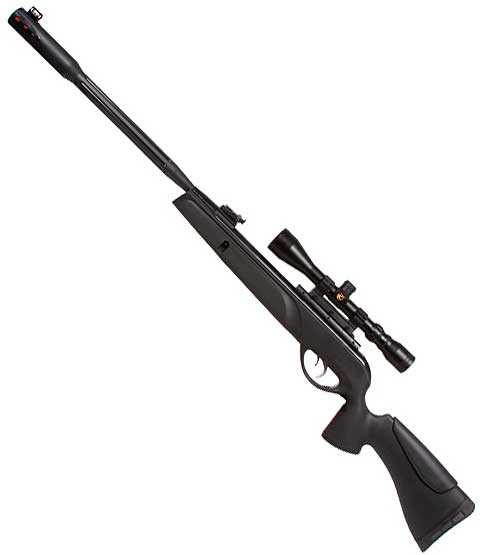 Gamo Whisper Fusion IGT air rifle.
This is the first accuracy report for the .177-caliber Gamo Whisper Fusion IGT air rifle. I shot this test using the open sights at 10 meters from a rest. I did that because I usually don't have much luck with powerful gas-spring air rifles. They tend to spray their pellets all over the place. And getting a scope mounted and stable can also be a problem, so I wanted a track record for the rifle before I got to any of that.
Smooth Action Trigger
I usually wait until the accuracy test to report on how well the trigger, which in this instance is the Smooth Action Trigger (SAT), performs. The pull weight, measured in part 2, releases at 3 lbs., 12 oz. It's a 2-stage trigger with a second stage that needs some explanation. Instead of pausing at stage 2 and then breaking cleanly, the trigger on the test rifle — and I must assume on all SAT — pulls through stage 2. You can feel the trigger move, yet there's no creep. The pull is — well — smooth! And it's predictable. It's a different sort of feel from other triggers but not different in a bad way. I don't think anyone will need to buy an aftermarket trigger when they have a rifle with the SAT installed. Well done, Gamo!
I also thank Gamo for making the safety manual. It does not come on when the rifle is cocked. That makes the shooting progress that much faster and with less for the shooter to do. It's a small thing, but one that I noticed and must comment on it.
Feel of the rifle
This is a very light air rifle, yet the stock is shaped so your off hand goes to a spot immediately in front of the triggerguard. The rifle is so light that this still gives it a neutral balance, but it hangs right in the hands and feels good on the shoulder. The more-vertical pistol grip has something to do with the good feel, as well.
I did find the stock stinging my cheek with each shot, however. It served as a reminder to hold the rifle even lighter than I was, which is a good thing. Once I did that, there was no more stinging.
Sighting-in
I sighted-in the rifle with JSB Exact RS pellets and discovered that the front sight was too high for a 6 o'clock hold on the 10-meter pistol bullseye target I was using. So, I did something I've never before tried. I'll illustrate the sight picture I used.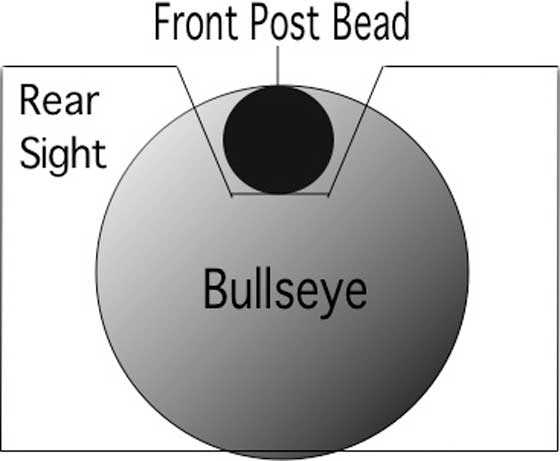 The front sight bead was darker than the well-lit bullseye, so I was able to place it at the top of the bull like this.
As you can see, I placed the front bead at the top inside of the bullseye. The bull was so well lit that the bead showed up as black on gray. Maybe this isn't the best open sight picture, but it seemed to work well enough for this test.
JSB Exact RS
The first pellet I tried was the JSB Exact RS dome. We know it's often a good pellet — especially in lower-powered air rifles, which the Fusion IGT certainly is not. In this gun, the RS develops 14.32 foot-pounds, which puts it into the medium power group. If you're a hunter, that's where you want to be, so long as the rifle is also accurate.
The RS pellet put 10 shots into a nice round group that measured 0.591 inches between centers. While that isn't a spectacular 10-meter group, it's good when you consider the novel sight picture I was using. I'll keep the RS in mind when I back up to 25 yards and mount a scope.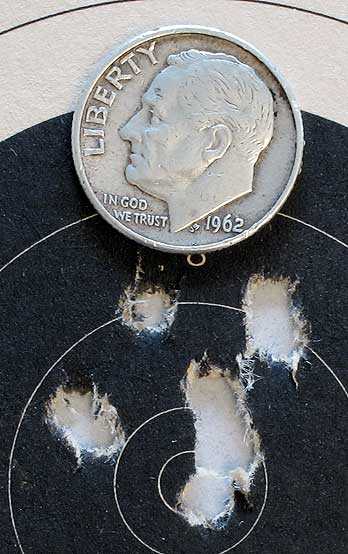 At 10 meters, 10 JSB Exact RS pellets went into this round group that measures 0.591 inches.
RWS Superdome
The next pellet I tried was the RWS Superdome. This pellet generates 15.43 foot-pounds of muzzle energy. Ten shots made a group measuring 1.332 inches. But it's the shape of the group that's really interesting! Five of the pellets landed in a very vertical group, while the other 5 made a beautiful small round group of their own. This target demonstrates why 10-shot groups are better than 5-shot groups because many shooters would just accept those 5 close shots and be done with it. I don't think the Superdomes are right for this rifle based on all 10 shots.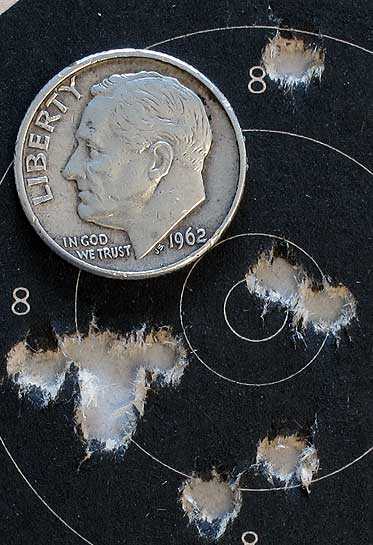 At 10 meters, 10 RWS Superdomes made this large 1.332-inch group. Five pellets landed in a tiny 0.362-inch group on the left that's deceiving. This pellet is out of the running for this rifle.
H&N Baracuda Match
Many shooters think that heavy pellets are bad for spring guns. They're supposed to damage the coiled steel mainspring. I wonder what they do to a gas spring like this IGT? That's my way of saying I don't think pellet weight is that much of a problem in a springer. Baracuda Match pellets average 824 f.p.s., for 16.06 foot-pounds of muzzle energy. Impressive power. If they're also accurate, this will be a good pellet for the rifle.
And, accurate they are! Ten H&N Baracuda Match pellets went into 0.625 inches at 10 meters. That's a pretty impressive group, considering the strange sight picture I'm using. It's only slightly larger than the JSB Exact RS group, and I think these pellets have earned a spot in the 25-yard test, as well. I have no idea of why they're spread out horizontally. When I checked the stock screws, all were tight.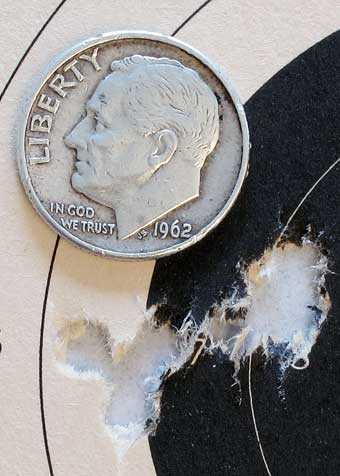 Ten H&N Baracuda Match pellets made this 0.625-inch group at 10 meters. This one looks promising.
Gamo Raptor PBA
The last pellet I tested was the Gamo Raptor PBA that Gamo uses to get the velocity out of this powerplant. Raptors go an average 1,232 f.p.s. and produce 18.2 foot-pounds of muzzle energy. That's the best performance I saw from this rifle…alas, they aren't accurate. Ten made a groups measuring 1.118 inches at 10 meters.
PBA pellets also cracked like .22 long rifle rounds because they broke the sound barrier. The noise, alone, would keep me from shooting them.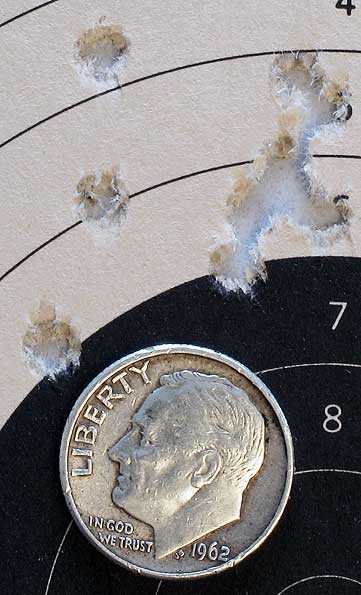 Ten Gamo Raptor PBA pellets made this 1.118-inch group at 10 meters. That's not very good in light of the two pellets that did well.
Evaluation so far
This rifle has plenty of good in its favor. The hold is good, the cocking is light for the power and the trigger is very nice. I'll withhold my final opinion until I see how it does at 25 yards; but if this was any indication, this could be a best buy.