Can used airguns also be good ones?
by Tom Gaylord, a.k.a. B.B. Pelletier
Today's report is a guest blog from reader /Dave. He's going to tell us about his recent experience with a fine precharged pneumatic (PCP) air rifle.
If you'd like to write a guest post for this blog, please email us.
Take it away, /Dave.
Most of you know me as /Dave. I used to be known here as Shooter, until someone was nice enough to recommend the movie of the same name to me. I immediately changed to /Dave because I'm simply not, and never will be, in that league. Please excuse the pictures, they are from my phone.
I have known a lot of people in my life who absolutely must have new when it comes to buying anything. Guns, cars, bicycles…doesn't matter — anything, really. As if used is somehow not as good, is damaged or is missing the right aura. To them, if it's not new, it just isn't right. For those people, I write the following report; as proof that used things are not all bad. This is one of my better experiences with used stuff.
A couple months ago, I bought a used Air Arms S410E bolt-action .22-caliber (FAC version) air rifle from the Yellow Forum classifieds. It showed great promise while I was shooting it and getting to know it in my basement's 9.50-yard range, but I longed to try it out at a longer range in a relaxed setting, like my backyard. My neighbors are mostly okay with me shooting outside. To make sure they aren't bothered, I wait to shoot until I have days off during the week when they're at work.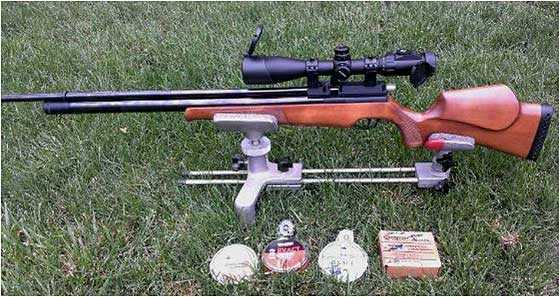 Dave's new/old Air Arms S410E air rifle.
I can get a measured 27 yards from the end of my muzzle on my kitchen countertop to the target near the back fence. A friend recently gave me a mechanical rifle rest that he wasn't using anymore, so I gave that a try. The countertop makes for a nice place to put the rest when you clamp a wide board to it. I usually shoot off a monopod while standing or sitting, so this was much more solid than what I'm used to.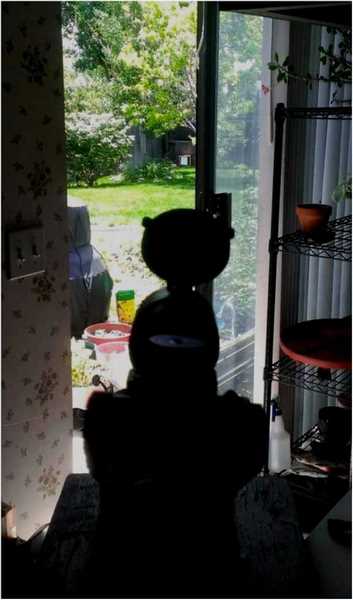 Shooting range from behind the rifle. Sshhh! Don't tell the wife.
Here's a look through the new scope I also got from the Yellow Forum classifieds (from a different guy). He bought it, never even took it out of the box and decided to sell it. It has a range-estimating reticle and mil-dots that I have yet to learn to use. So far, I just use the sidewheel focus knob. It seems close enough for government work. There are 36 colors for the reticle illumination! Haven't tried those out, either.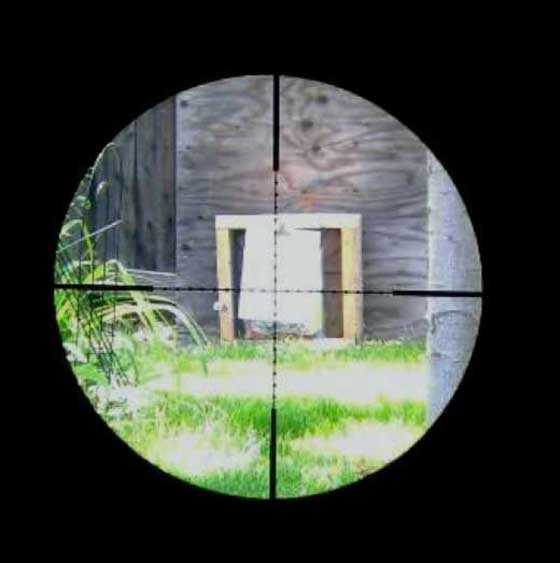 The view through new, secondhand scope (bought from Yellow but the box was still factory sealed) — UTG Accushot SWAT IE 3-12x44mm, IR, side focus, 30mm tube and set on about 7x. Looks out of focus on the picture, but it's really clear and in focus when looking through it with my eyes. Sidewheel set on about 26 yds, so it's not too far off on the factory markings after adjusting the diopter for my eyes.
My backstop is a piece of plywood behind an old crate, and inside — you guessed it — a pile of phone books still in their wrappers!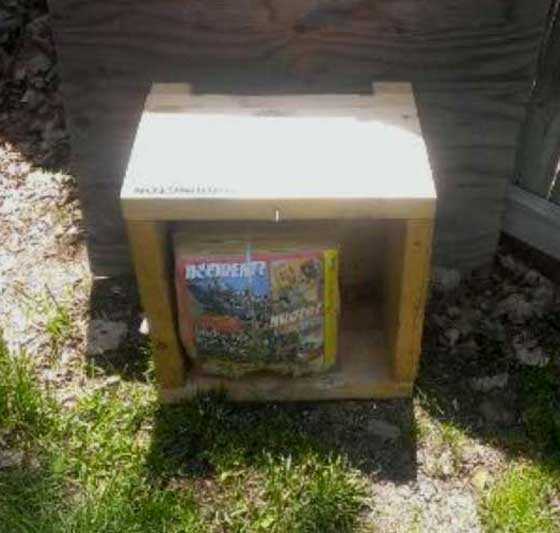 Backstop at 27 yards.
OK, on to business….
When I received my gun, I immediately pumped it up to its maximum fill of 200 bar (approximately 2900 psi) and started the chronograph testing. Blog reader Kevin Lentz accurately predicted that the sweet spot on the fill would be about 180-190 Bar. Above that, the valve is getting air locked, reducing the velocity of the pellets. I didn't save the results from my chronograph, a Competition Electronics ProChronoDigital, but I did figure the muzzle energy with each string's average using this Pyramyd Air's handy online calculator. With various pellets, it produces anywhere from 26 to 30+ foot-pounds. Lighter pellets generate less, and the heavier ones generate more energy, as is typical with a PCP airgun. This gun doesn't really start falling off the pressure curve (losing power and velocity) until around 110-120 bar (about 1600 psi), after 60 or more shots.
Pumping it back up to around 190 bar on the gauge takes somewhere around 150 strokes of my Benjamin hand pump. Sounds like a lot, huh? It's really only 2-1/4 to 2-1/2 pump strokes per shot. I'd call that pretty efficient in terms of energy transfer! While pumping the gun up, I noticed that the gauge on my pump and the gauge on the gun disagreed, so I go by the higher of the two readings just to be safe. That happens to be from the gauge on my pump. During the last couple of months since I received the gun, it hasn't leaked down any noticeable amount, so I think we're good there. Chalk one up for used equipment!
What about the accuracy? That's what airgunning is all about isn't it? OK, then, on to the shooting results.
At 27 yards on a mostly windless day and shooting off my mechanical rest, I think it does well. As I said, the mechanical rifle rest is a lot more solid than what I'm accustomed to. It doesn't adjust from side to side except by sliding the back end around, but it has a very fine elevation screw, allowing me to dial in the height very easily. It also has very thick felt v-pads on the front and rear to allow a non-marring, but freely sliding surface to support both the forearm and the butt of the rifle. While shooting my groups, I was also adjusting the scope a bit to get it closer to what I wanted. The clip on this gun holds 10 rounds, so it's easy to shoot groups of 10. I'll give both edge-to-edge and center-to-center group measurements for your comprehension. Generally speaking, I think that center-to-center is the standard.
My first group with .22-caliber JSB Exact Jumbo, 5.52mm head, 15.9-grain domed pellets measures about 5/8″ from edge-to-edge, giving me just over 3/8″ center-to-center. You might notice I don't use calipers. Although I own several, I just use a tape for my groups since that's usually what I have handy. This same pellet duplicated this group a couple of clips later and is the best pellet of the 4 types shot today at this distance.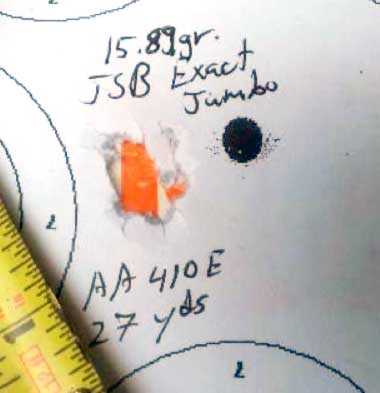 First group of the day, 10 rounds. It's also the 2nd best of the day!
My second group was with Air Arms Falcon pellets, 5.52mm head, 13.43-grains, domed pellets. These gave me a 10-shot group of 11/16″ edge-to-edge, or about 7/16″ center-to-center.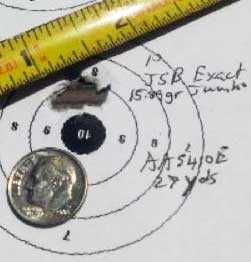 The second group was with JSB Exact 15.9-grain domes. It's pretty good!
The third group was with Crosman Premier .22, 5.50mm head, domed pellets. These are from the box, not the tin. These weren't terrible at 13/16″ edge-to-edge, or about 9/16″ center-to-center. I think I've found something other than my 2240 that will shoot these CP's with acceptable accuracy!
The fourth group was from the JSB Exact Jumbo Heavy, 5.50mm head, 18.1 grain, domed pellets. At 5/8″ edge-to-edge, or about 3/8″ center-to-center, these matched the 15.89-grain JSBs. Two good choices!
My fifth group was a repeat with the JSB Exact Jumbo .22, 5.52mm head, 15.89-grain, domed pellets from the first group. This was my best group of the day at 9/16″ edge-to-edge, or about 5/16″ center-to-center!
My sixth group was a repeat with the JSB Exact Jumbos from the first and fifth group. I just wanted to verify that I was sighted in at 27 yards. This group is in the upper left of the following picture. The group size is a bit larger due to the fact that I shot away my aim point.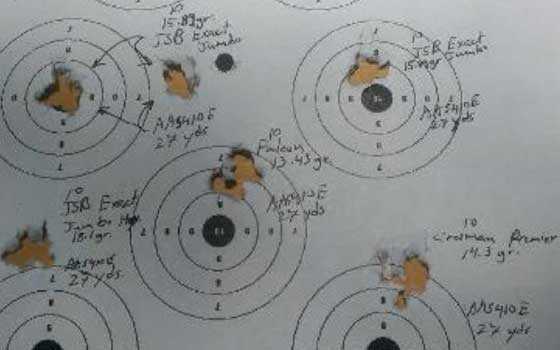 Six 10-shot groups on one fill. One-hundred fifty strokes of the Benjamin handpump to refill to 190 bar from about 110-120 bar. I think that the JSB Exact Jumbo 15.89-grain pellet is the winner of the day. Last group is upper left after scope adjustments.
As you can see, each of the six groups can be completely or almost completely covered by a dime. The largest can be covered with a nickel. All are pretty round, and these are consecutive group; so I'd say this rifle isn't too pellet picky. Cost for this set-up was less than $600 for the gun and 2 clips plus $100 for the scope. The Accushot scope mounts I already had laying around. All of the pellets that I used today were purchased from Pyramyd Air at one time or another. Can't beat their 4 for the price of 3 deal!
Am I happy with this gun? Absolutely! But, back to the original question: "Can you get a good, used gun?" Of course! This isn't my only used gun purchase. Nearly all of my higher end guns are used (I call them higher end but, in fact, they're more middle range), either acquired from the Yellow Forum classifieds or from Pyramyd Air's Reman/Refurb/Open Box or Used Gun section. Either I've had great luck or this is the norm for me, with the bad apples being the occasional exception.
One of the things that ups my success versus "oops, I shouldn't have done that" rate is research. In this case, I'd witnessed an S410 FAC sidelever in action. I know that Air Arms has a pretty much stellar reputation; and, from looking at going prices, I knew this one was a pretty good deal — even if it is a bolt-action and the stock isn't walnut. Not a screaming deal; but at arm's length, everyone walks away happy deal. I also buy new guns and other things, but I fully intend to keep saving money by careful shopping in the used, remanufactured and refurbished aisles! So can you. You'll need just a little patience and act quickly when you notice something!
Tom Gaylord is known as The Godfather of Airguns™ and has been an airgunner for over a half-century, but it was the 
Beeman
 company in the 1970s that awoke a serious interest in airguns. Until then, all he knew were the inexpensive American airguns. Through the pages of the Beeman catalog, he learned about adult airguns for the first time. In 1994, Tom started
The Airgun Letter
 with his wife, Edith. This monthly newsletter was designed to bring serious reports about airguns to the American public. The newsletter and
Airgun Revue
, a sister magazine about collectible airguns, was published from 1994 until 2002, when Tom started
Airgun Illustrated
-- the first American newsstand magazine about airguns. Tom worked for three years as technical director at
AirForce Airguns
, the makers of the 
Talon, Condor, and Escape
 precharged air rifles. Today, he writes about airguns and firearms for various publications and websites. He also makes videos, and you'll find short clips embedded in some of his artices on Pyramyd Air's website. Tom is a consultant to Pyramyd Air and writes under the name of B.B. Pelletier.