Testing the effect of hold on an accurate spring-piston air rifle: Part 2
by Tom Gaylord, a.k.a. B.B. Pelletier
Testing the effect of hold on an accurate spring-piston air rifle: Part 1
Calling the shot and follow-through
Settling into a firing position
I thought this was going to be a one-time report. I would show how the hold affects the accuracy of a spring-piston rifle and that would be it. Well, the best-laid plans…
Blog reader Slinging Lead said he thought that lower-powered breakbarrels shoot just as accurately when rested directly on a bag as they do when shot with the artillery hold. I had to admit that the TX200 does shoot well off a bag, although that rifle is an underlever — not a breakbarrel. And it's certainly not lower-powered. Then, blog reader BG_Farmer entered the conversation and requested this test.
While all this was transpiring, blog reader Kevin Lentz sent me 2 tins of Air Arms Falcon pellets to try in my R8. He said his R8 shot them slightly better than it shot the JSB Exact RS pellets that I normally use in my R8.
Now, we had a multivariate discussion going on! On one hand we wondered which pellets were the most accurate in my R8; and on the other hand, we wondered if the gun was as accurate when rested directly on the bag as it was when held with the artillery hold.
How do you test all that? Do you start by testing one of the 2 pellets, or do you first find the best hold? My approach in situations like this has always been to just start testing and let the methodology work itself out as I progress.
This time, I started by shooting the gun with both pellets. I shot them with the artillery hold the way I always had, then I rested the gun directly on the sandbag and shot both pellets again. The first day's results were not very good, but they did illuminate something that helped me structure the second day's shooting. It turns out that, although the R8 is a very accurate springer, it's still ultra-sensitive to hold. I guess I'd forgotten that, but on the first day's shooting it slapped me in the face. I found that even the slightest variation in hold would throw the pellet sideways with a vengeance, and that held true for both the Falcon pellets and the JSB Exact RS pellets.
Ten-shot groups are the way to go
Once again, I must sing the praises of 10-shot groups over 5-shot groups. When you shoot 10 shots, you allow the gun to do its thing; and that tells you what the real accuracy is. People say they don't shoot 10 shots because something can go wrong — that it's easy to hold the rifle steady for 5 shots, but close to impossible to hold it right 10 times in a row. I say that's just a lie we tell ourselves because 5-shot groups look so much better. Yes, it's hard to hold a gun correctly 10 times in a row; and yes, you'll make mistakes. I make them all the time. But if you get into the habit of shooting 10-shot groups, you'll also KNOW when you make those mistakes; and in time, you'll make fewer of them.
The first results — JSB Exact RS pellets
The rest of this report will be mostly the photos of the groups. I'll start with the JSB Exact RS pellets.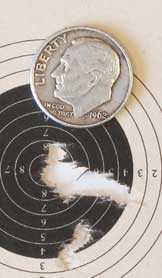 On the first day, this is what my artillery hold did with 10 JSB RS pellets at 25 yards. Group measures 0.647 inches.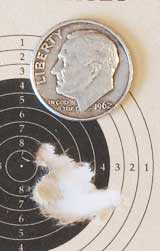 On the second day, my artillery hold was more precise shot-to-shot, and I got groups that were smaller and rounder. Here are 10 JSB RS pellets from the artillery hold at 25 yards. Group measures 0.503 inches.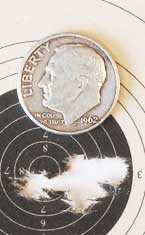 Resting directly on the bag on the first day produced a slightly smaller group than the handheld one. Ten JSB RS pellets rested on a bag went into 0.571 inches between centers at 25 yards.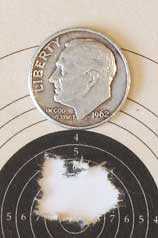 Resting directly on the bag on day 2 also beat the handheld group on that day.Ten JSB RS pellets rested on a bag went into 0.379 inches between centers at 25 yards. This is the smallest group of this test.
Clearly, these results show that the groups of JSB Exact RS pellets fired off the bag are smaller than the handheld groups on both days. The day 1 groups are larger than the day 2 groups, but the relationships of the group sizes between bag-rested and handheld remained constant on both days.
Air Arms Falcon pellets
Now, let's see what happened with the Air Arms Falcon pellets. These were also shot on both days and using both resting methods.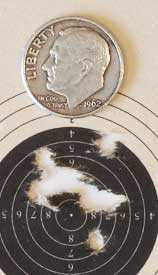 On the first day, this is what my artillery hold did with 10 Air Arms Falcon pellets at 25 yards. Group measures 0.63 inches. It's slightly better than the handheld JSB RS group shot on the same day.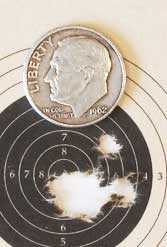 On day ,2 the group shot with my artillery hold and 10 Air Arms Falcon pellets at 25 yards measures 0.466 inches. It's considerably better than the handheld JSB RS group shot on day 1.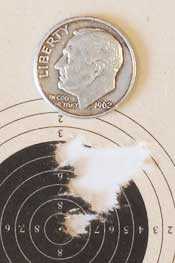 On the first day, 10 Air Arms Falcon pellets at 25 yards shot with the rifle rested directly on the sandbag went into 0.627 inches. It's slightly better than the handheld Falcon group shot on the same day.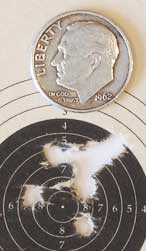 On the second day, 10 Air Arms Falcon pellets at 25 yards shot with the rifle rested directly on the sandbag went into 0.603 inches. It's much worse than the handheld Falcon group shot on the same day. I know this group APPEARS larger than the group above, but I measured it several times and it really is slightly smaller.
Conclusions
I conclude that these 2 pellets perform so close to each other that there's no measurable difference — at least not in my Beeman R8. The group sizes do slightly favor the JSB pellets over the Falcons, but it's too close to call.
But this test does demonstrate one thing very clearly. This rifle is capable of shooting groups just as tight when rested directly on a sandbag as when held with the artillery hold. That's big news, I think. I'll remind you that this test required the utmost in precision holding — whether in the hands or on the bag. There could be absolutely no tension on the rifle, and the gun had to be settled in properly before firing. It, therefore, took nearly as long to get each shot ready on the bag as it did holding the gun.
Don't try to go too far
This is all well and good, but don't sit in judgement of these results. It would be far too easy to get sucked into a destructive discussion of how much better you think this rifle can really shoot.
Many years ago, I worked for an engineering firm that developed specialized telecommunications systems. Our client was always pushing past the edge of technological possibility, so we were, too. That's admirable except it sometimes gets you into problem areas. Let's look at one example. The client wanted a mass storage device that stored a huge amount of data. They also wanted the data to be retrievable within a very short time. You can do one thing or the other; but when you try to do both simultaneously, there are problems.
Our problems can be seen in the movie Patriot Games, when the main character is attempting to do voice recognition in real time from a cell phone intercept. There's a glass wall behind him, and the mass storage device behind the wall is very much like the one we were asked to design. As you watch the film, you'll see robot arms moving fast to retrieve digital storage devices and plug them into readers. The arms move very fast! But they're slow compared to the speed our robots had to move. Our arms had to move faster than the speed of sound, yet stop at precisely the right spot for the storage devices to be inserted into the readers. That is a physical impossibility just due to the physics of the problem. You cannot decelerate a mass from fast to zero without some consequences.
We had a problem that was unsolvable at the time we were attempting to do it. Today, however, it can be done, and the footprint of the system that does it is a fraction the size of what we were working on. Mass storage technology caught up with our technological requirement and then surpassed it.
You run into the same problem when you attempt to test something like the rifle we're looking at today. You can get a spring-piston gun to a remarkable level of precision, and then the technology and physical limitations stop all further progress.
Put another way, you can take a $500 spring gun and invest another $500 to get it shooting 10 times better than before. But after you do, maybe no amount of additional money can get that more accurate airgun to shoot another 10 times better!
I could probably continue to test this rifle and get different results. Some would be better than what is seen here, and others would be worse. I believe this test does show the relationship quite well of the gun to the 2 pellets and 2 different holds.
Tom Gaylord is known as The Godfather of Airguns™ and has been an airgunner for over a half-century, but it was the 
Beeman
 company in the 1970s that awoke a serious interest in airguns. Until then, all he knew were the inexpensive American airguns. Through the pages of the Beeman catalog, he learned about adult airguns for the first time. In 1994, Tom started
The Airgun Letter
 with his wife, Edith. This monthly newsletter was designed to bring serious reports about airguns to the American public. The newsletter and
Airgun Revue
, a sister magazine about collectible airguns, was published from 1994 until 2002, when Tom started
Airgun Illustrated
-- the first American newsstand magazine about airguns. Tom worked for three years as technical director at
AirForce Airguns
, the makers of the 
Talon, Condor, and Escape
 precharged air rifles. Today, he writes about airguns and firearms for various publications and websites. He also makes videos, and you'll find short clips embedded in some of his artices on Pyramyd Air's website. Tom is a consultant to Pyramyd Air and writes under the name of B.B. Pelletier.