by Tom Gaylord, a.k.a. B.B. Pelletier
You tell me that you enjoy the longer reports that pick apart certain guns and analyze them in great depth. You insist that I explain the technical terms and sometimes also the terms that are specific to shooting. We have a wide spectrum of reader experience in the shooting sports on this blog; so when I write about something, I have to keep that foremost in mind. I try not to jargonize or use insider language, although I'm sure that I do from time to time.
Today we begin what will undoubtedly become a huge report. I think you will enjoy it, but I am asking for your help in managing the questions and comments that will undoubtedly result. So, sit back and pour a fresh cup of coffee or tea, for I think this trip is going to be fun for all of us!
The detailed photos in today's report are provided by Lloyd Sikes. My thanks to him for all his work.
The 2013 Roanoke airgun show was a poignant one for me. It was the first airgun show in more than a decade where my buddy Mac was not with me. He passed away on May 5, 2013, and I stopped going to events for several months afterward. Roanoke was my first outing since his passing.
I've already reported on the show and don't need to go over that ground again, but one thing that happened there does need to be mentioned. While I was at my table, a man walked up with a Benjamin Discovery in his hand and told me he had bought it from me the previous year. I recognized the rifle as one Mac had sold (we were both at the same table), and I mentioned that to him. I could see in his eyes, however, that he was very concerned with the status of this gun right now!
He had shot the gun for about a year but really hadn't used it that much. He said that it now had a slow leak that needed to be repaired and had brought it to the show to get his money back. I looked at the rifle and saw that it was in fine shape, and he had the hand pump that came with it but not the box. I fully intended to buy it back from him just because that's what Mac would've done. So, we struck a deal, and the Discovery became mine.


I bought back Mac's Benjamin Discovery at the Roanoke airgun show.
It may surprise you to learn that I have never owned an actual Benjamin Discovery! When Crosman and I were developing the rifle in 2007, I tested two prototypes that were Discoveries in every way, but they were not production guns. They were Crosman 2260s that were converted to Discovery specifications. I'd helped develop the Discovery 6 years earlier, but I never actually owned one before now. And, I had a plan for this one!
At the same show, Lloyd Sikes, the owner of Airgun Lab, was set up on the other side of the room. For those of you who don't know him, Lloyd is the man who invented the technology that became the Benjamin Rogue. But Lloyd is now taking Benjamin Discoveries and adding an additional air tube to double their air reservoir capacity. Mostly, he sells kits of parts to people who want to do the work themselves — it's easy enough for most people. But he's also building a few very special rifles from the ground up. For over a year, I'd wanted to test something Lloyd was building, and this Benjamin Discovery seemed the ideal subject!
I walked over to Lloyd's table and had a chat with him. As fate would have it, he was working on something brand new. He had just started experimenting with what he calls a Disco Double with both reservoir tubes made from aluminum rather than steel. The result is a gun that is nearly as light as the original Benjamin Discovery! When I picked up the prototype gun he had on his table, I couldn't believe it. It was so light! I wanted one just like it.
Lloyd and I had several conversations at the show, and I left my brand new Discovery with him to build a lightweight Disco Double. I learned that what Lloyd makes is not just one simple product. There are so many changes that can be made in the process of modifying the rifle that a lot of decisions have to be made. We made those decisions both at that airgun show and in emails as time passed. But the original idea of a lightweight Disco Double with dual aluminum tubes remained the core plan.
When I returned from the SHOT show last week and my mail was delivered, there was a box from Lloyd! My lightweight Disco Double had arrived!
This report is going to be about the Disco Double that Lloyd built for me. If you want to know more about the basic Benjamin Discovery air rifle, read these reports.
The rifle
The Benjamin Discovery is a basic precharged pneumatic air rifle that was built to sell at a very low price. The original concept was that the gun would come packaged with a high-pressure hand pump; and because the gun had a maximum fill pressure of 2000 psi, the hand pump would be very easy to operate. When I tested the preproduction guns in both .177 and .22 calibers, each was able to produce 10-shot groups smaller than 1 inch at 50 yards. At the Discovery's low price, this was incredible performance.
Mac had purchased one of the original 4000 rifles that were made during the first year of production. These are unique because they have genuine walnut stocks that had been made for a special 2260 rifle that was never built. After the supply of these walnut stocks was exhausted, the company changed to beech wood, which is in keeping with the low cost of the gun.
The Disco Double lighweight
The rifle Lloyd built for me has two aluminum air reservoir tubes. In conventional Disco Double conversions, the kit contains either one chrome moly steel or one high-strength aluminum tube that gets added to the rifle's existing steel tube for greater air capacity, but Lloyd made my rifle with dual aluminum tubes — the first of its type! The No. 1 purpose of this design is weight reduction, and secondarily it increases the air capacity for more shots.
The original base rifle in factory trim weighed 5 lbs., 7 oz. The original air capacity was 130cc. The rifle as now modified weighs 5 lbs., 8 oz. and has an air capacity of 199cc. That's 53 percent more air. The air capacity has not doubled because the aluminum tube wall thickness is greater (than steel) to provide the necessary strength. So, the tradeoff with this conversion is lighter weight (than an all-steel conversion) for a little less total air, though the air capacity is still boosted greatly.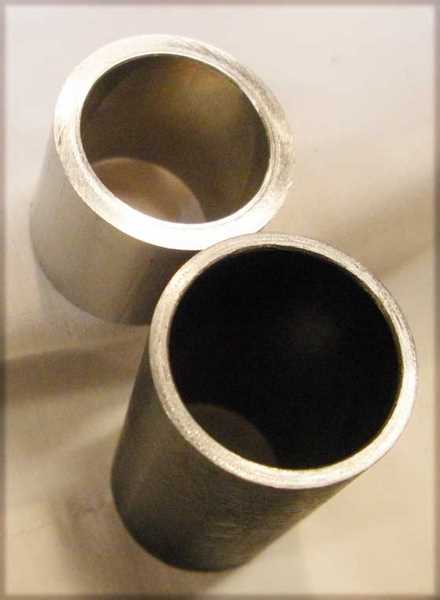 The steel tube (bottom) has thinner walls than the aluminum tube, yet the aluminum tube is still lighter.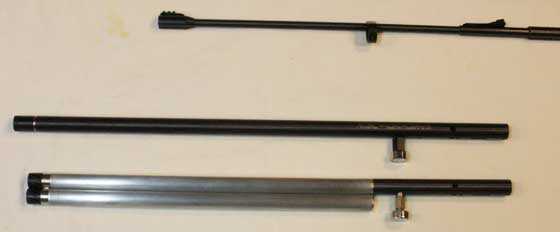 Here's a comparison of the original Discovery air tube assembly (above) with the 2 aluminum air tubes of the lightweight Disco Double. The rifle's barrel is at the top.

This is the completed lightweight Disco Double, minus the stock. The tubes have been finished in black to match the barrel. The original Discovery trigger is still attached to this rifle, but will be exchanged for a Marauder trigger.
I want to point out that Lloyd is building his guns with a safety reserve of well over 4 to 1. In other words, the guns are rated for well above 4 times the air pressure at which they're working. Well above!
Trigger
A normal Disco Double will have a Discovery trigger. Perhaps you've read about this trigger in your research on the internet. It's functional, but it's certainly not a fine trigger. I can use it without any problems; but if I had my choice, I'd like something better. Well, this time, I did have a choice; so I had Lloyd install a Marauder trigger on the rifle he made. He then had to find a triggerguard because the guard on the Discovery would not have worked.
Testing
Lloyd did an enormous amount of testing of my gun since it was the first of its kind to be built. And he has supplied me with the test data, so I have at my fingertips a whole library of velocities, pellets, fill pressures and some other things I will mention in a moment. If only all the guns I reported on had this kind of data at the start! But Lloyd is a very careful engineer, and I've come to know that he documents his work quite well.
Interesting background
Where did Lloyd get the idea for the Disco Double? Is the Benjamin Discovery somehow deficient in air capacity? Not really. But Lloyd was building a special .25-caliber conversion of the rifle for a customer, and it ran out of air very fast. The double air tubes were put there to make that big .25 a workable solution. And, after seeing what those tubes added to the rifle, Lloyd naturally expanded his conversions to the basic rifle, and the Disco Double was born!
The main goals of Lloyd's kit are:
1. Safely add additional air capacity for more shots.
2. Restore the shot count after making power increases.
3. Maintain the light weight of the Discovery.
4. Provide a kit that can be installed by any airgunner who routinely works on his own airguns.
My rifle
Lloyd and I agreed that it would be best to be able to preserve the original rifle, so if I ever wanted to put it back the way it came, I could. So, the factory walnut stock wasn't touched. To fit the new double tubes, that stock would have to be routed out. Instead, the factory stock was returned to me as it came, and Lloyd is having a new beech stock made for me by his friend Norm. When that stock arrives, I'll mount it and return the walnut stock to Norm, who has loaned it to me for photos and to get started with my testing.
Lloyd also produced an upgraded striker spring to give the new rifle more power. Of course, it does reduce the total number of shots; but since the air capacity has been expanded, you don't notice the reduction over the factory rifle. Lloyd has also provided me with the test data for this performance part.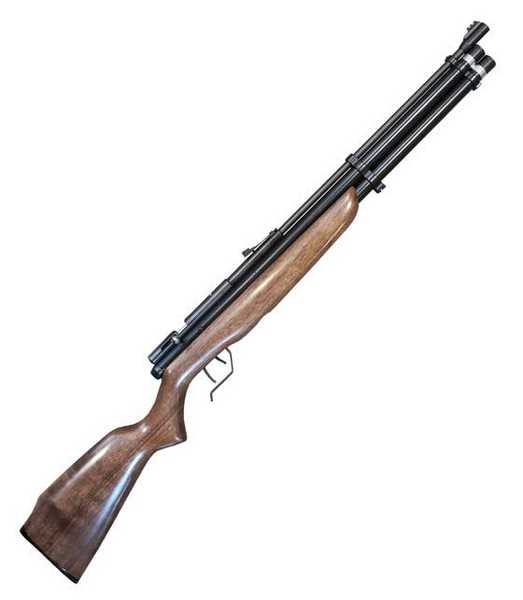 My completed Disco Double rifle sits in a beautiful borrowed walnut stock. The Marauder trigger and new triggerguard have now been installed.
Cost
A kit of parts to make your Discovery into a Disco Double costs $165 as of the date of this publication. What you see here will cost $250 in a kit of parts. The aluminum tubes are much more expensive, and I also don't believe the Marauder trigger has been included in that price.
This first report has been a long one, and we've only just begun to see this rifle. The next report will also have a lot more of the background development information, along with some velocity testing.
Oh, I guess I should tell you that this is a .22! And you can forget the serial number because this one stays with me.