by Tom Gaylord, a.k.a. B.B. Pelletier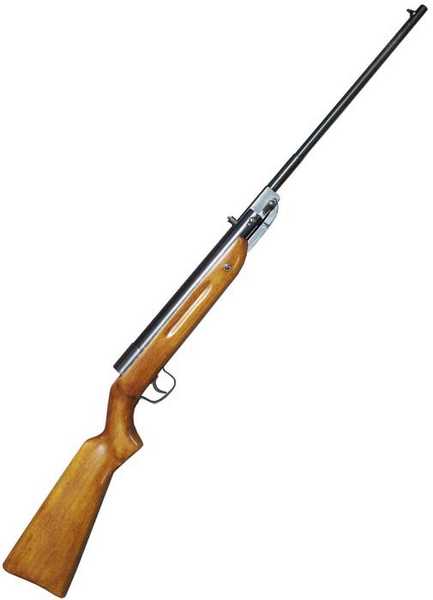 Falke model 70 is a quality breakbarrel spring-piston rifle from the 1950s.
Today is accuracy day for our Falke model 70 breakbarrel. I tested this one at the same time I tested the BSA Meteor Mark IV; and after that horrible test, I was praying that this rifle wouldn't let me down. When I bought the rifle at last year's Roanoke airgun show, the seller told me it shot pretty well. I was hoping to see that — especially after what happened with the Meteor! It did okay in the velocity test, so there was no reason to suspect it wouldn't also be accurate.
The Falke did not disappoint, though it's important to bear in mind that this is a vintage spring rifle made by a company that went out of business a half century ago and not some tackdriver made by a target gun manufacturer. When you shoot one of these air rifles, think in terms of a vintage Diana model 27 rather than a Walther model 55.
The Falke has open sights, so I like to start testing guns like them at 10 meters. They're usually right on target; but if they're off, 10 meters is close enough that they won't be off that much. Open sights seldom have the same kind of problems as optical sights.
Eley Wasps
The Falke is a vintage airgun, so I felt it deserved a vintage pellet — at least for starters. The first pellet I tried was the Eley Wasp. Of course, I also tried Wasps with the Meteor and look where that got me! But the Falke was far more forgiving. In .177 caliber, the Wasp pellet is medium-sized — nothing like the oversized 5.56mm (.22 caliber) Wasps pellets we use in guns that have large bores. Wasps fit the Falke 70 breech well, but they weren't tight. They didn't fall out, but they also didn't need to be pushed into the rifling. They went in easily.
When I saw the group, I was amazed! Eight of the ten Wasps were in a tight group that measures 0.276 inches between centers. The 2 pellets that aren't in the main group open it to a much larger 0.862 inches, but I'm thinking those 2 shots might have been due to small sighting variations.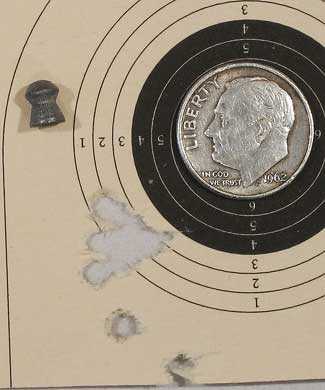 Eight of ten Eley Wasps went into a tight 0.276 inches, but the final 2 opened it to 0.862 inches.
Trigger
The rifle has a comfortable feel when shooting. I'd called it a single-stage trigger, but it's actually 2-stage. Stage 2 is very subtle and takes some time to get used to it to feel it every time, but it breaks cleanly enough for good work. The post-and-bead front sight is somewhat difficult to use precisely; but at 10 meters against a black bull (with a 6 o'clock hold), it's good enough.
I like the way the breech locks when it closes. The spring-loaded lock breech jumps into position. After it does, you cannot feel any movement in the breech.
RWS Hobbys
After the Wasps, I adjusted the rear sight higher to get into the bull. Then, I started a group with RWS Hobby pellets; but after just 3 shots had gone into 1.371 inches, I gave up. No sense finishing a group like that! Hobbys are often a very accurate pellet in vintage airguns of the same power as this Falke model 70; so it was worth a try, but when things go that wrong that fast it's time to move on.
Crosman Premier lites
Next, I tried the 7.9-grain Crosman Premier lite pellet. This is another pellet that often does well in lower-powered spring guns like the Falke 70. But not this time! Ten went into a group that measures 1.164 inches between centers. You might wonder why I was so quick to abandon Hobbys yet stuck with Premier lites to the end. Well, this group just kept growing larger with each shot. It wasn't until close to the end that I saw how large it was going to be.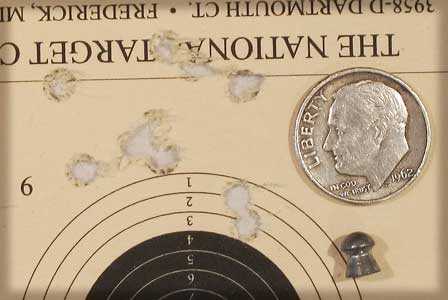 Ten Crosman Premier lites went into 1.164 inches at 10 meters. This is not the pellet for this rifle.
Air Arms Falcons
Next, I tried some Air Arms Falcon pellets. The Falcon is a 7.33-grain domed pellet made for Air Arms by JSB on dies that Air Arms owns, so it's unlike anything else JSB makes. It's too simple to say the Falcon is just a JSB Exact RS under another label; for although both pellets weigh exactly the same and are both domed pellets, they don't perform the same. Often Falcons will shoot well when Exact RS pellets won't.
In the Falke 70, they did pretty good! Of course, I didn't miss the irony of shooting a falcon pellet in a falcon rifle!
For starters, they went to the exact center of the bull. I know this thrills some folks who need to see the pellets impact there; but like I always say, I'm looking for the smallest groups — then, I'll adjust the sights later. But when luck happens and I get this result, I can't deny that it thrills me a little. Ten pellets went into 0.762 inches, which is okay but not great. But within the main group there are 7 pellets that made a much smaller group measuring 0.387 inches. Like the Wasps, I cannot help wondering if I could do better.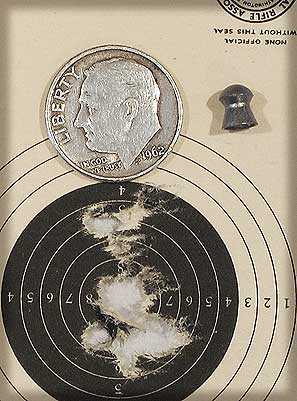 Ten Air Arms Falcon pellets went into 0.762 inches at 10 meters, but 7 of them went into just 0.387 inches. This pellet is worth pursuing.
H&N Baracuda Match
The last pellet I tried was the H&N Baracuda Match. While this seems like an overly heavy pellet for such a low-powered spring rifle, I've found they often do quite well in some guns. They were certainly worth a try. Although the rear sight was adjusted up for most of the other pellets, the Baracudas hit low on the target. But they did put 8 of 10 into 0.44 inches, which is very good. And, again, there are 2 pellets that didn't want to go into the main group. They opened the group to 0.742 inches, making this pellet the most accurate of those tested.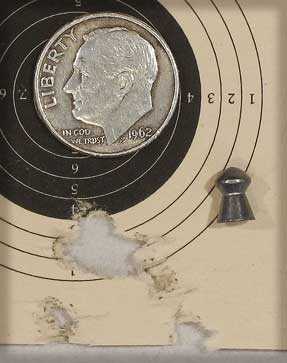 Ten H&N Baracuda Match pellets went into 0.742 inches at 10 meters, with 8 of them going into just 0.44 inches. This is the best pellet of the test.
Should I test at 25 yards?
The Falke model 70 will never have a scope. I sense the accuracy potential of the rifle exceeds the precision of the sights. Two and perhaps even 3 of these groups should have been one small hole, but for sighting errors. I am tempted to back up to 25 yards and have a go. We shall see.