by Tom Gaylord, a.k.a. B.B. Pelletier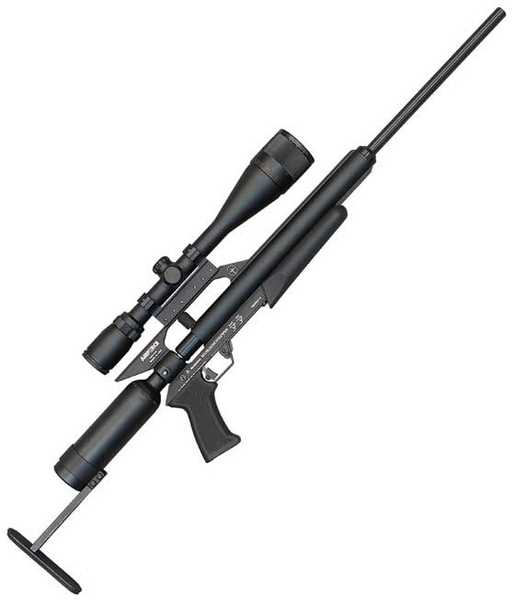 The AirForce Airguns Escape precharged pneumatic air rifle is a powerful new survival rifle in both .22 and .25 calibers.
Last time we looked at the accuracy of the AirForce Escape at 50 yards. I shot the rifle on low pressure and a low power setting on that day to see what it could do. You may remember that at 50 yards, I got a best 5-shot group with JSB Exact King pellets that measured 0.594 inches between centers. That's great for a .25-caliber PCP, but I know it left some of you wondering what the rifle can do at its maximum power. Today, we'll look at that.
The heaviest .25-caliber pellet I have is the Eun Jin pointed pellet, which weighs 43.2 grains. So, it's a little heavier than the standard bullet of a .22 Long Rifle cartridge. We know from testing that this pellet leaves the muzzle at up to 1010 f.p.s., generating 97.88 foot-pounds of energy.
I also had some Eun Jin domed pellets to test. At 35.8 grains, they're lighter than the pointed pellet but might be accurate enough to make a difference. As long as I'm testing, I thought why not test them, too?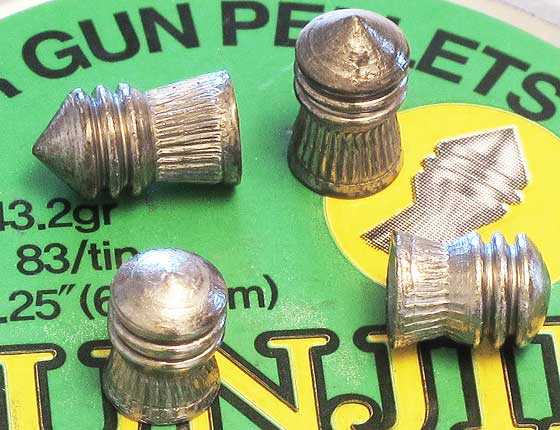 These are the 2 pellets used in today's accuracy test. The pointed pellet weighs 43.2 grains, and the dome weighs 35.8 grains.
The wind had just started to pick up at the range. I had finished testing the Benjamin Marauder with synthetic stock and shifted to the Escape because I felt the power of the gun and weight of the pellet wouldn't be affected by this wind nearly as much as a smaller pellet moving at lower speed.
Max power
The first thing I tried was the heavy Eun Jin pellet on max power and with a max power setting on the gun. The first 2 pellets went through the same holes at 50 yards, and I thought I was on to something. Then, shots 3 and 4 moved 2 inches to the right but also landed in a single hole. Shot 5 then landed an inch to the left of the first 2 shots, giving me a 5-shot group that measures 2.478 inches across the widest centers. While that is adequate accuracy for larger animals at 50 yards, it wasn't as good as I'd hoped it would be.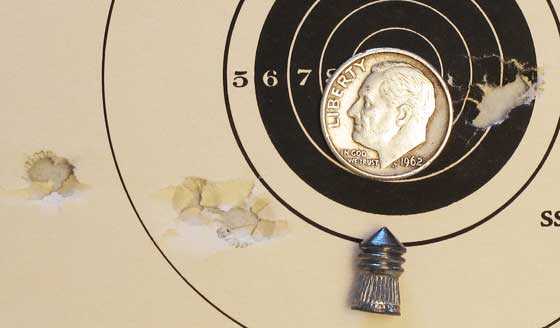 Five Eun Jin pointed pellets on maximum power with a 3,000 psi fill at 50 yards. The group measures 2.478 inches between centers, but look how they landed. The first two are left of the pellet, the next 2 are to the right of the dime (in the same hole) and pellet 5 is all the way over to the left.
I remembered that there are 10 good shots on a fill of the Escape's small 213cc reservoir, so I shot the next 5 pellets at a different target. The scope wasn't adjusted. The reservoir pressure at the start of this string was about 2,600 psi. This time ,all 5 went into 1.622 inches. That's a significant improvement. According to the velocity test data, these shots ranged between about 71 and 82 foot-pounds.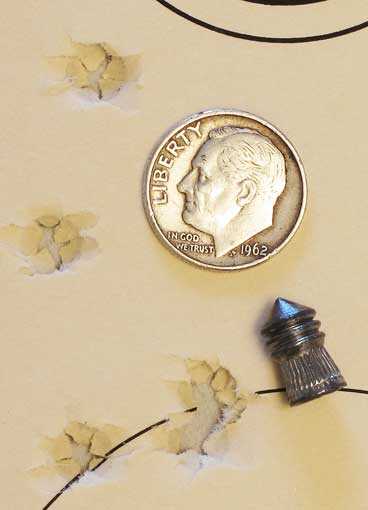 By starting with less reservoir pressure, the group tightened significantly. These 5 shots went into 1.622 inches between centers at 50 yards.
I was satisfied with the results of this heaviest pellet, but I've never gotten the best accuracy with pointed pellets. I felt I might be at the limit of this pellet's performance. Time was passing and the wind was building, so I moved on.
The lighter domed pellet remained to be tested. On max power with a 3,000 psi fill, I got several open 5-shot groups that all hovered around 2 inches. While that's okay, it isn't what I wanted. Then, I shot a couple groups with the power set to max and the starting air pressure set at 2,600 psi. The only reason I did it that way was because of the results of the heavier pointed pellet I'd just tested. And that's where the magic happened!
The first 5-shot group on this setting (power set on max, starting fill pressure at 2,600 psi and shooting the 35.8-grain domed Eun Jin) measures 1.177 inches. Four of those shots are in 0.555 inches! That's fantastic! I don't have the velocity data for this pellet on that setting, but I'll venture a guess it's producing around 60-70 foot-pounds.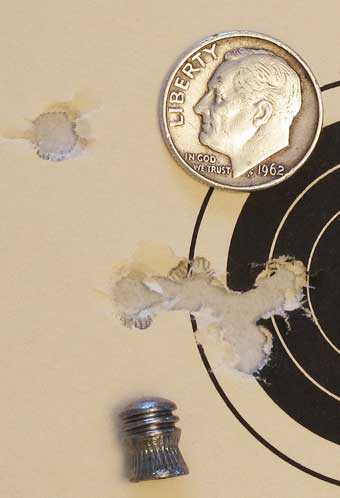 Now, we're cooking! Five Eun Jin domes went into 1.177 inches at 50 yards, with 4 of them making a 0.555-inch group! This is fantastic, but can I do it again?
Like you, I wondered if this single group was just a fluke, so I filled the reservoir to 2,600 psi, again, and shot a second group. This time, I put 5 into 1.089 inches. Three of those pellets are in 0.214 inches. If you overlay those 3 pellets on top of the other group, they all go to the same place!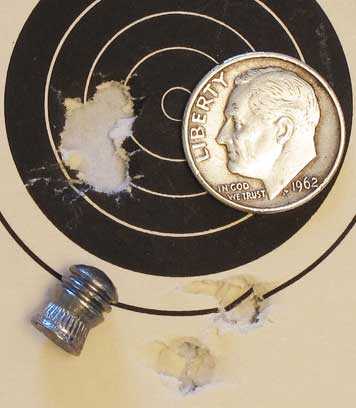 Here's the miracle I was talking about. Same starting air pressure, and 5 pellets went into 1.089 inches. Three of them are in 0.214 inches and in the same place as the 4 pellets from the last group. This is significant!
What I'm saying is that somewhere around this power setting and fill pressure, there's a super sweet spot the Escape loves with this domed pellet. By spending more time refining the fill pressure and by adjusting the sights for this combination, the Escape will become a tackdriver. It doesn't get a lot of shots like this, but remember — this is a survival rifle. You want one shot — one kill. I think this gives that to you!
I could continue to refine my pressure settings with this pellet, but I don't think I have to. I've now shown you 2 different ways the AirForce Escape can make very small groups at 50 yards. If you're looking for a powerful air rifle to do some serious hunting, you should consider this one. I think Ton Jones and John McCaslin both have reason to be proud of their creation.
What's next?
I was prepared to exchange barrels at this point and try the .22-caliber Escape, but I think I'll let that slide for now. If I'm any judge, most buyers are going to get the .25-caliber Escape. Once they see these results, I expect they'll do similar tests. Therefore, I plan to switch over to the EscapeUL next. That's the ultralight rifle that has an 18-inch barrel. I'll give you a combined introduction and velocity/power report, followed by a range test like this.