by Tom Gaylord, a.k.a. B.B. Pelletier
AirForce Escape: Part 1
AirForce Escape: Part 2
AirForce Escape: Part 3
I'm testing 3 AirForce guns together — the Escape, the EscapeUL and the EscapeSS. All 3 are based on the same powerplant that is derived from the TalonP pistol. That's why I am grouping them together like this. But each rifle has its own unique characteristics, too. And this is our look at the EscapeUL, which is the ultralight version of the rifle. It's the lightest of the 3 air rifles and comes in either .22 or .25 caliber. I'm testing a .25.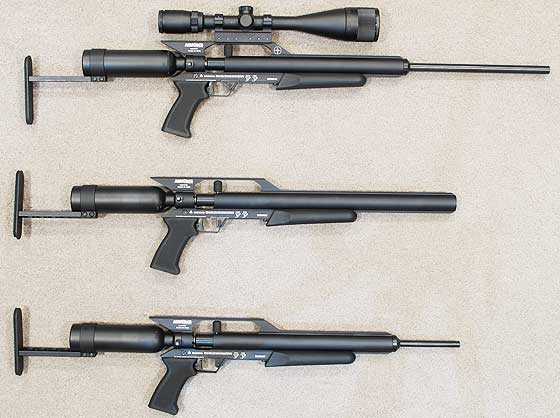 Escape on top, then Escape SS and finally Escape Ultralight on the bottom.
As you will remember, the Escape is a collaboration between AirForce Airguns and Ton Jones, the star of television's Auction Hunters. Ton had the requirement for a survival airgun and came up with the idea of putting a longer barrel on the TalonP pistol action, and AirForce did the engineering and development that turned it into a production rifle.
What does survival mean?
Survival is a word that's charged with emotion, so the definition depends on the person who is using it. For many people, the term connotes a human wave attack with bullets and missiles flying everywhere — a last stand at the Alamo. But is that what survival really means? If you're in the Alamo at that moment, I guess you would agree with that definition, but most of us will thankfully never be in that situation. But every year, millions of people are thrust into real survival situations.
Hurricane Sandy, a force 5 tornado, a blizzard that won't stop or just having your truck break down 20 miles off Old Lincoln Highway outside Ely, Nevada, in the late summertime can all qualify as survival situations. Maybe all you have to do is hold out for 2 days before someone comes looking for you. You were exploring an old ghost town, and now they want to add you to the town rolls!
You don't need a track-mounted machine gun or a Patriot missile launcher, but it sure would be nice to know you could defend yourself if a wild dog showed up! Or, if you had some way of popping one of those elusive prairie chickens that run along the ground and seem to stay just outside throwing distance. So, in your truck, along with the extra water, gasoline, MREs and sleeping bag (with cot, for this is the desert) you have a small canvas bag. Inside is a scoped EscapeUL, a hand pump and a tin of pellets. The rifle has been sighted-in, but you check it with one shot at an MRE wrapper stuck on a creosote bush 40 yards away — just to be sure. Then lay the rifle on top of the bag on the ground and put 10 pump strokes back in — 7 to get the air line up to pressure and 3 for the shot you just fired — and everything is good to go. The bag weighs 12 lbs., total, and has straps for shoulder carry. That's what we mean by a survival airgun.
We took a good look at the Escape rifle for both power and accuracy and found that it can be plenty accurate when you use the right combination of pellets and pressures. Ton has pronounced it good to go, and his logo is on every Escape made.
The EscapeUL, however, is an AirForce idea. Ton knows about it and did test it, but it doesn't bear his logo. It has slightly different features for a person with slightly different needs.
The EscapeUL is designed to remove all unnecessary weight from the rifle, while retaining as much of the power as possible. It has an 18-inch barrel instead of the Escape's 24-inch barrel, so some velocity is lost. We'll see how much in a moment.
The barrel isn't just shorter, it is also thinner. Instead of a nominal 16mm diameter for the Escape barrel, the UL barrel is just 12mm. That diameter is only nominal. Some comes off when the barrel is ground before bluing. The barrel on my test rifle measures 0.477 inches across, which translates to 12.1158mm.
The net weight of the EscapeUL is 4.25 lbs., making it several pounds less than most precharged rifles and even less than some of the lightest ones.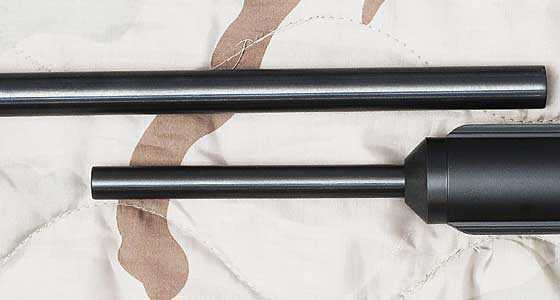 The EscapeUL barrel (bottom) is thinner than the Escape barrel, saving weight.
Of course, we all want to know what a thinner barrel means as far as accuracy goes. That test will be next. But now, let's take a look at power.
The EscapeUL shares the same 213cc Spin-Loc air reservoir as the Escape and TalonP pistol, so the number of shots per fill is going to be about the same. Physics being what they are, we already know what to expect. The powerplant is also the same. The same valve in the tank and same striker weight and spring tension will give similar performance. It's the 18-inch barrel that makes the difference.
With the heaviest .25-caliber pellet, which is the Eun Jin pointed pellet that weighs 43.2 grains, the maximum velocity in the 18-inch barrel is about 910 f.p.s. The 24-inch Escape barrel gave a maximum of 1010 f.p.s. with the same pellet, so the UL barrel loses about 100 f.p.s. In term of muzzle energy, that's 79.46 foot-pounds on the first shot, compared to the 97.88 foot-pounds for the Escape.
As with the Escape, the velocity drops with each succeeding shot. By shot 5, the velocity will be down to 855 f.p.s. That carries an energy of 70.14 foot-pounds.
In .22 caliber, the energies are all lower because the pellets are lighter. With a 28.4-grain Eun Jin dome the maximum velocity is 980 f.p.s. on the first shot. That's 60.58 foot-pounds of muzzle energy. By shot 5, the pellet leaves the muzzle at 900 f.p.s. and generates 51.09 foot-pounds.
You can discuss their performance in several different ways; but to my way of thinking, the Escape rifles are best in .25 caliber. I'm glad that's the way I will be testing this one.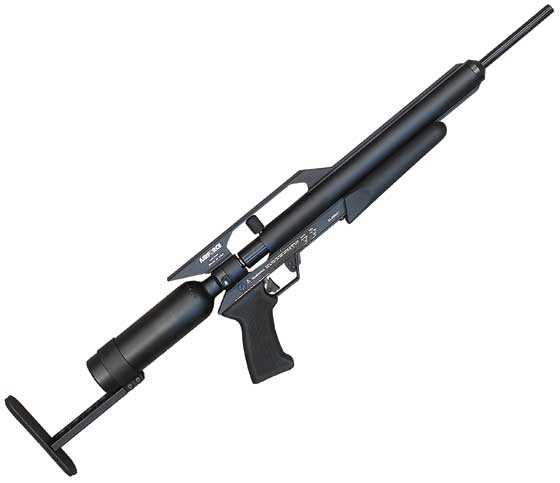 The AirForce EscapeUL is a lightweight PCP with the Escape powerplant. The shorter slender barrel reduces the weight.
The trigger, adjustable stock, automatic safety and scope mounts are identical to those found on the Escape. It's plenty for a scope, scope level, tactical flashlight and laser. There's even enough for a coffee grinder, if you can find one that will fit!
Some thoughts
I've already been asked if the Escape rifles will run on CO2. They should, but it will need to be tested to say for sure. Since they were not designed to operate on CO2, I'll have to find a way of filling the reservoir. No CO2 coupling I know of will mate with an air coupling, so it may take me some time to work it out.
I've also been asked on the back channel how quiet these airguns can be. Quite frankly, I don't know. Given all the technology in the world, they can probably be made quieter than a Marauder; but once I answer that, the next question will be if all that technology can be reduced in size to fit in a pocket! We criticize the U.S. Air Force for asking that everything be made from unobtainium (strongest metal known whose forms weigh nothing and add lift to airframes), yet we do the same thing when it comes to powerful airguns. "Great," we say, "but can they also be quiet and get lots of shots, too?"
There's survival and then there's daydreaming. We're talking survival here.