by Tom Gaylord, a.k.a. B.B. Pelletier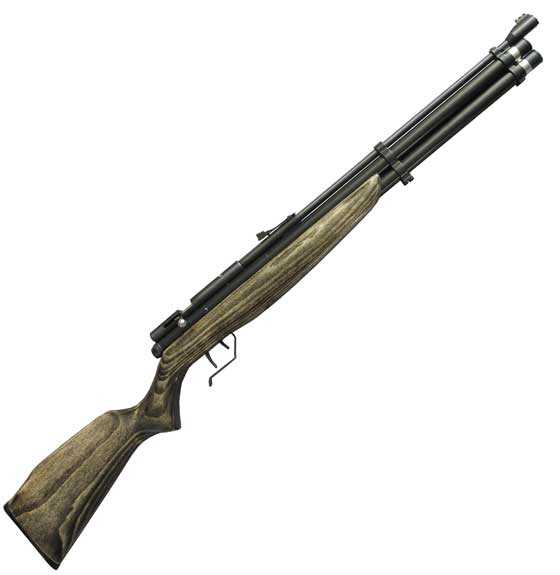 The Lightweight Disco Double in its new stock looks striking!
Today, we'll look at the Disco Double out at 50 yards. I used the best pellets from the 25-yard test to speed up this test. No sense going over the same ground twice.
The first pellet I tried was the JSB Exact Jumbo RS. It did the best at 25 yards, plus it's so light, at 13.43 grains, that it gives the rifle a little extra zing.
The rifle arrived at the range filled to 2,000 psi, so I went right to work. I clicked the scope up 5 clicks in elevation to account for the greater distance and began shooting. The day was surprisingly cold — about 28 degrees F. My trigger finger had very little feeling, yet I was able to feel when stage 2 engaged on the trigger every time. That's important on this rifle because the trigger is very light on stage 2.
There was no wind on the range, which made this a perfect day for shooting a pellet rifle. The first 10 shots went into 1.558 inches between centers. That's not as small as many 50-yard groups you've seen me shoot, but let's keep testing.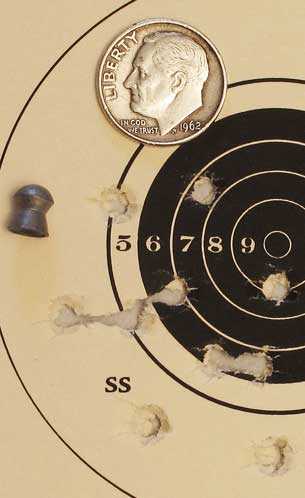 This initial 10-shot, 50-yard group of JSB RS pellets measures 1.558 inches between centers. I'd hoped for something smaller.
Crosman Premiers
Next up were .22-caliber Crosman Premiers. The first 3 shots went into 2.269-inches and I stopped shooting. These pellets weren't going to work at 50 yards.
JSB Exact, 15.89 grains
Next up were the heavier 15.89-grain JSB Exact Jumbos that looked promising at 25 yards. They produced a 10-shot group that measured 1.778 inches between centers. It was a little larger than the JSB RS pellet group at 50 yards, just as it was a 25 yards. So far, no prize.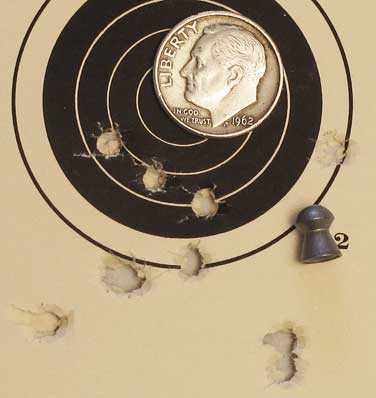 This 10-shot, 50-yard group of JSB Exact pellets measures 1.778 inches between centers.
Beeman Kodiak
The last pellet I tried was the Beeman Kodiak, which just did fair at 25 yards. Here at 50 yards, they put 10 into 2.458 inches. That's hardly accurate! I almost stopped shooting this group when I saw how the shots opened up; but I thought that after doing that with the Premiers, I ought to let one go the distance just to show you what it looked like.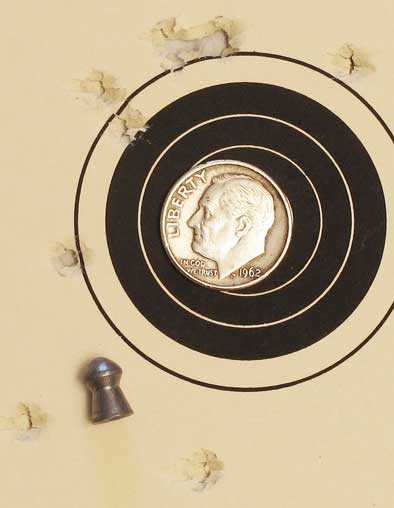 Ten Beeman Kodiak pellets went into 2.458 inches at 50 yards. Not a pellet for this rifle.
Back to the JSB Exact RS
I wasn't finished with the testing just yet. The rifle was topped off at 2,000 psi again, and I went back to the pellet that was giving me the best results — the JSB Exact RS. The next group of 10 was the tightest of the session, at 1.318 inches between centers. I'd adjusted the scope for the Kodiaks, so this one landed below the bull.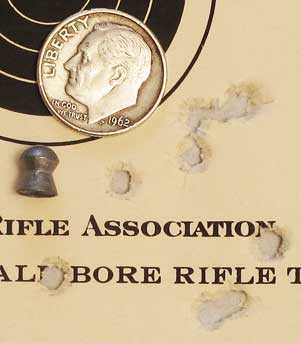 This best 10-shot group of JSB Exact RS pellets measures 1.3418 inches between centers.
I then shot 2 more 10-shot groups with the RS pellet. The first measured 1.522 inches, and the second measured 1.543 inches. When I examined the target after bringing it back from downrange, I saw a pattern. The RS pellet wasn't giving tight groups, but they were very consistent. Out of 4 groups, the total variance was 0.24 inches — from 1.3 to 1.5 and change. That's pretty consistent.
What do we know?
We know this Disco Double can put 10 pellets into 0.365 inches at 25 yards. And with the same pellet, we know that it opens up to about 1.5 inches when the distance is doubled. We know it was warm when the 25-yard target was shot and cold when the 50-yard targets were shot.
And that's about the only difference — other than I did remove the TKO silencer after shooting 25 yards. I think what I will do next is the following.
1. Clean the barrel.
2. Shoot 5 groups at 25 yards with the JSB Exact RS pellet.
3. Clean the barrel again.
4. Shoot another 5 targets at 50 yards.
One last feature I want to show you is the special optional barrel band Lloyd makes for the Disco Double. It has a Picatinny rail on the bottom, allowing you to attach a bipod at just the right spot with very little extra weight added to the gun.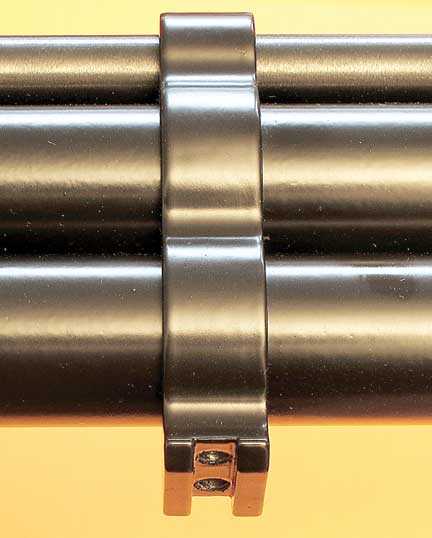 This optional barrel band has a Picatinny rail on the bottom to accept a bipod.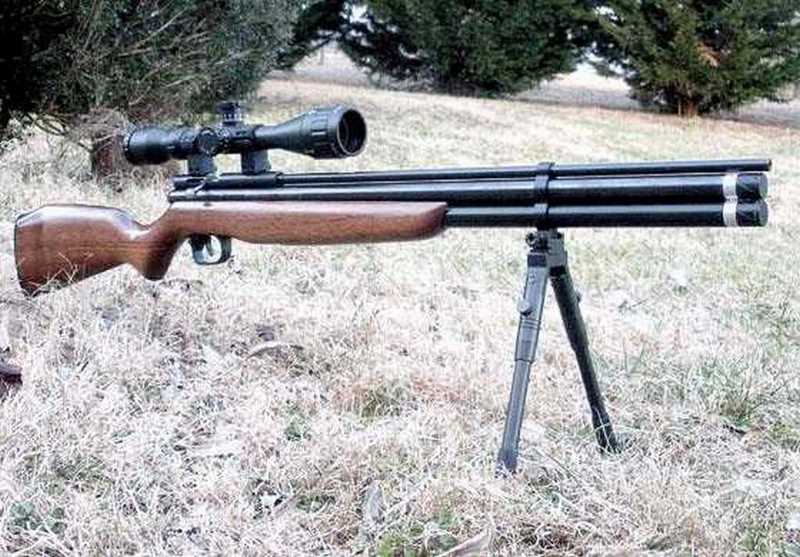 The Disco Double on its bipod. Photo provided by Lloyd Sikes.
Summary
When I originally tested the .22-caliber Benjamin Discovery rifle in 2007, it was a pre-production prototype that was made out of a Crosman 2260. I shot several approximately half-inch groups at 50 yards with Crosman Premier pellets, but they were 5-shot groups. Now, I'm shooting 10-shots groups that I know are going to be larger. I didn't use the JSB Exact RS pellet because it didn't exist back then.
I believe this lightweight Disco Double has more accuracy than we've seen to this point. I think it must be capable of shooting at least one 1-inch group out of 5 at 50 yards. So, the test continues.