by Tom Gaylord, a.k.a. B.B. Pelletier
Here's what we'll cover in today's blog:
• Correction to the first report.
• Some vintage airguns.
• There were parts for sale.
• Vintage store displays and boxed BB guns from WW II.
• Ft. Worth airgun show.
• NRA Annual Meetings and Exhibits.
This is the second part of the report on the Toys That Shoot airgun show in Findlay, Ohio. In the first report, I showed you a lot of vintage collectible airguns — some commanding very high prices. Today, I'll show the other side of the show — the one where regular people would buy and sell. Before I get to that, though, there is a correction to the first report. I mentioned seeing a muzzleloading big bore air rifle on Dennis Quackenbush's table, and I gave you the impression that he designed it. He did not. That rifle was designed by its owner, Mike Paulus, who commissioned Dennis to build his design. Dennis told me as much at the show, but I wasn't listening. I thought he was being modest; in fact, he was telling me that Mike designed the rifle. Dennis just made the parts for him.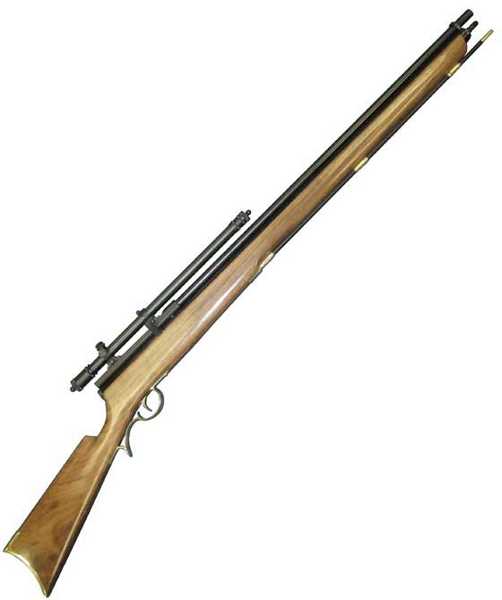 Mike Paulus' big bore airgun was mislabeled in Part 1
Mike also made the stock entirely on his own. Dennis said the concept was so well thought out that it was very straightforward to build, and Mike is extremely pleased with his new rifle.
Vintage airguns
Let's be honest, we go to these shows to see the extremely rare guns, but we also go to buy fine vintage guns that are affordable. This was a wonderful show for this. In past reports, I focused on guns like the FWB 124 or the Diana 27; but this time, I looked at the other kinds of guns collectors and shooters want.
Let's start with some desirable vintage pistols. I saw a good number of Crosman 600 semiauto repeaters at this show. They ran from $90 to 200, depending on condition and what they came with. If you're looking for a classic pellet pistol, this is one that's hard to beat! The 600s were selling for $75-125 more than this just 5 years ago, but the boom peaked and the price has fallen back. Now's the time to buy.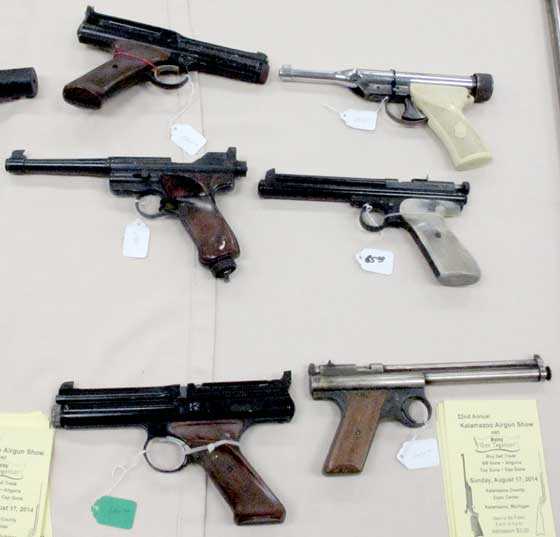 Crosman 600s on the left at the top and bottom and a Mark I or II in the center. On the right from the top are a chrome Hy Score 800, Crosman 150/157 and a Benjamin 100/107 at the bottom. All were affordable, and I believe they all worked.
If you're more of a collector than a shooter, these same guns were available in their boxes with all the original accessories and literature.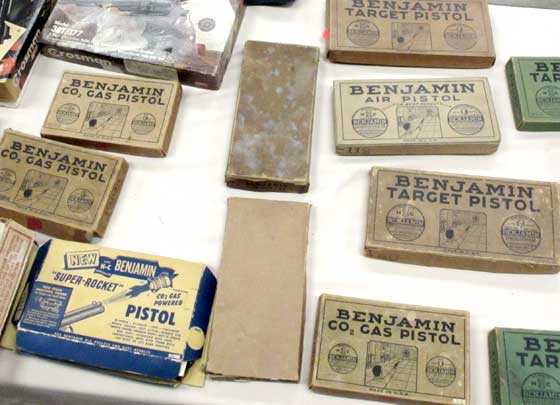 The same vintage pistols were also available in their original boxes. These were incredibly affordable!
Somebody remarked that there were a lot of fine Daisy model 25s at this show. He was right. I didn't photograph them all, but one stand was particularly picturesque. It looks like an arsenal "organ" of guns from the 19th century.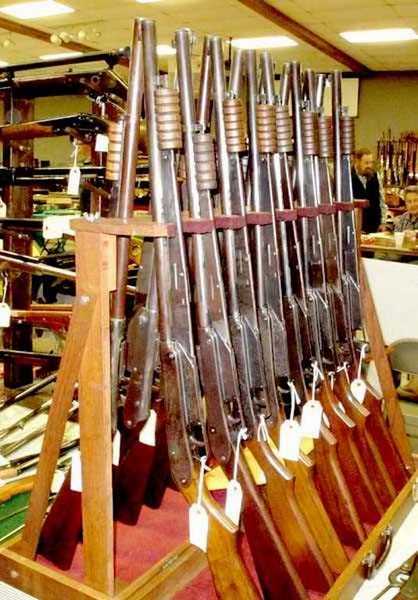 Sharp eyes can pick out at least one very early Daisy model 25 pump gun in this rack, but there are actually many variations, including different types of wood stocks. All are vintage and desirable!
Parts, parts and more parts!
One thing that's always needed are the parts to fix these old treasures. With guys like Ron Sauls, Tom Slocum and Larry Behling at the show, you're connected to the best and finest. Ted Summers had a huge display of vintage parts for Crosman and Benjamin guns — as well as two custom salesman's cases that were used to transport the Crosman airguns to stores when representatives made their calls.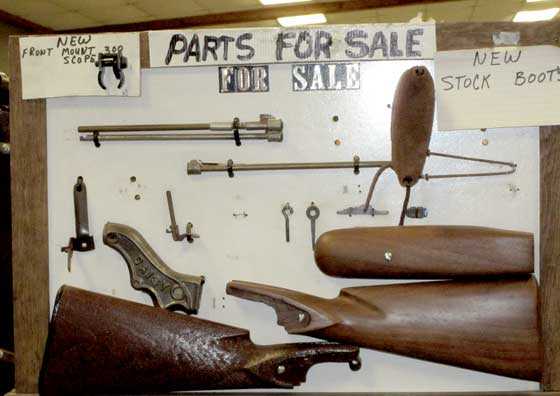 "Where can I get …?" was answered all over the Findlay airgun show.
Store displays
These weren't for sale, but it was fun to see the store displays that were popular back in the 1940s and '50s. I'm not old enough to have seen some of these when they were new, but they sure do make me nostalgic for those old days. It's nice to see that simple cardboard displays made it down through the ages.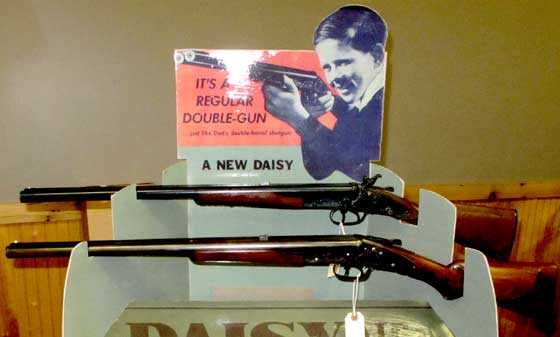 Lucky was the boy or girl who got a Daisy double-barrel BB gun.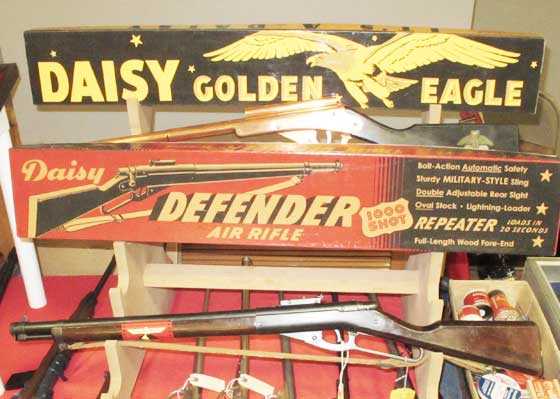 That's a copper-plated Daisy Golden Eagle on top and a boxed Daisy Defender from WWII. Very few Defenders were made (in 1942!), and fewer still survived with their boxes. I don't know if this box is original or a repro, but it looks perfect next to that fine air rifle!
What would B.B. do?
I went to this show with a couple guns in mind. One was a BSA Meteor Mark I or II, to compare to the Mark IV I'm currently working on. So many people told me the Marks I and II Meteor are the best of this model, and I wanted to get one to compare. The one I found at this show turned out to be a gorgeous Mark III; but, as that was just a bit too late in the production cycle, I had to pass. Too bad, because the condition was very nice!
Next to it in the rack I visited at least 5 times was a Slavia 631 in great condition. So, when blog reader Mitchell in Dayton Steve Darr mentioned he was looking for one, I sent him over for it. He got it, as you will soon learn; but from our conversations, he knew I was also looking for an El Gamo 300 rifle to go with the XP 68 I tested for you in 2012-2013. The 300 is very similar to the XP 68, but in a conventional stock.
Imagine my surprise when Mitchell returned with his Slavia and told me that right next to it in the rack — yes, just 2 places down from the BSA I had been looking at for 2 days — was the El Gamo 300 I was looking for. Well, I rushed right over and was so enthusiastic that I lost all my bargaining power. I paid almost the full sticker price, simply because I could not wipe the grin off my face! Well, it wasn't that much money, anyway (which is how I justify the mistake to myself).

El Gamo 300 is a plain rifle that promises to be interesting.
The other acquisition is one that walked right up to my table. A young fellow was carrying a rifle bag, and I asked him what was inside. He said it was a Hakim. Now, most of you don't know this, but my airgun kryptonite is the Hakim rifle. I've owned more than 15 of them and they all worked when I got through with them (except for a pile of parts I shipped to the talented Vince). But this Hakim was different! The stock had been replaced. While that does lower the collector value on most guns, in this case it was like plastic surgery that turned the bride of Frankenstein into a pretty woman.
The new stock is honey-colored walnut that shows lots of straight grain. The metal parts have a lot of original Parkerized finish remaining, so the overall look is quite nice. I tested the action right there at the show, and it didn't seem to be anything special — but we'll see when I test it for you here.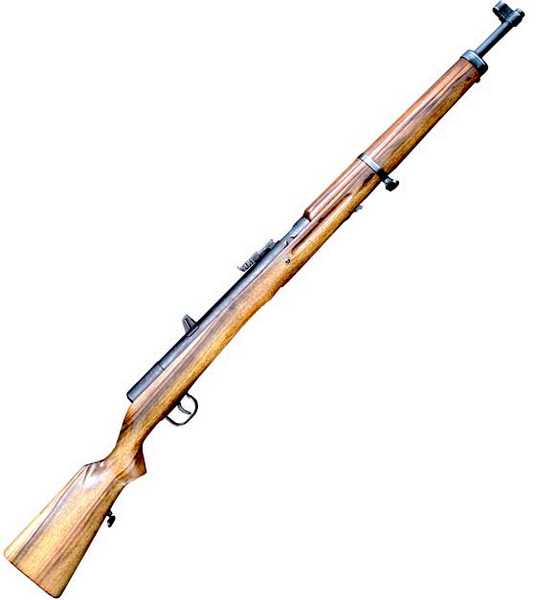 I've never seen a Hakim air rifle with a stock like this. Let's hope it shoots as nice as it looks.
I bargained very hard with this young fellow — mainly because I was about to spend a lot of money on this gun. I gave him a nice offer that was still about $100 below what I see people asking for them on Gun Broker. And this rifle is probably worth the higher figure. But I did not care. If I could get it for what I offered, I would buy it; if not, I would still have a lot of money in my pocket.
He was reluctant to sell at the price I offered; but since it was a lot of money and since he had nothing in the gun, he finally accepted. This may be the first time I've bargained so hard for a bluebird walk-in airgun that I really wanted! At any rate, I now have a very pretty Hakim to test for you.
One additional thing. My friend Wayne Fowler offered me my old Air Arms Shamal rifle that I sold him when I left Maryland. He offered it for the same price he paid me; and since it is a beautiful air rifle, I asked Edith to buy it as my birthday present. She agreed because she also feels this is one of the most beautiful airguns I've ever owned. And the accuracy was stunning.
Edith has told me I can have the rifle as soon as it arrives, so there's one more great airgun to come out of the Findlay show. Naturally, I'll review it for you.
Summary
I had a lot of fun at Findlay. It was a show that reminded me of airgun shows from 20 years ago. It had the guns, the buyers and all the excitement I remember from the great airgun shows of the past. If you can go to just one airgun show, put the Toys That Shoot show at the top of your list! Or — come to my show in Texas.
The Ft. Worth airgun show
As some of you know, I've been putting together a Texas airgun show.
The show is sponsored by Pyramyd AIR.
The American Airgunnner television crew is coming to film the show. AirForce will be there with a table, as will Dennis Quackenbush, Eric Henderson and Jim Chapman. I hope to get Umarex USA and Daisy to attend. There will be a dedicated airgun range at the gun club where this show will be held on Saturday, September 6. If you want to see what airgun shows are all about and meet the two top airgun hunters in person (Henderson and Chapman), plan on attending this dynamic one-day show.
The NRA Annual Meetings and Exhibits
Pyramyd AIR has a booth at the 2014 NRA Annual Meetings and Exhibits being held today, tomorrow and Sunday in Indianapolis at the Indiana Convention Center. Pyramyd AIR provides the public airgun range at the show, besides having a display booth (No. 4523). The NRA show is like a mini SHOT Show, only it's open to the public. Admission is free to NRA members, and a small fee is charged to non-members. This is a wonderful opportunity to see the new guns and the people who make and support them. If you're able to come, consider attending. Here's some info on the range and which guns, ammo and accessories will be featured there.