by Tom Gaylord, a.k.a. B.B. Pelletier
Part 1
Part 2
Part 3
Part 4
Part 5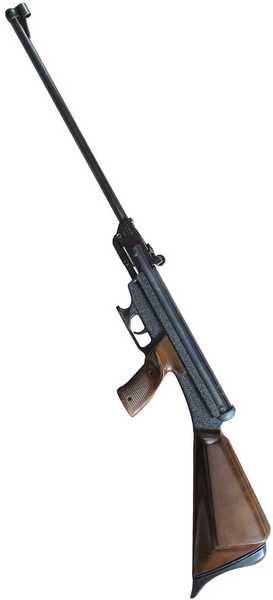 El Gamo 68 is a futuristic breakbarrel from the past.
I last reported on this rifle on August 8 of last year. And that was Part 5! I had just tuned the rifle with a new mainspring and proper lubricants and was wondering what the changes would be. I was ready to report on it several months ago when I discovered that it wouldn't cock. After fiddling with the trigger adjustments awhile with no success, I set it aside and moved on — thinking that the gun would need to be disassembled.
I disassembled it last week and discovered there was nothing wrong! The sear was working properly, or at least it seemed to be when I played with it as the gun was disassembled. I relubricated everything and put it all back together and was going to write Monday's report on it. But the trigger still didn't work! ARRGH!
This time, I remembered that when I got the gun the trigger was also a bit iffy, so I fiddled with the adjustments WAY outside the normal realm and, presto! I got it working again. Oh, it took a couple hours and there were some accidental discharges when the barrel was closed (direct sear!), but I solved all that by giving the sear way more contact than it needs.
Now the trigger releases at about 12 lbs., but at least it's safe. Today, I'll share with you how the tuned gun does at 25 yards — heavy trigger and all.
One other thing I did to the rifle was lubricate the leather piston seal with 10 drops of 3-in-One oil, leaving the rifle standing on its butt for two days afterward. The oil was allowed to slowly soak into the leather, which it did, but to protect the carpet and walls (Edith–Are you listening?) I put a long drop cloth in front of the rifle when I shot it.
Today's test is a deviation from my normal pattern. I've tuned this gun and not yet reported the new velocities, and yet here I am shooting for accuracy. I decided to do it that way; and if I got good results, I would test the velocity next. I'm not changing the usual way of doing things — this is just an exception.
RWS Hobby
The first pellet I tested was the RWS Hobby. I chose it for its light weight and because it's often accurate in lower-powered spring rifles and pistols. Sitting 25 yards from the target, I have to admit that I was wondering if the rifle had enough power to hit that target — let alone shoot a decent group.
Five of the first 10 pellets were detonations from the oiled piston seal. And the smell of burning oil was in the air. The Hobbys landed in a vertical group that was pleasingly tight from side to side. I was prepared to blame the verticality on the dieseling, but the truth is, that wasn't the problem. The gun just doesn't want to shoot Hobbys at 25 yards. That's not too surprising since 25 yards is about the maximum distance for any wadcutter pellets, in my experience.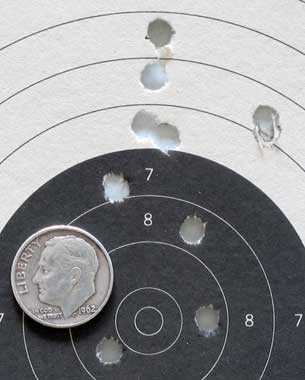 Ten Hobbys made this 2.151-inch group at 25 yards.
Air Arms Falcon
The second pellet I tested was the Air Arms Falcon, a 7.3-grain dome that's often accurate in spring rifles. I used the spotting scope only on the first shot, which was a detonation, to make sure it was on the paper. There were 4 detonations in the 10 shots. I didn't look at the target again until I walked down to change it. Boy, was I surprised by what I saw! To paraphrase Crocodile Dundee, "Now, THAT'S a group!" For open sights at 25 yards and 65-year-old-eyes, it ain't too bad!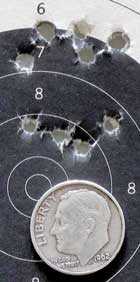 Ten Air Arms Falcons went into 0.898 inches between their two widest centers. This is an acceptable group for this rifle at 25 yards.
Remember, I'm shooting 10 shots — not 5. So this kind of group really proves the rifle can shoot. It also proves this old man can still hit things when the rifle does its part! So much for the problems of the droopers and gas springs! I needed this validation after some of the disappointing tests I've done recently.
The heavy trigger apparently is not causing much of a problem for me. I think that's because the rifle is rested. If I were shooting offhand, I'd want a lighter trigger-pull.
JSB Exact RS
Next, I tried JSB Exact RS pellets. This is another 7.3-grain dome from JSB (JSB also makes Air Arms Pellets) and is very often accurate in many different airguns. And this is one of them. The group is slightly larger than the Falcon group, but the two are so similar that I would call it a tie.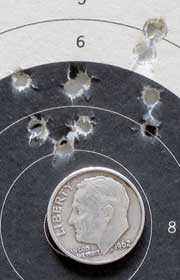 Ten JSB Exact RS domes went into 1.028 inches. Though not quite as small as the Falcon group, I would rate both pellets about equal in this rifle.
RWS Superdome
The last pellet I tried was the RWS Superdome, which often does well in lower-powered spring rifles. This time, however, it didn't. Ten pellets produced a 1.765-inch group. It didn't disappoint me, though, because the Falcon and JSB RS groups looked that much better. It showed that the earlier Hobby group wasn't just a fluke of bad luck — the gun simply likes what it likes.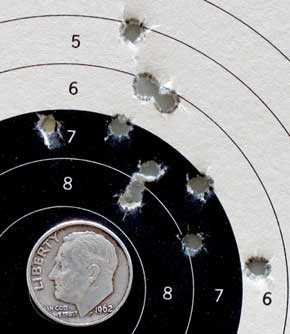 Ten RWS Superdomes made this 1.765-inch group.
Evaluation
This test was calming for me. It was slower than many of the tests I've run in the past month, and the results were more based on me as a shooter rather than on the equipment. I find that I like that a lot!
The El Gamo 68 XP is operating well right now, except for the heavy trigger that I'll probably keep just as it is for a while. The tuned powerplant is now smoother with less of a jolt. I noticed in this test that each pellet has a firing characteristic of its own. The two JSB pellets were definitely the smoothest of the four tested, and the Hobbys were the roughest.
This is such an odd airgun, with the fat heavy butt and no forearm to hold. Yet, it shoots like a thoroughbred. With the new tune, it cocks smoothly and just feels good to shoot — I don't have any better way of describing it. I wish you could all try one, but since you can't, I will, again, recommend the Air Venturi Bronco, which is the closest thing still being made today.