by Tom Gaylord, a.k.a. B.B. Pelletier
Part 1
Part 2
Part 3
Part 4
Part 5
Part 6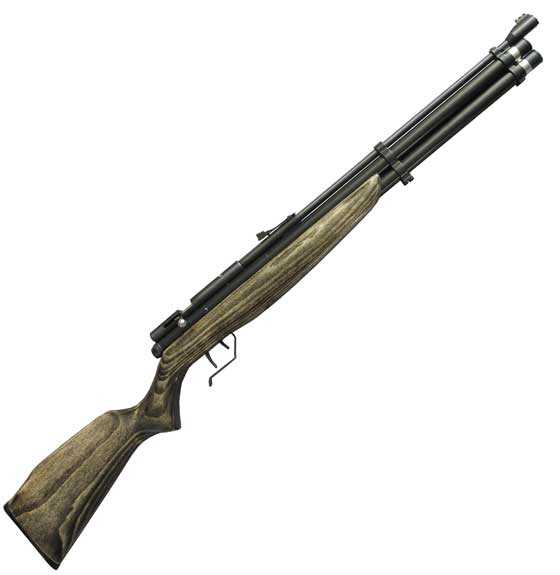 The Lightweight Disco Double in its new stock looks striking!
This is a third look at the Disco Double shooting at 50 yards. All I've managed to do so far is demonstrate the Disco Double is very consistently mediocre with the best pellets — JSB Exact Jumbo RS domes. However, the last time I was out at the range with this rifle, I finally did what the builder, Lloyd Sikes, has been telling me to do all along. He said to tighten the 6 screws on the 2 barrel bands or hangers, and this time I followed his directions. Guess what? Four of the 6 screws were loose! Imagine that! I tightened them and knew the rifle would reward me for the effort.
It was no surprise when shot the best 10-shot group ever with the rifle. Ten RS pellets went into 1.195 inches at 50 yards. But I was 3 shots into a second group when the bolt handle broke off in my hand during cocking. That ended the day for this rifle.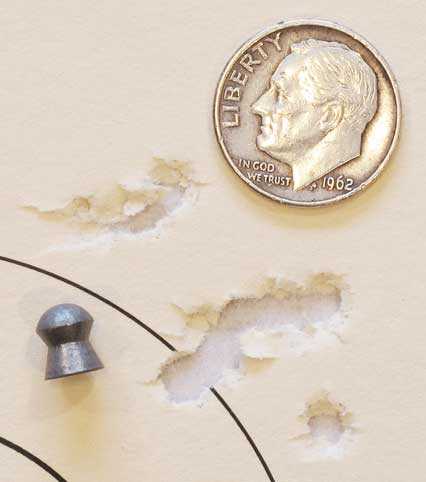 Ten shots went into 1.195 inches at 50 yards. This is the tightest group this rifle has fired to this point, and all I had to do was tighten a few screws.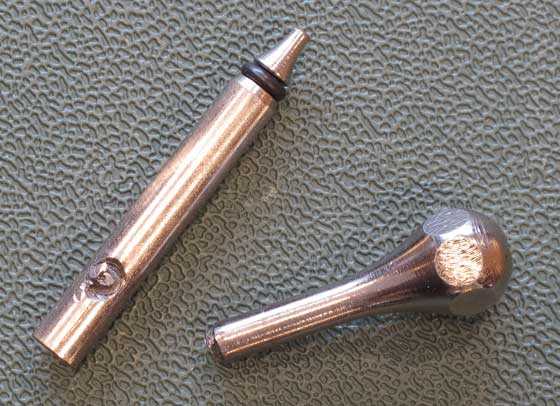 The bolt handle broke off during cocking. This isn't common, but it can happen.
As soon as I returned home, I emailed Lloyd, who put a new bolt and handle in the mail right away. I really wanted to finish the test before leaving for the Ohio airgun show (which is this Saturday), so I disassembled the rifle. I ran into a problem getting the old bolt out, but a call to Lloyd set me on the right path and soon the job was done.
The new parts arrived the following week, and I had them in the rifle inside an hour — though another call to Lloyd was necessary. He was most helpful, and I resolved my problem with a minimum of fuss. The rifle went back together, and I was ready to return to the range.
This time, I took the opportunity to mount a new UTG 6-24X56 scope scope in place of the UTG True Hunter 3-9X40 scope I took off. Naturally, the target image was much larger with this scope, which just made my job easier.
I tried several pellets that I've tried before, but once more this rifle demonstrated that it likes the JSB Exact Jumbo RS pellets the best. Since the rifle had been taken apart for the bolt repair (i.e., both barrel bands had been removed), I was back at the beginning on the first group. I had the front band about where it had been before (from the screw marks in the paint), and the first group of 10 went into 1.28 inches at 50 yards. That was marginally better than the 1.317-inch group I'd gotten during the previous full test, but not quite as good as the one group I shot just before the bolt broke (1.193 inches). All the screws were tight, so now it was time to move the front barrel band.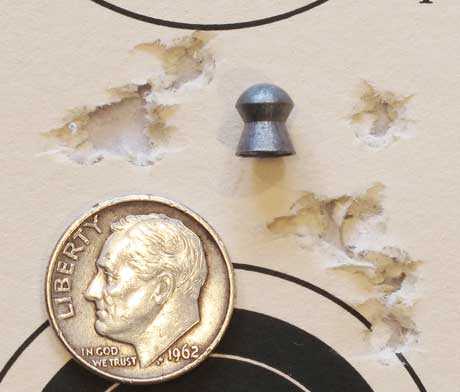 After the barrel bands were reinstalled but before the front band was moved, I put 10 JSB RS pellets into this 1.28-inch group at 50 yards.
Harmonics
In case you don't understand what moving the front barrel band has to do with accuracy, it comes down to harmonics. By changing the location of where the barrel is anchored, I changed how the barrel vibrates during the shot. I did a huge 11-part test of this effect a few years ago. You can read about it here.
I moved the front barrel band backwards about a half inch and tightened the 3 screws once more. Then, I fired another group of 10 shots. This time, 10 RS pellets went into 0.816 inches. That's pretty telling, don't you think? Of course, I have no way of knowing if I have the barrel band adjusted perfectly — all I know is that it's better than it was before.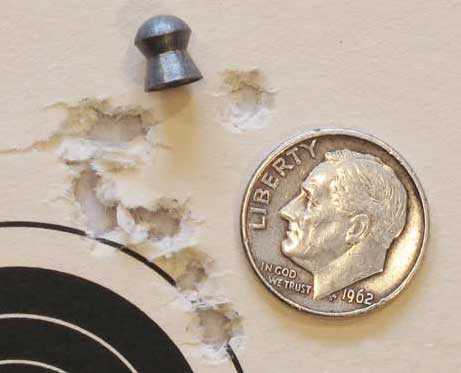 After moving the front barrel band, I put 10 RS pellet into 0.816 inches at 50 yards.
A second 10-shot group went into 1.506 inches. Oops! Was that supposed to happen? Its difficult to say, but perhaps I wasn't concentrating while shooting this group. I simply don't know. Stuff happens to me, just like anyone else!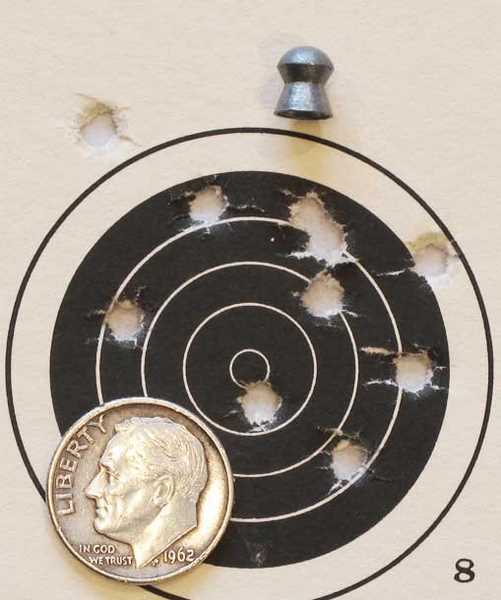 The next 10 RS pellets made this 1.506-inch group.
So I shot a third 10-shot group. This one measures 0.961 inches between centers. That's better.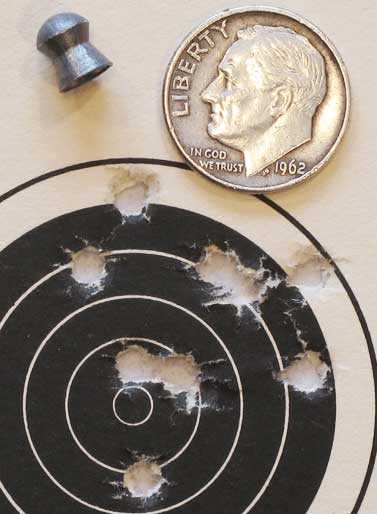 A final 10-shot group of RS pellets went into 0.961 inches.
The results
What I can tell you now is the that Disco Double is able to put 10 pellets into less than an inch at 50 yards under ideal conditions. I've shown you everything that's happened, and I could go on and continue to test this rifle until I have it shooting its best. I probably will, in fact. But the lesson is what I've shown you today.
The Benjamin Discovery is an inexpensive PCP that can put 10 pellets into less than one inch at 50 yards under ideal conditions. The Disco Double I am testing for you here has a lot of extra work done to it and is not as inexpensive as the basic Discovery. However, this is the air rifle I wanted. It's small, it's accurate, it has a wonderful trigger and this one gets a load of shots on a fill of just 2,000 psi. That's everything I wanted in a PCP.
Best of all, this rifle weighs no more and is no larger than a standard Discovery. Despite the additional air capacity, I had to sacrifice nothing. That was the real reason I had this air rifle built. Lloyd Sikes has a wonderful thing going here. If you're interested in what he can do for you, find him at Airgun Lab.