by Tom Gaylord, a.k.a. B.B. Pelletier
This report covers:
• Tech Force TF90 dot sight
• Description
• How does a dot sight work?
• Parallax?
• Easier to use than open sights
• Not the latest and greatest
Tech Force TF90 dot sight
I was right there when this Tech Force TF90 dot sight was being designed. I watched it evolve over several years of development, as each new model was revealed at successive SHOT Shows. I even tested a forerunner of this sight in the 1990s for The Airgun Letter by mounting it on a Beeman P1 pistol.
The Tech Force TF90 was developed by Compasseco, who used a Chinese optics factory that also made sights for their military. According to Duane Sorenson of Compasseco, the optics and manufacturing details of this sight were superior to similar Chinese-made dot sights because of who built it. In the 1990s Compasseco did a lot of business in China and had enough influence to get products designed to their specifications, and Duane was especially proud of this sight.
Description
You can see from the picture that the outer shell of this sight is square, yet the optics are round. The objective lens is 28mm in diameter, which is in the middle size range for today's dot sights. Still, when you look through the sight, everything is clear and sharp, because the optics are very clean and there is no magnification.
The base is adaptable to both 11mm dovetails as well as Weaver dovetails. Everything you need comes with the scope, including elasticized square lens covers. It can fit on a wide variety of airguns and firearms.
The base is integral with the sight tube. There's nothing to do except clamp the sight to your airguns or firearms, and, yes, this sight should work well on firearms of at least the rimfire class. You'll need a recoil stop if you mount this on a gun that recoils and use the 11mm mount base, because it has no stop built in. The Weaver base takes care of that, of course.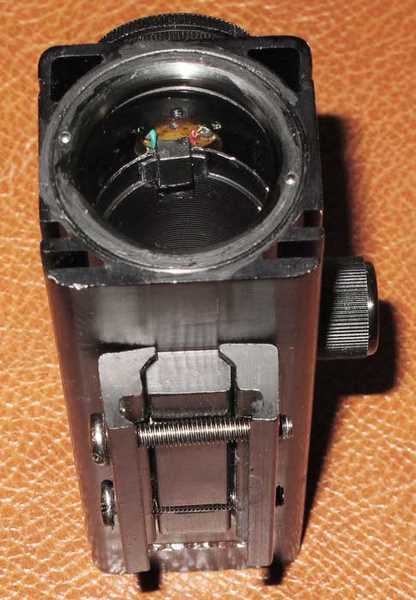 Here, the Weaver base has been installed. Note that the rear screw hangs below the base and engages the Weaver or Picatinny slot to serve as a recoil stop.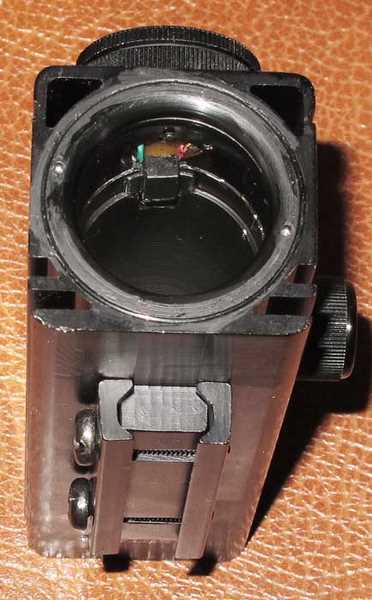 The base hardware can be swapped to make the base fit 11mm scope dovetails, too.
This is a very small sight. It's only 4-1/2 inches long, and the clamping base is just 2-3/8 inches long. That makes it ideal for those vintage air rifles that weren't really made for scopes but have 11mm dovetails for peep sights. I mounted it on my Hakim rifle and there was room to spare. Now, guns that are difficult to scope — such as the vintage Walthers, FWBs and Dianas — can have this optical sight installed.
The adjustments are the same elevation and windage knobs you've used with scopes. I don't have any information about how far each click of the adjustments will move the 3 MOA dot, but I've been adjusting it as though it has quarter-minute clicks, and so far (at 10 meters) it seems to have adjusted correctly.
What appears in the first picture to be the adjustment knobs are really caps. Remove them, and the knobs are adjusted with a screwdriver or coin. The clicks are very precise in both directions. The scales on the knobs, however, have no corresponding reference marks on the body of the tube. So, adjusting the sight is a matter of counting the clicks for each adjustment.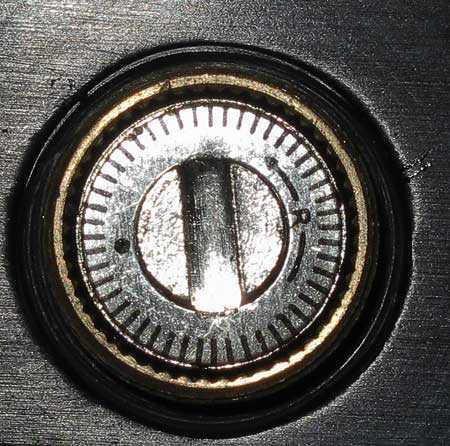 The dot's adjustment knobs are operated by a screwdriver or a coin. The clicks are precise, but there's no reference scale on the sight's body to register where you've adjusted.
The lenses appear to have a ruby coating. The tint is red, and I remember Duane telling me something like that. Ruby coatings are not really made from the mineral ruby. They're just called that because of the color. The red may help with certain light transmission. Steiner made them famous years ago, but they aren't commonly seen today. They can leave the other colors looking washed out, but they don't look like that to me. I am red-green colorblind, so I'm not the best judge.
The dot is a 3 MOA dot, which means it covers approximately 3 inches of area at 100 yards. But there are 7 different rheostat settings, so the dot can be made very bright. I find this sight to be many times brighter and more visible than the cheaper sights that sell in the same price range. This is more in line with my vintage Tasco Pro Point sight, as far as visibility is concerned.
As the light is intensified, the dot expands in size. There's no good way of measuring this, so don't ask how much. You use only as much brightness as you need to see the dot against the target, and I believe that cancels the expansion tendency. In other words, if the dot is just bright enough to see, it will always me about 3 MOA.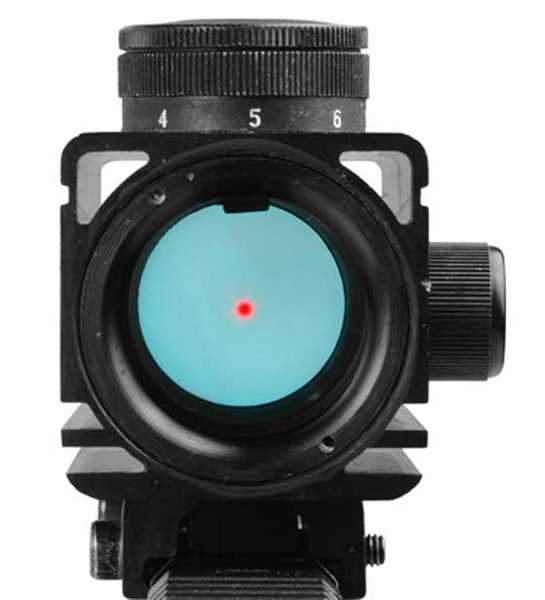 This image shows the dot larger than it appears. This is a camera reaction to the shutter remaining open long enough to see the dot. The image you'll see is crystal clear.
How does a dot sight work?
A dot sight works like a telescopic sight. When the adjustments are changed, the internal mechanism (an LED aimed at a lens with a reflective surface on one side) moves the dot without apparent movement to the user. The dot remains centered in the window as long as your head is on the stock at the same place every time.
Parallax?
People will tell you that dot sights don't have parallax, but that's incorrect. They have the same tendency for parallax as scopes. Because they don't magnify the target, the movement (of the dot against the target as the aiming eye moves) is hard to see — but it's there. And the sight will do its best at one range over all others.
Easier to use than open sights
But here's the deal. The amount of parallax error from a dot sight is less than the aiming error that results from an incorrect sight picture with traditional open sights. Said a different way, it's easier to be accurate with a dot sight than with traditional open sights. And, as eyesight degrades, this benefit becomes more pronounced. So, people with poor eyesight will often find that dot sights help them shoot better than they've been able to shoot with open sights.
Not the latest and greatest
A lot of time has passed since this TF90 was new, and the technology has certainly advanced far in this field. Today, we have dot sights with different colored dots, as well as different reticles to select — all in one sight. The TF90 was advanced for its day, but in today's market the same features are offered by a number of manufacturers. However, there's one huge difference. Nobody is selling a sight of this quality at this price! You get a bundle of quality for the price of a bargain-basement sight. That is what you have to consider when looking at this one.
There are a limited number of these available; and when they are gone, there will be no more. If a dot sight is something you've thought about buying, you may want to consider getting one or more of these. I have 2 Tasco Pro Points that I've owned for more than 15 years. At one time they were considered very good sights. Today, they have been surpassed by technology — but that doesn't make them worse. They're still very good dot sights, and so is the TF90.
I'll be reporting on this sight in future reports of other airguns — with the Hakim air rifle at 25 yards being the next one I do (click to read the Hakim 10-meter test with this sight). While there won't be a Part 2 to this report, you'll get to see how well this sight performs. I don't think I'm sending this one back to Pyramyd Air, because I can always use one more good optical sight!