by Tom Gaylord
Writing as B.B. Pelletier
This report covers:
• Accuracy at 10 meters with open sights
• Pellets not worth choosing
• Good pellets
• Best pellets
• Discussion
• Evaluation so far
Pardon me for rushing right into this report, but there's a lot of ground to cover today. This is the first of many accuracy tests of the Feinwerkbau Sport air rifle.
Accuracy at 10 meters with open sights
I'm shooting the rifle with open sights from 10 meters. For some spring guns, that's as much as you can do; but the Sport should just be warming up. All I'm really hoping for today is to come away with 2 or 3 good pellets for 25-yard testing.
My method was to shoot 1 pellet and see where it hit. If it was inside the bull, I fired another 4 shots at the same target. If that 5-shot group looked good, I fired 5 more shots to complete a 10-shot group. I had several pellets suggested by readers, plus there were some of my own choices. But there's no guarantee that in all this testing I found the one best pellet.
Rather than write a lengthy explanation about each pellet, I'll show you the targets and then discuss them all.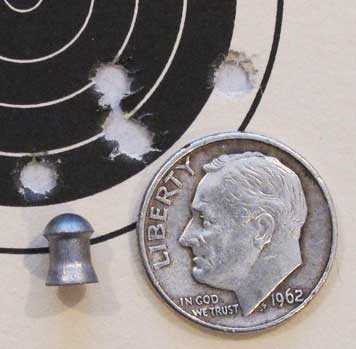 JSB Exact 10.3-grain domes. Five pellets went into 0.764 inches. Not the best pellet.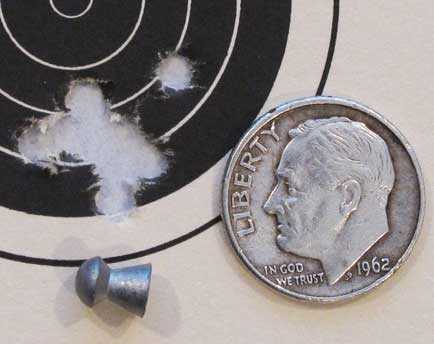 JSB Exact 8.4-grain domes. Ten pellets in 0.475 inches. This one has potential.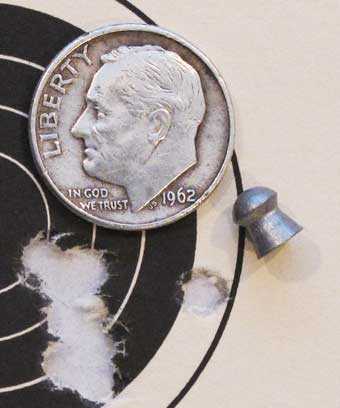 JSB Exact RS domes. Ten pellets in 0.522 inches. This one is also possible.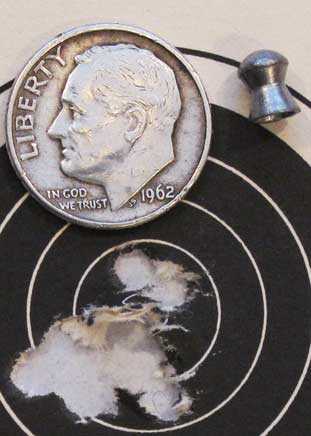 H&N Field Target Trophy 4.50mm head. Ten pellets in 0.508 inches. Another possibility. Yes, I did adjust the sights before shooting this group.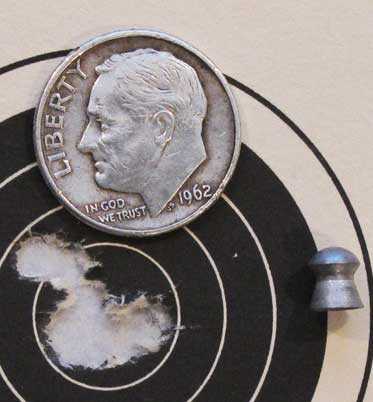 Air Arms Falcons 4.52mm head. Ten pellets in 0.444 inches. This is what I wanted to see. Best group so far.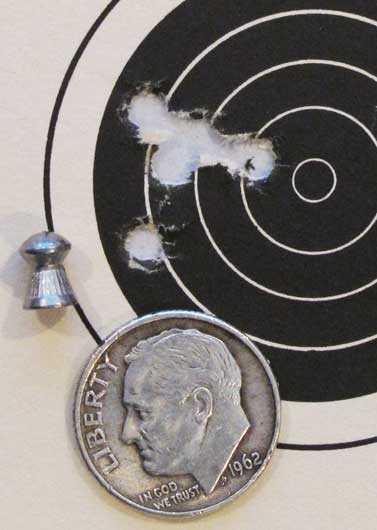 RWS Superdomes. Five pellets in 0.429 inches. This might look good, but all the other good pellets grouped much tighter for the first 5 shots. In light of that, I decided not to continue with this one.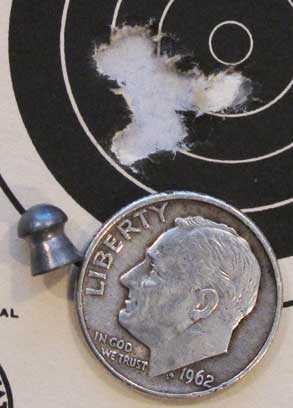 Crosman Premier 7.9-grain domes. Ten pellets in 0.336 inches. Best group of the session.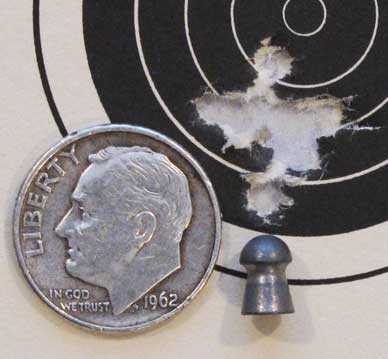 Crosman Premier 10.5-grain domes. Ten pellets in 0.422 inches. Second-best group of the session.
Pellets not worth choosing
Okay, that's a lot of 10-shot groups. It took about an hour to shoot them all. Two pellets stood out as not being worth finishing the 10-shot group — the JSB Exact Heavy 10.34-grain pellets and the RWS Superdome pellets both showed after 5 shots that their groups were more open than the rest of the pellets I tested. It just wasn't worth the time to complete the 10-shot groups with them.
Good pellets
Several pellets fell into the good zone — with small groups that still weren't the very best. The JSB Exact 8.4-grain dome, the JSB Exact RS dome and the H&N Field Target Trophy were in this group. Granted, I shot the FTT pellet with a 4.50mm head instead of the larger head that was suggested, but that was all I had on hand.
Best pellets
Let's look at the 3 pellets that did the best in this test. They're the Air Arms Falcon that has a 4.52mm head, the Crosman Premier 7.9-grain dome and the Crosman Premier 10.5-grain dome. These 3 pellets exceeded the other pellets, so they'll be the ones I test at 25 yards.
Discussion
Truth be told, any of the good pellets could probably do better on another group. This was a lot of shooting and I'm sure I wasn't as on the ball with every shot as I should have been. Still, all these groups are better than what you normally see me shoot with 90 percent of the spring guns I test. The reason for that is the name on the outside of the gun. This is a genuine Feinwerkbau, and its pedigree shines through when it is shot.
That light, crisp trigger did a lot for the success of today's test. It isn't too light, but just right for ideal shooting conditions.
The open sights also helped a lot. They're sharp and clear, and there's a lot of light around the front post. You can aim very precisely. Even if you never mount a scope, the Sport will do you proud in the field.
Evaluation so far
I like the FWB Sport a lot. Can you tell? I wish it was smoother when it fires; but as I've noted, that can be taken care of. We still have a lot of shooting to come, so it's too soon to make a final proclamation; but I do believe the Sport will turn out well in the end.