by Tom Gaylord
Writing as B.B. Pelletier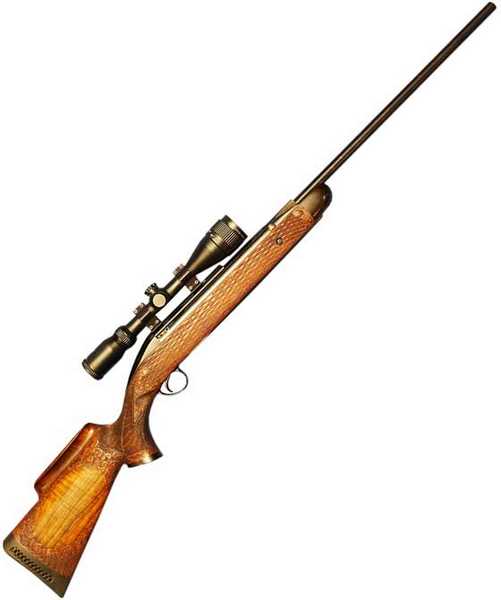 UK maker Don Robinson made this beautiful BSA Airsporter — a trademark of his work on airguns!
This report covers:
• Air Arms Falcon pellets
• Shooting technique
• RWS Superpoint pellets
• Scope is broken!
• Pellets that don't work in the Airsporter
• The best pellet
• More photos of the stock for Joe
• What's next?
Got a lot to cover today, as I test the Don Robinson BSA Airsporter's accuracy at 25 yards. A first shot at 12 feet confirmed the gun would be on paper at 25 yards, so sight-in didn't take long. Once I shot from 25 yards, a couple scope adjustments brought the groups where I wanted them.
Air Arms Falcon pellets
First to be tested were Air Arms Falcon domes with the 4.52mm head. They grouped in 2 different places, so I didn't finish the group. I did try shooting the Airsporter directly off the sandbag, however. Three shots told me it wasn't the way to go.
Shooting technique
This rifle wants a deliberate artillery hold, with the shooter as relaxed as possible. Any tension will throw pellets wide, which I will show in a bit.
RWS Superpoint pellets
I tried RWS Superpoints next. I tried them only because they've done well in taploaders in the past. This time, they produced the second-best group of the day, with the seeds of greatness in it. Ten pellets made a 1.143-inch group at 25 yards, which is hardly a good group. But within this group, 7 pellets landed in a group that measures 0.541 inches between centers, and I'm almost certain that I pulled the other 3 shots. In a moment, I'll tell you why I can't be certain.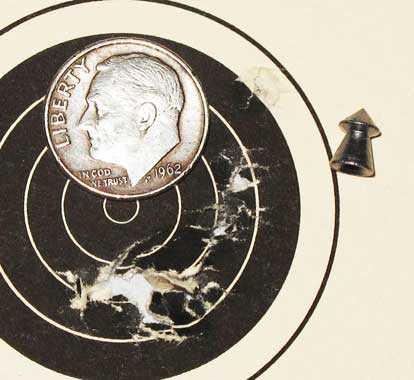 Not a good group until you examine the 7 pellets that are all together. Group measures 1.143 inches, with 7 in 0.541 inches. I was tense for those last 3 shots.
Scope is broken!
By this point in the test, I realized that the Hawke EV Airmax 3-9X40 that's on the rifle is broken. It looks clear for the shot, then it goes out of focus afterward. Sometimes, a second shot clears it up again. I thought the parallax adjustment was loosening, but it turns out the objective lens or lenses is/are loose in their mounts.
I completed this test with the broken scope, and I know some of my shots were not as good as they could have been. If I had more time, I would have mounted a different scope, but I was on a tight schedule to get this report completed, and I'd already used up several hours working on another gun that will be used in a future report. So, I put my head down and finished the test.
You might think this was a waste of time — testing a rifle that has a broken scope. Let me explain why it wasn't. Although the scope isn't working as it should, I was able to tap it after each shot and vibrate the lenses back into focus — sort of. I can't call this a perfect test, but I can learn enough to rule out some pellets and to identify those that will be worth shooting when I test the rifle, again. That's what I did. Although this test isn't conclusive, it did help me test this rifle.
Pellets that don't work in the Airsporter
Besides the Air Arms Falcons, I identified the following pellets as not that accurate in this Airsporter:
H&N Baracuda Match with head size 4.50mm
H&N Baracuda Match with head size 4.52mm
JSB Exact 8.4-grains
BSA Wolverine pellets
The best pellet
Given the ambiguity of this test, it's not definite that this is the most accurate pellet in this rifle. It just turned in the best 10-shot group in this test. The H&N Baracuda Match with head size 4.53mm put 10 pellets into 0.704 inches. Seven of those pellets went into 0.35 inches!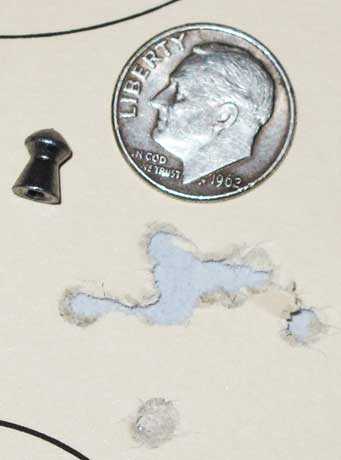 Ten H&N Baracuda Match pellets with 4.53mm heads made this 0.704-inch group at 25 yards. Seven are in 0.35 inches. This is pretty good; but, again, I tensed up at the end!
More photos of the stock for Joe
Blog reader Joe asked for more photos of the wood carving on this rifle, so I'm providing them here.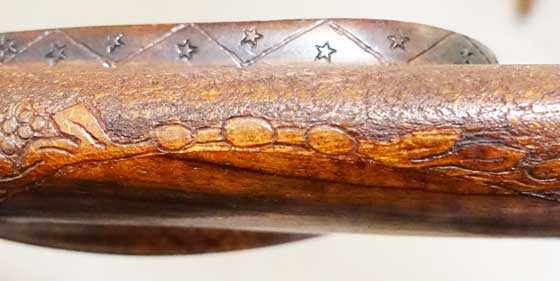 This is the underside of the butt. At the top, you can see underneath the raised cheekpiece.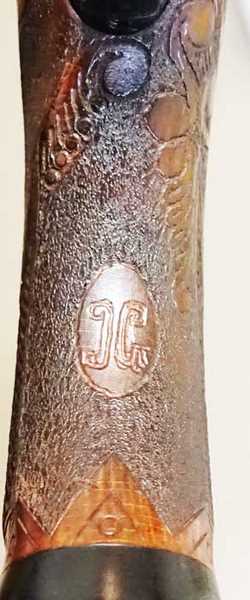 This is the underside of the pistol grip. I think the initials are of the person for whom the gun was made.


Most of the underside of the forearm is taken up by the cocking lever. The carving does extend to the edges of the cocking slot.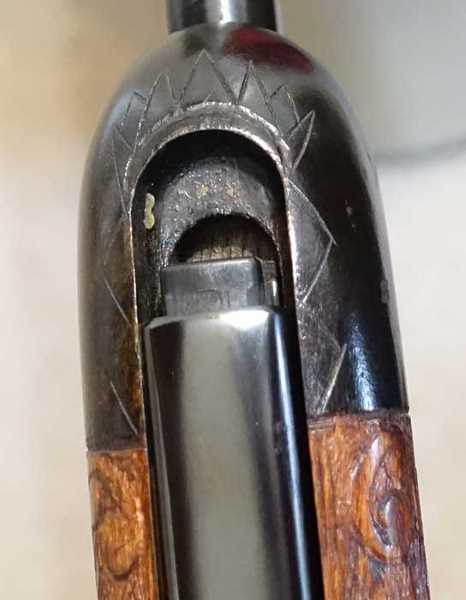 The ebony forearm tip is also carved, though not as elaborately as the rest of the stock. Ebony is a very hard wood to carve. Here you can see the spring-loaded detent button that locks the underlever in place when it's stored.
When an air rifle is hold-sensitive, like this one, it's hard to hold it correctly for 10 consecutive shots. If it was the only rifle I owned, I would eventually get used to it and the groups would tighten. But, right now, I have to concentrate for every shot. I think that's why the shots are going wide at the end of each string.
What's next?
I'll replace the faulty scope with one that's clear, and I'll shoot this test, again. Next time, I'll know which pellets to use. It should be interesting, because I think this rifle will turn out to be quite accurate. We'll see.