by Tom Gaylord
Writing as B.B. Pelletier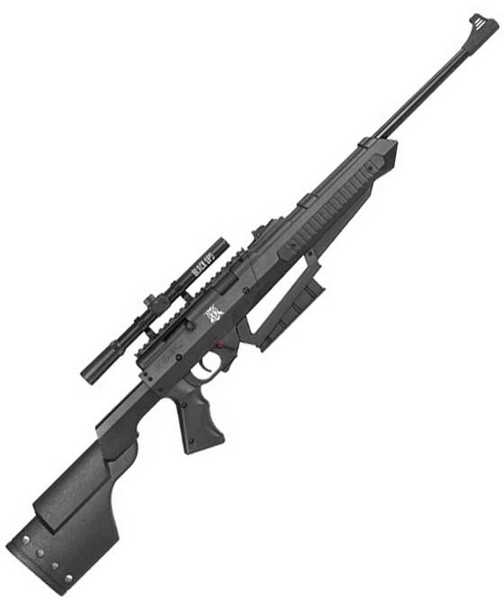 Black Ops Junior Sniper air rifle combo.
This report covers:
• Crosman Premier lite pellets
• H&N Baracuda Match pellets, 4.53mm head
• Air Arms Falcon pellets
• Conclusion thus far
• What's next?
Let's look at the accuracy of the Black Ops Junior Sniper air rifle combo. I'm shooting lead pellets, only, and I'm shooting at 10 meters with open sights. This will not be the last test with pellets, because this combo does have a scope. But for today, I'm just getting used to the rifle and seeing how it does.
I decided to shoot 10 shots off a rest at 10 meters using 5 pumps of air. You can refer back to Part 2 to see what kind of velocity that gives me.
The rifle feels very clunky to me because of the fake magazine lump they put on the pump handle. I would prefer that not be there, though I was able to make my sandbag accommodate it. On the other hand, I do like the squared-off comb on the stock, because it helps me locate my face. My eye came into perfect alignment with the sights every time.
Crosman Premier lite pellets
The first pellet I tested was the 7.9-grain Crosman Premier lite. I normally use a spotting scope, or, to be more exact, a pair of 7X40 binoculars to see the pellets on the target, but this time I didn't have to. The rifle was hitting about 2 inches to the right of the center of the bull and landing in the white. At 10 meters, even I can see a pellet hole in the white with my naked eye.
I did lower the rear sight, but since I planned to also test the scope I didn't bother to adjust the group to the left. It was nice to see where the pellets were impacting.
Ten Premier lites went into 0.517 inches. Given that I was shooting with open sights — and plastic ones, at that, I felt that wasn't too bad.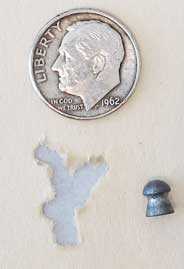 Ten Premier lite pellets went into 0.517 inches at 10 meters. Not bad for inexpensive open sights!
H&H Baracuda Match pellets, 4.53mm head
The next pellet I tested was the H&N Baracuda Match with 4.53mm head. For some reason, I felt this might turn out to be a good one, and I think you will agree that I was right. These pellets struck the target even lower and more to the right than the Premier lites. But after just 3 shots I knew I was on to something good. The hole just didn't seem to grow as the shot count rose.
After 10 shots, the very round group measures just 0.267 inches between centers. I'm glad to see it, for it proves two things. This rifle can shoot, and so can I! This group earns the Black Ops Junior a chance to move back to the 25-yard line. But that's in the future. Before we get to that point, BBs still have to be tested at 5 meters.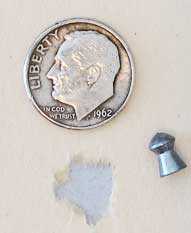 Baracuda Match pellets with the 4.53mm head are great in the Black Ops Junior rifle at 10 meters! Ten made this round group, which measures 0.267 inches between centers.
Air Arms Falcon pellets
Thinking the pellet's large head size might be something the rifle likes, I tried the Air Arms Falcon pellets next. They weigh only 7.33 grains, but they have a 4.52mm head. That's very large for a .177 pellet and just 0.01mm smaller than the H&N Baracuda Match. So, great things were anticipated.
Alas, they did not deliver. The 0.78-inch 10-shot group they made is the largest of the session, although 9 of those shots were in 0.546 inches. But even that is still larger than the first group of 10 Premier lites. I don't think the Falcon is the right pellet for this rifle. I also had some difficulty loading them. Three times they flipped around in the loading trough, and once a pellet tried to fall into the BB loading hole! If it had made it, that might have ended all testing with this rifle.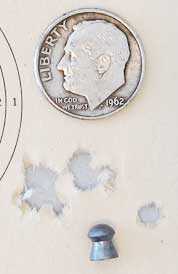 Ten Air Arms Falcon pellets went into 0.78 inches at 10 meters. Even the 9 that are together measure 0.546 inches. Not the pellet to use.
Conclusion thus far
The Black Ops Junior Sniper can shoot! The open sights are off on the test rifle, but they can be adjusted to center the pellets. The trigger-pull is stiff, but the stock fits me better than I expected it to. All in all, this is a nice, inexpensive multi-pump.
Okay, I'm going to belabor the point. This budget rifle just shot a 10-shot group at 10 meters that's as good as a 10-meter rifle can produce! Maybe I just lucked out and got a good one. But those of you who've read my blog for a while know that almost never happens. I get the bad ones, and then I make them cry in public!
And, now, my friends, for some learning. If my groups were 5-shot groups you might say that nice one was luck. But 10 shots don't get lucky very often — maybe once every 10 years, or so. And that's why I shoot one 10-shot group instead of five 5-shot groups. Because I take no chances.
What's next?
Next, I'll test the rifle with BBs at 5 meters. I don't think I'll test round lead balls because they nearly fell into the BB reservoir through the BB loading hole during the velocity test, and then I had almost the same thing happen with one of the Falcon pellets. I don't want to take any chances with the rifle.
After the BB test, I'll mount the scope and back up to 25 yards. And you know that H&N Baracuda Match pellets with 4.53mm heads will be first on the list. That's really putting this inexpensive rifle under the spotlight; but based on what I see in today's test, it may be able to handle it.