by Tom Gaylord
Writing as B.B. Pelletier
This report covers:
You won't believe it!
At my table
Old stuff
And toys
And on and on…
You won't believe it!
I was walking the aisles, looking at all the guns and trying to see everything. On the floor at one table there was a standing rack with what appeared to be a Bugelspanner. I showed you a Bugelspanner several years ago. I've seen hundreds of Bugelspanners over the past couple decades I've been going to airgun shows, but this one looked a little different. So, I inquired about it — and got the best story of the whole show.
For starters, it wasn't a Bugelspanner (triggerguard-cocker) at all. It was a Heblespanner (side-winding crank-cocker), similar in function to my David Lurch gallery dart gun, though quite unlike it at the same time. Let's take a look.


This dart gun is special!
This gun is cocked with a crank; but instead of a geared mechanism, there's a square plug for the crank to engage. And double-set triggers add to the beauty and functionality of the gun.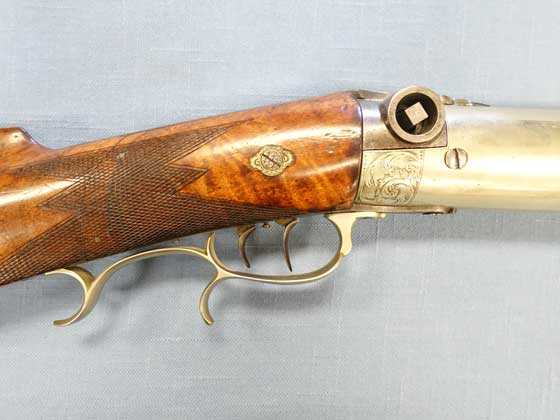 What really sets this airgun apart, though, is the inscription engraved on the receiver: "Elijah Van Syckel to his son Emmet May 1st 52"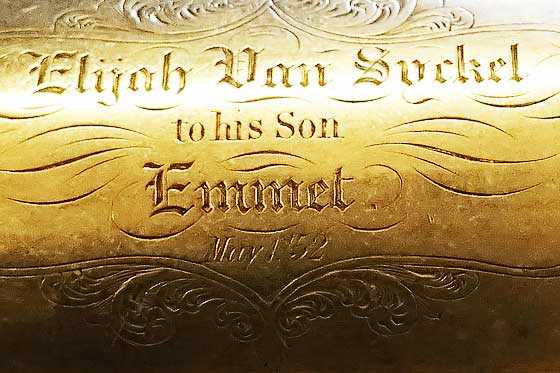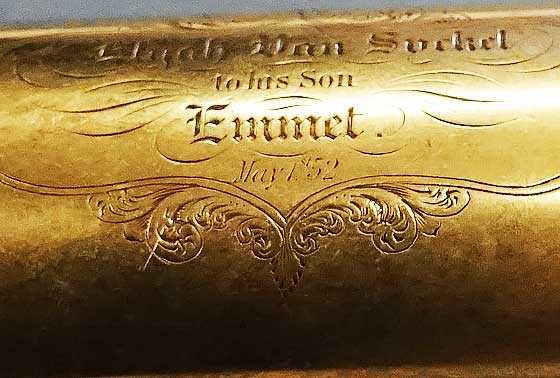 That has to be 1852, which is almost the dawn of this type of gallery airgun. We currently think it's American-made, but by whom we have no clue.
The barrel is not solid. It's a hollow tube that's shaped into an octagon and finished with what both the owner and I agree is a faux Damascus pattern. It's very even and gorgeous! Whoever made this gun was a master craftsman. The actual barrel is a thin brass tube held in a plug at the muzzle and breech.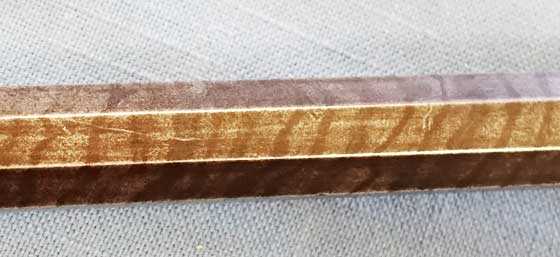 The "barrel" is a hollow tube shaped into an octagon and finished to look like Damascus.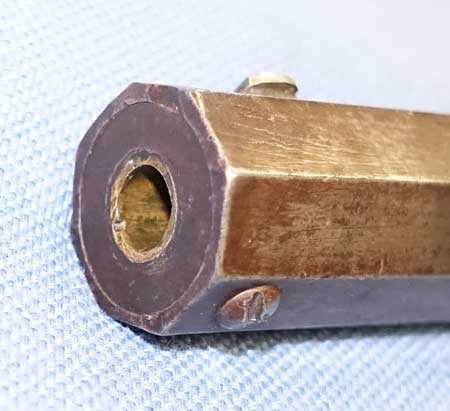 The inner brass barrel is held in a plug at the muzzle and breech.
The gun is a breech loader, which was very uncommon for 1852! To load, you unlatch the barrel and swing it to the side.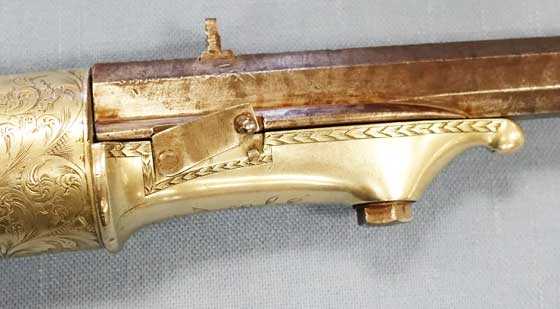 The barrel is held shut by a latch on the right side of the gun. Push it down…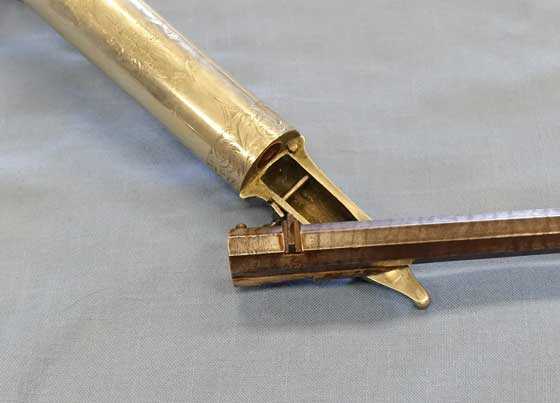 …and the barrel swings to the side to access the breech for loading.
This dart gun is between .25 and .28 caliber, but the darts were all made by hand so it really didn't matter. There were probably a supply of them that came with the gun.
As you can see, the gun has double-set triggers — another custom touch that's unnecessary on a dart gun, but which the finer ones had.
The gun's owner has started researching the owner and his father who made the presentation. This will make a wonderful story when he gets more information.
At my table
Sometimes, I will be at my table minding my own business when someone brings something by to show me. That happened several times at this show. The first time was one of our blog readers named John, who brought 2 different lead bullets by for me to use in my test of the Benjamin Bulldog. They're shaped differently, and he thought they might do well in the rifle. I gave them to Dennis Quackenbush to take to the Malvern, Arkansas airgun show for me, because I was flying. I'll pick them up in 2 weeks and give you all the details when I receive the bullets, again.
The second person who stopped by my table was Jerry from Pittsburgh, who brought me a handy tool for loading pellets in tight places. Let me let him tell you his idea.

A pair of angled tweezers for loading pellets into tight places as well as rotary breeches, sidelevers and underlevers.
Old stuff
This show didn't just have airguns. There was a Quackenbush (H.M. Quackenbush — not Dennis) bell target from the 19th century on Kevin Hull's table. These were very popular when gallery shooting was at its high point in the 1880s and '90s.

A rare H.M. Quackenbush bell target.
And toys
Lest I forget, the Findlay show's full name is — Toys That Shoot. There are more than just airguns at this show — there are shooting toys, too. In fact, a portion of the dealers and the crowd come just for the cap guns and other stuff, not for the airguns.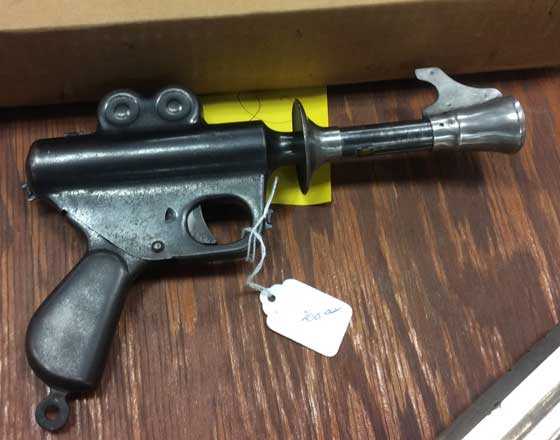 This genuine Buck Rogers Rocket Pistol was listed at $200. Not bad for a half-dollar toy from the Great Depression!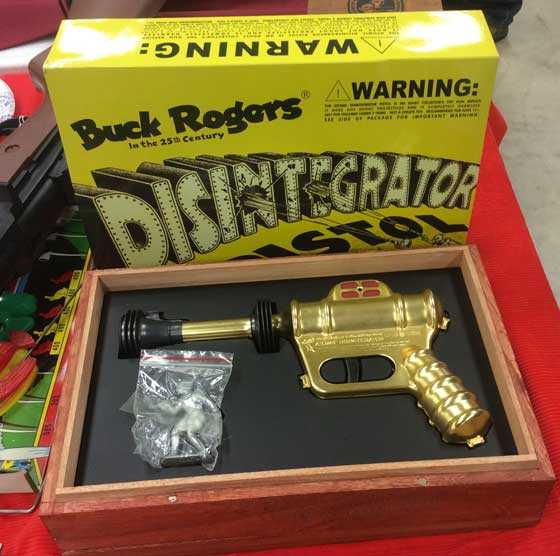 Across the aisle was this fully restored Buck Rogers Disintegrator Pistol. Even the box looks like new!
And on, and on…
The Findlay show was so much larger than even these 2 reports have been able to capture. If you're an airgunner, there was something there of interest for you. I hope this brief report has stimulated some of you to attend an airgun show some time. If you do, you'll find that the shallow words of this blog will suddenly spring into gorgeous full-color view.