by Tom Gaylord
Writing as B.B. Pelletier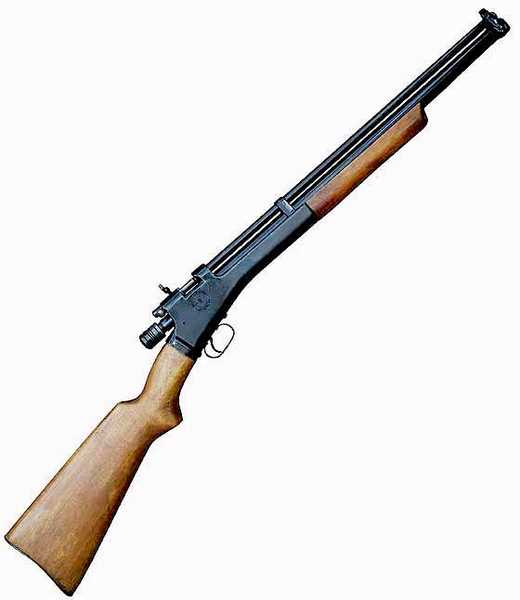 Crosman 101 multi-pump pneumatic.
This report covers:
Crosman-101-classic
Description
Peep sight
Cocking knobs
Materials
History
Maintenance
Crosman 101CG
I was trying to report on rebuilding the Daisy 853 today, but a last-minute change prevented that. One of our readers, Paperweight, sent me Daisy's very detailed .pdf file on rebuilding the 753/853 that has far more detail than the one on Pilkington's website. It includes some steps that Pilkington overlooks, and those steps are vital. He also told me that the brown o-ring goes on the action and the black one goes on the pump piston. I had followed someone else's directions and had them reversed. So I had to backtrack and switch the o-rings, plus I used the more detailed Daisy instructions to assemble the gun. I'll tell you more when I do that report.
Crosman-101-classic
So today we will start looking at one of the all-time classic multi-pumps — Crosman's 101 pumper. It's also been know as the Silent model at times, for reasons I will cover, but nowhere in Crosman's literature or on the gun do I see the model number. The .22-caliber model 101 and the rarer .177-caliber model 100 got their start in 1924, and production continued until 1950. The Blue Book of Airgunss says the .22-caliber model started in 1926, but that overlooks the model 1924 that is clearly the earliest version of this gun. The model 100 wasn't started until 1940 and was never as popular as the .22 caliber gun because .177 wasn't that popular in the United States during that timeframe.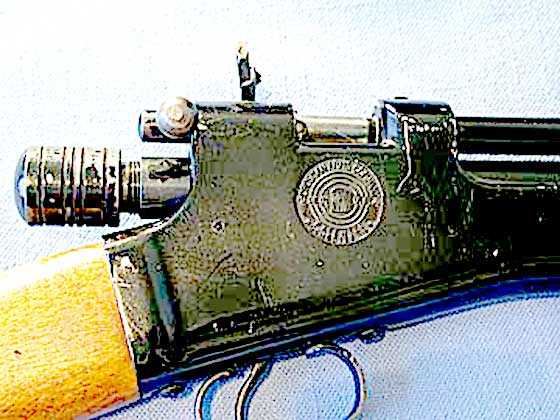 The 101 looks pretty funky to someone used to today's pneumatics.
Description
The 100/101 is an underlever pump gun that accepts 2 to 10 pump strokes for one shot. It is designed to dump all its air with every shot. My rifle is a beater I bought for $50 at an airgun show and had Dave Gunter rebuild. Dave's not working on airguns any more, as far as I know, but Rick Willnecker in Pennsylvania ( https://www.airgunshop.net/ or call 717-382-1481) can not only do the job — he manufactures the parts that all the other repair centers use to fix these vintage pneumatics. He's a good resource for you.
Dave souped my rifle up when he fixed it. In 2005 I reported getting 710 f.p.s. with .22-caliber Crosman Premiers on 8 pumps. That's way over the norm for this gun. In good shape a 101 should give 625-640 f.p.s. on 10 pump strokes.
Peep sight
The rear peep sight went through some iterations, as well. Some of them have large round peep holes with knurled elements to permit easy adjustments, while others are like the one on my example — plain peep element with flats. The peep hole in this one is tiny! All of them adjust manually though. Elevation is controlled by sliding the sight staff up and down and horizontal is controlled by positioning the peephole along the top of the staff.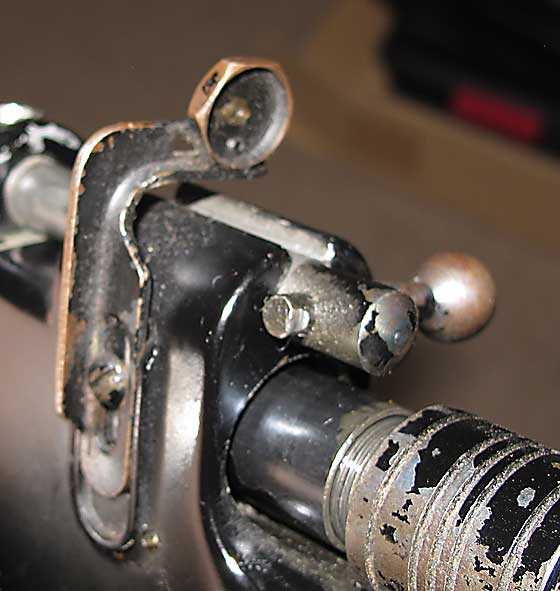 Peep sight adjusts by sliding the element staff up and down or the element left and right.
Cocking knobs
Cocking knobs also changed over the years. The earliest is a simple knob with a thin knurled ring at the end. That came from the ultra-rare type 3 pumper that preceded the 101. I used to own one of those before anyone knew it was a separate model. We just thought it was a toolroom gun. The one I owned is the very gun pictured in the Blue Book.
The next cocking knob had a dished groove (knob looked like a mushroom from the side) for the fingers. That was followed by a large knurled knob that was almost an inch long. The last vewrsion has several rings cut into it for better grip. That's the one on my current rifle.
The 101 looks old and funky. In fact, that's a lot of its appeal. It's no more accurate than a Sheridan Blue Streak or a Benjamin 310 multi-pump that were contemporaries. But the 101 comes standard with a rear peep sight, where the other two have open sporting sights. So it is perhaps a little easier to shoot accurately.
Materials
The receiver is an aluminum casting. Most of the other parts, with the possible exception of the barrel, and barrel hangers, are steel. The barrel is 20 inches long. My steel barrel is rifled with a right-hand twist having very shallow grooves that make it next to impossible to count the lands. I would guess there are either 6 or 8. There certainly are not 12.
Crosman used a lot of maple on the 101 guns. My example gun sports a plain maple stock and forearm with just a hint of figure.
My rifle weighs 5 lbs. 2.5 oz. The overall length is 35 inches, making it a carbine-length rifle, despite the long barrel. The weight feels like more because of the compactness. The pull is a whisker over 13 inches, but the placement of the peep sight makes it feel longer.
The trigger is a direct-sear blade with zero complexity. That said, the single-stage pull is quite light. The trigger breaks at 1 lb. 14 oz. with just a wee bit of creep.
History
The 101 was produced from 1924 (26?) until 1950. There are numerous variations throughout the life of the model, though there was never an official designation of a model upgrade. Some guns had brass barrels; others had steel. Some models had wood stocks with high combs, others were lower and more plain. Some guns had gorgeous figured maple stock wood, while others were as plain are table kegs. And, there was the Silent model of the 1940s that featured a plastic pump handle with a rubber pad inside. It prevented the forearm from clicking as the gun is pumped. The ads said you could pump silently when hunting.
Over the years I've owned several 101s — including a Silent and a 1924 model. I've also owned one model 100, but I wasn't as fond of it for some reason. My current rifle is the least valuable of all, and also the most powerful.
Maintenance
Most multi-pump owners know to store their guns with a pump of air to keep the valve seals clean and fresh. The 101, however, allows you to do one thing more. If you unscrew the cocking knob you can relax all tension on the striker spring, helping to keep that air inside the gun. Just don't forget to screw it back in before you shoot again. I just checked and my rifle is still holding air I pumped in there more than 3 years ago!
Of course you also want to put some Crosman Pellgunoil on the pump head that is exposed when the pump handle is fully forward. How much is up to you. It's impossible to overdo this step.
Crosman 101CG
After WW II, someone at Crosman found a supply of 4 oz. CO2 tanks for life rafts and got the bright idea to convert the pneumatic rifle to CO2. They hung the tank beneath the rifle and got hundreds of shots per fill. This is the rifle the company marketed with shooting galleries for businesses.


Crosman converted the 101 to use CO2 from a WWII life raft tank, creating the model 101 compressed gas, or CG. There's that mushroom-shaped cocking knob.
This will be a conventional test report with three parts. I'm looking forward to reacquainting myself with this old girl.