by Tom Gaylord
Writing as B.B. Pelletier
This report covers:
Weather
Started late?
Flash flood of people!
What kind of show was it?
Some finds
The gate
Here we go! The 2016 Texas Airgun Show was the most different airgun show I have ever attended. I will try to tell you why, but as I do, you will learn that I did not see the entire show, so I'll rely on the comments of others to assist me.
Weather
The weather was perfect! Normally Texas is above 100 degrees at this time in August, but this day was just 91. And the humidity was down, as well. Rain had been predicted earlier in the week, but the sun was out most of the day and I don't think a drop fell.
Started late?
Every airgun show I have attended, which is over 40 by now, has had the dealers lined up at the door, pressing to get in even before it's time. This Texas show was not like that. In fact, at 7 a.m., half an hour after the doors were opened for the dealers to set up, there were still only about one-third of the tables filled. I thought something was up. A few people said the show was hard to locate, but that was because they were using Google Maps to find it. If they switched to Map Quest, the directions were perfect.
Flash flood of people!
I grabbed my camera at 7:30 and started taking pictures and that is when the flood hit! It was a flash flood of dealers who surged through the door and everything was officially on. By 9 a.m. the place was filled and I started seeing early buyers. Since the Arlington Sportsman Club members were admitted free, the early buyers were mostly them.
We had a couple dealers drop out of the show at the last minute, but that was fine, because other dealers had been asking to buy additional tables. The hall filled and dealers started setting up on the porch outside. And then it was 9:30 and the public started swarming in. I think until that moment the club members weren't sure that what I had told them about an airgun show was true, but they found out in a hurry. By 10 the hall was so packed that you could not move. This was the busiest airgun show I have ever seen!
My tables were 10 feet from the entrance, but I didn't get outside to look at the crowd on the ranges until 11:30. When I did, I could see knots of 25-50 people on each range, either competing in one of the contests or watching one of the demonstrations. More about them in Part 2.
I had help setting up and manning my tables from my brother-in-law, Bob, plus Otho and Marsha Henderson. Several blog readers got to meet Otho and shake his hand, and Marsha stayed with the booth until my car was packed to go home. What a trooper she is! She held down the tables while I was outside doing demonstrations and filming for American Airgunner for a couple hours. More on that in Part 2.
What kind of show was it?
I saw airguns at this show I have never seen. That's not unusual, but the types of guns I saw were. There was a Whiscombe JW70 fixed barrel for sale! That is the field target model that's never seen. Same guy had a Weihrauch Baracuda that I have seen at several shows, but they aren't common. You never see them at airgun shows.
Larry Hannusch had an antique butt-reservoir big bore air rifle for sale! I came so close to entering into negotiations on it. But tyhen his Mark I BSA Meteor threw me for a loop, and I had to walk away and talk to myself. To my great chagrin, I did not buy that rifle from him! I wanted to compare it to the rMark IV Super Meteor I tested for you several years ago!
Let's start with AirForce. Their tables were right behind me, and were piled with new airguns FOR SALE!!! People always say they wish they could shoot these guns before making a decision to purchase. Well, on this day, you could. AirForce owner John McCaslin was on the range both demonstrating his big bore rifles and letting the public try them out all day. I don't know how many Texans he sold, but I did talk to two folks who each bought one after trying it on the range. At the tables they always had three people selling, and they were busy all day!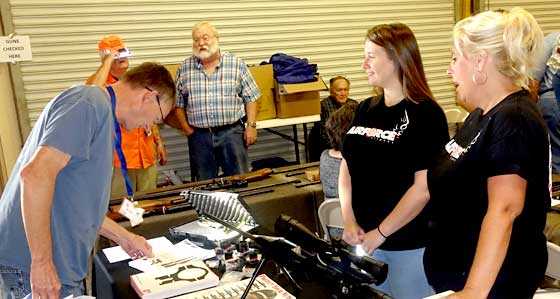 The AirForce booth was selling all day.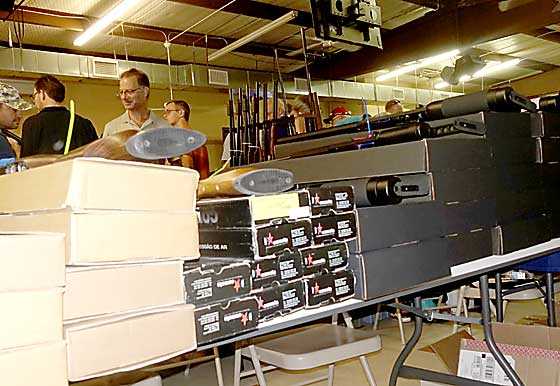 Boxes of all their AirForce airguns and BKL mounts were piled high, but they didn't remain! This is how you make money at an airgun show.
Sun Optics had tables at the show, but the place was too crowded for me to see much of them until the end. When I did get there I noticed some items of particular interest on their tables. First and foremost, they are now selling a mainspring compressor. This is the one B-Square invented years ago, but with improvements. They now have padded all the bolts that touch the guns, where I have to wrap leather around my guns to keep them safe. They made the screws on both ends of the compressor longer to serve as legs that hold the gun up from the table. And the tailstock has a new fixture that holds certain airguns more stable than the old compressor.
Some of the features like the rotating headstock have remained the same. You don't fool with success! But when I commented that the pipes seemed to be finished better I was told that instead of electrical conduit they used seamless stainless tubing and paid attention to chamfering every hole along the legs. The result is a better-finished product. It retails for $200 and they sold two at the show. If you are going to work on spring rifles and pistols, you have to have something like this!


The B-Square mainspring compressor is back, and it's now being made by Sun Optics! In many ways this is a superior product to the compressor I own!
The other thing I saw at the Sun Optics table was a new line of high-end riflescopes! My right eye was not working well this day, but from what I saw with the left eye, these are of the optical quality of the top-end Leupold scopes. I'm referring to their very expensive sniper scopes — not their lower-priced scopes! This is a line I plan to explore and test.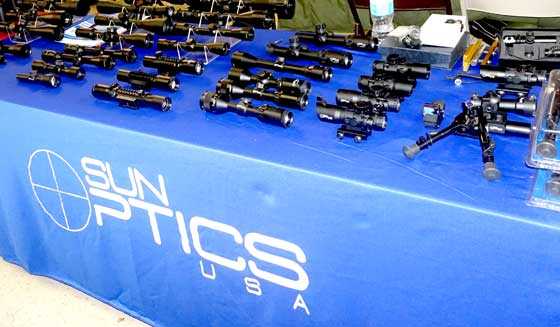 Sun Optics has a new line of premium-grade scopes that offer superior optics!
Some finds
I won't tell you the money side of the show until Part 2, but there were certainly things to buy. I was offered a beautiful RWS Diana 45 for a very good price, but since I have already tuned one for you, I passed. I believe it was sold very soon after that. I also had a Diana model 27 walk up to me. This one was a little tired, but a 27 is still a 27. If I needed another project I would have snapped it up.
I saw a gorgeous HW35 on a table and had to restrain my hand from grabbing my wallet. My HW35 Luxus was out on my table too, but this one was like new. It sold for $350, which is quite good. And then an HW35 Safari walked up to my table! I had never even seen one, so I showed it to Larry Hannusch. The Safari sports a dyed green wood stock and matte finished metalwork.  The seller was asking such a low price that I nearly bought it for resale, but my conscience got the better of me.
The one airgun I did buy was a Crosman 600 in a rocket box. It's been many years since I owned a 600, and I thought it is about time to revisit them for you. He said it worked the last time he tried it, but I know these oldies are finicky, so I just took a chance. We shall see!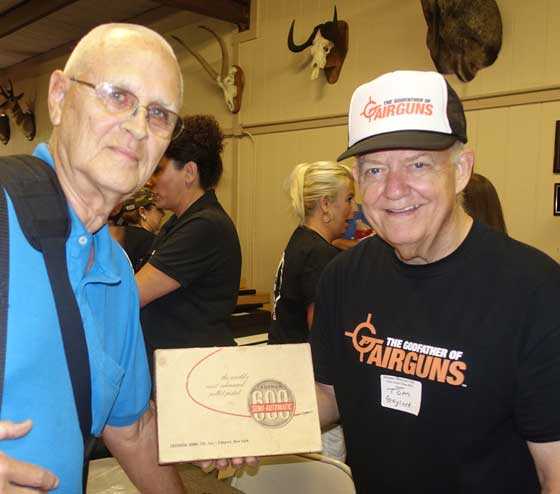 I bought a Crosman 600 in a Rocket box.
The gate
This show was so crowded that it was impossible to estimate the attendance. I was told at the show's end that there were 257 paid attendance and they estimated 150 club members attended, as well. That puts the gate right at 400, though it seemed like about 100 more than that to me.
I think the club was impressed with this show. I think it exceeded their expectations — it certainly exceeded mine in many areas. The club where the show was held has 2700 members and doesn't need money, but they did want to put out the word about airguns to their members. They have field target, airgun silhouette and airgun extreme benchrest matches all the time, but they wanted a broader member awareness of airguns. I think the show managed to do that for them!
Next time I will wrap up the show for you. And that will be later this week.