by Tom Gaylord
Writing as B.B. Pelletier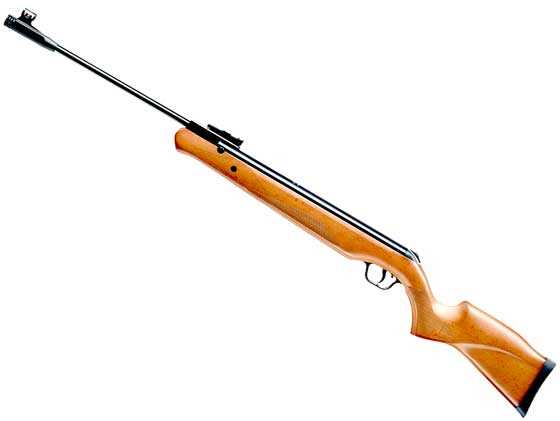 This report covers:
First test
Second test
Third test
Back to JSB Exact Jumbo Heavy
Cocking effort
Trigger pull
Recoil and firing behavior
Evaluation
I'm moving right along on this report because there has been tremendous interest in the Walther Parrus with wood stock. Remember, the rifle I'm testing is in .22 caliber. Let's get to it.
I'm going to change the test a little today. Normally I would report the velocity of three pellets — one lightweight, one medium weight and one heavyweight. But I encountered something during this test that allows me to show you one of the tricks of the trade. Actually it's known to anyone who has spring gun experience and a chronograph.
First test
Let me show you the first 4 readings I got when shooting JSB Exact Jumbo Heavy pellets.
Shot……… Velocity
1…………. 517
2…………. 802
3…………. 808
4…………. 472
What's happening, here? I think the problem is I was holding the muzzle too close to the start screen of the chronograph, and the air blast was fooling the start screen some of the time. Lesson one is when this happens, back up from the start screen about a foot.
Second test
I backed up a foot from the start screen and got the following string of velocities.
Shot……… Velocity
1…………. 870
2…………. 880
3…………. 891
4…………. 480
5…………. 886
6…………. 897
7…………. 832
8…………. 829
9…………. 825
10……….. 808
11……… ..840
12……….. 816
I won't give an average for this string, because it isn't representative. When I looked at the numbers I saw that the gun was slowing down as it went. Shot number 4 is an obvious anomaly and probably not a true reading. The first several shots (through shot number 6) had been detonations (explosions on the shot) which told me there is too much lube in the compression chamber of the test rifle. That throws off the velocity on the high side.
By looking at the numbers in this string, I would guess the rifle is going to settle down around the 800 to 820 f.p.s. range with this pellet. That's after 500 or more shots have been fired. It's just my guess, but I've seen guns like this before.
The point is, we now know for certain that the first 4 shots were bogus. I have told you why they were bogus (detonations, plus muzzle too close to start screen) and what to do to correct it (shoot heavy pellets). We also suspect that the second string isn't representative of the rifle. Not yet. But notice as the shots pile up the velocity drops. That's the lesson here.
Third test
Now it was time to try a different pellet. This time I shot the H&N Baracuda Match pellet with the 5.53mm heads. A heavier pellet will promote more combustion that will actually end the detonations quickly in many instances. These pellets weigh 21.14 grains and the detonations stopped at once. Here is the string that was fired.
Shot……… Velocity
1…………. 710
2…………. 709
3…………. 697
4…………. 702
5…………. 707
6…………. 714
7…………. 681
8…………. 741
9…………. 724
10……… …724
The rifle is still spreading them too wide, as this pellet gave an average 721 f.p.s. with a spread of 43 f.p.s. At that velocity, this pellet generates 23.74 foot-pounds of energy.
Back to JSB Exact Jumbo Heavy
This is where I would normally test a third pellet. Today, though, I retested the JSB Exact Jumbo Heavy. This time they gave the following string.
Shot……… Velocity
1…………. 881
2…………. 834
3…………. 822
4…………. 835
5…………. 790
6…………. 812
7…………. 809
8…………. 819
9…………. 814
10……… …789
The average for this string is 821 f.p.s., and, while that's still a little fast, it's now much closer to what this rifle can probably really do. The spread goes from a low of 789 to a high of 881 which is 92 f.p.s. but if we throw that first shot out, the top becomes 835 and the spread is 46 f.p.s. That's a lot closer to reality.
If we take the average for all 10 shots and calculate the muzzle energy, the 18.1-grain JSB pellet gives us 27.1 foot-pounds! While that number is astounding, I do think the velocity will drop as the rifle breaks in. If we throw out that first shot, the average becomes 814 f.p.s with an energy of 26.64 foot-pounds So the 22 foot-pound energy claim is entirely reasonable. In fact, it's probably an understatement.
Cocking effort
Cocking requires a manly 43 lbs. of effort. The Parrus is not for teenagers, nor for most adult women. I can feel some spring crunching during the cocking stroke, so lubrication might take off a pound or two. But don't look for much more than that.
Trigger pull
I already told you that the trigger adjustment screw works in the first stage length of travel and I verified that it works. Stage two breaks at around 3 lbs. but the recoil made it difficult to pin down exactly. There is a little creep in stage two, but it's not objectionable. I'll know more after the first accuracy test.
Recoil and firing behavior
The Parrus has a very stout kick. Vibration is quick, but it's there. I was holding the butt against my belly when I measured the trigger and I definitely felt the punch! This rifle would make a good testbed for that new UTG scope and mount I'm testing, and I'm considering using it that way
Evaluation
The Parrus has surprised me at several turns. First, it's much larger than I thought it would be. Next, although the trigger doesn't adjust in the traditional sense (first-stage travel, only) it's really quite good. For the price of the rifle it comes on, it's one of the best I have tested. If the finer adjustable RWS T06 trigger was not available on a rifle of equivalent price (the RWS 34P), the Parrus would run away with the prize.
But it is the power of the rifle that really surprizes me. Twenty-seven foot pounds of muzzle energy makes this Parrus a real big boy. The only question that remains is, will it be accurate?