by Tom Gaylord
Writing as B.B. Pelletier
TexanSS
Silenced?
New BKL mount
Gamo
Leapers
New 3-12X32 Bugbuster
T4 Tactical Compact Prismatic scope
The incredible shrinking dot sight!
Defense LED Light
Steel scope rings
More from Air Venturi
TexanSS
Here we go, starting at the AirForce booth, where the big news was the TexanSS, That's right, kids, AirForce is giving us a silenced big bore!
Silenced?
Can you silence a big bore airgun? Maybe, but not in a package that's small enough to hunt with. What you can do is reduce the report to the point that it becomes more manageable in a built-up area, and that is what has been done.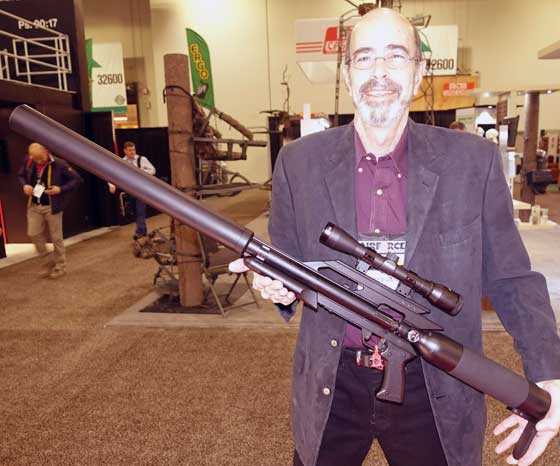 AirForce representative, Keeva Segal, holds the new Texan SS.
The TexanSS is an entirely new air rifle. The first offering will be in .45 caliber, but other calibers are sure to follow. The barrel length is 24.75-inches to fit inside the shroud. A shorter barrel means less velocity, and the rifle develops up to 400 foot-pounds, compared to the 500 foot-pounds of the unsilenced Texan that carries the title, "The world's most powerful production air rifle." You trade almost a foot of barrel for the quieter operation and still get more power than many big bores can offer.
Overall length of the new rifle is 45 inches. It's 3 inches shorter than the Texan. It still has the power adjuster that allows you to tune the rifle to the specific bullet weight you are using — gaining accuracy and saving air.
New BKL mount
This one is so new they don't have it cataloged yet. It's a one-piece mount with a 4-inch base, but the rings are offset on both ends to give greater separation. It's for those longer scope tubes that are found on scopes with high magnification — to separate the rings and reduce the load on the scope tube, plus make scope positioning easier. AirForce/BKL isn't certain this will be a regular production item, or one they just make on special order, because the demand is probably not going to be high.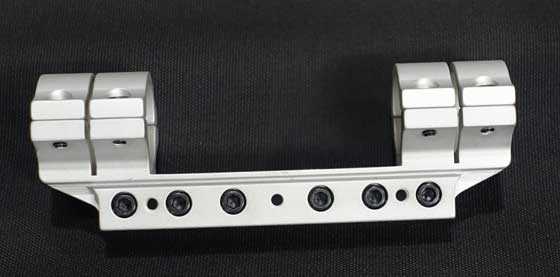 This new mount from BKL spreads the rings apart as far as possible on a one-piece mount.
Gamo
I stopped by the Gamo booth, but the only new guns they have this year are the Swarm Maxim breakbarrel repeater and the Coyote Urban PCP that I shot at Media Day and reported in Part 2. However, Gamo now includes Daisy, and, although there are no new airguns, I found a couple of interesting new targets there.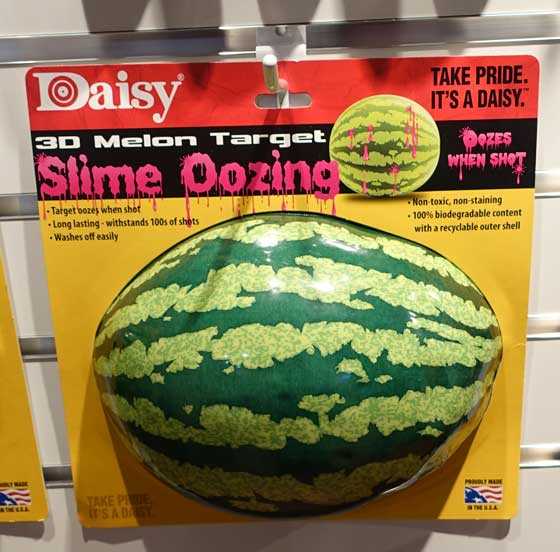 Daisy's Slime Oozing Melon target is a one-time target that's ideal for large gatherings. You don't do anything except hang it on a safe backstop in the package it comes in. You have no package to open!
Paintballs inside the target ooze a pink (melon-colored) soy-based ooze that looks realistic as it runs down the outside of the "melon". This target should be fun at large gatherings. The target cannot be refilled when spent, which the Daisy rep told me is thousands of shots.
There is also a second target containing three "soda cans" that do the same thing. Again, nothing has to be taken out of the package, and the target is thrown away, once it's used up.
Leapers
Today was Leapers day, and I got a briefing from the owner, David Ding. Lots of exciting things to see there, so let's begin.
New 3-12X32 Bugbuster
The first thing I saw was the new 3-12X32 Bugbuster scope. It has superior optics (very clear), thin reticle lines, very precise click adjustments with locking wheels at the base of each knob, sidewheel focus and of course the big deal of the day — the magnification range! I remember the first Bugbuster from back in the 1990s, and at that time one like this would have been unimaginable. This is a compact scope I think a lot of you will like. Look for it later this year.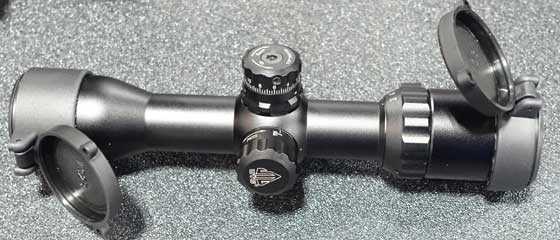 The new 3-12X32 Bugbuster has come a long way from the old days!
T4 Tactical Compact Prismatic scope
If you think the Bugbuster is compact, wait until you see the new T4 Compact Prismatic scope. It uses the same folded (prismatic) optics that are found in better binoculars, and the length of the scope tube is less than 4 inches! With the built-in mount that increases to 5.5 inches.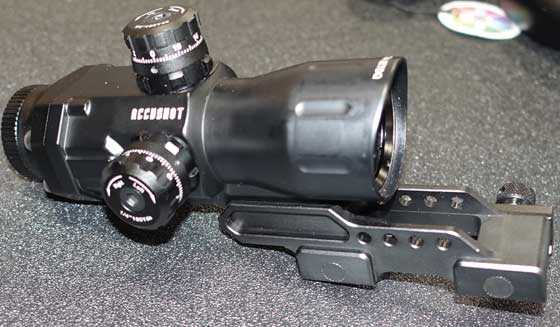 The new T4 Compact Prismatic scope is tiny! It's made for AR-15s, but why wouldn't it work on airguns, as well? I plan to find out.
The incredible shrinking dot sight!
Just when I thought I had seen it all, David sets a doll-sized reflex dot sight on the table and tells me it's made for handguns. Called the Micro Dot, I photographed it next to an American quarter coin that's one inch in diameter. It's designed to replace the rear sight on a pistol, so the shooter doesn't have to align sights — he just places the dot on the target, once it is sighted in. Dot sights for pistols are not new, but sights of this size are recent developments.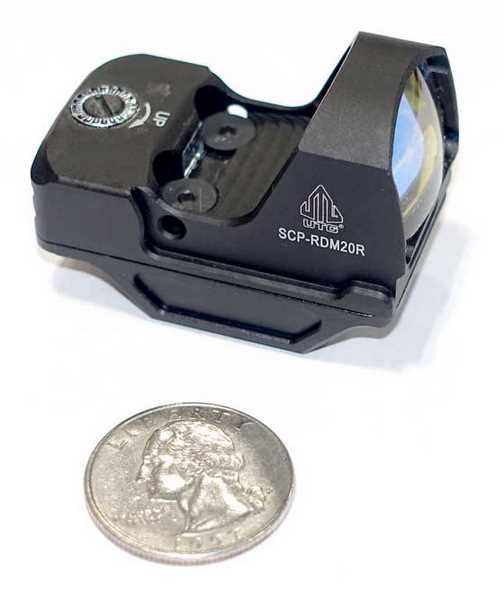 UTG Micro Dot reflex sight is intended to replace the rear sight on a pistol. It's just 2 inches long.
Defense LED Light
I remember when I thought 60 lumens was bright. David showed me a tiny Defense LED light that's 400 lumens! It weighs less than 5 oz. and fits in the palm of your hand, yet when the strobe is turned on it will stun and disorient anyone. I think this is an ideal light for a woman's purse, because she can also dial the light intensity down, once it's turned on, to use it as a normal flashlight.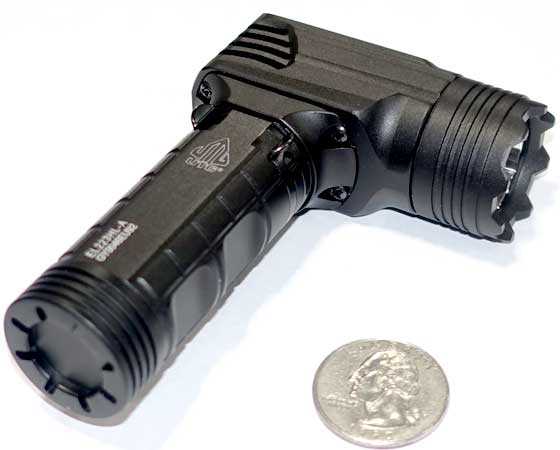 The Defense LED Light is compact yet powerful. A strobe enables you to stun and disorient attackers.
Steel scope rings
Airgunners have been asking for steel rings for years, and I have to believe that firearm users have, as well. They aren't necessary, as aluminum rings are plenty strong enough to hold any scope, but some shooters are conservative "belt and braces" types. So Leapers heard and responded.
These rings come in one-inch, 30mm and 34mm tube sizes and exist as both one and two-piece sets. They currently are offered with Picatinny bases only, but David told me he also plans to make them available in 11mm dovetail sizes for airguns.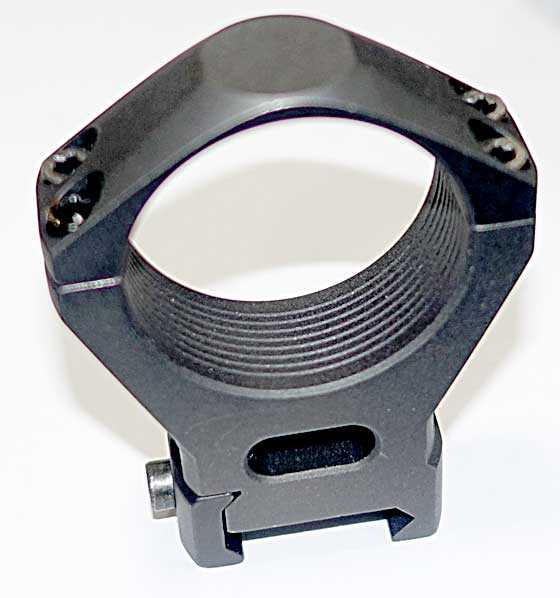 The steel scope rings are thinner to save weight. The rings you see make glued-in fabric inserts obsolete. The scope cannot walk when they are used.
Once again, Leapers brings a great many new products to the market. I'm not showing the new backpacks, tactical briefcase, AR-15 stocks and metal pieces I was shown. Over the course of 25 years Leapers has grown from a kitchen-table operation to a global supplier to all sectors of the shooting sports — including the U.S. military and law enforcement communities. They have done it by an unswerving dedication to quality products and customer relations.
More from Air Venturi
I'll finish this report with a look at two more products from Air Venturi. The first is a shoulder stock they asked Diana to add to their LP-8 pistol. When I tested the LP-8 years ago I said it offered rifle accuracy in an air pistol. Well, now Diana and Air Venturi have turned it into a covert carbine!


Diana built this extendable shoulder stock for their LP-8 pistol, in response to a request from Air Venturi. I can't wait to test it!
The other product is a show-stopper. It's a mainspring compressor that's both compact and ingeniously designed. I wish I had thought of it! It attaches to the 11mm dovetail scope base on your spring rifle and, as you can see in the photo, it takes care of business with no extra fuss!


This is one of the top five products at this year's show. The Gauntlet, Wildfire and Sun Optics' compressor are three others, and I'm leaving a wild card, because there is no doubt something neat I have either forgotten or missed altogether.
Here is the best part of this new compressor. It will retail for around $100. Not only is it compact and easy to use — it's affordable, to boot!
That's it for today! There is still one more part to this report, and perhaps a little more. I might give it a break for one day, just because this stuff is wearing me down. I want to write about other airgun subjects for at least a day, then I'll come back and finish this.