by Tom Gaylord
Writing as B.B. Pelletier
What I saw at Sig
What I didn't see
Bucket list
Industry Day at the Range
Gauntlet
Havox
Gamo Swarm Maxim
Coyote Urban
There is more
Inn this report I will cover airguns I saw at Sig Range Day on Sunday, Jan. 15 and at Media Day at the Range on Monday, Jan. 16.
What I saw at Sig
Sig has been breaking into airguns over the past several years. This year they brought out the Max Michel 1911 that I tested for you back in November and December, plus they have now added the Sig P320 ASP pellet pistol. The 320 is unique in 2 ways. First, it has a 30-shot belt-fed magazine, so there are lots of shots on board. We haven't seen a pistol with a belt-fed mag since Anics walked off the scene, years ago. This one is very slim, too.
The other nice feature is the trigger pull. Though it is a long pull, it is 2-stage and incredibly light. Yours truly was able to nail targets with this gun at respectable distances.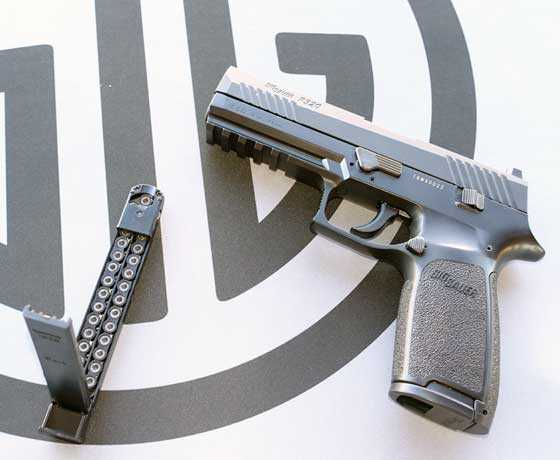 The 320 ASP is a 30-shot pellet pistol that's new from Sig.
They also showed the new 1911 Spartan BB pistol. It has a rugged look that 1911 fans will like, if they don't want all the embellishments found on the Max Michel race gun.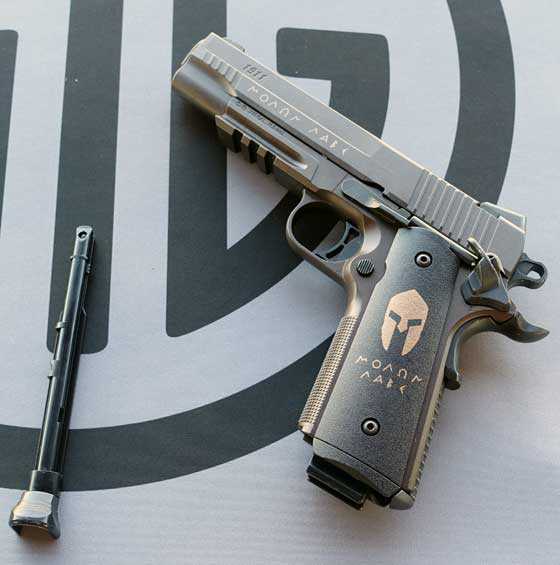 Sig's new M1911 Spartan BB pistol.
What I didn't see
Sig has a spring rifle in development, but it wasn't ready for this show. It's a clean-sheet-of-paper creation that should have some surprises, but not at this SHOT. In its place I saw something else that is remarkable. How about an American-made 9mm Sig P210 pistol? The P210 is one of the all-time classics, but carries a hefty retail price tag, its the stuff of dreams. Until now. Sig is now making the P210 in the U.S., and it will retail for just $1,650. I say "just" because you could spend close to a grand more for the German-made gun.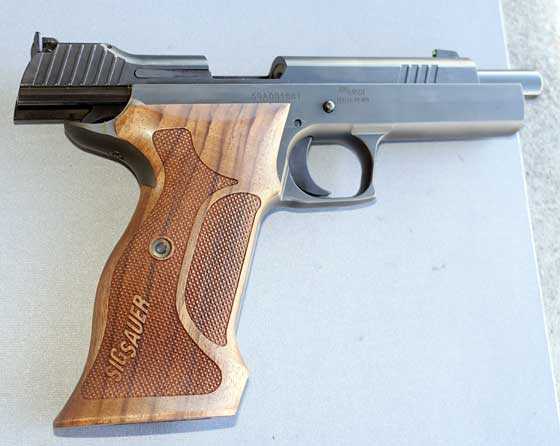 This Sig P210 9mm pistol is made in America!
Bucket list
I got to shoot it against steel reactive targets and I'm darned if I didn't hit most of them. That was the Sig, not me. This Americanized gun has both an American mag release and safety. Scratch that one off the bucket list!
Industry Day at the Range
There were two disappointments at Industry Day. First, Crosman wasn't there and I didn't get to try the new Wildfire. Oh, well! I'm guessing it shoots just like a 1077, but with a little more oomph.
The other one was THE UMAREX HAMMER WASN'T THERE! I so looked forward to trying this 700 foot-pound big bore out, but that will have to wait, as well. Now let's take a look at what was there.
Gauntlet
You read about the Gauntlet yesterday. I shot it today. There's a lot of value packed into this $300 precharged repeater. From what I see it's accurate, quiet (though I was shooting in a war zone, and the discharge sound of a silenced pellet gun is difficult to gauge), has a 10-shot rotary magazine and a decent trigger. Are there things to complain about? I'm sure there are — so the Gauntlet will have something for everyone!
One thing surprised me, though. The Gauntlet has an adjustable cheekpiece that operates via a thumbwheel in the stock. It is as if the leprechauns at Umarex sat down and asked what features airgunners wanted, then decided to give them everything at a stunningly low price.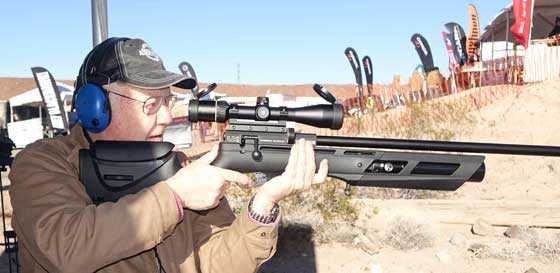 I shot the Gauntlet. You're going to like it.
Havox
But I had instructions to look at some pellets — the Havox. These all-copper pellets are fashioned on a medical screw machine — precision equipment used to make medical stents. The cuts are made with micro fine saws. Two things result from that. First, you get a pellet that penetrates then expends all its energy inside the game. I have seen the pictures and a video — it's devastating. Second — they are expensive. I was told $12.99 to 14.99 for 25 pellets, depending on the caliber. Yes that is a lot of money, but this pellet delivers performance that airgun hunters need. Big game hunters in Africa often pay twice that much for a single round! So, if you really want that woodchuck out of the garden, wreak some Havox on him!
They come in .177, .22 and .25. The .177 weighs 7 grains. The .22 goes 13.9 grains and the .25 gets to 20 grains. So, normal pellet weights on the light side, which means faster velocity.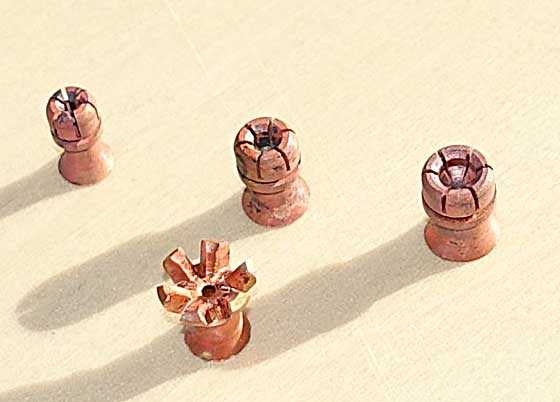 Havox pellets with a .22 after impact. Think broadheads for pellet rifles.
Those weren't the only projectiles I saw, either. The ARX bullets were there, as well. And the mystery is solved — they are all .50 caliber for the Hammer — an airgun Umarex promises me they have, but were not able to produce at the Media Day range. These bullets are a copper/polymer blend and come in synthetic sabots.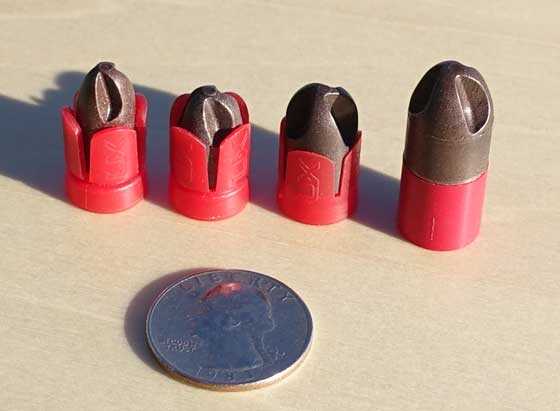 The ARX bullets are all .50 caliber and sabotted. From the left — .357, .40, .45 and .50.
Gamo Swarm Maxim
At the Gamo booth Rick Eutsler showed me the Swarm Maxim breakbarrel rifle — a gas spring that I swear cocks with less than 25 lbs. of effort — despite producing over 16 foot-pounds in .22 caliber. And that isn't its claim to fame. The Swarm is a 10-shot repeater. Now, Gamo has made pellet repeaters before. The Expomatic was one, if memory serves. Butt the Swarm has an all-new mechanism that seats each pellet into the barrel positively. It's a complex mechanism, bit I saw it work and I think it is the first repeating breakbarrel I would trust.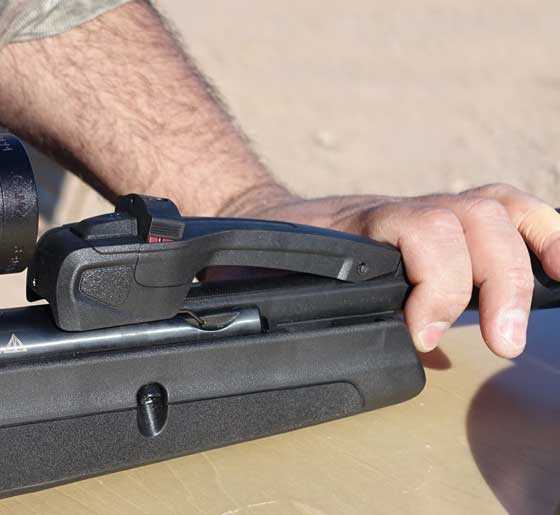 Gamo's Swarm Maxim comes in .177 and .22. It's a 10-shot repeating breakbarrel.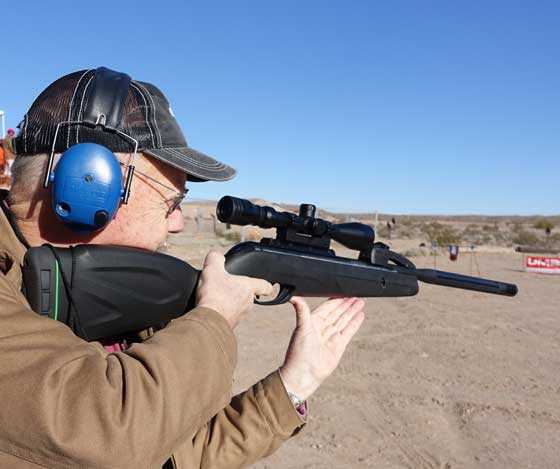 I found the Gamo Swarm Maxim to be a light repeater that's accurate and fun.
Even if it wasn't a repeater I'd like this one because it's so light and easy to cock. Can't wait to test one.
Coyote Urban
The other rifle Rick showed me was the new Gamo Coyote Urban — a PCP with a synthetic stock that has lost 2 pounds in the process from the wood-stocked version! I guesstimated its weight at 7 lbs. or a trifle more with a scope. This rifle is a 10-shot repeater with a circular magazine, a nice trigger and a shrouded barrel. It comes in .22 caliber, only, and it putting 23 foot-pounds out the spout.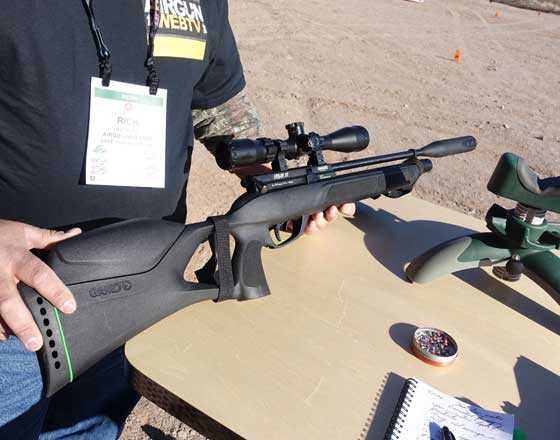 Gamo Coyote Urban
All that goes out the door for just $400. Thanks to rifles like this and the Gauntlet, the days of the PCP have arrived.
There is more
Of course there is more — this is the SHOT Show! But I want all of you to0 bear in mind that SHOT is a trade show — not a public unveiling. Some of the products you have seen and will be seeing are still in development and may not be avail;able until late in the year, if then. This is industry talking to its retailers — giving them a heads-up and also gauging their reactions. An olde English saying goes, "There's many a slip twixt the cup and the lip." And that goes for trade shows, as well.