by Tom Gaylord
Writing as B.B. Pelletier
What's coming
Let's get started
MP 40
Remington 1875
Benjamin Wildfire
Umarex ARX ammo
Umarex Hammer
Umarex Gauntlet
A shrouded Texan?
Other new things
Well, it's that time again. Here I am at the 2017 SHOT Show in Las Vegas. This year will be the biggest one yet for new airguns. And when I say new, I mean really new designs. I'm not interested in a re-skinned gun that's had other names in the past. There is so much stuff that is really new this year that everything else will get shoved to the rear.
What's coming
Yesterday I was on the range with Sig and today I am out at Industry Day at the Range. That's an event that allows gun writers to try out various new products at a gun range. Actually, it's more than 50 ranges, all lined up, one after another, in a line that's about a third of a mile long! A few years ago they started putting ranges on the other side of the walkway, for guns that don't shoot as far — like shotguns and airguns.
Crosman used the only airgun company that was consistently at Industry Day, with AirForce Airguns coming out a time or two. This year, though Crosman is not there. Gamo is there with BSA, and maybe they also brought Daisy with them, now that they own them. Umarex USA will also be there, which will give me the opportunity to try a couple novel new things I plan to tell you about both today and again tomorrow — hopefully after I have shot them.
Let's get started
Let's jump in with some new things that are so hot they just won't wait for me to see them at the show. I'll begin with a couple new replicas.
MP 40
MP stands for Maschinenpistole, which is German for submachine gun. As a firearm, the MP 40 is a 9mm Parabellum (Luger) subgun that's a modernized version of the MP 38. It's an effective close-combat weapon that was cheaper to produce than the earlier MP 38, because stamped parts were used in place of machined parts. In that respect the MP 40 is like our American M3 "grease gun," except the M3 comes in a larger caliber and has a much slower rate of fire. The MP 40, firing the smaller, lighter ammo, is easier to control and was a mainstay of many armies from WW II right up through Vietnam and even later.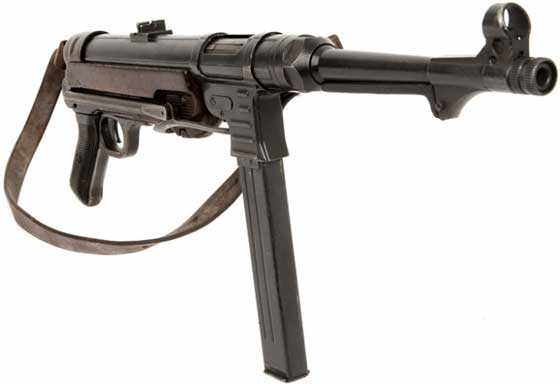 This is an MP 40 firearm. The BB gun looks similar.
This year Umarex USA is bringing out a CO2-powered 60-shot BB-firing version of the gun. If it's anything like the M712 Mauser machine pistol they gave us two years ago, we're in for a treat. I'll try to give you more info as it comes my way.
Remington 1875
Everyone is familiar with the profile of the Colt Single Action Army revolver, but a similar handgun was made by Remington. There were two main variations — models 1875 and 1890. This year, we will see the 1875 in BB gun form. Obviously powered by CO2, this gun may look something like a Colt, but the lockwork is entirely different. Crosman will be bringing it out later this year, and I hope to have photos for you this week. The gun is smoothbore, but will also shoot pellets, just like the Colt BB guns.
Fellows, prepare your wives! This will be a year of fine new replicas!
Benjamin Wildfire
I don't think Crosman took the name Wildfire from the male ostrich in the movie Tremors II, but you never know! The Benjamin Wildfire is a pneumatic version of the famous 12-shot 1077 repeating pellet rifle. Crosman calls it semiautomatic, but the mechanism is a double-action-only revolver. That's why the trigger pull is so long and heavy — it has to both cock the striker and advance the 12-shot revolving clip to the next pellet. With use it becomes smoother.


Benjamin's Wildfire is essentially a Crosman 1077 running on compressed air. It dawned on me that this could be the $100 PCP!
Umarex ARX ammo
Umarex is bringing out a new hunting bullet called the ARX. These are a polymer/copper matrix in a plastic bore-sized sleeve or sabot, and are also suitable for muzzleloading rifles. I don't know the calibers they offer yet, but I presume they are for the new .50 caliber Hammer rifle and others. They are designed for maximum expansion in game at lower velocities. Of course I will test them for you when I get some. These will be expensive, but they promise to deliver maximum performance for hunters.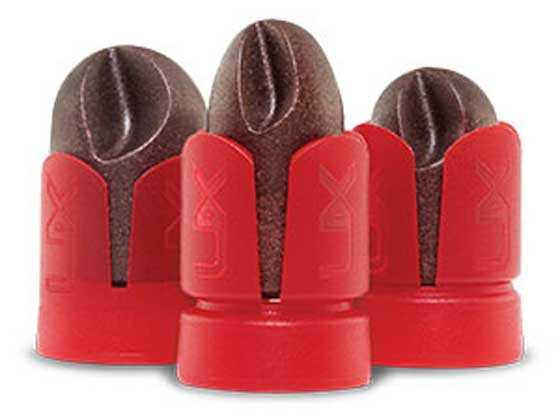 Umarex ARX bullets promise revolutionary performance in game.
Umarex Hammer
I got a call from Umarex representative, Steve Lamboy, last week, He told me about the new Umarex Hammer. The Hammer is a .50 caliber big bore that Umarex claims will deliver 700 foot-pounds at the muzzle. Not only that — it's a 3-shot repeater. Not only that — it will retail for $650! And, with sabotted ammo, you will be able to shoot several calibers from the same gun. I'm thinking the ARX, though that was not specifically mentioned. I am hopefully shooting this one as you read this, today at the Media Day range! If everything I was told bears out, and of course if it is accurate, the Hammer will raise the bar for big bore airguns.
Umarex Gauntlet
This could be the big deal of the day. No, make that the year. The Gauntlet is a 10-shot repeating PCP from Umarex that comes with a shrouded barrel and a regulator. None of those features is new, but they have never been offered in a $300 package before!


Umarex Gauntlet is a budget-priced repeating PCP with great features.
The Gauntlet comes in .177 and .22 calibers. They are saying it gets up to 70 shots in .177 and 60 in .22. If it is accurate, it will have a major impact on the airgun market this year. This rifle, coupled with several new air compressors, will be the big news for the year.
A shrouded Texan?
Anyone who has visited the Lone Star state knows how hard it is to keep Texans quiet. But this year, AirForce Airguns does just that with their new TexanSS. This novel big bore already leads the market; what will a quiet one do? It's interesting they have done this just as the United States is moving toward legalizing silencers for all firearms in a modification of the National Firearms Act of 1934 (NFA). Pictures to follow.
Other new things
There are several new air compressors for airgunners this year. Air Venturi has a stout one that fills to 4,500 psi quickly, and AirForce Airguns will have a model of their own later in the year. I have the one from Air Venturi right now and you can anticipate a full report will start soon.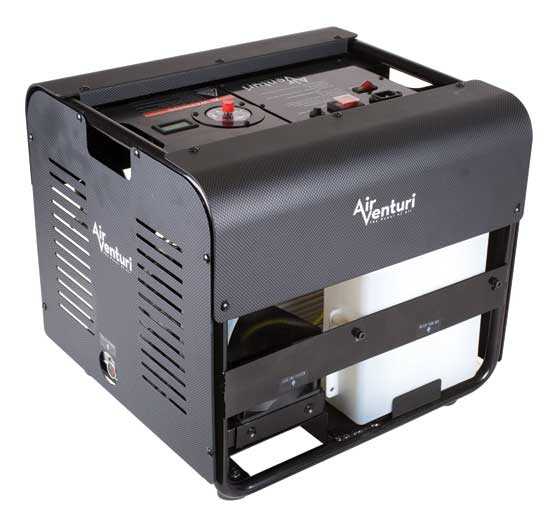 Air Venturi's new compressor goes to 4,500 psi quickly and shuts off automatically.
My head is bursting with all the other new things I know about. This SHOT will be the biggest one yet for airguns.