by Tom Gaylord
Writing as B.B. Pelletier
Air Venturi
Lil Duke
New Air Bolts
Hatsan
Semiautomatics
Big Bore Carnivore
Sun Optics compressor
The year of the airgun
Air Venturi
This was the first actual day of the SHOT Show, and the crowd was excited! I stopped at the Air Venturi booth first, so let's see what's there.
Lil Duke
First up was the Lil' Duke BB gun. As you can see, it's styled after the model 92 Winchester John Wayne carried in a number of his most famous movies, including True Grit. This is the one he fills his hand with.


The Lil Duke is bound to become a favorite.
The John Wayne airguns have been quite successful for Air Venturi. They had a second booth upstairs this year where they showed a number of their other John Wayne handguns, including a 1911 that Wayne probably carried in the Sands of Iwo Jima!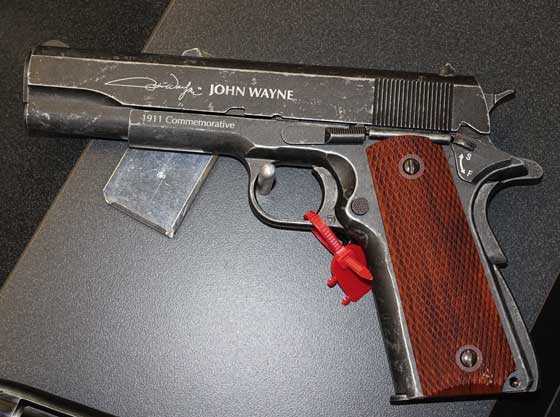 John Wayne 1911 looks liken he just took it out of its holster.
New Air Bolts
Air Venturi is launching their successful Air Bolts in .25 and .357 calibers. Tyler Patner told me he shot three .357 Air Bolts into about an inch at 30 yards from a Benjamin Bulldog. And they develop almost 200 foot-pounds, which is more than the bullets develop!
Paul Milkovich at Air Venturi was proud to show me their new line of Kral PCPs. While the Kral springers aren't much to talk about, the new pneumatics are apparently quite the bargain. Paul told me Tyler has spent considerable time testing them and for the price he is very impressed. At the $500 and slightly higher range, I know they will give the Russian bullpups that cost double a run for the money! I hope to test one for you soon.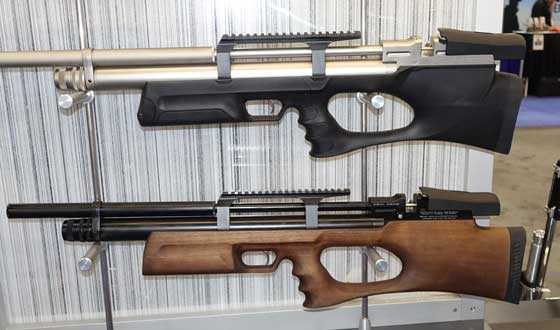 Kral bullpups come in synthetic and wood.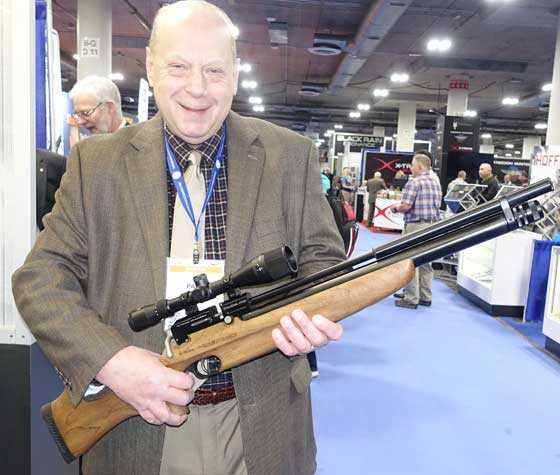 Paul Milkovich holds the new Kral PCP rifle. It looks like an expensive European rifle, but sells for half or less.
Hatsan
Next, I trundled over to the Hatsan USA booth and Daniel Settle talked me through their new products. The first news is they are now shipping the .45 caliber Hercules PCPs I showed you last year. And, there is an exciting new .45-caliber bullet (they call it a pellet) soon to come out for it. It's what is known to Cowboy Action Shooters as a collar button style, and they are finalizing the details on it now.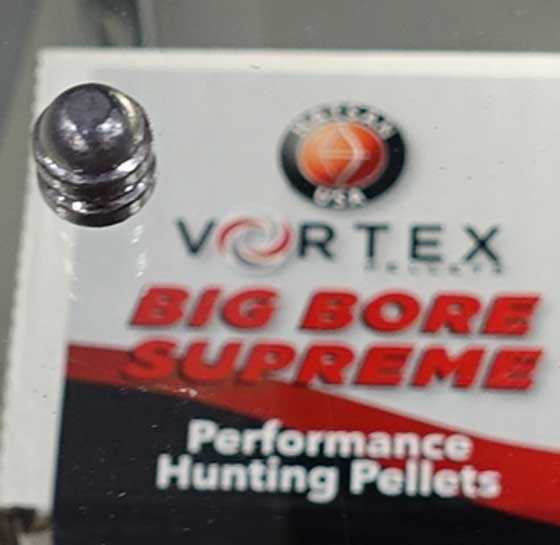 Hatsan's new .45 caliber bullet for the Hercules should be available soon.
Semiautomatics
The big news at Hatsan is the new semiautomatic rifles they are bringing out this year. The Barrage is the rifle length and the Bullmaster is the bullpup. Both come in .177 and .22 calibers and both have the same barrels lengths, so expect the same power, which in .22 runs around 30 foot-pounds at the muzzle. They hold 14 shots in .177 and 12 in .22 and the mag is spring-loaded to jump to the next pellet. They come with 3 magazines, two of which are carried in the stock. They aren't regulated, but do get 50-60 shots per charge, which on a semiautomatic will mean you need lots of pellets.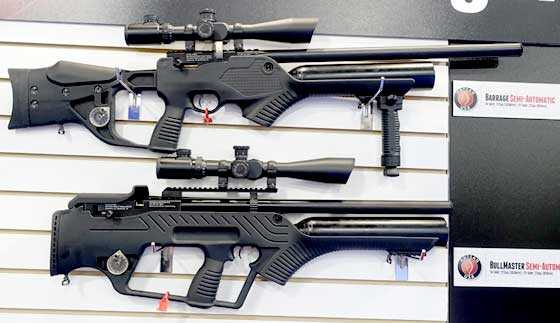 Hatsan Barrage (top) and Bullmaster are semiautomatics! They are 100 percent mechanical, so no worries about batteries and motors.
Big Bore Carnivore
Hatsan is still the only maker of big bore spring piston airguns in the world, and this year they added a model 130 with synthetic stock and lighter weight to compliment their 135 that came out in 2016. I still have not tested any .30 caliber breakbarrel, but it's on my to-do list!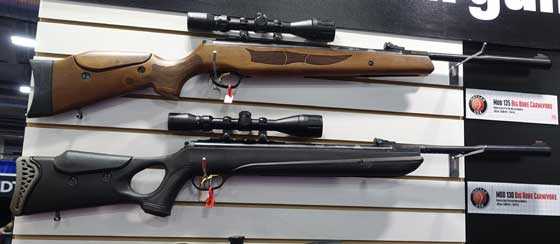 Hatsan Big Bore Carnivore 135 (top) is joined this year by the lighter model 130.
I went to more places than I'm going to show you today, but don't fret. There are still several more reports to come. Right now I want to show you one of the most innovative things I saw at this show, and it isn't an airgun.
I told you in the beginning of this series of reports that 2017 is a big year for PCPs. If I didn't tell you I meant to The reason for that is twofold — the new guns and the new compressors. We've seen many of the new guns that will influence the market like the gauntlet and the Wildfire, but so far we have only seen one of the new compressors — the one Air Venturi is bringing out. And by the way, the retail number on that one is $1299.
Now let's look at a second compressor. This one is being sold by Sun Optics, but they tell me they haven't decided whether they will sell it direct or not. I suppose that depends on whether or not they book a lot of customers who want to sell lots of them under their house name. Don't fret, you will be able to buy this one soon.
Sun Optics compressor
This compressor runs on both 12 volt DC (auto) and 110 volt AC electricity. It has a 24-volt DC motor and two power converters to handle the incoming current. It's about the size of a box of shoes, but longer, as you will see. And it has user-settable power shutoff for zero to (they say) 4.500 psi. Extensive testing to 3,600 psi has already been done.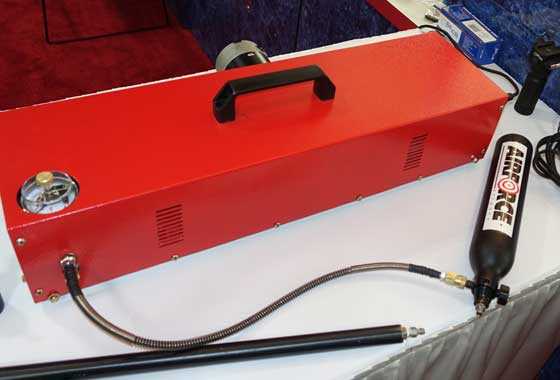 Sun Optics compressor is small and runs on both household current and a car battery.
I told Sun Optics owner, Duane Sorenson, I wanted to hear it run, and a minute later he said to me, "See how quiet it is?" I was astounded, because I didn't think it was running! Yes, the SHOT Show is a loud trade show, but we were having a conversation in normal speaking voices. I had to lay my hand on the box to feel the slight vibration as it did its job.
I then asked if it dried the air and Sorenson removed the huge canister of desiccant. He told me that in the five years he has been developing this compressor he's learned that moisture is the number one enemy of long life, with heat buildup being a close second. So I laid my hand on the outside of the motor and it was room temperature. Sorenson says it never heats beyond that.

The water filter cartridge is the size of a can of soda. The compressor is running when this shot was taken.
I plan to test one of these compressors for you. I want to know how good they are myself. Sorenson has tested his mule for hundreds of hours and it appears to be very robust. This is the sort of thing that can make the pneumatic airgun take center stage.
The year of the airgun
I have seen a lot more than you are reading about today, but that's for another report. Suffice to say, 2017 is the year of the airgun!