by Tom Gaylord
Writing as B.B. Pelletier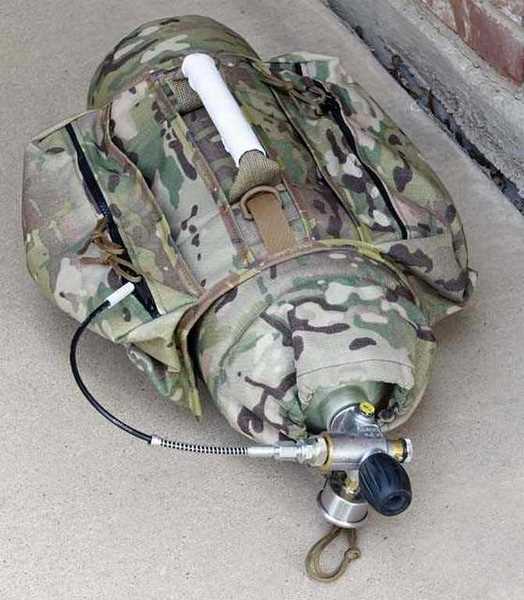 Defender carbon fiber tank carrier.
This report covers:
2017 Texas airgun show
Why a carrier?
I can make it myself
Fabric carrier
Who makes it?
What about those saddlebags?
Pockets — pockets and more pockets!
Center of balance
Will Pyramyd Air carry it?
The cost?
Today is not about an airgun or a shooting technique. Today I'm writing about a carrier for the 98 cubic foot carbon fiber air tank I recently bought from Pyramyd Air. That tank is one of the handiest pieces of equipment I own. At the Texas airgun show it filled three Benjamin Wildfires all day long and still had over 3,400 psi when I brought it home! It's as important to me as the spotting scope I bought from Meopta last year. I wrote 4 reports about that scope, but I think I will only write this one about the carrier. It's neat, but you will get the idea really quickly.
2017 Texas airgun show
This carrier is one more purchase I made from the 2017 Texas airgun show. I did not buy it there, although I would have if I could. I saw one sitting on a guy's table, holding a large carbon fiber air tank that I think was for sale. I only wanted the carrier, because I have been lugging my naked tank around, which is not a good thing to do. Not only is the surface of the carbon shell exposed to damage, the hose is also exposed, as well as the adaptor.
Why a carrier?
The chief benefit of a carbon fiber air tank is the amount of air it holds, relative to how light it is. A metal scuba tank cannot hope to compete! An 80 cubic foot aluminum scuba tank holds 80 cubic feet of air at 3000 psi and weighs close to 40 lbs. The carbon fiber tank I bought this carrier for holds 98 cubic feet of air at 4,500 psi and weighs about 20 pounds. While that sounds like just 18 cubic feet more than the scuba tank, in reality it's more than 10 times as much useful compressed air, at perhaps half the weight! That's because the air is compressed to 4,500 psi and will fill a lot more airguns to 3,000 psi than a scuba tank will.
But the carbon fiber tank is large and smooth on its round surface. It's not convenient to carry. Typically we carry them by their air valves which is not a good thing to do. Either that or we use two hands to carry the tank and can't carry anything else. A carrier like this is the way to go.
I can make it myself
And here is where all the handy guys will chime in and say they can make carriers themselves. And they can! I have seen many of those carriers, and typically they add up to 10 pounds to the weight of the tank, because they are made of wood. Most of them add a tray for storage under the tank which is quite useful but adds even more to the weight. I will say more about the need for storage in a moment.
Fabric carrier
This carrier is fabric, which cuts down on the weight. But you will note that it has two large zippered pockets — one on either side of the tank. The maker calls them saddlebags and you can buy his carriers without them if you choose. I wanted them because I knew immediately what I would use them for when I first saw the carrier.
Who makes it?
This carrier was custom made by Airgun Tailor, in Arizona. He wasn't at the Texas show, but that's okay because he custom makes each carrier as it is ordered. Mine arrived very quickly and I had it on the tank 10 minutes after the box landed on my porch.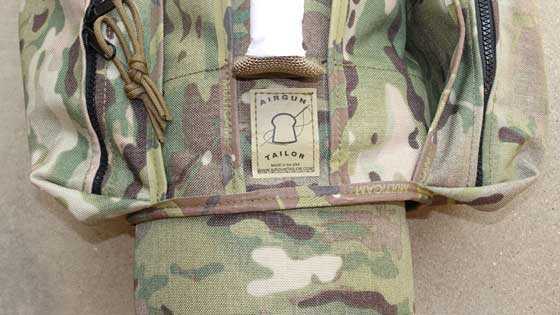 Top view of the saddlebags and logo.
What about those saddlebags?
Why do I want the saddlebags? First, they are the ideal place to store the business end of my 2-foot microbore air hose with adaptor. I don't have to remove it from the tank's valve. Just store the free end inside one of the saddlebags. Cover the adaptor with a plastic bag to keep it clean, and you can store the bag and its rubber bands inside the pocket while you are using the tank.
Pockets — pockets and more pockets!
Those saddlebags are two enclosed pouches with double zippers on each side. But there are also two large open pockets and two smaller open pockets — one of each per side. You can load this carrier down with enough stuff to break a camel's back if you want to. I don't think I want to do that, but I would carry pellets, spare adaptors (for other oddball airguns that don't use Foster fillings), besides the free end of the air hose.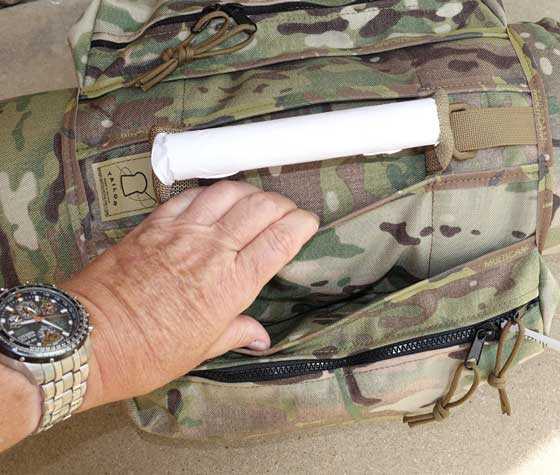 Besides the two saddlebags with double zippers, each side of the carrier has one large open pocket and one small one.
Center of balance
It's important to balance the tank's weight when you carry it. If you can't, you will be fighting the handle and the carrier wouldn't be very pleasant to use. Fortunately this one is set up for swift adjustment of balance. The handle is attached to the carrier with two large Velcro straps that allow fast handle adjustment, fore and aft.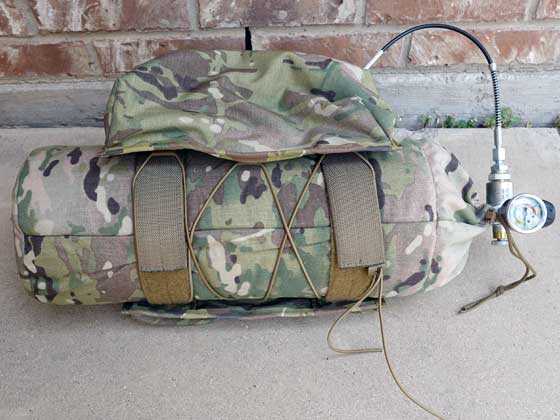 These two wide Velcro straps underneath allow for quick adjustment of the balance.
Will Pyramyd Air carry it?
I doubt Pyramyd Air will carry this product for two reasons. First, it is very labor-intensive to make and the price would have to be too high. Second, this is a custom product that requires several choices be made by the buyer — carrier style and fabric being the principal two. The fabric is quite specialized and not something you find in most fabric stores.
The cost?
The price is where I'll lose a lot of you. This carrier, which is the top of the line, cost me $160, delivered, if you buy it assembled like I did. I know that's a lot to pay for something that you could make yourself, but I doubt whether many of you could make one that's as light and convenient as this. I know I couldn't, so I consider it money well spent. If you're handy with a sewing machine they will sell you a kit for $60.
I'm not trying to talk anyone into one of these, but field target, 10-meter and airgun silhouette competitors will see the benefit right away. I have to have one because I'm always transporting my tanks someplace.