by Tom Gaylord
Writing as B.B. Pelletier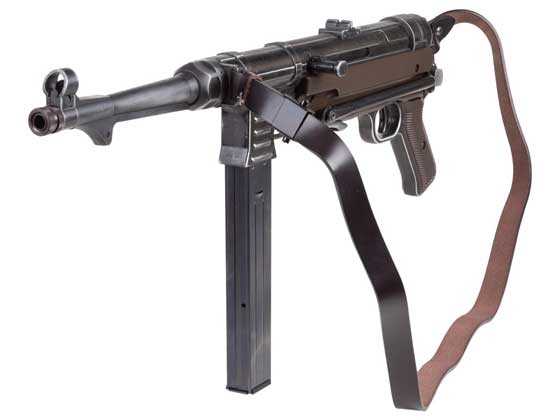 Umarex Legends MP40 BB submachinegun.
This report covers:
CO2 effect
Installing CO2
Loading
Umarex steel BBs
Fire control
The sensation
Daisy BBs
Hornady Black Diamond BBs
Shot count
Hornady Black Diamonds — again
Bottom line
Today we look at the velocity of the new Umarex Legends MP40 BB Submachinegun. Since it has a semiautomatic mode, this will be easier than expected. However, there are special considerations for a gun like this.
CO2 effect
Most of you know that CO2 chills the gun as it is fired. And CO2 loses pressure as the temperature drops. Will that affect the velocity of this full-auto airgun? I plan to test for it. My test will show the velocity you can expect from the gun at its fastest and also what will happen as the shots happen faster and the temperature falls. There are unlimited ways of doing this, and I have selected one.
Installing CO2
The MP40 takes two 12-gram CO2 cartridges. The first goes into the magazine small end (piercing end) first and the second goes in large end first, leaving the piercing end at the top. Naturally I put a lot of Crosman Pellgunoil on the tips of both cartridges. In fact, I dumped in many drops of the oil before the first cartridge slid home, so it would already be at the bottom of the cartridge well where the CO2 inlet port is located. Each cartridge is pieced at its small end, and both must be pierced for the gun to operate normally.
The cartridges pierced silently and immediately the gas stopped all further rotation of the piercing screw. I never heard a whisper of sound — things just stopped cold. You can turn it farther by horsing it, but don't. Once it stops it's fine. Now it was time to load the BBs
Loading
To load the magazine you pull the follower all the way down and hold it there. Umarex should consider some means of holding the follower mechanically, because this ties up one hand full time, and since the other hand loads the BBs, you can do nothing else. I wanted to count every BB I loaded for a shot count, so I set them in the magazine channel (see photo) and pushed them into the large loading hole one at a time.
One curious note is when the follower is released, the BBs stack inside the magazine in a double-stack pattern. That is exactly what the 9mm cartridges do in the firearm.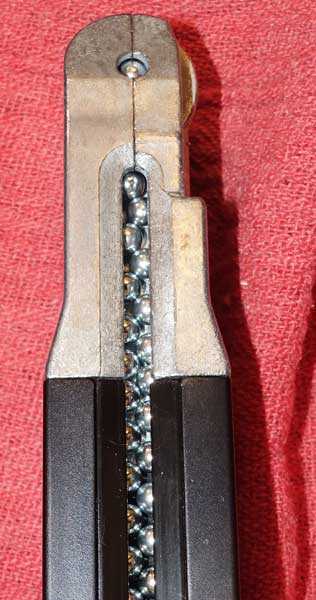 The BBs organize in a double-stack pattern inside the magazine — just like the cartridges in the firearm!
Umarex steel BBs
First to be tested were Umarex's own steel BBs. I loaded 25. The first 10 that were fired semiautomatically with 10 seconds between each shot averaged 479 f.p.s. The low was 475 and the high was 484 f.p.s., so a 9 f.p.s. spread. With the 15 BBs remaining I switched to full auto and fired a short burst, then a burst through the chronograph. The first bust registered 474 f.p.s. The second burst went 457 f.p.s. That was all I was able to record.
Fire control
I find it easy to control the firing in three-shot bursts and with care I can get just two shots. I was never able to fire just a single shot when the full auto switch was set. But I think our readers were right — no one is ever going to leave the selector set on anything except full auto.
The sensation
This is the most realistic full-auto airgun I have ever experienced! And by that I mean that it sounds like you think it should — not like a real submachine gun, but very much like one you might hear in the movies or on TV. I might have to buy this one just for that!
The recoil is also very realistic. I find it quite similar to an HK MP5 firearm — just not as much push. Even shooting one round at a time, that bolt transmits a lot of movement through the grip to the shooter.
Daisy BBs
Next up were Daisy BBs. Again I loaded 25 and shot the first 10 on semiauto with 8-10 seconds between shots. They averaged 478 f.p.s., but this time the spread was larger. The low was 465 and the high was 495 f.p.s., so a 30 f.p.s. spread. I attribute that spread more to the CO2 than to the BB.
Hornady Black Diamond BBs
The last BB I tested was the Hornady Black Diamond. Once again I loaded 25 into the magazine and shot 10 for record. They averaged 429 f.p.s. That's more due to the gas pressure dropping than to the Black Diamond being slower, but we know that it is a larger BB. Then I shot three bursts for record — 391, 359 and 311 respectively. Clearly the gun is running out of gas after 75 shots.
Shot count
To test the shot count I loaded another 10 Daisy BBs and shot single shot. Here are the velocities.
Shot……..Vel.
76……….Burst — did not record!
80……….243
81……….234
82……….DNR
83……….DNR
84……….DNR
85……….194
Silly me! I left the gun on full auto. Fortunately it cycles so slow that I could count 4 shots in the first burst. Shot 80 was the 5th in the string and went out at 243 f.p.s. The next one 234 and then three that didn't record. The last shot was at 194 f.p.s.
During this string, the bolt failed to cock after shot 85. I had to cock the bolt for each of the remaining shots. Based on this I would say there are two 40-round magazines on fresh CO2 cylinders, but the last shots will be very slow. Stick to about 70 shots if you want good power.
Hornady Black Diamonds — again
I was curious how fast Hornady Black Diamond BBs would go on a fresh pair of cartridges, so I put two more in and shot a final string of 10. They averaged 477 f.p.s. with a spread from 471 to 495 f.p.s. That's a spread of 24 f.p.s. Now we know!
Bottom line
I would get this airgun if you have an interest in full-auto guns. This is as close as you will get to one without spending tens of thousands of dollars. You probably won't shoot it that often but every time you do you will gather a happy crowd!