by Tom Gaylord
Writing as B.B. Pelletier
This report covers:
Lots of reports
What is the Beeman P1?
HW45
Three calibers
Good 1911 trainer
Two power levels
Adjustable sights
Adjustable trigger
All metal
PTFE piston seals
Overall evaluation
As I was packing up at the 2017 Texas airgun show a man stopped by my tables and showed interest in a BSA Airsporter I had for sale. He asked if I would consider a trade. He then showed me a Beeman P1 pistol in near-excellent condition. The only real detractor is someone had tried to mount a scope on it and they screwed a scope stop pin down into the top of the scope rail, leaving a mark. I already owned a P1, but my gun has been highly modified from the days of The Airgun Letter, and I welcomed this chance to test a stock one.
Back in 1996 I modified the trigger of my P1 and got an extremely light and crisp pull. Ever since then I have had to try to remember what the stock trigger felt like. Also, I have tuned my pistol, making it's pretty far from the gun it once was. I like the P1 and have recommended it for years to shooters who are serious about air pistols that can shoot, but in all that time I have been talking about a stock gun that's getting harder and harder to remember. With this trade I can rectify that!
Lots of reports
I have tested my P1 for this blog many, many times. First in 2005, then 2007, and then a complete test in 2011 and most recently another complete test in 2014. But all of those tests were with my own modified P1. Today I start testing this new one. It's much older than mine, but I have no idea how many shots have been fired.
What is the Beeman P1?
A Beeman P1 is a single shot spring-piston air pistol that puts out a light .177 pellet at the mid to high 500 f.p.s. range. The specs say 600 f.p.s., but I have never seen that. I think 585 f.p.s. was the highest I saw before I tuned the gun. These days that may not sound like a big deal, but when it came out in 1983, not many spring pistols could match it. The BSA Scorpion may be the only one that could.
HW45
Weihrauch liked Beeman's design so much they produced it as the HW45 along with making the P1 for Beeman. It used to sell for less than the P1, but today the prices are pretty equivalent. Outside the U.S. it sells for less, but importing one will wind up costing you more than it's worth.
Three calibers
The P1 comes in .177, .20 and .22 calibers. The most popular caliber by far is .177. The other two calibers are generally much harder to find because the .177 has the velocity that shooters want.
The way it's built the piston travels backward when the gun fires. That imparts a feeling of recoil that's fairly realistic. Most spring-piston pistols recoil away from you, so this one is different.
The grip frame is a very close copy of a 1911 firearm. It's so close that Colt grips will fit. But the P1 comes with checkered walnut grips that are as nice as the finest standard grips Colt ever put on their firearms.
The upper frame of the gun is massive! It looks like a 1911 on steroids. The top half of that upper frame pops up when the exposed hammer is thumbed back, allowing the shooter to pull the upper frame up and forward, rotating around the front of the lower frame as the cocking linkage pulls the piston forward and compresses the mainspring.


The upper frame rotates up and forward to cock the pistol. You can see one side of the twin cocking links that pull the piston forward.
Good 1911 trainer
The P1 weighs 2.5 lbs, which is close to the weight of a 1911 (2.44 lbs. with empty magazine). The grip feels like a 1911A1 that has the curved mainspring housing. The trigger is suspended from a pin, unlike the 1911 trigger, but the length to the trigger is very close to a 1911 (not an A1, whose trigger is much shorter).
It's easier to get accustomed to the P1 than to a 1911 firearm because of the lower noise and recoil. Also, pellets are far less expensive than .45 ACP rounds, which makes the air pistol a great trainer. However, unless your 1911 is a good one, the air pistol may be more accurate — especially at close range. We will test it to see what a stock P1 can do, but all the ones I have shot in the past have been quite accurate.
Two power levels
The P1 is unique in having both a low and high power setting — depending on how far forward the upper frame is rotated forward. Stop at the first click and you have low power. The second click gives you high power. However, this feature isn't as cool as it sounds. It's not much harder to cock to high power because the geometry of the linkage changes as the upper part of the frame rotates forward. I do note that this test pistol seems to hesitate just after low power is reached, but with proper lubrication that will change. I know because my other pistol cocks to full power easily. In .22 caliber versions of the pistol there is just a single power level, though I have heard of shooters changing the caliber of their pistols by swapping barrels, so you might encounter a .22 with two levels.
Adjustable sights
The rear sight adjusts in both directions. The adjustments have detents, but the windage detents are soft and hard to feel.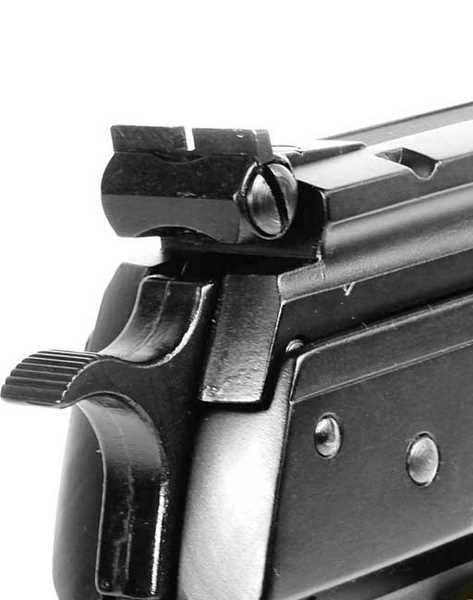 The rear sight is adjustable in both directions.
Up front the sights is a low post that's squared off at the top. It's perfect for target shooting.
Adjustable trigger
The two-stage trigger adjusts for both the length of the first stage and the weight of the letoff. Again, unless you have a very nice 1911, the P1 trigger is probably better.
There is an ambidextrous safety lever on the both sides of the grip frame, but it is manual, as it should be. You can easily put it on and take it off with your trigger finger. And the P1 does not have that grip safety that disturbs many shooters of the 1911/A1.
All metal
The P1 is all metal on the outside, save the checkered walnut grip panels. It's finished in what I assume is hydrostatic paint that's tough and long-lasting. I have thousands of shots on my Huntington Beach 1995 P1 and have tested scopes, dot sights and wooden stocks with it. The gun still is in excellent cosmetic condition. This pistol I traded for is even older. It's from San Rafael (1983-1989), though there is no telling how many shots are on it. The bottom line is — these pistols are built to last.
PTFE piston seals
The P1 piston seals are made from polytetrafluoroethylene or PTFE, of which Teflon is one well-known brand. That material is low friction and takes the shape of the compression chamber. In fact, the break-in procedure for a new P1 piston seal is to dry-fire the gun a couple times on high power. That squashes the seal out until it fills the compression chamber perfectly. I was given that procedure from Don Walker who used to work at Beeman as their maintenance tech.
Overall evaluation
In 2017 the Beeman P1 is an anomaly. It's a solid all-metal air pistol with features that go beyond anything else. In fact, there is very little else that comes close to it. Sure, the pricetag is hefty, as it must be to pay for everything you get, but I can't name another airgun that's like it. This is an heirloom airgun that you will own for the rest of your life and then hand down to your offspring.
I'm really looking forward to testing this airgun!