by Tom Gaylord
Writing as B.B. Pelletier


TexanSS big bore air rifle from AirForce.
Different
The challenge
Start — 210-grain SWC
250-grain hollowpoint
Heavier bullets
Predator "pellet"
What I have learned
Noice
I finally got out to the range to test the velocity of the AirForce TexanSS. I told reader Aaron that I would report on that as soon as possible and today is the day.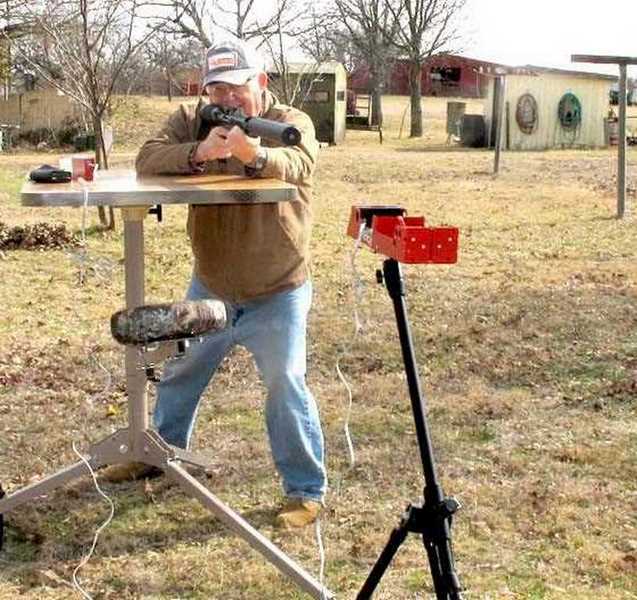 It takes a chronograph to test like I did.
Different
Aaron, I discovered that the TexanSS powerplant behaves differently than the .45 Texan I told you about. Today I will reveal what I have discovered thus far.
The challenge
The TexanSS is a .45 caliber big bore air rifle that has a bullet tuner on the left side of the gun. Some folks might be tempted to call it a power adjuster, because that is what it does, but it's not there for power. It's there to tune the rifle for each different bullet you shoot. That gets you the best velocity and accuracy, plus you don't waste any air. You may see that in today's report.
As I have said many times — you don't adjust a rifle like this for many different bullets. You try to find one or possibly two bullets that are the most accurate and tune for them. I hope to show you a way of keeping track of that today. If I were tuning it for two different bullets I would want a heavy one for bigger game like bison and elk and a lighter one for smaller critters like deer and coyotes.
Because the power adjusts, and also because you can shoot bullets that vary in weight by hundreds of grains, there are an infinite number of possibilities to test. Watch what I do and you will be able to cut the testing time dramatically. You will need a chronograph for this.
Start — 210-grain SWC
I started out testing a 210-grain semi-wadcutter that had been accurate in the Texan. At first I started with the tuner on this rifle set on Texan settings, but on the SS the velocity was way too slow. Even with the power set on the halfway mark the velocity with this bullet was just 438 f.p.s. So I dialed the power up to the 3/4 mark and the next bullet went out at 825 f.p.s. Obviously this rifle doesn't come up to power at the halfway point on the power scale.

The bullet tuner with the gross adjustments identified. Line up the line on the adjustment wheel with the lines indicated. The rifle is set at 3/4 power in this picture.
Three-quarters power was evidently a good place to be. I refilled the rifle to 3000 psi and shot 5 shots with the 210-grain bullet and 3/4 power.
Shot……..Velocity………….Pressure after the shot
1…………..818 f.p.s…………………..2700
2…………..815 f.p.s…………………..2500
3…………..794 f.p.s…………………..2350
4…………..790 f.p.s…………………..2200
5…………..767 f.p.s…………………..2000
That's 4 good shots on a fill. I'm saying that shot 5 is too slow, when compared to the others. The pressure after each shot comes from the rifle's gauge, and I use it just as a reference. You will see why as the test continues.
250-grain hollowpoint
Next up was a 250-grain hollowpoint bullet from Hunter's Supply. Since these weren't much heavier than the previous bullets, I decided to see what they did at different settings on the adjustor. At 1/4 power they went out at 280 f.p.s. At 1/2 power they went 535 f.p.s. At 3/4 power they went 782 f.p.s., so I refilled to 3000 and dialed the power to 7/8. Then this same bullet went out at 781 f.p.s. That tells me 3/4 power is where this bullet wants the tuner to be.
Heavier bullets
The next bullet I tested was a 315 flat point from Tin Starr Bullets. The first test was at full power and a fresh fill to 3,000 psi.
Shot……..Velocity………….Pressure after the shot
1…………..737 f.p.s…………………..2750
2…………..724 f.p.s…………………..2500
3…………..713 f.p.s…………………..2250
4…………..663 f.p.s…………………..2050
This test shows there are 3 good shots with this bullet on full power. The fourth shot could finish off an animal, but wouldn't be in the same group if you shot at any distance.
You can also see from this string that when the onboard pressure goes below 2200 psi, the power drops off. Look at the first string with the 210-grain bullet and you can see the same thing.
Next, I tried the same bullet at 3/4 power.
Shot……..Velocity………….Pressure after the shot
1…………..720 f.p.s…………………..2800
2…………..729 f.p.s…………………..2650
3…………..716 f.p.s…………………..2450
4…………..684 f.p.s…………………..did not record
There are still just three shots with this bullet on 3/4 power. But shot number 4 might hold in the same group out to 30 yards or so. And the shots are closer in velocity. While 3/4 power might not be the perfect setting, it's where to start with a heavier bullet like this. And what I mean is testing accuracy. You want to find the sweet spot for the best accuracy and then record what power you have. By the way, this 315-grain bullet generates 427.84 foot-pounds of energy at the muzzle. A heavier bullet will generate even more.
Predator "pellet"
The last bullet I tried was a 247-grain "pellet" from Predator. The box says they are sized 0.457, but they did not fit well in the breech of the rifle. I took a picture of this to show you, plus I measured this bullet with a caliper when I got back to the office.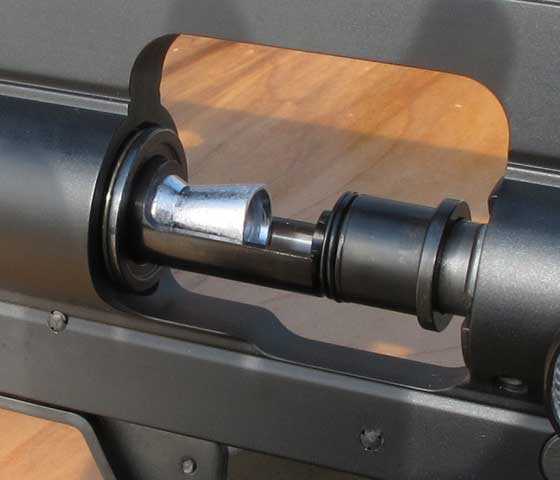 That's as far as the Predator pellet will go into the breech of the TexanSS I'm testing.
It was the head of the pellet that wasn't entering the breech. When I measured it at home they measured between 0.459 and 0.462-inches in diameter, so no way were they going to enter a 0.457-inch barrel easily. They heads were not uniformly round, either. I have heard this bullet isn't very accurate in the Texan, so I don't expect much from it. All the other bullets seated in the breech up to their bases, so this came as a surprise.
What I have learned
Well, Aaron, everything I told you in my reply last week goes out the window with today's test. The TexanSS is not performing like my Texan did. I guess the longer barrel of the Texan is the reason.
The TexanSS power band is around 3/4 power and up — at least it is for the 210-315-grain bullets I have tested so far. That tells me a lot about what I have to do when I start testing for accuracy.
With round balls that weigh only 143 grains the lower power settings might become much more useful. That's something I need to test.
Noise
I saved the best for last. The TexanSS is very quiet! I shot the entire test with no hearing protection, and even on full power the rifle comes nowhere near the noise of a .22 Long Rifle round. Maybe it's like a .22 Short standard speed, but probably less.
Now that I know where to adjust it, accuracy testing comes next.