by Tom Gaylord
Writing as B.B. Pelletier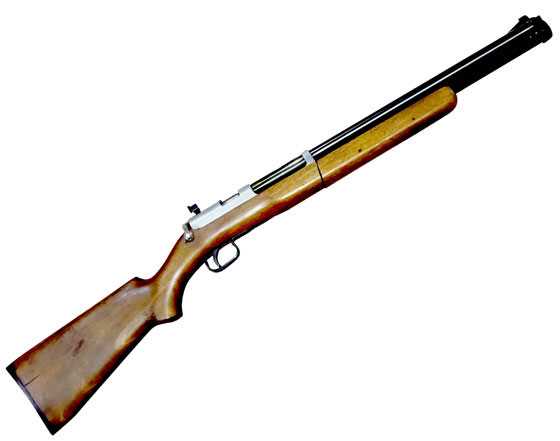 My new Sheridan Supergrade is in fantastic condition, despite the wood check at the butt.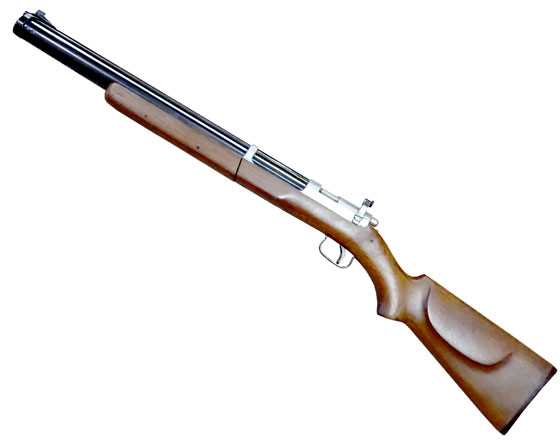 The cheekpiece makes the Supergrade stand out!
This report covers:
Chronograph
How long can a multi-pump be left fully pressurized?
The point
Smith and Hatcher were right!
Condition of the rifle
Last comment
Before we start I would like to introduce you to Jake. He is the best Sheridan resource I know. Here is his website. Much of the information I have is either obtained from or corroborated on that site.
Siraniko, you were right. I'm doing Part 2 today!
Chronograph
Reader GunFun1 wondered how velocity was determined back in 1947 and 1956, when General Hatcher and W.H.B. Smith wrote their reports on the Supergrade. Well, it's found in that book nobody wants — Smith's Standard Encyclopedia of Gas, Air and Spring Guns of the World, by W.H.B. Smith. At least the method that Smith used is found there. It was called the Potter chronograph and occupied several rooms at H.P. White Laboratories. At its heart was a quartz crystal oscillator that cycled 100,000 times a second.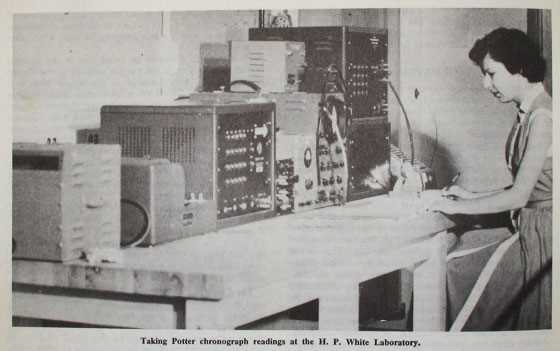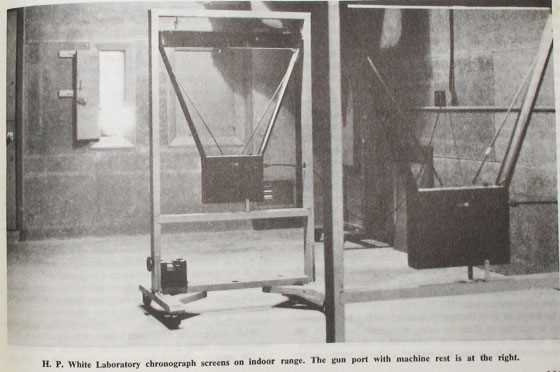 This chronograph was designed by the U.S. Army Ordnance Department during WW II. As you see, it took several people to operate it. It is approximately 1/10 as accurate as the Shooting Chrony that you can buy today.
How long can a multi-pump be left fully pressurized?
I'm finally going to address Doc Holiday's question. Or Sheridan is. The first thing you need to know is what they say about their air valve. Let's see.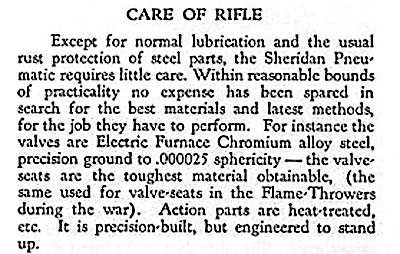 Sheridan's description of the valve has more detail than will be found in modern manuals.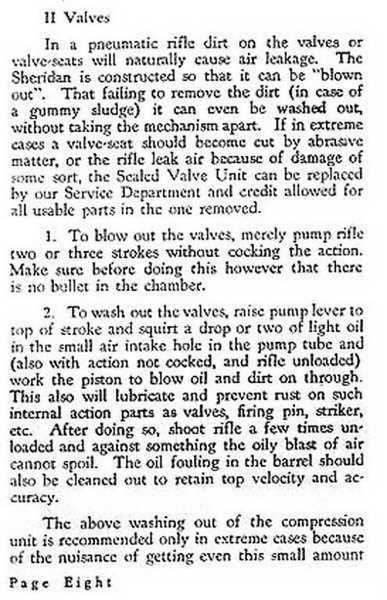 Detailed valve maintenance procedures.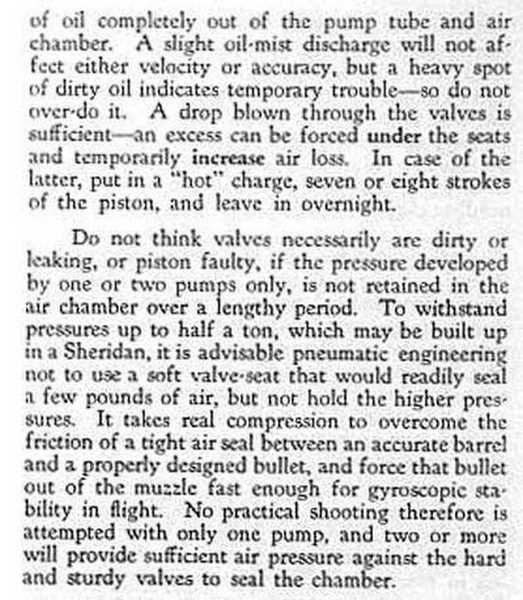 The remainder of the valve procedures.
There you have it. Sheridan says you can pressurize the Supergrade valve fully and leave it overnight. This is a serious procedure, so don't do it often. Now, let's talk about the differences between the Supergrade valve and valves found in today's multi-pumps.
Sheridan Supergrade valves have ball bearings at each end. They are the poppets that seal against the valve seats. That's what the mention of sphericity in the manual referred to.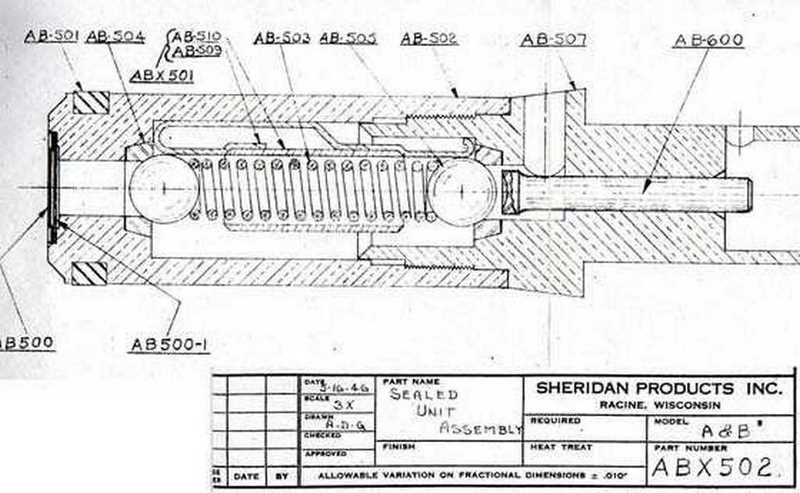 This drawing of the Supergrade valve is all over the internet. It shows the two ball bearings referred to in the report.
The ball bearings are not the big deal. The big deal are the two valve seats the balls press into. They are made of hard synthetic material. I am not certain of this but I have read or heard they are made of Hycar — a tough synthetic that did not have the problems usually associated with synthetics from the 1940s. The reason is because this material is very hard. So hard that brass and steel can be used as a substitute!
I read in one of the British airgun magazines that John Bowkett had experimented with a steel poppet and valve seat. He discovered that if it was properly fitted it worked better than any other material he tried. The challenge was getting the two metals in the valve poppet and seat to mate perfectly. There are ways of doing it, but they usually involve hand-fitting, which takes a lot of time.
The point
No manufacturer that I am aware of makes a valve like this today. Most of them use some engineering plastic like Delrin for the valve poppet and brass for the seat. It works very well and is fast and easy to manufacture. BUT — and Doc, this is a big but — such a seat and valve are too soft to hold up well under continuous compression.
However, having just said that, how is it that we can leave a precharged airgun's reservoir fully charged all the time? They don't develop leaks from this treatment, so why am I so worried about the firing valve in a multi-pump? Aren't both valves (intake and firing) made the same way? I have left my TalonSS reservoir fully charged for 17 years and it still holds fine. Something ain't right! Maybe it's because the firing valve suffers impact every time it's fired, where the intake valve doesn't. On the other hand, the intake valve IS the firing valve in the TalonSS (the same valve serves both functions), so…  It is a puzzlement!
Smith and Hatcher were right!
Today's report has been about the firing valve in the Supergrade. In Part 1 I mentioned that I tested the rifle and found that it shot a 15-grain Sheridan Cylindrical pellet (they range between 14.9 and 15.2 grains) at 630 f.p.s. I said that was the fastest I had seen a Supergrade shoot, in my experience with three of them. That pellet is very similar to the 15.2-grain Bantam pellet that both Hatcher and Smith used in their tests.
Then I wondered — was the synthetic valve seat fresher and more pliable in my rifle when it was new 60 years ago than it is today? Of course it was! Is there any way to rejuvenate synthetic materials?
Well, I know of one. Automatic Transmission Stop Leak will soften the surface of most synthetics, making them seal better. So I did "IT". I lubed the new Supergrade pump piston head with ATF sealant, not once but twice, over the course of two days, to make sure the oil got to all the internal seals.
I chronographed the rifle before and after the lubrication on 8 pumps. I watched as the velocity built up past 635 f.p.s. over several shots with Sheridan pellets. It went all the way to 697 f.p.s. Here are my numbers.
Before            After
oiling…………oiling
634……………652
632……………680
……………………688
……………………697
……………………694
A day later I retested the velocity with the same pellets on 8 pumps.
Shot…………Velocity
1………………675
2………………668
re-oiled with ATF sealant
3………………679
4………………696 (10 pumps and air remained)
5………………632
A week later (for this report) I retested the rifle on 8 pumps. Sheridan pellets were used again.
Shot…………Velocity
1………………648
2………………654
3………………651
4………………649
5………………650
The velocity of this rifle has increased by about 20 f.p.s. from what it was before the oiling. It is also very stable. This isn't my velocity test. It's just a look at something any Supergrade or Sporter owner (they have the same valve) can do. New readers need to know that I have tested ATF Sealant on various types of seals in this blog over the past five years and I have just learned that aviation airframe and powerplant mechanics (A&P) trust it for rejuvenating seals in their high pressure struts (landing gear pneumatic springs) for the same reason.
I told you last time that I would show you how to time-travel. This is it. Through nothing more than lubrication I have brought my Supergrade to within 10 f.p.s. of the velocity Hatcher got (on 8 pumps) in 1947, and it even peaked faster than Smith's average in 1956, though its current average is somewhat less.
What I haven't done is install a stronger striker spring or a heavier striker that I'm now convinced was in Hatcher's Supergrade. That was what I meant in the last report when I suggested Hatcher's rifle might have been set up for him. I doubt he was aware of it He just did what he was told by Sheridan.  But I think the Sheridan folks wanted a good review from the top man in America's best gun magazine. I can't even fully exhaust the air from 10 pumps in this rifle, which is probably due to some amount of the striker spring weakening over time. Smith's rifle performed very much like mine, but Hatcher's kept on going to 12 pumps. That had to be something extra.
Condition of the rifle
I reported in Part 1 that the finish of my new rifle is around 85 percent. That's just the metal. The wood is not as good. Though there is no serious damage, the finish seems to be gone and there is that one check (a surface crack) in the butt. But the operation of the rifle tells me it hasn't been used much.
The bolt cocks smoothly with the resistance you might feel in a new gun. Cocking is positive and crisp. The other two Supergrades I owned had looser bolts. I just get a sense that this one has not seen much use.
Last comment
I will end the report here, but I'm not finished. There are still things to say about the Supergrade before I do the velocity test. I hope you multi-pump owners are finding this information interesting and useful.