by Tom Gaylord
Writing as B.B. Pelletier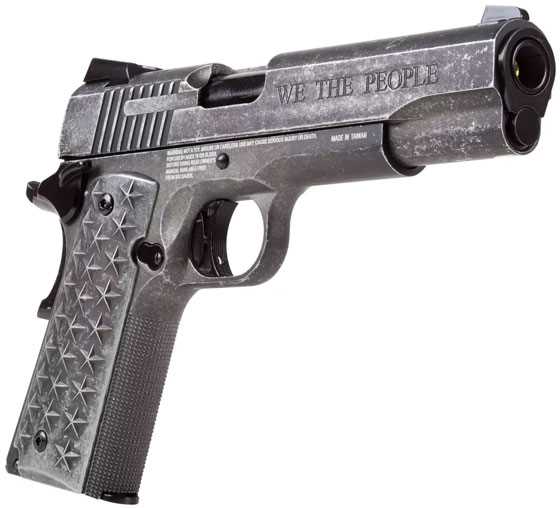 We The People commemorative BB pistol from Sig.
This report covers:
Questions answered
Velocity Daisy BBs
Cooling effect
Air Venturi Steel BBs
Blowback
Dust Devils
Shot count
Trigger
Overall impression
Today we will look at the velocity of Sig's We The People BB pistol. They rate it at 340 f.p.s., so we will see about that and also what Dust Devils do. Let's get to it.
Questions answered
Reader Shootski asked whether the sights adjust. The manual doesn't address it and I tried to move the rear sight gingerly and found it doesn't move. The factory agrees with this.
Reader Ken wondered why the magazine follower doesn't stay down like the follower on a couple of his BB pistols. I read the manual and it does mention this, so I tried it and it did stay down! The top of the follower has to raise up and get caught by the feed hole on the mag, and then it stays open. On the test pistol this sometimes take some fiddling.


The top of the follower gets hung up on the bottom of the BB feed hole, holding the follower down.
Velocity Daisy BBs
First to be tested were Daisy Premium Grade BBs. They averaged 326 f.p.s. with an 11 f.p.s. spread from 321 to 332 f.p.s. There were no failures to feed but the slide didn't remain back after the last shot. On the next blank shot, though, it did.
Cooling effect
Because this is a CO2 pistol, it cools as it shoots. That shouldn't bother you on a warm day outdoors, but in a velocity test indoors where the temperature is around 72 degrees F, I had to allow at least 10 seconds between shots, and even then I lost some velocity.
Air Venturi Steel BBs
Next up were some Air Venturi Steel BBs. They averaged 331 f.p.s. with a 10 f.p.s. spread from 327 to 337 f.p.s. This time the slide stayed back after the last shot.
Blowback
Several of you have asked about the blowback of the gun. It has a metal slide so there is some recoil felt when it blows back. It's not the hardest-recoiling air pistol I have felt, but it is realistic.
Dust Devils
Here is the test many of you have asked for — Air Venturi Dust Devils. We know they are slightly lighter than solid steel BBs, so we expect to see some velocity gain and we won't be disappointed. In this BB pistol, 10 Dust Devil BBs averaged 347 f.p.s . with a 15 f.p.s. spread from 340 to 355 f.p.s. I will be interested to see how accurate they are.
Shot count
At this point in the test 42 shots had been fired, because I shot the gun several times after installing the CO2 cartridge. So I shot 22 more blanks and then set the gun aside for 2 hours. When I resumed testing Dust Devils the next 16-shot average (shots 65 to 81) was 347 f.p.s. Then I shot 11 more blanks and shot 93 went out at 346 f.p.s. Shot 99 was 337 f.p.s. and from there the velocity dropped off. Shot 109 was 278 f.p.s. and I knew the gas had run out. I shot blanks after that, and on shot 121 the slide failed to stay back. Let's call it 100 shots per cartridge — give or take. With full slide blowback that's pretty impressive.
Trigger
The trigger is a bit stiffer than I remembered from Part 1. It varied widely in the test — from 5 lbs. 7 oz. to 7 lbs. 4 oz. The weight I saw most often over about 15 samplings was 6 lbs. 1 oz.
Overall impression
I'm impressed with this BB pistol for several reasons. First is the realistic way it has been weathered to look worn. Next is the ability to field strip it. Not every BB pistol allows that. There there is the large number of shots per cartridge. All things considered, if it's accurate too I think we have a real winner.