by Tom Gaylord
Writing as B.B. Pelletier
This report covers:
Sig Sauer at work
The tour
Security
Ground rules
Rapid change
The big deal
Finishing
Test firing
ASP20
The engineers
Ed Schutz takes over
Laser-welded parts
Precision fixtures for every process
The cocking shoe
Summary
Last week a number of airgun writers and editors were invited to Sig Sauer in New Hampshire, to witness the start of the ASP20 production line and to tour the Exeter facilities. Those who attended were Tom McHale who writes for American Handgunner, Shooting Illustrated, Concealed Carry Magazine and too many other publications and website to list. Kristen Voss from the digital side of the NRA's American Rifleman magazine was also there. Terry Doe and Dan Chart were there from Archant Limited, the publisher of Airgun World and Air Gunner magazines in the United Kingdom. John Bright of Highland Outdoors, a worldwide firearms and related products distributor in the UK was also there. I was there representing this blog and Firearms News in the US.
Two US writers were unable to make the trip, due to massive thunderstorms in the American northeast. Jock Elliott and Dennis Adler were unable to get flights out of their respective homes.
Sig Sauer at work
Those same thunderstorms that blanketed the northeast gave me my first look at how Sig Sauer differs from most other companies. My first flight from Dallas landed in Philadelphia, where the sun was out and the clouds were fleecy, but the moment I turned my cell phone back on about 15 text messages downloaded. The first two were from American Airlines, informing me that my next flight to New Hampshire had been cancelled. They had rescheduled me for a flight later that evening, so I asked in the terminal where the closest AA desk was located, to get confirmed and ticketed.
It took me 15 minutes to walk to the airline desk. As I walked, a team at Sig Sauer was rescheduling me for a flight into Boston's Logan airport. Five minutes before I arrived at the airline desk I had been confirmed on a much earlier flight, and a Sig manager was assigned to pick me up and transport me to Exeter, where we were staying. I found out later that team was doing the same thing for the other writers who were scattered everywhere from the hundreds of flights that had been cancelled.
The next evening, Sig Sauer CEO, Ron Cohen, who had flown back from India that day to have dinner with the airgun writers, told us that Sig doesn't always get things right. He admitted that they do make mistakes. But when they do, stand back, because that is when Sig Sauer really shines! I have worked in and toured a great many plants in my lifetime and I can tell you he is not exaggerating! I will tell you more about Ron later.
The tour
This visit was a one-day event to showcase the startup of the ASP20 production line. That is a new breakbarrel air rifle that I said yesterday is the FWB 124 of this century and millennium. I will show you every unique and novel new detail on this rifle, plus I will conduct an extended test of the rifle, once I get one, but before we look at that, let's look at the rest of the Sig Sauer production facility in Newington.
Security
Sig makes firearms in this factory. If you remember the old Johnny Cash song One Piece at a Time, where he stole a Cadillac over 20 years of employment on the production line, our BATF&E doesn't share the humor. They don't want guns walking out in lunchboxes, so everybody going into and out of the plant has to pass security. I mean everybody — even the vice president of Sig Air (their new name) had to remove all metal and step through the detector. I had to take my belt off but not my shoes.
Ground rules
We were then taken to a small conference room where the ground rules were covered. Besides the BATF&E, Sig has an Army contract for the new M17 sidearm, and the Army requires them to keep that work separated from the commercial firearms being made. The M17 is based on the P320 pistol, with some variations. The Army does not want their sidearm to get mixed up with a civilian handgun, so all parts are stored in color-coded cabinets and all assembly is done inside locked steel cages. I was not permitted to photograph the cages, but they are nothing more than a standard shop area that's been enclosed by open steel mesh for this contract work.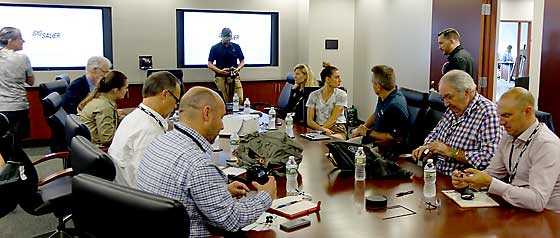 Everyone was briefed before we toured the plant. We also put on headpieces to hear the tour guide over the shop noise.
We were also asked to not photograph any engineering documentation, to include displays on the screens of any of the CNC machines. And there were certain machining operations we were asked not to photograph. Otherwise, we were given free rein to take whatever pictures we wanted.
Sig Product Manager, Pistol, Tim Butler, conducted the first part of the tour, showing us the general plant operations.

All good companies have meetings before the shift starts. At Sig they hold them in small groups.
Rapid change
We looked out over a sea of CNC machines. They told us they have been upgrading the plant capability by switching to 5-axis machines that can do more work than the machines they replaced. But that wasn't the big deal.
They have CNC machines with robot arms inside them, moving the parts inside the machine to get more operations from a single machining center. That's efficient but it's not the big deal, either.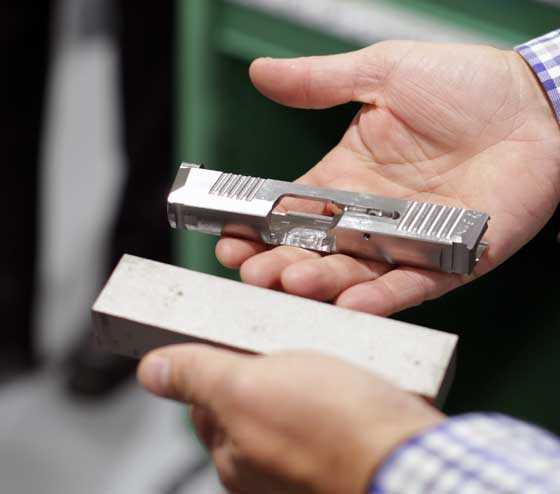 A solid block of steel goes into the machining center and all the machining is done. There is a lot more before this slide will be complete, but they have other machines for that. Photo provided by Sig Sauer.
The big deal
The big deal is that a short time before these CNC machines had not been where they were on this day. Where other companies take days to install one machining center and get it up and running, Sig installs dozens of them at a time and has them running in one or two shifts.
They did not build the building we were touring. They bought it because it was the largest building available in the area, and, when they moved in, space inside was already tight. They installed their existing machines from the old building, with a plan to install the new machines we were seeing on the tour. And even that wasn't efficient enough for them. They did something I have never seen before. They installed a robot arm between two CNC machining stations and had it unloading finished pieces from one machine and installing them into the carriage of another machine sitting next to it. In other words, no operators for that entire process! I have seen robots inside machining centers but this was the first time I have seen them operating between two separate centers without human intervention! I'm sure it exists elsewhere, but this was my first encounter.
Finishing
After walking around the plant we were taken into the finishing room. In here everybody had to wear hearing protection because some of the machines like the huge industrial tumblers make a lot of racket. Inside this room I saw a robot grinder that was smoothing the slides we had just seen being made. Everything was inside a plexiglass enclosure, and the robot arm worked fast.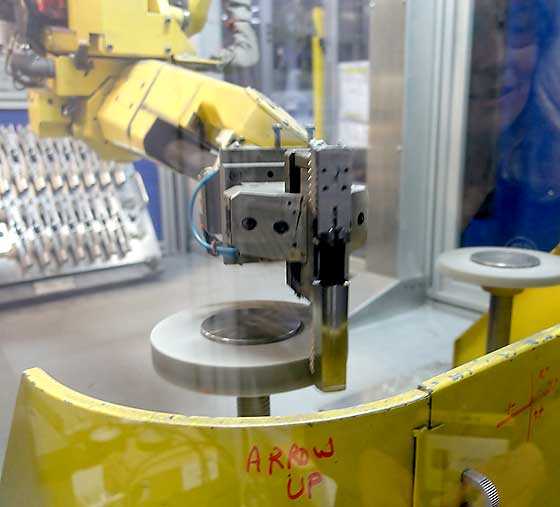 A robot arm (the yellow in the background) is holding a pistol slide against a grinding wheel to remove the tool marks from the various angles on the steel part. This machine has several wheels and sanding belts that come into play at different times. Please excuse the reflections on the plexiglass shield.
Test firing
Each pistol Sig produces is test-fired on one of six indoor ranges inside the factory. Between the pistols and their semi and full-auto firearms, Sig uses over a million rounds of ammunition each month.
We were allowed to see the test ranges but not to take photos. Sig also has a 100-yard indoor range for their rifles in the same plant.
ASP20
Okay, you didn't just come for a plant tour. You want to know about the rifle that I said is going to be the next FWB 124. Well you guessed correctly that I was referring to the Advanced Sport Pellet (ASP) 20. The name was created when the company was still thinking in a European way, because "Sport" in Germany, when it relates to airguns, means everything other than 10-meter target competition. The Germans are big on target shooting and not so much on everything else. Of course the rest of the world knows there are many more flavors besides target shooting, but you have to start somewhere.
The 20 refers to the muzzle energy of the rifle in .177 caliber. And here is why that is important. Any other airgun company would have just put way too much spring behind a piston that's way too fat and has a stroke that's way too long and call it hasty puddin'. Sig went another way. They reckoned if they could make a .177 spring-piston rifle that was easy to cock, insensitive to the hold and dead-nuts accurate at 20 foot-pounds, imagine how nice it will be when they scale it back to 12 foot-pounds!
What I am about to reveal to you over the next two days is the most significant development of the spring gun that has ever taken place. I do mean ever!
The engineers
I have bragged a lot about Ed Schultz and what he can do, but Ed is only one of three engineers who developed this rifle. I met the second one, Krzysztof (Kris) Kras at the dinner I told you about earlier.
The third engineer, Justin Daniel Heckert, was not at the dinner with us because, sadly, he passed away very suddenly on February 22 of this year. He was beloved by everyone at the company, and Sig has memorialized him by including his initials, JDH, in the serial number of every rifle. Serial number one will be presented to his family. That's the kind of company Sig is.
Kris came from the firearms side of the house. Justin came over from Crosman as did Ed Schultz. But at Sig, there is no distinction between firearms and airguns when it comes to manufacturing. They are serious about everything they do.
Ed Schultz takes over
At this point in the tour, Ed Schultz assumed the duties of tour guide and led us over to the brand-new ASP20 assembly line. There he narrated the building of a complete rifle before our eyes.
Laser-welded parts
The spring tube and barrel with attached base block and silencer showed up as finished assemblies. They had been welded by laser in another Sig facility and brought to this building. The laser that welded them was also present, but it hadn't been hooked up yet. As I mentioned — this was day two of production and things were still getting sorted out.
They already had a 1,000-watt laser but it wasn't big enough for the airgun job so they bought a new 2,000-watt laser just for this project! Other airgun companies weld by friction or with induction welding, but Sig wanted the least possible distortion and the laser was the way to go.
Precision fixtures for every process
At each assembly station there was one or more precision fixtures to hold the work. Other companies use the same type of tooling but these were finished and made especially for the job.
The cocking shoe
I told you I was going to discuss in detail every innovation on this rifle. I will start with the cocking shoe, which is the interface between the cocking link and the piston. The shoe is metal injection molded and the cocking link it's attached to is hard zinc. Before you go on the warpath about Sig trying to save 20 cents on a part, it was designed that way for a reason. The shoe hooks into the piston to cock the rifle and the lever pushes it back when the rifle is cocked. Zinc in contact with steel has less friction than steel on steel. They lubricate it for life at assembly and this shoe/link combination was tested over 19,000 cocking cycles at a force that is 25 percent greater than you will apply.
The shoe is articulated (it rotates through a small arc) and spring-loaded to eliminate most of the friction that a regular cocking shoe would have. Airgun tuners know that we have to deburr the cocking slot, the cocking shoe and the piston when tuning a springer. And even then the cocking shoe will try to gall (rub with pressure) the spring tube. Sig designed a shoe that articulates with the changing angle of the cocking link, eliminating any galling.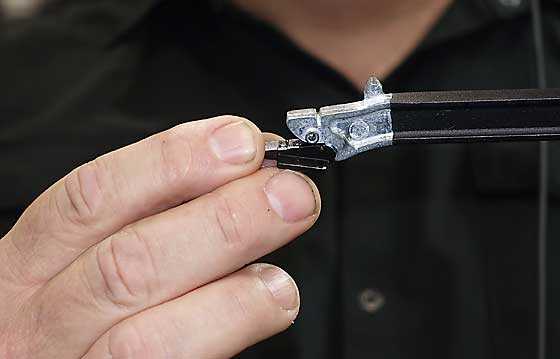 The spring-loaded cocking shoe adjusts its angle as the cocking link changes its angle during the cocking stroke.
Summary
I'm just getting started! Tomorrow I will show you things about this rifle that you have never dreamed of, and we will also go to the range. There you will find out if it is accurate.