by Tom Gaylord
Writing as B.B. Pelletier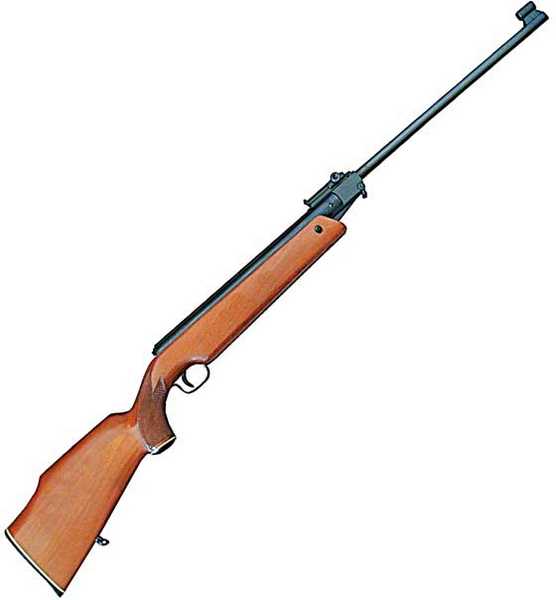 Feinwerkbau 124.
This report covers:
The ship hit the sand!
Plan B
Plan C
Open sights
Getting ahead of myself
The test
RWS Superpoints
JSB Exact RS
RWS R10
What's up with the lone "flyer"?
H&N Baracuda Match with 4.50mm head
Discussion
The FWB 124
So what?
The big deal
Summary
Well, well. Sometimes the bear eats you! Today is one such day. I returned from my Sig trip last Thursday and wrote this report on Friday and Saturday. Everything that could go wrong did, giving me a lot to tell you about. And I have some exciting news to share today, as well.
The ship hit the sand!
I was going to test the Crosman 105 Target pistol for you today, but I couldn't get it to hit the paper. Whoever guessed that it would shoot way low was spot-on. It shoots so low that I can't get it up on paper, even using aim-off tricks (aiming at one thing to hit another). I have to work on the pistol before I can test it again.
Plan B
Plan B was to shoot the Crosman 102 at 25 yards. I did shoot five .22 caliber RWS Hobbys into a group, and I thought things were working well, but then Mr. Murphy showed up. The second pellet, a .22-caliber Meisterkugeln, jammed up the loading shuttle and stopped the test. I have to partially disassemble the rifle to clear that jam, and that's going to take some time. So, on to plan C.
Plan C
If I had thought about it, Plan C was the way I should have gone from the beginning. I will tell you why in a bit. And, for our readers who aren't familiar with American football, the word "punt" in today's title means turning a potentially bad situation into a better one.
Plan C was to shoot the FWB 124 at 25 yards and see how it does. Veteran readers know that I have written more about the 124 than any other single subject in the 13-plus years this blog has been running, so this is nothing new. The 124 I'm writing about today is the one I bought from Pyramyd Air at the 2017 Findlay airgun show. They gave me a great price on a used rifle (the 124 hasn't been made for a long time so they are all used) and I tested it for you last year. I am bringing it out today just to see where it is, because I have something coming up that I feel is closely related. That, and the fact that the first two airguns I tested both failed, pushed me into it.
Open sights
For some reason I thought I would test the 124 with the open sights it came with. I don't normally do that at 25 yards, but I guess the 102 got me thinking that way. Also, there was no scope on the rifle and I was already several hours behind in my workday. Open sights were the way to go.
Getting ahead of myself
Tomorrow I will tell you that last week at Sig I got to shoot alongside Terry Doe. Terry is a former champion field target competitor, and I am a former down-in-the-weeds FT shooter on a good day. But, shooting on the same range with Terry while others were watching made me focus! When I try, I can sometimes rise to mediocre, and even as high as adequate, with luck.
Some of Terry's pixie dust was apparently still on me for today's test. I actually outshot myself from a year ago! Who says a cheap whine(r) doesn't age well?
The test
I shot off a rest at 25 yards, using open sights. The rifle has been lube-tuned (see last year's test) and the trigger adjusted to be light but not that definite on stage two. I shot 10 shots with each pellet. I also tried a couple pellets I have never tested in this rifle, just to mix things up a little.
I am using the artillery hold because the FWB 124 is known for being sensitive to hold. To shoot it well use a loose hold that allows the gun to move the way it wants to. My off hand was almost at the end of the cocking slot, by the forearm tip.
RWS Superpoints
First up were RWS Superpoints. Shot one hit the 10-ring, so I never looked through the spotting scope (Meopta 10X42 binoculars) again. After 10 shots I walked down to replace the target and was pleased to see a 0.984-inch group, with 9 of them in 0.628-inches. I was off to a good start and the sights seemed to be zeroed for this pellet.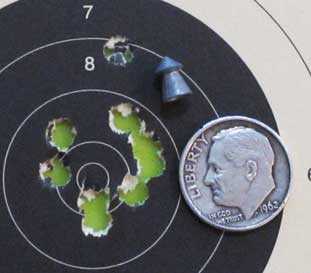 Ten RWS Superpoints went into 0.984-inches, with 9 in a very circular 0.628-inches at 25 yards.
JSB Exact RS
Next to be tested were 10 JSB Exact RS pellets. While I hadn't shot Superpoints in this 124 before, I knew these JSBs were very accurate from the previous time I tested the rifle. Last year I put 10 of them into 0.889-inches at 25 yards with open sights. This time 10 went into 0.82-inches at the same distance. That's pretty consistent for two tests done a year apart! This was the most accurate pellet of this test. And, once again, 9 pellets hung together in 0.703-inches.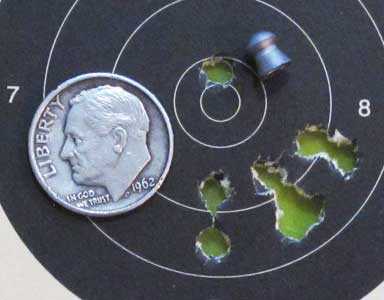 Ten JSB Exact RS pellets made this 0.82-inch group at 25 yards with 9 in 0.703-inches.
RWS R10
The next pellet I tested was the RWS R10 pistol target wadcutter. These loaded very tight in the 124's breech and 10 made a group that measures 1.181-inches between centers. Nine of them are in 0.859-inches.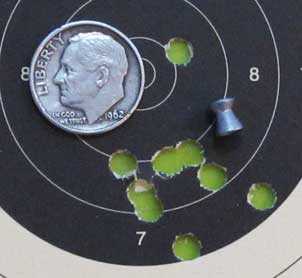 At 25 yards ten RWS R10 Pistol pellets made a 1.181-inch group, with 9 in 0.859-inches.
What's up with the lone "flyer"?
First off, in each of the three targets above that lone pellet is not a real flier. I am certain it's either an aiming error or a holding error. I'm guessing the hold, because the 124 is well-known for being twitchy. Yes, I was wearing glasses to see the front sight clearly.
H&N Baracuda Match with 4.50mm head
For the final pellet I tried something very different — an H&N Baracuda Match with a 4.50mm head. Unfortunately these were not right for this rifle. Ten went into 2.302-inches at 25 yards. This time there was a central grouping of 6 shots, surrounded by 4 that were scattered. You could look at the central 6 and make up a lot of reasons why the other 4 are apart, but after the first three targets I think it's clear that I'm shooting better than that and this just isn't the right pellet for the rifle. Maybe a larger head size would work, but we won't go there.

Ten H&N Baracuda Match domes went into 2.302-inches at 25 yards. It's not the pellet for this rifle.
Discussion
The 124 did pretty good in this test. But 124s almost always do. That's one of the reasons they are a classic. Let's take a look at some of the other reasons.
The FWB 124
The FWB 124 was the air rifle that started the velocity race, back in the early 1970s, when it was still designated the model 121. It was one of three air rifles that broke the 800 f.p.s. "barrier" back in the day. The other two were the Diana 45 and the BSF S55/60/70. But the FWB gained the greater public approval. Why?
It was easy to cock. Until then powerful air rifles required muscle to cock, but the 124 changed all that.
It was very accurate. The 124 was an is inherently more accurate than other competitors of the time.
So what?
Okay BB, we get it. The FWB 124 was a classic air rifle that most of us missed. We should have known better, but some of us weren't even alive when it was available new. Others were not yet airgunners and some just were not prepared to spend the money to get one. Why are you telling us this?
I am telling you this because in 2018 the FWB 124 has been reborn. There is a breakbarrel air rifle about to hit the market that is powerful, accurate and comparatively easy to cock. And, this new air rifle also fixes all of the 124's faults — not to mention the faults of every other breakbarrel that's ever been made. Namely it's smooth-shooting, has a great trigger and is not that sensitive to how it's held.
The big deal
This new airgun is made right here in the US of A! I don't mean "made" as in assembled from parts made other countries; I mean made as in created from raw and semi-finished materials — part by part.
Even the barrel? Yes — even the barrel. And the trigger? Yes, the trigger, too.
Summary
I told you at the start of today's report that the FWB 124 was Plan C, when Plans A and B went south. But it should have been Plan A for today, because tomorrow I will start telling you about the day I spent last week at Sig Sauer in Exeter, New Hampshire. And, the rifle that is about to hit the market — the rifle that I am now saying is the new FWB 124 — was the star of that visit!
You readers know me pretty well by now. Most of the time I go along like Old Man River on an even keel. I do until something extraordinary comes along. When it does, I shed my secret identity and become the Energizer Bunny.
Well, get ready, because this time the bunny is running on nuclear power! What old BB is about to unveil is one of the most significant airguns to come along in his lifetime.
We begin tomorrow. Start saving.