by Tom Gaylord
Writing as B.B. Pelletier
This report covers:
ASP20
Two calibers
Wood stock or synthetic stock?
First impression
What about wood?
And synthetic?
Description
Trigger
Safety
Whose gun is it?
Summary
It's here! The Sig ASP20 breakbarrel rifle with the Whiskey3 4-12X44 scope arrived at my house Friday evening, and I already have an independent opinion to share. I will get to that in a bit.
ASP20
ASP stands for Advanced Sport Pellet—the original name of SIGAIR — the Sig Sauer group that's responsible for airguns. The number 20 indicates the foot-pounds of energy that can be expected from a .177 caliber version of the rifle. Obviously this power varies by pellet, but it gives you a ballpark to consider.
Two calibers
The rifle is offered in both .177 and .22 calibers and in the larger caliber the expected output climbs to 23 foot pounds. I asked for the .22 caliber to test because at this power lever I feel it would be the smoothest of the two. Ed Schultz of SIGAIR agrees with that.
Wood stock or synthetic stock?
The ASP20 comes in both wood and synthetic stocks. When I first saw the rifle at this year's SHOT Show I thought the stock was synthetic, but it was wood. My experience has been if a stock is sleek and slender it's synthetic. If it's wood it tends to be too thick at the wrist and through the forearm. Not the ASP20 stock, though. The wood stock is very slender in all the right places, plus the laser carving on both the pistol grip and forearm is finely detailed and very coarse to the touch.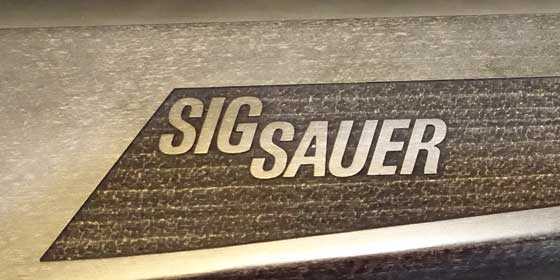 The stock is carved by a laser on both sides of the forearm and pistol grip. The texture is rough, so it grabs the hands well.
When I hold the rifle to my shoulder, everything feels right. The stock and controls are 100 percent ambidextrous and the fit is so good that the rifle feels custom-tailored for me. I thought it was just a fluke that it fit me me, but on Sunday evening I showed the rifle to Larry, a friend from my church who has been eagerly awaiting the arrival of this rifle. He is two inches shorter than me and probably 75 pounds lighter at least. Larry is not a diehard airgunner, so he represents the general public a lot more than me. He owns a Gamo breakbarrel of some type, so I watch and listened closely when he hefted the ASP20 for the first time.
First impression
When he cocked the rifle he said it felt smooth and well-made. Then, after his first shot, he looked at me with a big smile. Apparently I had told him the truth about how great the rifle feels and as soon as it's available with the scope bundled, he plans to buy one!
He was impressed by the smoothness and lightness of the trigger and the lack of vibration when it fired. We were in a tiny suburban backyard and the gun was as quiet as it needs to be.
But here is the big deal. Larry is a cabinetmaker of the first order. When I told him a couple months ago that I wanted to buy an oak mission-style Morris chair, he asked me why I didn't just make one. Okay, Stradivarius, I'll build a fiddle. Where do you buy your cigar boxes?
So, when I pointed out that this stock was wood and not synthetic, Larry was surprised. Forget what I said about it before — it fooled someone who really knows wood!
What about wood?
This wood stock feels dead solid. There is no hollowness to the butt. And Sig tells me it only adds about 8 ounces to the weight of the rifle, which for my scoped specimen is 9 lbs. 12 oz. The unscoped rifle weighs 8 lbs. 8 oz. (roughly, as the wood stocks will have slight variations from the varying density of the wood), so the Whiskey3 4-12X44 scope and mounts must weigh 20 oz.
And synthetic?
The Pyramyd Air site shows the weight of the unscoped rifle with synthetic stock at the same 8 lbs. 8 oz, but that's just a placeholder, as they haven't had a gun to weigh yet. The synthetic stock has been in its own separate development program, and I want to point out one other thing. When you look at the picture of the synthetic stock online, it looks like it has an adjustable cheekpiece. That is just a line on the stock. The cheekpiece does not adjust — yet. Sig has every intention of offering a stock with an adjustable cheekpiece in the future, which is why the line is there, but they first have to get the basic synthetic stock into production. I believe they are there now, so we should see the adjustable cheekpiece sometime next year. These people do not shoot from the hip, so they will take whatever time it takes to make it right.
The butt is capped by a soft black rubber pad that sticks tight against the shoulder. It also prevents the rifle from slipping when it's stood up in the corner.
Description
The ASP20 I'm testing is a single shot breakbarrel powered by a gas piston. It is remarkably easy to cock in spite of the impressive power. I will measure the effort in the velocity test, but one that was well broken in by Sig was cocking at 33-34 lbs. I expect this brand new rifle to be a couple pounds higher, simply because it's new.
The rifle is 45.6-inches long and has a 13-7/8-inch pull. The barrel is 13.8 inches and is capped with a fat silencer that has active technology (that means this one really works).
There are no sights, but a Picatinney rail is permanently attached to the top rear of the spring tube, to serve as a scope base. So you will need to use scope rings that come with either Weaver or Picatinney bases. My test rifle came with a Whiskey3 scope already mounted on what looks like either low or medium scope rings. That's the scope I plan to test. And that will be a report within a report, as this scope is just as novel in its own way as the rifle! I have a lot more to say about it, but not today.
Trigger
The Matchlite trigger that's in the ASP20 is fully adjustable. The length of the first stage can be changed, and even eliminated if desired. The pull weight of stage two adjusts from 2.5 to 3.5 lbs. in 2-ounce increments. You may remember when I did the 4-part Sig Day report that I told you the trigger adjusts within a "box" of high and low limits. Here is a reminder of that.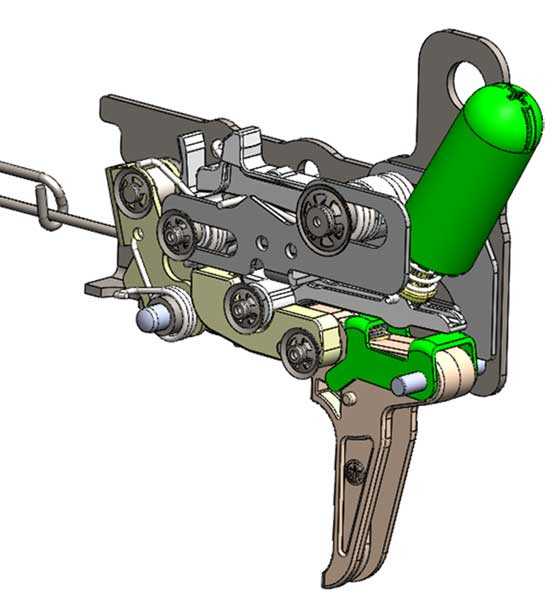 Sig's Matchlite trigger is a brand-new design that works very well! Graphic provided by Sig.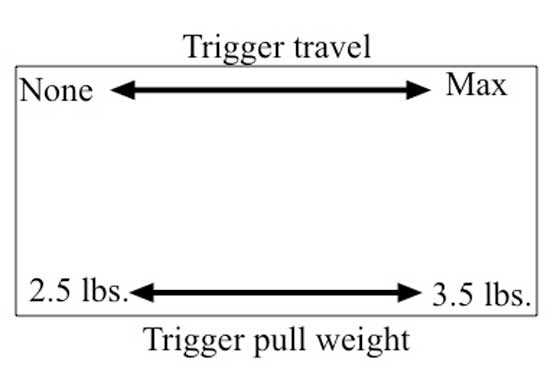 The adjustments on Sig's Matchlite trigger work inside the bounds of safety. You get a light trigger that the lawyers are okay with.
The trigger pull weight adjustment screw bottoms out when turned to the limit in one direction and turns without effect when it reaches the other limit. Between those two limits you have full control to set the pull weight where it best suits you.
The other adjustment is the length of the stage one pull. If you don't want a 2-stage trigger, stage one can be adjusted out. If you want a long first stage you can have that. And you are limited in both directions to a safe operation.
The trigger blade is a straight bar of glass-filled polymer. Yes, it's synthetic. But the job it does doesn't involve any major strain and, as I showed you in August, Sig went to the trouble of balancing it!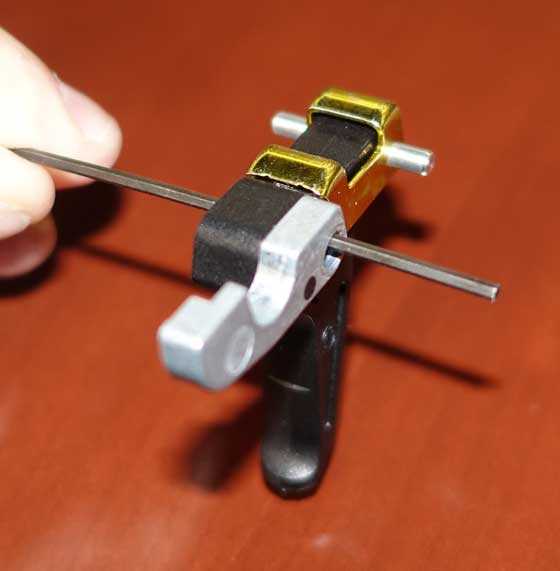 Sig went to the trouble to balance the trigger blade. Your adjustments are smooth and positive.
Safety
Last thing on the trigger. The anti-beartrap device is to prevent the breech closing on your fingers while loading. Even though it works as advertised, still hold onto the muzzle so if the gun were to fire you could prevent the barrel from closing. It's just extra insurance.
The safety switch is manual. The shooter decides when to put it on and take it off. This is a radical departure from most airgun triggers that assume the shooters are incapable of independent thought.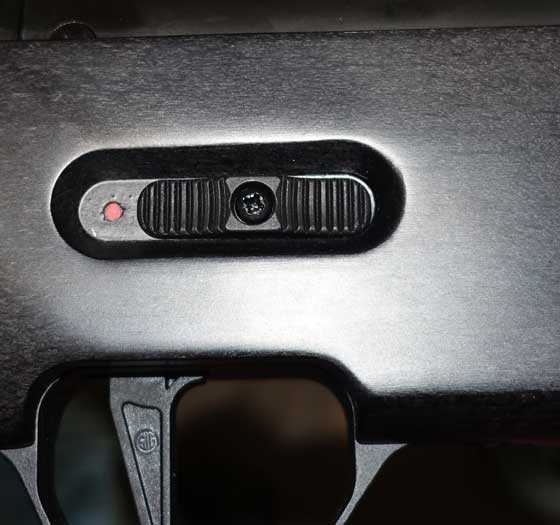 The safety slide is located on both sides of the stock and either switch sets or releases it. It is manual so it only comes on when you put it on.
Whose gun is it?
Let me clear something up. Sig gave every writer who attended their special airgun day back in August an ASP with a Whiskey3 scope — the writer's choice of caliber and stocks. Yeah, I know — but somebody's got to do it. What can I say?
I just want you to know that even if they had not given me this rifle I would have bought it. I think by now you know that about me — if it's good I buy it.
And I would have bought the scope, too. In fact, while we were shooting the ASP20s on the range at the end of our tour I turned around and tried to place an order for the scope. They asked me whether I had read the certificate they gave each of us that morning. My certificate told me I was getting a rifle. I thought it was a loaner. The certificate says the rifle and scope are both complimentary — as in mine to keep.
That said, I will still tell you all that happens. The good and the bad, if there is any. I have already shot one of these quite a bit and I haven't seen any bad yet, plus you need to know I have been shooting this one all the while I'm writing this report. So far, so good.
Summary
There is more to tell about the ASP20, and I'm not going to get it all into this first report. I also still have to describe the Whiskey3 scope to you.