by Tom Gaylord
Writing as B.B. Pelletier
Part 1
Part 2
Part 3
Part 4
Part 5
Part 6
Part 7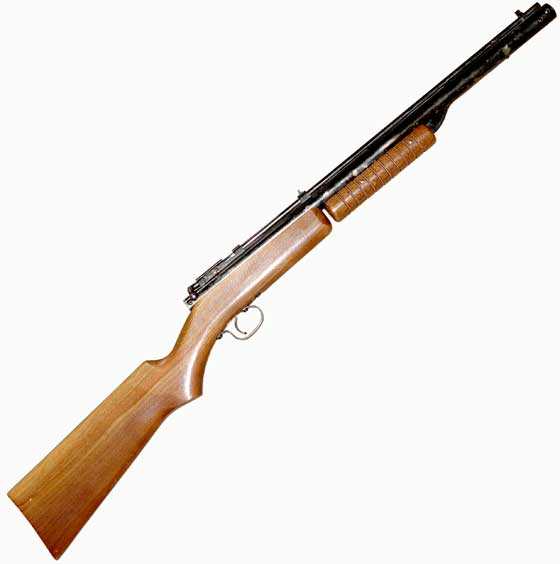 A Benjamin 310 multi-pump BB gun from 1952.
This report covers:
The test
Hobbys
Sig Match Ballistic Alloy
H&N Baracuda Match
Falcon
Discussion
Summary
Today I test the Benjamin 310 BB gun with pellets. We learned in the test of BBs that the gun does like to shoot with the larger BBs. Let's now find out how that translates to pellets.
The test
I shot the gun off a sandbag 10 meters from the target. I used the plus one pumping routine that worked so well for BBs. That works like this — the gun has air remaining from the previous shot and I pump one time after each shot. I get a stable velocity with that routine. Let's see what she will do.
I shot just 5 shots per target because of the pumping, though it was not strenuous. If I have a reason to go out to 25 yards I might pump 5 strokes and replenish with two pumps after each shot. We know that is also stable.
I aimed at the 6 o'clock spot on the bull for every shot.
Hobbys
The first pellet I test was the RWS Hobby. It's a wadcutter that will give nice round holes in target paper. But the group was unimpressive. Five shots went into 1.838-inches between centers at 10 meters. That will be all I do with them.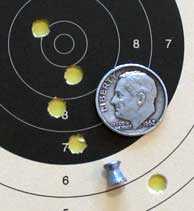 The Hobby group wasn't anything to get excited about. It measures 1.838-inches between centers
Sig Match Ballistic Alloy
Next up were Sig Match Ballistic Alloy pellets. Remember how I always say these are among the most accurate pellets? Well, this time they were the best of the 4 pellets I tested. At 10 meters, 5 shots went into a group that measures 0.587-inches between centers. That is a very tight group for a smoothbore airgun at 10 meters! It shows the potential of the 310, so any other group you see must be compared to it.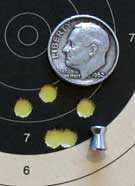 Now, that is a group! Five Sig Match Ballistic Alloy pellets went into 0.587-inches at 10 meters. Hard to believe this came from a smoothbore!
H&N Baracuda Match
Next to be tested were H&N Baracuda Match pellets with a 4.50mm head. I shot the 4.53mm heads in the velocity test, but grabbed the 4.50mm heads for the accuracy test. At 10 meters these pellets hit the target about 1.25-inches below the aim point. Five went into a group that measures 1.063-inches between centers. It's not a bad group, but not nearly as good as the Sig pellet group.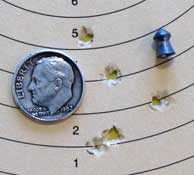 The Benjamin 310 put 5 H&N Baracuda Match pellets into this 1.063-inch group.
Falcon
The last group I shot was with the Air Arms Falcon pellet. Five of them went into 1.259 inches at 10 meters. That's okay for a smoothbore but nothing exceptional.

Five Falcon domes went into 1.259-inches at 10 meters.
Discussion
The Benjamin 310 is pretty darned accurate for a smoothbore. It also hits pretty close to the point of aim, which is nice because the sights aren't easy to adjust.
I still need to test darts in the gun, plus I think I would like to try the Sig pellets at 25 yards.
Summary
This has been a long and thorough test of the Benjamin 310. You'll remember this was an airgun I found at a local gun show. The condition is almost excellent and it even came with the original box.
It leaked initially, but ever since oiling it with automatic transmission stop leak it has held tight. And I have spent the time to learn how to get the most out of the powerplant.
I have thought about getting a new striker spring to see if I can restore the power to the gun. As it is, it tops out on 5 pumps and there is always air remaining after the shot. A fresh spring would take away the air remaining after the shot, and would give much more power on pumps 6 through 8.
This will require more thought.