by Tom Gaylord
Writing as B.B. Pelletier
Today's report is one you readers have been asking for, for a while. Reader Vana2, whose name is Hank, tells us how to make a wood stock.
If you'd like to write a guest post for this blog, please email me.
And now, take it away, Hank.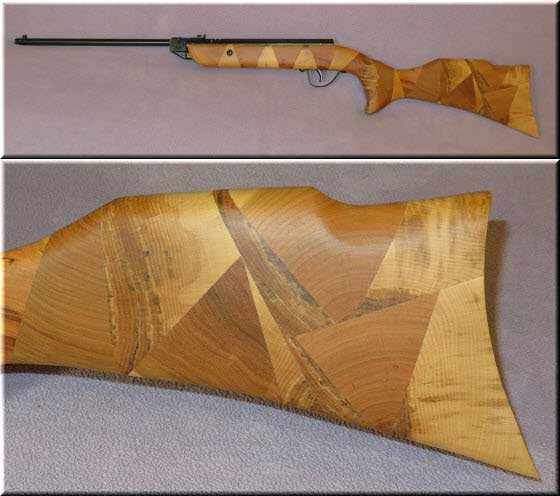 This is my original 55 year old Slavia 618 in its new "firewood" stock. I made this one in a "camo" style, using cherry and maple blocks in a random arrangement of the pieces.
This report covers:
Why am I writing this blog?
Why make a custom stock?
Do you need to work on your stock?
What can we customize?
This is where a Try-Gun stock comes in
Overview
The material of choice: spruce
So, what is involved in making a stock?
Selecting the wood
Some suggestions for finding the best board
About knots and drying checks
A comment on lumber yard etiquette…
Summary
Why am I writing this blog?
Last April I discussed modifying my FX stock with blog reader Gunfun1, and he was dubious of my plans of taking a rasp to an expensive walnut stock. I have made a number of stocks and didn't think that it was a big deal so I made the needed adjustment and showed him this picture.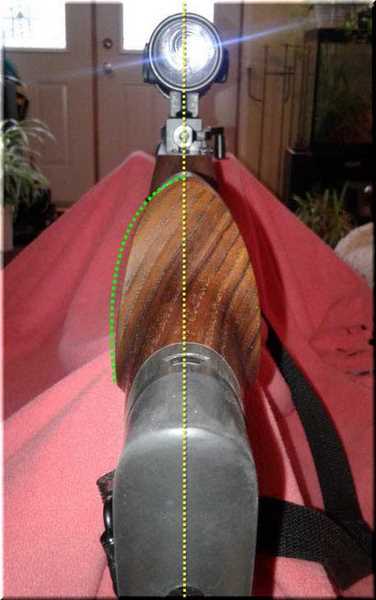 This is the mod that started this blog. Here you can see where I removed about ¼ inch of wood from the left side of the FX stock adjusting my cheek-weld to get proper alignment between my eye and the scope reticule.
When he commented that most people would be uncomfortable with the idea, I got to thinking about writing a blog about stocks. I figured that if a person was familiar with the process of making their own stock then they would also be comfortable modifying one.
In this blog, I would like to share some of my ideas on how to make an inexpensive stock using basic tools. I will be introducing a "Try-Gun" stock made from spruce, followed with a hardwood stock made from firewood. Rather than just demonstrating how I make a specific stock I will be mixing my own theories in with the actual parts where I cut wood.
This blog is for the people who have thought about making a stock but don't know where to start, and for people who need to modify a factory stock to make it fit better but doesn't know how to proceed. I'll discuss the materials, the approaches and explain any technical bits so that all will be comfortable with the whole exercise.
Why make a custom stock?
Why make a custom stock? Well, I could sum that up in one word: ACCURACY. To me, accuracy is consistency and in the airgun world I believe that a major component of consistency is the ability to mount the rifle such that the shooter is properly aligned with the sights and has the same stable contact/weld with the stock each time.
Do you need to work on your stock?
Whether you need to work on your stock depends on how well it fits. For hunting, the key to fast and consistent shooting is a rifle that comes to the shoulder and cheek-welds in a smooth motion. For target shooting, the rifle should comfortably and positively settle in the same way for each shot. In both cases, your eye should be aligned with the sights without having to wiggle around or cant your head. If you are taller/shorter than average or need a left-hand stock you might want to modify your stock or make a new one from scratch.
In addition to fitting properly, a stock should also be suitable for your shooting style and application. For small game hunting, pesting and plinking, where fast shooting at mobile targets is required, I prefer an angled grip (similar to what you see on a shotgun) and a gun that balances slightly forward of the trigger guard — right where I have my hand when carrying it. For target shooting I like a more vertical grip on a heavier stock that is balanced to be a bit more muzzle heavy.
What can we customize?
There's quite a list… the height and angle of the butt; the length of pull; the height and shape of the cheek-piece; the angle, size and shape of the grip and the overall balance. With all these considerations, designing a stock that fits properly can be a daunting task — especially if you are not sure what would work best for you.
This is where a Try-Gun stock comes in
A Try-Gun stock is made up of components that can be adjusted to come up with a suitable configuration. The stock consists of four separate components: the forend; the grip, the cheek piece and the butt. The advantage of this approach is twofold; you can experiment with different shapes and styles of the components (like grips with different angles) and if a component does not come out right, you can trash it and make another without having to make a whole new stock.
Overview
It's not difficult to make a custom stock. Common tools and basic wood working skills are all that are required. The only power tool needed for this project is a table saw (and the knowledge of how to use it safely). Other power tools would be useful but you can get by without them. For the general shaping, I like an 8 or 10 inch (smooth) cabinet rasp and follow up the rasping with a wood (bastard cut) file for leveling and smoothing. Good quality sandpaper in various grits is needed for final shaping and finishing up.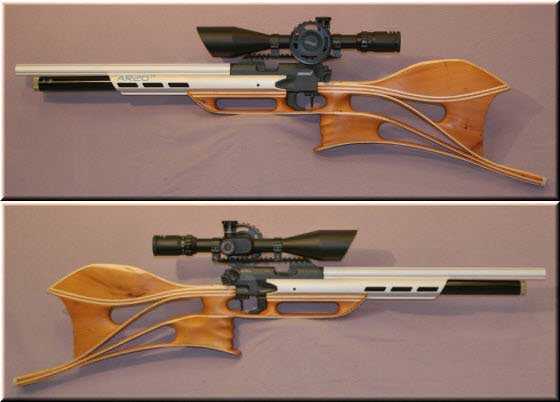 I made this custom stock for my Hammerli AR20 from scraps of yew and maple left over from other projects. It doesn't need any adjustable features because, like a tailored suit, it is made to fit.
The material of choice — spruce
Spruce construction lumber is an ideal material to learn with — it's readily available, easy to work and cheap. You can make a fully functional, good looking stock from spruce and graduate to working with hardwoods later. The best way to learn is from direct experience; with spruce you can forge ahead, bash out a couple of tries and learn a heck of a lot for a couple of bucks invested. A stained and finely finished spruce stock often displays a figure as good as or better than many hardwoods and is lighter to boot.
So, what is involved in making a stock?
The stock needs to be laid out (designed) on a piece of cardboard to gather all the information into one place. Later, the information will be transferred to wood as needed. The cavity for the receiver and clearance for the trigger (etc.) are cut out, then the overall form of the stock is cut followed by general shaping and fitting. The rough stock should be tested and adjusted as needed then finished as desired. Before making a hardwood version I'll use the rough stock on the gun for a while to see if there are any further adjustments needed.
Selecting the wood
I thought it would be useful to have a brief discussion about the grain of the wood because it does affect the stock. There are a number of species of trees that are harvested and sold under the description of spruce construction lumber. While there will be some differences between species, trees of the same species can have a lot of variation in their growth depending on the environment they grew in. It's best to spend some time looking at the end-grain before selecting a board.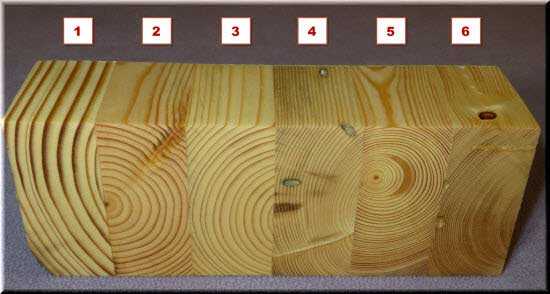 This glued-up block shows the early and late growth rings of several samples of spruce lumber.
Spruce with thick (hard, dark) early growth rings and wide soft (pithy) late growth rings like #1 (above) are not suitable for this type of wood working. The early growth rings are tough enough to cause drill bits to deflect and the late rings will tear out rather than cut smooth when being shaped. This wood often has a lot of internal stress and is unstable when cut. The dramatic grain patterns are good looking but it's best to avoid these boards.
Samples # 2 and #3 are marginal. The early growth rings are fine but the late rings are a bit wide and likely to be soft. Nothing wrong with using boards like this for learning to make stocks and they can be quite serviceable if you fortify the late growth with a good soaking of thinned urethane. One option with this wood is to do a good (final) sanding with steel wool to remove some of the softer growth and leave the harder rings standing proud. This gives an interesting "rippled" finish on the stock which can be quite pleasing.
Samples #4 and #5 are typical of the better boards you might find. Expect that three to five percent of the boards in a stack of lumber may be of this quality.
Sample #6 is an exceptional example of fine, tight rings and will rival some hardwoods for density. The tree that this piece was cut from probably grew slowly, in a poor soil, low water shaded environment. You won't find this quality of grain often (especially if I saw it first) but it would be well worth taking home for special projects.
Some suggestions for finding the best board
The ideal piece of lumber will have closely spaced rings that have a reasonable balance of early and late growth. Lumber cut from the outer parts of a large tree usually has a better grain pattern and fewer knots. Look over the wider boards (2×8, 2×10 or 2×12) as the extra width gives you more latitude in choosing how to cut out your stock.
About knots and drying checks
Wood is a natural material and is bound to have some flaws. I used to look at them as imperfections but now consider them to be "character marks" and no longer worry about them. Knots are not an issue and can add a lot of nice figure to the stock. Small, tight knots are easy to deal with and larger loose or flawed knots can be locked down with some cyanoacrylate adhesive ("CA" or Super Glue; Krazy Glue) and filled. Checks (drying cracks) and resin pockets can be dealt with by packing with fine sawdust and adding a drop of CA.
A comment on lumber yard etiquette…
If you want to be able to select your own lumber be sure to dress appropriately (work boots and gloves are recommended). If you show up in shorts and sandals expect to be refused permission to search and get the, "Our insurance doesn't allow customers in the yard" line.
For best relations with the people working in the lumber yard, stay out of their way, don't make extra work for them and be sure to leave the lumber stacked neatly.
I get along great with the guys at the local mill; they know that I am on the look-out for special boards and will often put them aside for me.
Summary
As you can see there are many benefits to making or customizing your rifle stock. It can be done with common tools and readily available materials. All you need is to become familiar with the steps and get some experience. I'll address that in the parts that follow.